Let's take a look at three First Basemen and see where they are currently going in drafts and whether or not their Fantasy owners are getting good value.
Pick #51 Rhys Hoskins (ADP Range: High 31, Low 79)
In my vast experience playing Fantasy Baseball I find that Fantasy owners lack trust in players who have unexpectedly productive years. Before feeling confident in drafting a specific player, Fantasy owners need to see that same player do it again once and preferably, twice before they feel comfortable. I call this the "waiting for proof" theory of drafting. What separates high stakes players from other players is that a high stakes player is more willing to take chances based on a limited number of games played. High stakes players know that by waiting on a player, they might lose any potential value that player might have.
To wit, let's take a closer look at Phillies 1B/OF Rhys Hoskins. In only 170 at-bats in the majors, Hoskins hit 18 HR and knocked in 48 RBIs. Those numbers are astounding by any measure. However, a lot of pundits will focus on his declining contact rate in September (67%) and say that Hoskins might end up regressing somewhat as a power hitter. But what if those experts are wrong? What if Hoskins was just exhausted from his first season of over 570 At-bats between Triple AAA and the majors?
I am willing to bet that Hoskins is the real deal. In fact, I think he is well worth a fourth-round pick because he has a chance to hit 40-100 this season in a good lineup in a great hitter's ballpark. In short, I consider Hoskins to be an aggressive, winning pick—and you are going to need many of those on your way to a Fantasy Baseball Championship.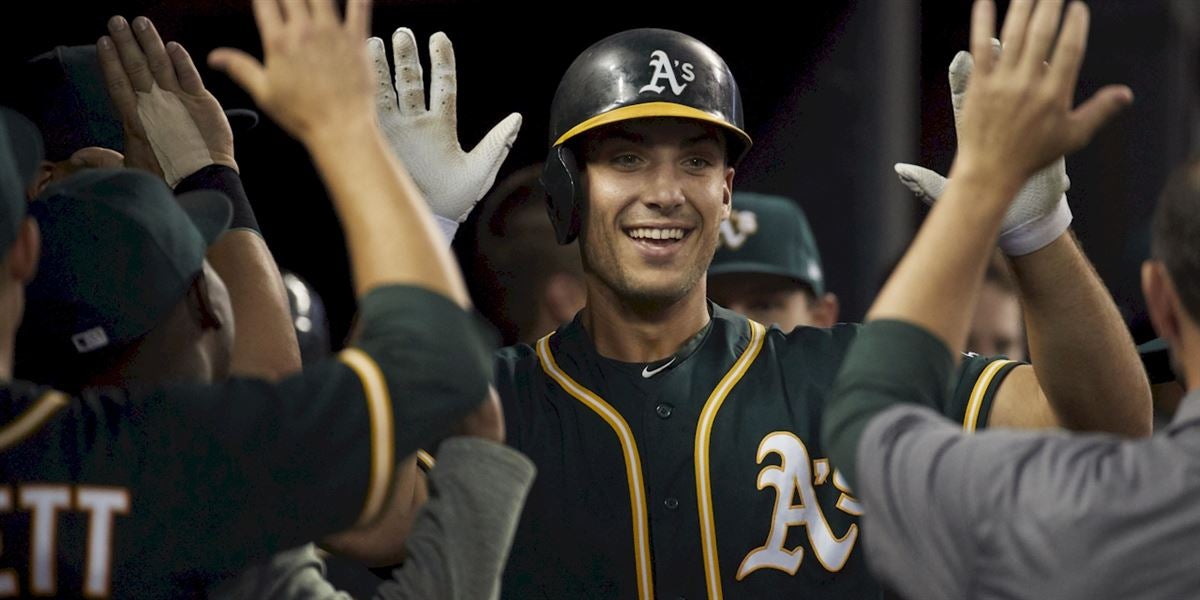 Pick #120 Matt Olson (ADP Range: High 71, Low 164)
Sitting there in Round 8 according to current ADPs is Matt Olson. All Olson did in his short time in the majors is hit 24 HR in 159 at-bats. While it would be ridiculous to project that out to be 80 HRs over a 600 at-bat season, I think Olson has enough power to hit 40+ home runs easily.
So why isn't Olson being drafted earlier if he has this type of prodigious power? First, Fantasy owners are worried about his batting average. While I agree that Olson is never going to be confused with Ted Williams, I am not sure that it is fair to call him the next Adam Dunn. Olson will probably hit about .240 (which isn't great), but he could be a two-category monster in HR and RBI if he hits 50 HR. Another reason people tend to shy away from Olson is that he plays in a bad hitter's park on a below average offense. While I am willing to agree that those things are fair to say, I will contend that Olson's power will translate to any park that he hits (even Giancarlo Stanton hit bombs in Marlins Park) and that he will be a fixture in the middle of the A's lineup.
My guess is that most people look at Olson as a dangerous pick. I am perfectly ok with that. In fact, I think the only way to win a high stakes league is to play dangerously. With that in mind, I will project Olson as a .238-52-102-78-1 hitter.   And yes, I am projecting 50 home runs—he is truly that powerful.
Pick #207 Yuli Gurriel (ADP Range: High 104, Low 276)
Fantasy Baseball owners are very predictable. They love home runs and strikeouts and often overlook the other categories. But as most leagues are 5×5 category leagues, it's not always the best idea to overlook players who can help your team in subtle ways. A perfect example of that type of player is Astros 1B Yuli Gurriel.
Gurriel is never going to be confused with Paul Goldschmidt or Rhys Hoskins as he does not have huge power. What he has over most other players is consistency. Gurriel will hit close to .300 with about 15-20 HR and 70-80 RBIs. He bats in the lower half of the Astros' potent batting order but is often overlooked because he doesn't do one thing exceptionally well.
I think Fantasy owners could do a whole lot worse than Gurriel in rounds 13 or 14. He is a solid corner infielder who will help your team's batting average while not killing you in the other categories. He also plays for a top offensive team, so he is less prone to droughts than other players.
Those in the know, know Gurriel. When Vlad Sedler (@rotogut) took him in the 10th Round of the FSTA Draft, I knew that Gurriel wasn't going to go unnoticed by the top players in the industry. Hop on the Gurriel bandwagon before it's too late—you will be glad you did.