2023 FANTASY FOOTBALL DRAFT KIT
Fantasy Football redraft season may be just about ready to kick off. However, the FullTime Fantasy staff has been hard at work for months compiling all the content you'll need to CRUSH YOUR 2023 FANTASY FOOTBALL DRAFT!The best way to do that is with our 2023 Fantasy Football Draft Kit. Accurate rankings are first and foremost. And with FullTime Fantasy, you know you are getting rankings you can trust.
Let us remind you. Fulltime Fantasy walked away with the title to the #1 Most Accurate Rankings (over 150 websites participated) awarded in 2022 by Fantasy Pros. Additionally, FullTime boasted two top-10 draft rankers in the same year! Combined with the power of our league winning *RDA Projections by high-stakes legend Shawn Childs and the sleepers breakouts and busts from the best high-stakes winners in the world (Featured Pre-Season Pro), you're in good hands! Oh, did we mention that IN-SEASON, our Jody Smith is a former FantasyPros' Most Accurate In-Season Ranker? Let's go!!! 
However, the most accurate draft rankings aren't all you'll need. We'll be here every step of the way, with amazing tools, analysis, and 24/7 support.
Our draft kit is built by absolute legends of high-stakes fantasy football, guys (and gals) we call when money is on the line. Put your faith in this team. With our tips, suggestions, sleepers, tools, rankings, and more, coupled with legacy must-have content from FFToolbox, we'll get you more than ready to:
Dominate your big draft day.
Consistently win on the waiver wire.
Identify the breakouts before they happen.
Stop leaving critical points on your bench.
Our Rolodex is jam-packed with the true legends of high-stakes fantasy football at the Fantasy Football World Championships. This truly is a who's who of high-stakes fantasy football. Top World Ranked players like Chad Schroeder, Mike Santos, Kimra Schleicher, John Rozek, Shawn Childs, Brad Kruse, and more. 
Consider the 2023 Fantasy Football Draft Kit (Powered by FullTime Fantasy) a go-to source for all of our Fantasy Football content — for both free & premium members. Rankings, articles, projections, cheatsheets, tools, Advanced ADP, Preseason Pro, Expert Draft Reviews, tools, contests & more… It's all here!
---
2023 DRAFT RANKINGS
Our rankings team is not only backed by the award-winning FFToolbox BoxScore algorithm but it's now led by previous Fantasy Pros "Most Accurate Ranker" Jody Smith! This ensures our team is well-rounded with the gut instincts and continual practice of high-stakes pros, along with the number-crunching analytics, which ensures this team will live up to the hype!
TOP 200 | PPR | STANDARD | IDP
Remember, rankings are much more accurate if you match them to your particular scoring system. This is a member-only feature and takes a few minutes to plug in your scoring settings. However, once done, rest assured you get the best quality rankings custom-fit for your league. 
MEMBER ONLY: CUSTOMIZABLE FANTASY FOOTBALL RANKINGS ($): Every home league seems to have its own customized scoring. This will allow you to input your settings and output our projections, positional rankings, and a Top 200 Cheatsheet. 
Does your league offer unusual settings like IDP, extra FLEX spots, or account for kick return yardage? With FullTime Fantasy's customizable rankings, the possibilities are endless! 
Fulltime's TIERED CHEATSHEETS: Now offered in 1PPR, 0PPR and .5PPR! Our newest and most popular creation and always up to date! Tiers allow you to determine if it's okay to wait at a position and pick someone else because a player is likely to make it back to your next pick. Many players have voiced a preference to this style so it's back and ready to help you crush your draft!
Consensus Staff Rankings: A quick glance at each player by position, by each of our rankers (Shawn, Jody, Adam and Scott) to see how the ranking is formed. Is someone really high or really low and would that alter your decision to draft? 
Need Rankings in a hurry? This is all you need! Print this quick One Pager – ONE-PAGE CHEATSHEET (PRINTABLE)

---
DRAFT PREP & TOOLS
ALL 32 TEAM OUTLOOKS – We dive deep into the legend Shawn Childs and his 32 Team Outlooks, including every fantasy-relevant player, and give you our take!

MOCK DRAFT WORLD CHAMPIONSHIP – Great practice for the real thing. If you like the results of your mock, you can enter it into our contest! (Your First Team is Free!)
MOCK DRAFT SIMULATOR – This tool, allows you to select your league size and your preferred draft position. 
ADVANCED ADP  – New feature this year: You can use this tool as a draft tracker. Simply click on the player's name and it will cross them off your list!
PRESEASON PRO HUB – Please note: This takes you to our tools site, FFToolbox.com, but it's worth it!
DRAFT ORDER GENERATOR – If you're a commish of your own league, this is a must-use tool to provide transparency around the draft order randomization. Don't do it at the draft, do it in advance and let everyone practice from their draft slot!
ADP (AVERAGE DRAFT POSITION) – Compare FREE LEAGUE ADP to HIGH-STAKES ADP to see the difference. Upgrade to Advanced ADP above.
Popular Tools & Features powered by FFToolbox
---
RESERVED FOR MEMBERS ONLY
PreSeason Pro ($19.95 value) is INCLUDED for FREE with Your FullTime Membership!
Also, these high-stakes legends take their time but they're putting their reputation on the line just in time for your big draft!
Jody Smith FREE | Ian Ritchie | Player X | (We'll try to collect from all these listed >>> Brad Kruse  | Kimra Schleicher | Shawn Childs | Scott Atkins |  John Rozek |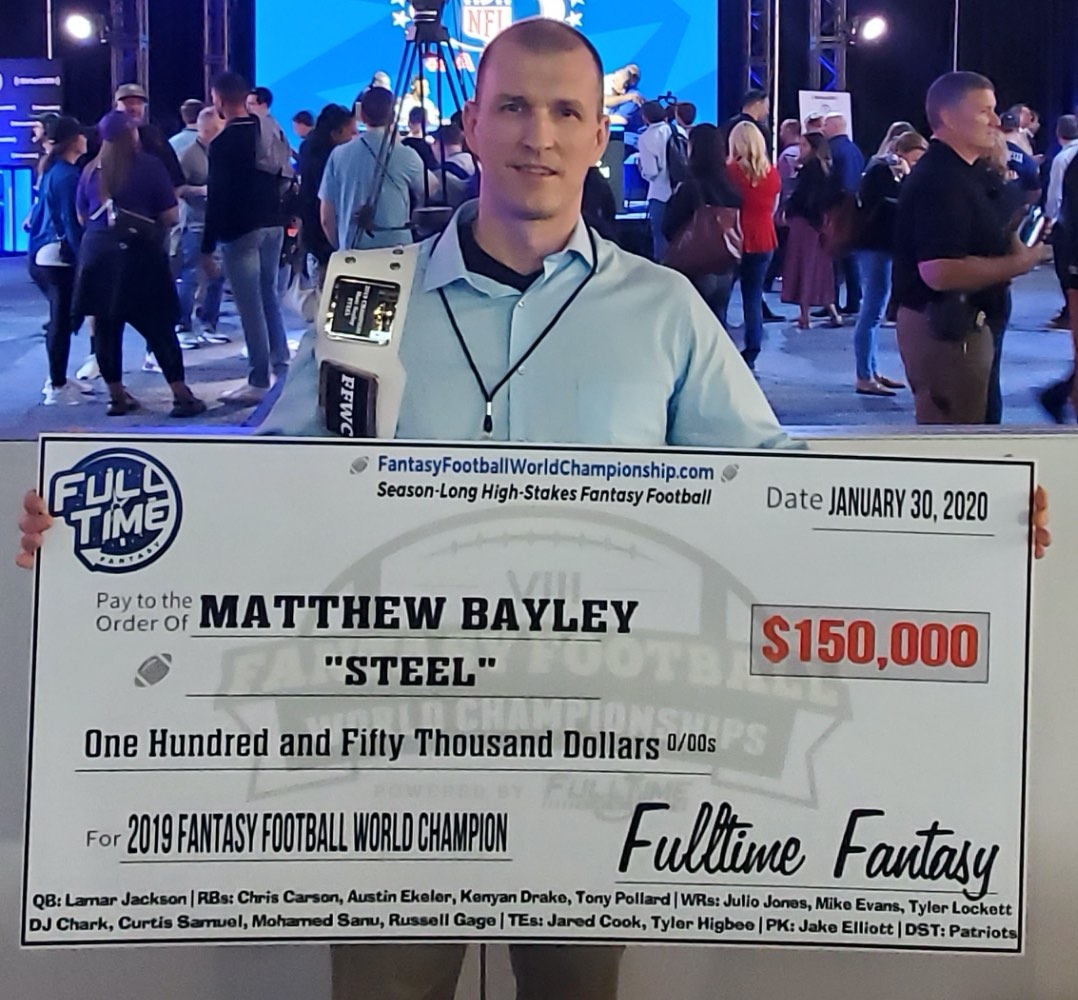 ---
Win your league with FullTime Fantasy Sports' premium Fantasy coverage. Along with the high-stakes legends of the Fantasy Football World Championships, Shawn Childs, Scott Atkins, Jody Smith,  Mark Deming & Ian Ritchie will give you an edge with their in-depth analysis so you can be prepared on draft day!
CLICK HERE to learn more about what you get by becoming a member of the #FullTimeFam!
---
DYNASTY
Join a Startup Dynasty Draft – DFWC $299, $75, $150, $500 & $1,000 
Scott Atkins Rankings with Commentary (always up to date)
---
DRAFT DAY!
Each NFL team plays 17 games out of 18 weeks in the NFL schedule. The game that they don't play is called their bye week, or "Open Date". It is important in fantasy football to make sure that your starters and backups do not have the same bye week since one of the primary reasons for drafting backup players is to have coverage during the bye week of your starter.
Need Rankings in a hurry? This is all you need! Print this quick One Pager – ONE-PAGE CHEATSHEET (PRINTABLE)
Don't forget your ADP and DEPTH CHARTS (always updated to the minute)
You know by now that we recommend passing on the top QBs and grabbing two in the very late rounds instead to play the matchups. We have analyzed the schedules and here are the best combos: We call this Quarterback by Committee or QBBC. Same thing with Defenses. Let others waste a pick on the top Defenses and you grab two late and play the matchups each week: DEFBC.
If you do grab a stud QB like Josh Allen, you will want to pair him with a QB late in the draft that has a good matchup. IDEAL BYE WEEK QBS.
Do you Hate Getting Sniped before your pick? We do too! Get up to the minute ADVANCED ADP, (Reserved for our members) so you know exactly where each player is going in the draft.
Lastly, If you have time to prepare, make sure you mock in our Mock Draft World Championships—no better way to practice for the real thing.
NEW THIS YEAR: Fulltime Members get 5 Free On-Demand Mock Drafts in our contest! Head to

MockDraftNow.com

and enter the REDEMPTION CODE you received by email.
How it Works:
First, Draft your team using our On-Demand Simulator.
Second, f you like it, enter it into the bestball contest. Just sit back and watch your team climb the leaderboard!
Finally, the Winner gets to choose from the amazing prizes below.
---
JOIN – Be a Part of the #FullTimeArmy
Win your league with FullTimeFantasy Sports' premium Fantasy coverage. Jody Smith, Shawn Childs, Scott Atkins, Ian Ritchie, Mark Deming & Adam Krautwurst will give you an edge with their in-depth analysis so you can be prepared on draft day!
---
This replaces our previous Message Boards.
Members can Join us in our Private Member Channel on Tuesday for Waiver Wire advice, Thursdays prior to the TNF game, and then Sunday mornings, for all your WDIS Questions on gameday.