Sleepers
Below I've listed my early 2018 sleeper players with their player profile for their team's outlook page which can be found HERE. I also added a secondary comment about each player, which has more value after doing the early projection for 2018.
Quarterbacks
Over three seasons as the starting QB for the Bills, Taylor went 22-20 while developing into a very good game manager. His best asset ended up being his ability to minimize turnovers (16 Ints in 42 games) while providing winning plays in the run game (310/1711/15). Tyrod has a respectable completion rate (62.4), especially when considering the weak receiving talent in his career with Buffalo. Even with his ability to run, Taylor did take 88 sacks over the last two seasons. Cleveland has receiving talent at RB and WR with a developing TE. If Tyrod doesn't win games, the Browns will make a quick switch to Baker Mayfield to help his development. Overall, Cleveland will be much better offensively in 2018 even with a questionable offensive line. If given a full season of games (which I don't expect), Taylor would be in position for the best season of his career. For now, an upside game manager whose floor is higher than most expect based on his running ability and the improved WR talent in Cleveland.
In his last three seasons as a starting QB for the Oklahoma Sooners, Mayfield passed for 12,292 yards with 119 TDs and 21 Ints highlighted by his senior season (4,627 yards and 43 passing TDs). Baker even chipped in at Oklahoma with 893 yards rushing on 316 carries and another 18 TDs. Mayfield plays with vision and accuracy while bringing toughness to the QB position. He throws the ball well on the run while showing the ability to make tough passes in tight coverage. Baker isn't afraid to let his receivers win jump balls in single coverage deep in the passing game. His feel for play development is a huge asset, and his legs will help extend drives and lower his mistakes. Mayfield could very well hit the ground running in his rookie season leading to 16 starts. His receiving core has enough talent to lead to a top finish in QB scoring if given an opportunity to play all year. Worth a bench flier as a QB3 just in case Baker comes quicker than expected.
Outlook: I listed the combo of both Browns' QBs here because I have so much respect for Cleveland's receiving talent. If I happen to cheat the QB2 position, I'd be more than happy to own both Tyrod Taylor and Baker Mayfield. 2018 is a new era in the Browns' franchise, which starts with an improvement at the QB position.
---


Are you a Die-Hard Fantasy Football Player? CLICK HERE to Start Your Road to the 2018 Fantasy Football World Championships.
---
Over three seasons as a starter for Louisville, Jackson passed for 9,043 yards with 69 TDs and 27 Ints. He finished with a low completion rate (57.0) while showing growth in each year. Lamar is a dynamic runner who has a high volume of chances in 2016 (260/1571/21) and 2017 (232/1601/18). Jackson finished his college career with 4,132 yards rushing with an amazing 50 rushing TDs. Lamar has a quick release with exceptional velocity for his minimal movement. He'll redefine the running game from the QB positions. Jackson will struggle to make plays in a tight pocket but destroy teams when he breaks into the second level of the defense. When the pocket breaks down, his first thought is to run. Jackson has a shot to break Michael Vick's single-season record in rushing yards (1,039) yards for a QB in his career. Very intriguing Fantasy options when Jackson earns a full time starting job.
Outlook: If the Ravens season goes south over the first half of 2018 or Joe Flacco has an early-season injury, Jackson is going to be an interesting QB3 thanks to his explosive value as a runner. If a Fantasy team gets beat at QB on draft day or loses one or more of his top QBs during the season, I would keep a close eye on Lamar as he may be an intriguing out at QB over the Fantasy championship rounds in the high-stakes market.
Running Backs
In his four seasons at Oregon, Freeman rushed for 5,621 yards with 60 TDs while adding 79 catches for 814 yards and four TDs. He runs with vision and enough lateral quickness to create winning plays over any part of the line of scrimmage. Freeman runs with power and follow through at the second level of the defense. His speed (4.54) is about NFL average while lacking home run ability. In 2017, the Broncos' RB rushed for 1,631 yards on 407 carries with only six rushing TDs. Their RBs caught 87 of 112 targets for 699 yards and two TDs. Freeman is going to be the early-down back in this offense with a chance to 300+ touches for 1,400+ yards. I expect about 25 catches in the passing game with a team-high in rushing TDs. He projects as a better version of C.J. Anderson who finished 273 touches in 2017 for 1,231 yards with four TDs and 28 catches. His style and opportunity have similarities to Jordan Howard while playing for a team that has a chance to play from the lead in many more games.
Outlook: The Fantasy owners in the high-stakes market will be well aware of Freeman's upside and opportunity in 2018. He should be priced as RB3 in most PPR league due to his questionable role in the passing game. Denver wants to run the ball while playing strong defense, which points to a winning season.
RB Ronald Jones, Tampa Bay Buccaneers
Over three seasons at USC, Jones gained 4,242 combined yards with 42 TDs and 32 catches. His best success came in his junior season in 2017 when he gained 1,737 yards with 20 TDs and 14 catches on 275 touches. Ronald added more bulk in 2017, and it helped his explosiveness in the trenches. He runs with patience and quickness, but his move to the second level of the defense can be explosive when he able to get full strides with his legs. Jones offers subtle cuts and shoulder fakes to create separation in the open field. His appears to stall in short areas when he doesn't have the space to open up his stride. I like his vision, and his ability to hit the gas when he sees daylight. He showed hands catching ability, which gives him a chance to be much better than in the passing games at the next level. His ability to pass protect will help him on third downs. As much as like his upside, I have to take in the weakness of the Bucs' offensive line. Jones will be the top RB on Tampa in 2018, but he will struggle in games vs. defense with strength against the run and a plus defensive line. I'm going to draft him with the idea of 250 touches for 1,100 plus yards with five to seven TDs and 20+ catches while understanding he has a much higher ceiling with a full-time job. Over the long season, there will be a couple of games when he gets hooked due to lack of running room. His value in the passing game does lower his floor from week-to-week in PPR leagues.
Outlook: Jones falls into the grinder type RB due to his questionable value and opportunity in the passing game. Tampa will struggle to score rushing TDs, which limits his week-to-week consistency. I'd prefer him as RB4, which will put him more in the bye week or injury cover status for me. I know his price point will be higher than I'm willing to pay unless I totally cheat RB2 with a WR strong team.
Over four seasons at Louisiana-Lafayette, Elijah rushed for 4,301 yards with 42 rushing TDs. His yards per rush declined in each season (8.4, 7.6, 5.0, and 4.9) despite rising rushes (103, 166, 209, and 232). He finished with 130 catches for 1,394 yards and another 10 TDs with declining value in his yards per catch (17.5, 10.4, 8.9, and 8.2) in each season as well. He did play through a foot injury in 2016 that limited his explosiveness. Overall, he needs to improve his ability to pick up the blitz before playing on early downs. McGuire has more speed than short area quickness while needing to improve his vision and decision making. In his rookie season, Elijah had 105 touches for 492 combined yards with two TDs and 17 catches. He gained only 3.6 yards per rush while showing explosiveness in the passing game (10.4 yards per catch). His pass blocking came in about the same as Powell, which tells me New York will get him more involved in the passing game in 2018. Possible 50+ catches if he can handle his pass project assignments. His game should offer more overall upside than Bilal Powell as the second RB for the Jets.
Outlook: I'm going to list McGuire as a sleeper RB for the Jets due to his upside potential in the passing game. The Jets seem to want to turn the page on Bilal Powell, which points to a nice step up in opportunity for Elijah. He'll only have value in PPR leagues, but I don't view him worthy of being drafted as top 36 RB. McGuire works best as an upside RB4.
---
Think you can beat the elite? Just $299 to find out if you have what it takes to win the $50K grand prize!
---
Wide Receivers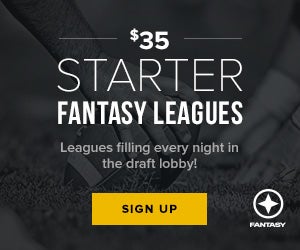 After two good seasons (65/982/6 ad 60/10479) to start his NFL career, Watkins failed to live up to expectation in 2016 and 20. The trade to the Rams was expected to offer a huge improvement in opportunity, but Robert Woods outplayed Sammy. LA did improve offensive with Watkins adding value in TDs (8). After a great game in Week 3 (6/106/2), he had four catches or fewer over his last 12 games while failing to gain over 45 yards in ten contests. In the end, Sammy caught 39 of his 70 targets for 593 yards. His skill set and pedigree point to much high upside, but Watkins will rank behind Travis Kelce and Tyreek Hill for targets. A tempting name for sure, but he may need an injury to gain starting Fantasy value in PPR leagues. I'll set the bar at 60 catches for 900 yards with five to seven TDs.
Outlook: Watkins may have finally found a home where he becomes starting Fantasy relevant each week. Last year he showed scoring ability at the goal line, but the Rams struggled to get him involved in the deep passing game in many weeks. His game and skill set point to a reviewed season in 2018 with almost a floor of a WR3 in PPR leagues.
Over the last two seasons at Memphis, Miller caught 191 passes for 2,896 yards and 32 TDs while chipping in for another 94 yards and one TD rushing the ball. Anthony offers a unique combination of strength, route running, and open field ability. I love his moments with the ball and his adjustments to the ball in the deep passing game. Better CBs will test Miller in the NFL, but he looks to have the skill set to develop into a top WR in the game. He's expected to move into the starting line while being an instant factor in the deep passing game. His presence gives Mitchell Trubisky a chance at pushing his TDs and passing yards to a much higher level. I like his overall package better than Allen Robinson, but I can't trust his opportunity in the short passing game to set a higher floor while expecting a learning curve at the next level. Call me an intrigued with a starting point of 60 catches for 900+ yards and five TDs. I'd love to steal him as WR5 in the 2018 Fantasy draft season.
Outlook: In a way, I hope Miller doesn't gain momentum in drafts over the summer. If he does, he will be tough to own. He should hit the ground running, and his game may even surpass the floor of Allen Robinson in his rookie season.
WR D.J. Moore, Carolina Panthers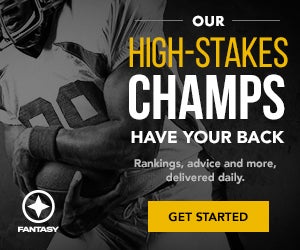 Over three seasons at Maryland, Moore caught 146 passes for 2,027 yards and 17 TDs highlighted by his junior season in 2017 (80/1033/8). When doing my research on incoming rookies, I read scouting reports to come up with my initial picture then watch player highlights to get a feel for a player's movements in game action. When doing the first step of research on Moore, I got the feeling that he was going to project or work as one-dimensional speed threat in 2018 for the Panthers. His highlights painted a different picture. Moore is a physical WR who will break many arm tackles while working the short areas of the field on many plays. His open field ability will turn a short pass into long TD if given daylight at the second level of the defense. He didn't create huge separation in the deep passing game even with plus speed, but D.J. did show he could win tightly contested passes. I sense that the Panthers saw some of Steve Smith in his game, which allows Moore to test a defense all over the field. His next step is proving he can beat top CBs in the NFL when drawing WR1 coverage. His game will improve in the NFL, and his style should work well in Newton's passing game. Overall, I see him outperforming Devin Funchess in his rookie season thanks to his better overall skill set. Outside chance at 65+ catches for 1,000+ yards and mid-level TDs. I expect him to be the new and improved version of Kelvin Benjamin in the Panthers' offense.
Outlook: The Panthers placed a high bet in the 2018 NFL draft on Moore making him the top WR drafted. His game surely looks to have more upside than Devin Funchess, but he'll have plenty of competition for targets with Christian McCaffery and Greg Olsen also in the mix in the passing game. I like his upside, but I have to be careful not to miss price his opportunity on draft day. This summer reports in Carolina will be very important in determining D.J.'s ultimate value in 2018.
Ridley has a strange resume over three seasons at Alabama. His best season came in his rookie year in 2015 (89/1045/7) when he worked almost like a possession type WR based on his yards per catch (11.7). The next season Calvin saw his catches (72), receiving yards (769), and yard per catch (10.7) regress while scoring eight TDs. In 2017, he turned more into a big play WR (63/967/5) while gaining 15.3 yards per catch. His presence should be a big win for Julio Jones as the deep safety will need to respect Ridley in the deep passing. His route running and separation skill will lead to instant success at the next level. Calvin comes with an easy glide in the open field with a gear to blow by defenders with or without the ball. In a way, he's the missing link from the Falcons' passing game in 2017. Atlanta will get him easy catches on crossing patterns while trusting his route running on outs. He'll offer the same value to the Falcons' passing game as DeSean Jackson did early in his career for the Eagles. An excellent chance at 1,000+ yards with 65+ catches and five to seven TDs. I'd rather draft him as a WR4 in PPR leagues. His success could push Matt Ryan to career-high levels in passing yards.
Outlook: Before doing my 2018 research, I got the feeling that Ridley would fall into the deep threat category as WR. He is more than a one trick pony, and I expect him to seize the WR2 job in Atlanta. The question with his upside fails on his opportunity with Julio Jones standing tall on the other side of the field. Fun ride with impactful upside in some games due to single coverage.
Over two seasons at Colorado State, Gallup caught 176 passes for 2,690 yards and 21 TDs. He looked more explosive in 2016 when Michael gained 16.7 yards per catch with 14 TDs, but he did set a career high in catches (100) and yards (1418) last year. Gallup needs to get strong to help his release in press coverage. His speed (4.51) and quickness can't match the best WRs in the NFL, but he has the mid-range gear to beat a defender to the ball while offering good hands. Michael has a knack for breaking tackles with open field moves to beat a defense for a long TD on a short pass. This season he'll slide into the Dez Bryant role in the Cowboys' offense while expecting a learning curve. His biggest challenge will be defeating better cornerbacks and handling the tough throws over the middle of the field. In 2018, Dallas should use him as an outside threat while trying to use his run after the catch ability on slants and screens. Possible 60+ catches with a chance to deliver some big games. Game score will be key to his upside and opportunity.
Outlook: The WR1 job in Dallas is up from grabs in 2018 with Dez Bryant hitting the free agent highway. The Cowboys have four players who may end up being the top play from week-to-week. Gallop has the foundation skill set to emerge as the number two passing option at the very least behind Allen Hurns. If the summer reports remain positive, Michael may make sense as WR5 in PPR leagues if given a starting opportunity.
A torn left ACL cost Meredith all of the 2017 season. He'll have a full season to recover, which puts him on a winning path in the Saints' passing game this year. Over two two-game stretches in 2016 with the Bears (Week 5 – 9/130/1 and Week 6 – 11/113 plus Week 15 –  9/104 and Week 16 – 9/135/1), Meredith offered impact value while being the best WR on the field for Chicago. In those four games, Cam had double-digit targets in each game (12, 15, 13, and 12). Unfortunately for Fantasy owners, he disappeared in six straight games (1/12, 1/24, 1/50/1, 4/49, and 2/19) starting in Week 7. Over his last 12 games of the season, Meredith had 60 catches for 836 yards and four TDs on 89 targets. His presence gives the Saints a second WR of value, but he needs Drew Brees to regain his pass-happy ways. His starting point should be 60+ catches for 800+ yards with five to seven TDs. Last year New Orleans completed 198 passes to the WR position for 2,608 yards and 14 TDs on 286 targets. A weak TE option helps Cameron in the target department.
Outlook: Meredith should return to the field at full strength in 2018. The Saints are taking it slow with his recovery to have him ready for the start of the season. New Orleans has two elite receiving options, which limits the WR3 and WR3 targets without a sharp rebound in the passing attempts by Drew Brees. The lack of a strong TE points to more upside in chances at the WR position in 2018.
Over two seasons at Northern Illinois, he caught 160 passes for 2,285 yards with 18 TDs. He instantly gives Stafford a scoring threat in the red zone. Until he improves his route running, Kenny will work as a deep threat on the outside while adding value on slants and screen type plays. Golladay has an excellent combination of size (6'4" and 218 lbs.), speed (4.5 40-yard dash), and hands. Once he improves his technique and release, Kenny will rise to the WR1 spot on this roster. In his rookie season, Kenny battled some injuries leading to 28 catches for 477 yards and three TDs on 48 targets. Five of his catches went for 40 yards while showing upside in Week 1 (4/69/2) and Week 17 (2/80/1). His growth is the biggest threat to the value of Marvin Jones. With weakness at TE, Golladay could easily push his catch total to 60+ with a full season of healthy while possibly leading the team in TDs and more than 900 yards.
Outlook: Golladay enters 2018 as a sleeper due to his expected draft value and his rank in the WR rotation in Detroit. His game projects well, but his lack of opportunity from week-to-week suggest he's a year away from being a breakout player. Player to watch for sure as one WR injury and a season of health paints this kitten as roaring Lion.
In each season at Oklahoma State, Washington showed growth in his production (28/456/6, 53/1087/10, 71/1380/10, and 74/1549/13). He scored 33 TDs over his last 39 games with ten or more TDs in each of his last three years. Over four seasons at college, James caught 226 passes for 4,472 yards and 39 TDs while gaining an amazing 19.8 yards per catch. Washington is a high cut WR with long legs, which leads to him having deceptive deep speed. He catches the ball with his hands while offering a plus release off the line. His opportunity won't be high out of the gate in his rookie season, but he'll be a better fit on the outside than Martavis Bryant was in 2017. The Steelers passing game runs through Antonio Brown, but they need/want a deep burner on the opposite side of him on the field. Last year Bryant caught 50 passes for 603 yards and three TDs on 84 targets for Pittsburgh, but he caught only seven passes for yards or more and one pass over 40 yards. I expect James to double that output in the deep passing game. Washington needs to improve his route running to develop into a complete WR. I'll set his bar at 50+ catches for 750+ yards and 5+ TDs.
Outlook: Washington doesn't have a starting Fantasy opportunity, but he does have the deep skill set offer some impact games as the WR3 for the Steelers. I like his fit in Pittsburgh's passing game, which puts him one injury away from being Fantasy relevant in his rookie season. Possible WR6 in PPR leagues while needing time to develop into a playable Fantasy option in 2018.
There is no doubt Denver was looking to find another big bodied WR to replace Demaryius Thomas in the starting lineup down the road with the selection of Sutton in the second round of the 2018 NFL Draft. Over the last two seasons at SMU, Courtland caught 144 passes for 2,331 yards and 22 TDs on 262 targets. Sutton is going to a problem for defenses in his rookie season. He'll win many jump balls due to his edge in size (6'3" and 218 Lbs.), which gives him fade scoring value in 2018. Courtland has quickness and a second gear to create yards after the catch. He'll test a defense in the deep passing game while also being a threat to break a short pass into a long TD. At this point of his career, his route running over the first ten yards of the field isn't where it needs to be to turn into a 100+ catch receiver, but it will come with experience and hard work. His next challenge in the NFL will be beating double teams, but that won't happen as much in 2018 with a healthy Demaryius Thomas and Emmanuel Sanders on the field. There's a lot to like here, and I see no reason why he couldn't fill the shoes of Thomas in the Broncos starting lineup early in his career. Possible 65+ catches for 900+ yards and mid-tier value in TDs while being a value in the early draft season.
Outlook: Denver did a nice job landing Sutton in this year's draft. He may be a work in progress in his rookie season, but his game could flourish with a jump in opportunity due to an injury. I almost view him as a handcuff for either starting WR for the Broncos.
---
Think you've got what it takes to win the Main Event? Claim your spot in the FFWC and take your shot at the $150K grand prize!
---
Tight End
Over the last two seasons at South Carolina, Hurst caught 92 passes for 1,175 yards and three TDs. Many of his highlights in college show him with easy releases and wide-open catches behind the second level of the defense. Hayden needs to prove he can handle press coverage in the NFL and a tighter catch window. His hands grade well while having the speed to test a defense in the deep passing. The Ravens completed 104 passes to the TE in 2017 for 811 yards and five TDs on 134 targets. Hurst should emerge as the top TE option in his rookie season. Baltimore will rotate players at TE, which makes him a tougher buy on draft day. I'd draft him as an upside TE2 in PPR leagues with a floor of 50/500/5. His weakness in blocking will keep him off the field on many downs when the Ravens want to run the ball.
Outlook: The best part of the Hayden Hurst equation in his rookie season is the high-volume of passes thrown by Joe Flacco to the TE position. His floor projects well as long as the Ravens don't take him off the field on early downs due to his questions in run blocking. Viable upside target as a TE2 in PPR leagues.
Over his last two seasons at Penn State, Gesicki caught 105 passes for 1,242 yards and 15 TDs. He projects to be a pass catching TE with plus hands and upside in route running. Mike offers no value in blocking game leading to him having a rotational role in his rookie season.  Gesicki needs to prove he can handle tight press coverage. In 2017, the Dolphins' TEs caught 56 passes for 525 yards and four TDs on 90 targets. The previous season with Tannehill behind center for most games, TEs only has 55 catches for 551 yards and six TDs on 71 targets. Talent dictates opportunity. Gesicki may develop over the season, but his starting point can't be higher than the TE chances over the last two years. Viable TE2 flier with hands catching skill set to offer upside in his rookie season. Think of him as 55/500/5 guy out of the gate in 2018.
Outlook: Gesicki projects as a backup TE in the Fantasy world, but his opportunity may be higher than expected. I wouldn't fight for him on draft day, but he's worth a swing as a TE2 if the top tier of the second TEs come off the board too early.
---
Easy. Fast. Fun! The 2018 Best Ball World Championship (BBWC) challenges users to craft the best roster possible in our custom draft simulator. Submit your FREE team, then watch it climb the standings all year long as you fight for the $2,500 prize!