WR Corey Coleman – Over three seasons at Baylor, Coleman caught 173 passes for 3,009 yards and 33 passing TDs highlighted by his 2015 season (74/1363/20). Corey also had 33 rushes over his sophomore and junior seasons for 164 yards and a TD. He has excellent speed (4.4) with upside in his leaping ability helping him win many jumps balls. On many of his highlights, Coleman had a free release off the line of scrimmage creating an instant winnable window. His quickness and strength should help him against press coverage in the NFL. Corey has some wiggle leading to solid value in the open field. Over two injury-plagued seasons in the NFL, Coleman has 56 catches for 718 yards and five TDs on 131 targets. His opportunity is much lower in his third year in the league with Josh Gordon back in the starting lineup, and Jarvis Landry added to the Browns' roster. Only a low-grade insurance policy while being the fourth option in Cleveland's passing game.
---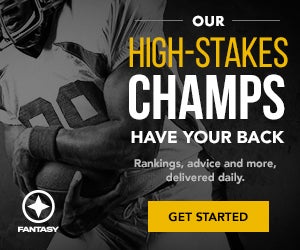 Join Scout Fantasy Sports for top advice in the industry from check-cashing, proven winners!
---
WR Terrance Williams – In May, Williams was out partying leading to an arrest for drunken driving that resulted in an accident. In the offseason, he had surgery to repair an issue in his right foot. Terrance never developed into a viable starting Fantasy WR despite showing growth in 2015 (52/840/3) and scoring ability (13 TDs) over his first 32 games in the NFL. Last year he set a career high in catches (53), but a career low in yards per catch (10.7) with no TDs. The change in the structure of the Cowboys' WRs should help Williams make bigger plays, but Dak Prescott needs to improve his value in the deep passing game. As best, the fourth options in the passing game for the Cowboys behind Hurns, Gallup, and the RB position.
TE Rico Gathers – Gathers is a former basketball player with no experience playing football in his college career. Rico will be an interesting player, but it will take him some time to develop the techniques to have success at the pro level. He missed all of 2017 with a concussion injury while still waiting for his first NFL catch after getting drafted in the sixth round in 2016. Dallas doesn't have a pass catching TE on their roster, which means Gathers may have the most upside in the passing game if he's ready to handle NFL playing time. Player to follow this summer to see if the training camps reports are positive. In two games in the 2017 preseason, Rico caught seven passes for 106 yards and two TDs.
WR Kendall Wright – After a notable second year in the NFL (94/1079/2 on 139 targets), Wright has been unable to repeat his success over the last four seasons. Last year he caught 59 passes for 614 yards and one TD on 91 targets for the Bears' weak passing attack. Kendall has 57 catches or more in four of his six seasons in the NFL, but he scored 19 TDs in 82 career games. In Week 14, Wright had ten catches for 107 yards vs. the Bengals. Possession type WR who works best in the slot, which is an area Adam Thielen excelled at in 2017. Possible 50+ catches, but Minnesota may turn to Laquon Treadwell as the WR3.
---
Think you've got what it takes to win the Main Event? Claim your spot in the FFWC and take your shot at the $150K grand prize!
---
K Matt Bryant – At age 41, Bryant had the best year of his career in 2016. He set career highs in field goals made (34) and extra points made (56) with a plus success rate (91.9). He followed up that season by making 34 of 39 field goals (87.2 percent) and all 35 of his extra points. Matt made 17 of his last 18 kicks over 50 yards and 32 of 41 since arriving in Atlanta. Over nine seasons with the Falcons, Bryant made 88.1 percent of his field goals. He made 117 of his 118 extra-point tries over the last three seasons. Top 12 kicker for sure with repeated upside with strong all-around play by the Falcons' offense in 2018.
---


Are you a Die-Hard Fantasy Football Player? CLICK HERE to Start Your Road to the 2018 Fantasy Football World Championships.