Seemingly overnight, Jacksonville Jaguars QB Gardner Minshew has elevated himself from relative backup QB obscurity into a mustachioed everyman taking the league by storm. With newfound fame and attention, the sports media has clung to the memes almost as much as the Jags have clung to wins in two of their last three games.
We are hardly a month into the new season and few are talking about Russell Wilson putting his team on his back or Tom Brady quietly dismantling everyone in the Patriots' path. There's almost no RB controversy brewing in the Chargers locker room between Austin Ekeler and Melvin Gordon. Another rookie QB is 3-0 since taking over for his team's injured starter! That would be Carolina's Kyle Allen.

It's amazing what a fresh outfit and some facial hair can do to name one's national profile. 
What you may not know is that Minshew has also been putting his prowess on display off the field as well. A recent Reddit comment went viral showing off the rookie QB's fantasy football team in response to an article that briefly mentioned Minshew's fantasy foray.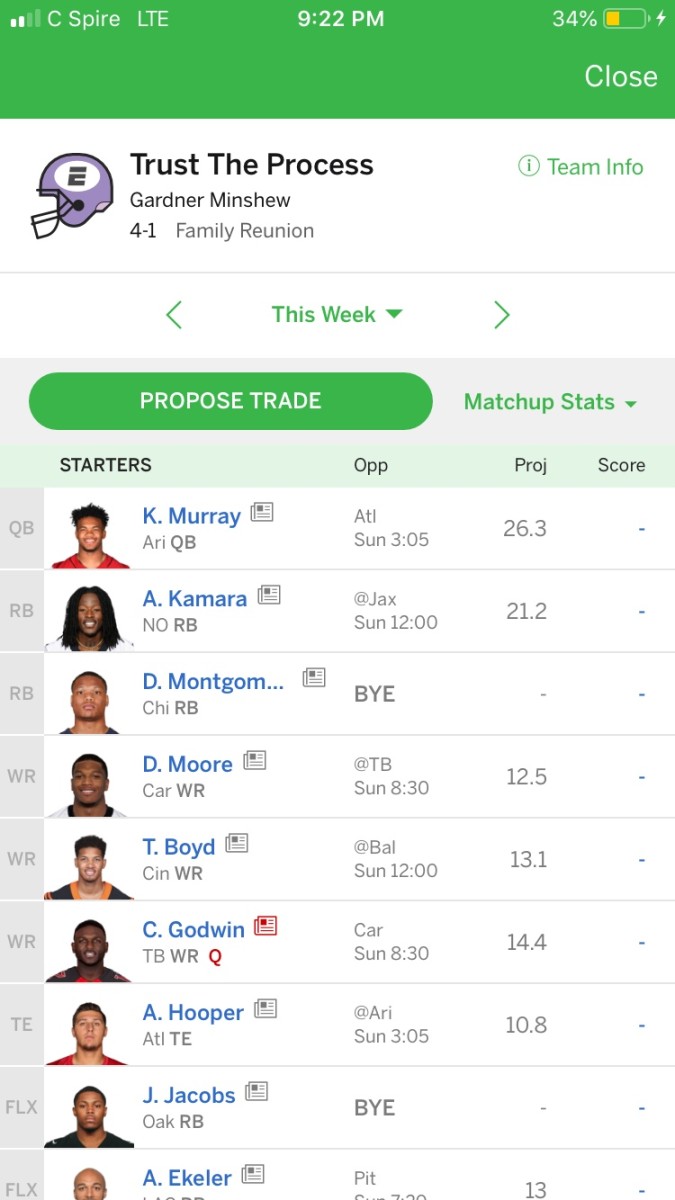 My favorite quote has to do with when Minshew's friend from this fantasy league is asked which QB he is using as a starter: "That's the thing," Polk says. "I keep waiting for him [Minshew] to pick himself up, but no one took him. Gardner Minshew is available in Gardner Minshew's fantasy league."
I probably wouldn't draft myself either if I played in the league. Too much pressure!
And hey, this is one heck of a team! Chris Godwin has been unstoppable. Austin Hooper has emerged as a gem for Atlanta. Austin Ekeler is fantasy football's top back. Alvin Kamara is still dominating. And you can't ignore the contributions from Josh Jacobs, Tyler Boyd, David Montgomery and D.J. Moore. Kyler Murray, I'll admit, is a bit of a wild card at the starting QB spot, but no team is perfect, whether in fantasy or in Jacksonville.

---
---
Minshew's friend points out this league is something similar to a dynasty or keeper league. Technically the rules are most similar to a keeper league where an owner can keep as many players as he or she would like. The former Washington St. QB opted to reload this roster and it has paid off. His team, "Trust The Process", is tied for first place with a 4-1 record. Tre Polk, one of Minshew's old high school buddies also in the league had this to say:
"It was ridiculous," Polk says. "He must have known something about Melvin Gordon, and he worked out with Josh Jacobs and liked what he saw so he took him, and he took the Patriots defense, and he grabbed Austin Ekeler …" Polk goes on for a few minutes like this before putting on the bow. "Bottom line: He redrafted, like, his whole team, and he's tied for first place. He just sees the game in a different way."
Remind me to befriend an NFL player so I can maybe get some inside info about what's going on inside the league!
Check out this story posted by NFL.com back in early September proclaiming in its title, "Gardner Minshew is the league's most interesting QB". And look ahead to the screenshot of a Minshew pic from Washington State's twitter feed from December. 
The NFL is happy to oblige the thirsty sports nation with so many headline-making QBs out for one reason or another this season. Style and facial hair aren't the only draws here either. Minshew has already won Rookie of the Week award three times in this young season. While many young NFL stars win over the hearts and minds of fans with a brash bravado, this QB is happy to carve out his own niche.
"I'm glad people are excited," he says, "but I could take it or leave it." He adds, "I'm a little sick of mustache questions, to be honest. I just want to focus on the stuff that's real."
And what's real is that 2-3 record the Jaguars are currently stuck with. 9-7 could probably win the competitive AFC South; however, it's hard to argue with the notion that Minshew might have the far higher long-term ceiling compared to journeyman Nick Foles. Speaking of which, he is still at least four games (six weeks) away from returning from his collarbone injury. Will the Jags hand back the reins to Foles? How will the fans react considering the splash Minshew has made on the league.
Let's say Jacksonville goes 2-2 over their next four games (Week 10 bye, possible Foles return the following week). That would put them at 4-5 heading into Week 11. Is a 4-5 record really worthy of unseating a starting QB? Are the Jags good or just good enough to squeak out some lucky wins? 
Jacksonville's coaching staff, sooner or later, will have to decide how much grit and substance exist behind that 'stache.
---

Join FullTime Fantasy for top advice in the industry from check-cashing, proven winners!