QB Matt Ryan – After attempting 627 passes per season from 2012 to 2015, Ryan saw his passing opportunity drop by more than 15 percent over the last two seasons. In 2016, he overcame his drop in passing attempts (534) by gaining a league and a career-high 9.3 yards per pass attempt. In 2017, his yards per pass attempts (7.7) fell back to his career average (7.5) with regression in his completion rate (64.7 – the lowest total since 2011) leading to a sharp decline in his passing yards (4,095 – 4,944 in 2016). For the second time in three years, Matt struggled to throw TDs (20). Ryan has a great WR1 in Julio Jones plus Atlanta added a speed option at the second WR position in this year's draft with Calvin Ridley. The Falcons have pass catching ability at RB plus a TE with developing upside. Overall, the offensive structure points to a balanced offense thanks to an improving defense. Matt projects as QB2 in 2018 with the offensive potential to push his way back into the tier. This season I expect more big plays at WR while the RBs will be more involved in the passing game. Possible 4,500+ yards with a run at 30+ TDs.
ADP: July 17 – Pick 129 | August 1 – TBD
Position Rank: July 17 – QB6 | August 1 – TBD
---

Join FullTime Fantasy Sports for top advice in the industry from check-cashing, proven winners!
---
Running Backs
RB Devonta Freeman – Over the last three seasons, Freeman has 35 TDs in his 45 games played while rushing for over 1,000 yards in 2015 (1,056) and 2016 (1,079). For some reason, the Falcons lowered his opportunity in the passing game (36/317/1) despite gaining more yards per catch (7.9 in 2015, 8.6 in 2016, and 8.8 in 2017) in each year in the league. Last season Devonta missed a pair of games with a concussion issue. On the year, he only had two games with over 100 yards rushing (21/106/1 and 22/126/1) while averaging 16.6 touches per game. The Falcons' RB in 2017 finished with 398 rushes for 1,706 yards and 12 TDs plus 67 catches for 650 yards and four TDs on 93 targets. The rushing output was close to 2016 (384/1813) except for TDs (20) while the overall passing opportunity was much weaker (93/946/6 on 117 targets). Freeman suffered a right knee injury in mid-January, which didn't require surgery. The Falcons' RBs have a chance to deliver 2,500 combined yards with 80+ catches and 20+ TDs in 2018. Devonta has the highest floor and ceiling when he's more involved in the passing game. This year he should remain the RB1 on the roster, but his knee issue does invite disaster downside. With 60 percent of the RB show, Freeman looks to be in line for 1,500 combined yards with double TDs and a push back to 50+ catches. If given a choice, I'd instead take the high road here avoid the injury downside.
ADP: July 17 – Pick 20 | August 1 – TBD
Position Rank (PPR): July 17 – RB16 | August 1 – TBD
Position Rank (Non-PPR): July 17 – RB15 | August 1 – TBD
---
PLAY AGAINST THE BEST WITH FullTime Fantasy! | Odds
---
RB Tevin Coleman – Last year Coleman had a career-high 183 touches leading to 927 combined yards with eight TDs and 27 catches. His yards per catch (4.0) came in below his first two seasons (4.5 and 4.4) while showing continued explosiveness in the passing game (11.1 yards per catch – 13.6 in 2016). Over three games with starting carries, Tevin gained 243 combined yards with four TDs and two catches while averaging just over 20 touches per game. Over this span, Coleman gained only 3.8 yards per rush. Tevin struggled to make plays in the run game over his last four games of the regular season (34 rushes for 89 yards – 2.6 yards per carry). The Falcons tend to give him about 38 percent of the early down action while moving closer to Freeman in catches in 2017. His next step is 1,000 combined yards with eight to ten TDs with 35+ catches. I expect him to have 200+ touches in 2018 with a full season of games. He's one injury away from being an RB1.
ADP: July 17 – Pick 68 | August 1 – TBD
Position Rank (PPR): July 17 – RB30 | August 1 – TBD
Position Rank (Non-PPR): July 17 – RB28 | August 1 – TBD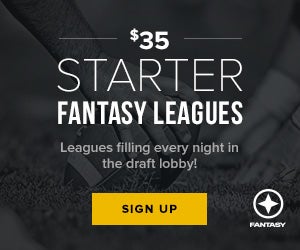 Wide Receivers
WR Julio Jones – Many Fantasy owners have grown tired of Jones's inability to produce impact TDs over the last two years (6 and 3) while seeing his final catch total fall below expected value in 2016 (83) and 2017 (88). His resume is much stronger than Keenan Allen, but the continued limps off the field tends to be a turn-off. Over the last four years covering 61 games, Julio has 411 catches for 5,048 yards and 23 TDs on 643 targets highlighted by his 2015 season (136/1871/8). In 2017, Jones only had four games with over 100 yards receiving and two games with more than seven catches (9/99/1 and 12/253/2). The Falcons have run the ball better over the last two seasons, and they continue to struggle to get Julio scoring chances at the goal line. There's no doubt Jones will have his lowest draft value in years. He has the talent to be the best WR in the game, but he needs to stay healthy, and the Falcons need to throw him the damn ball especially in the end zone. Sometimes in Fantasy sports the player overlooked tend to produce the best results. A Fantasy owner drafted at the end of the first round should be extremely happy to land Julio as his overall skill set, and opportunity should outproduce his draft value if he stays healthy all year. The most important part of his summer will his holdout. If Jones misses training camp, I do fear some in-season injuries from not being in game shape. His floor should be 90+ catches for 1,400 yards and six to eight TDs. The current structure of the Falcons' offense and passing game does limit his upside in targets in many games.
Updated: 8/14/18 > The Falcons worked out the contract issue for Jones in late July giving him a happier path going forward into the regular season. He looked poised to be a value pick in many drafts in the second round as Fantasy owners continue to take rosier looking RBs in front of him. Stud WR1 with impact upside if he adds TDs to his career resume in 2018, and Julio turns in a full season.
ADP: July 17 – Pick 13| August 1 – TBD
Position Rank (PPR): July 17 – WR6 | August 1 – TBD
Position Rank (Non-PPR): July 17 – WR4 | August 1 – TBD
WR Calvin Ridley – Ridley has a strange resume over three seasons at Alabama. His best season came in his rookie year in 2015 (89/1045/7) when he worked almost like a possession type WR based on his yards per catch (11.7). The next season Calvin saw his catches (72), receiving yards (769), and yard per catch (10.7) regress while scoring eight TDs. In 2017, he turned more into a big play WR (63/967/5) while gaining 15.3 yards per catch. His presence should be a big win for Julio Jones as the deep safety will need to respect Ridley in the deep passing. His route running and separation skill will lead to instant success at the next level. Calvin comes with a smooth glide in the open field with a gear to blow by defenders with or without the ball. In a way, he's the missing link from the Falcons' passing game in 2017. Atlanta will get him easy catches on crossing patterns while trusting his route running on outs. He'll offer the same value to the Falcons' passing game as DeSean Jackson did early in his career for the Eagles. An excellent chance at 1,000+ yards with 65+ catches and five to seven TDs. I'd rather draft him as a WR4 in PPR leagues. His success could push Matt Ryan to career-high levels in passing yards.
ADP: July 17 – Pick 140 | August 1 – TBD
Position Rank (PPR): July 17 – WR36 | August 1 – TBD
Position Rank (Non-PPR): July 17 – WR34 | August 1 – TBD
WR Mohamed Sanu – Sanu played well in 2016 (59/653/4) and 2017 (67/703/5) in the Falcons' offense, but he lacks the skill set to be an impact player. He had an elite catch rate over the last two seasons (72.9 and 69.8), which will keep in the mix for targets. In 2017, Mohamed had seven games with five catches or more, but he failed to gain over 85 yards receiving in any game. The addition of Calvin Ridley crushed his Fantasy opportunity as he can't match his explosiveness. The Falcons don't attempt enough passes for a third WR to be relevant. I can't see more than 50 catches while expecting fewer than 500 yards receiving and minimal upside in TDs. Last season Atlanta's WRs caught 214 balls for 2,848 yards and 13 TDs on 336 targets.
ADP: July 17 – Pick 178 | August 1 – TBD
Position Rank (PPR): July 17 – WR76 | August 1 – TBD
Position Rank (Non-PPR): July 17 – WR85 | August 1 – TBD
---
Learn more about the Fantasy Football World Championships where you can win a whopping $150K!
---
Tight Ends
TE Austin Hopper – The Falcons cleared the way for Hooper to be a viable Fantasy option at TE in 2017, but he fell short of expectations due to short targets (65). On the year, Austin had 49 catches for 526 yards and three TDs leading to the 17th place ranking at TE in PPR leagues. Hooper teased Fantasy owners after his big game in Week 1 (2/128/1). Over his last 15 games, he had more than three catches in a game just three times (5/50, 7/48, and 6/49). In two seasons at Stanford, Hooper caught 74 passes for 937 yards and eight TDs. Austin will add speed to the TE position for Atlanta to hopefully take advantage of him on seam passes. He is expected to have value in blocking as well helping him earn more playing time. Austin is getting better, but he slips one more notch down on the food chain with Calvin Ridley added to the roster. His natural progress would take him to 60 catches for 600+ yards with about five TDs. Last year the Falcons completed only 61 balls to the TE position for 680 yards and five TDs on 98 targets. Atlanta would need a massive jump in passing attempts in 2018 for Hooper to have a higher ceiling.
ADP: July 17 – Pick 184 | August 1 – TBD
Position Rank (PPR): July 17 – TE13 | August 1 – TBD
Position Rank (Non-PPR): July 17 – TE12 | August 1 – TBD
---
Click the DEEPER DIVE button to read the FULL OUTLOOK with offseason movement, NFL Draft analysis, offensive line discussion and schedule breakdowns! 
---
2018 Fantasy Football: Positional Team Outlooks
Fantasy Football Rainman Shawn Childs, a six-figure high-stakes career earner and one of the most accurate rankers in the industry, previews the most relevant players at each skill position on all 32 NFL teams! Use these team previews to DOMINATE your competition as we approach the 2018 Fantasy Football season!
| | | | | |
| --- | --- | --- | --- | --- |
| AFC East | BUF | MIA | NE | NYJ |
| AFC North | BAL | CIN | CLE | PIT |
| AFC South | HOU | IND | JAX | TEN |
| AFC West | DEN | KC | LAC | OAK |
| NFC East | DAL | NYG | PHI | WAS |
| NFC North | CHI | DET | GB | MIN |
| NFC South | ATL | CAR | NO | TB |
| NFC West | ARI | LAR | SF | SEA |