One of the key elements to having a successful draft is taking the value that is presented by other owners. Let others make mistakes and take advantage. Part of the success of the New England Patriots is the coaching edge they have led by Bill Belichick. They allow other teams to make mistakes and then they capitalize.
This is a blueprint you can use in drafts. Many players tend to undervalue veterans. They worry about an aging player and push them down their draft boards. A player that fits this category in 2018 is Nelson Cruz. The Mariners' designated hitter has been one of the most consistent hitters for several seasons. However, it seems that some are shying away from him in early drafts. I think there are three reasons.

Like and share our new Facebook page! Be sure to pay attention to our giveaways for your shot at some sweet prizes!
1. In many formats, Cruz is only eligible at designated hitter. He only played five games in the outfield last season. Many formats require 20 games played at a position from the previous season, so know your league rules beforehand.
2. A lot of people dislike locking up the utility spot early in the draft because it hurts flexibility.
This is exactly why David Ortiz was such a value in the final few seasons of his career. The way to take advantage of this in an auction is to call out Cruz early. He's likely to be a discount since people have trepidation of filling the utility spot quickly.
3. The last reason people are hesitant to take Cruz early is age. Cruz is 37 and turns 38 in July.
Many owners like to abandon an aging player early to avoid the potential decline. There's nothing in the profile to suggest Cruz is close to a skills decline. The biggest worry with any player his age is durability and injuries. Yet, Cruz has the benefit of being a designated hitter and rarely has to play the field, which lessens the chance of injury.
Cruz batted .288 with 91 runs, 39 home runs, 119 RBIs and a .924 OPS last season. In five of the last six seasons, Cruz has played at least 152 games. He has at least 39 home runs in four straight seasons and at least 105 RBIs in three of the last four seasons. Runs are a category people don't look at enough and Cruz has scored at least 90 in three straight years.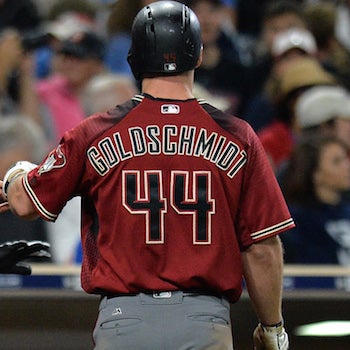 Check out our $44 & $88 Fantasy Baseball Draft-n-Go PLUS leagues! Learn more now!
Cruz has lowered his strikeout rate in two straight seasons and had a career-high 10.9 percent walk rate in 2017. Cruz perennially hits the ball hard and had a career-best 40.7 percent hard hit rate last year. Many of his skills have actually improved with age.
Cruz has an ADP of 47 on fantrax.com and 54 in the NFBC. That's way too late for a player that has shown his consistency. Obviously, people don't like filling the utility spot that early so take advantage. Injuries will happen and a savvy owner can maneuver around this. Take the stats at a discount.