Los Angeles Dodgers
The Dodgers made the playoffs for the fifth straight season after leading the majors with 104 wins. They fell short of winning their seventh World Series with a 7th game loss to the Astros. LA has an incredible run from June 7th to August 25th where they won 55 of 66 games, which was followed up by a 1-16 stretch.
Los Angeles moved to 2nd in ERA (3.38) and 4th in bullpen ERA (3.38) while allowing 58 fewer runs than 2016 (638). The Dodgers hit the 11th most HRs (221), which led to a 13th place finish in runs (770).
In the offseason. LA lost SP Yu Darvish, RP Brandon Morrow, RP Tony Watson, OF Curtis Granderson, and OF Andre Ethier. They acquired OF Matt Kemp from the Braves for 1B Adrian Gonzalez, P Scott Kazmir, P Brandon Kazmir, P Brandon McCarthy, and IF Charlie Culberson. Los Angeles added RP Scott Alexander for bullpen depth. The only other move was the signing of P Tom Koehler.
Anything short of a World Series would be failed season for the Dodgers in 2018. They have talent in all areas of the game, but the management staff needs to let the best players win the games for them rather than micromanaging matchups in the late innings. Baseball is about chemistry and talent. LA showed both last seasons, but they appeared to peak too early.
Starting Lineup

1. 2B Chris Taylor
Taylor appeared to be on the fast track to the majors after a nice season at High A and AA in 2013 (.314 with 108 runs, eight HRs, 60 RBI, and 3B SBs over 525 at-bats). He showed a top of the order walk rate (13.6) and reasonable K rate (18.9). A high K rate (26.7) in the majors led to him spending most of 2014, 2015, and 2016 seasons at AAA where he hit .313 with 175 runs, 13 HRs, 111 RBI, and 48 SBs over 992 at-bats. When the Dodgers called him up in April, most Fantasy owners dismissed him as a long-term option in their starting lineup. Chris still struck out too much (25.0) with some gains in his walk rate (8.8). He posted a high CTBA (.398), which was supported by his minor league resume. The big change in his skill set with the rise in power (17 HRs). Taylor had his highest average hit rate (1.723) at any level in his career. He did struggle in June (.227 despite strong continuing stats – three HRs, 14 RBI, and nine SBs) and in September (.218 with three HRs, seven RBI, and two SBs). His swing had similar value against righties (.285 BAA) and lefties (.297 BAA). HIs HR/FB rate (15.8) was more than double any season at AAA, but Chris did hit a few more fly balls (35.8 percent). Torn here, I was excited about his success at AAA. I like his ability to hit the ball hard when he makes contact, but his power doesn't look repeatable, and I'm still concerned with his K rate. Buy him as a 10/25 type player with a neutral batting average. If he can shave off five percentage points off his K rate, Taylor could push to be a .300 hitter with 15+ HRs and 30+ SBs. His ability to play multiple positions does help his opportunity.

2. SS Corey Seager
For the second straight season, Seager battled an injury (oblique) in March to push many Fantasy owners away from him. Corey was able to make the opening day lineup leading to a nice April (.319 with 16 runs, five HRs, and 17 RBI). After a slow May (.255 with two HRs and seven RBI), Seager played well over the next three months (.327 with 38 runs, 12 HRs, and 41 RBI over 269 at-bats). He had a tough September (.210 with three HRs and 12 RBI) due to right elbow issue and another back injury. His walk rate (10.9) showed growth while taking a few more strikeouts (21.4 percent). Corey was much better against lefties (.325 with eight HRs and 29 RBI over 169 at-bats) while holding his own vs. RH pitching (.281 with 14 HRs and 48 RBI over 370 at-bats). Seager did add some loft to his swing (fly ball rate – 33.1 – 29.3 in 2016) while drifting backward in his HR/FB rate (16.2). His CTBA (.390) remains in an attractive area with a slight fade in his AVH (1.623). Corey has the makings of a .300+ hitter with a 100/30/100 skill set with a slight jump in his power and a move to third in the batting order.

3. OF Matt Kemp
I wish each spring baseball had an official weigh-in day allowing the general public to see what kind of shape each player looked like after a winter off. The Braves dumped Kemp back to the Dodgers after a down season due to three battles with a hamstring injury (April, August, and September). His best success came in April and May (.345 with 25 runs, ten HRs, and 30 RBI over 171 at-bats). Over the last four months of the year, Matt hit .232 with nine HRs and 34 RBI over 267 at-bats. Kemp had the lowest K rate (21.2) of his career with a short walk rate (5.8). His CTBA (.358) fell in line with his recent career resume. His hamstring issue led to a weaker swing path leading to a career-high ground ball rate (48.5) and career low fly ball rate (28.2). Matt still maintained a high HR/FB rate (19.8). Now the rub, in mid-February, there was a report that Kemp lost 41 lbs. over the winter. Each site still lists him as 6'4″ and 210 lbs., which sounds like faulty information. Either way, Matt still has something to offer in the majors, and he will be a productive value bat in 2018. More of a .270 hitter with a 25/100 skill set while better health may lead to a rebound in speed and help his batting average.

4. 1B Cody Bellinger
Bellinger didn't miss a beat with his power swing in the majors. He hit .271 over 1,335 at-bats in the minors with 66 HRs, 257 RBI, and 36 SBs. Cody has a high walk rate (10.9) in the minors with more success in the majors (11.7). His K rate (26.6) with the Dodgers was weaker than his previous resume (23.7). After his first 62 games, Bellinger hit .267 with 24 HRs and 56 RBI over 232 at-bats. He hit .266 over the last three months of the year with a drop back in power (15 HRs and 41 RBI). Cody had almost the same stroke against RH (27 HRs and 55 RBI over 325 at-bats) and LH (.271 with 12 HRs and 42 RBI over 155 at-bats). He has fly ball swing (47.1 percent) with a career-high HR/FB rate (25.2). Bellinger is a great power hitter with nice complementary speed. His script looks about the same – .270 with 100+ runs, 40+ HRs, 100+ RBI, and 10+ SBs with his next step coming via a lower his K rate.

5. 3B Justin Turner
Turner fell short of setting career highs in a few categories due to three missed weeks in mid-May due to a hamstring injury and a handful of missed games in September as a result of a thumb injury. Justin finished with his best approach at the plate (K rate – 10.3 and walk rate – 10.9). Over his first 251 at-bats, he hit .371 with 11 HRs, 40 RBI, and two SBs while fading down the stretch (.259 with ten HRs and 31 RBI over 197 at-bats). Turner dominated lefties (.380 with 11 HRs and 30 RBI over 142 at-bats) with strength against RH pitching (.295 with ten HRs and 41 RBI over 315 at-bats). He had a change in his swing path leading to a huge jump in his fly ball rate (47.8 percent – 40.0 in 2016 and 35.9 in his career) with regression in his HR/FB rate (10.8). Improving with age, but his power could be a trap if a Fantasy owner projects a 2016 type outcome. I see a .290 hitter with an 80/20/80 skill set who may get an extra day off per week with the Dodgers having one extra starting bat headed into 2018.
6. OF Yasiel Puig
Even with a nice season in 2017, Puig still hasn't reached his expected potential after playing well in 2013 and 2014. He finished with a career-high average hit rate (1.855) while falling short for the third straight year in his CTBA (.328). His approach at the plate (K rate – 17.5 and walk rate – 11.2) was the best of his career in both areas. Yasiel didn't belong in the starting lineup against LH pitching (.183 with two HRs and ten RBI over 120 at-bats) despite a good BB:SO rate (24:18). He had almost all of his production against righties (.288 with 26 HRs and 64 RBI over 379 at-bats). Puig had four to six HRs in each month while never receiving over 90 at-bats in any month. He tends to hit a lot of ground balls (48.3 percent) with a nice move up in his HR/FB rate (19.4). Yasiel shouldn't be as bad against LH pitching, but I can't expect the same success against righties. There's elite talent here, and his approach could be a leading indicator of a breakout year. If so, .300+ BA with 30+ HRs, 100+ RBI, and 20 SBs with a move to a premium part of the batting order.

7. OF Joc Pederson
Over 1,187 at-bats in the majors, Pederson hit .222 with 62 HRs, 157 RBI, and 14 SBs. He has a plus walk rate (14.3 in his career and 12.1 in 2017) while showing growth in his K rate (21.1) last season. A bottom of the order opportunity and a platoon role led to a slow start to the year (.220 with one HR and seven RBI over 50 at-bats) before landing on the DL for ten days with a groin injury. Joc came up empty again over 17 games (.181 with one HR and four RBI over 55 at-bats) when he returned to the field. A concussion led to another missed three weeks. Over his next seven weeks, Pederson hit .284 with nine HRs and 18 RBI. LA decided to send him back to AAA after a 2-for-37 stretch in August leading to minimal at-bats (22) when he returned in September (.182 and no HRs and two RBI). Joc struggled with RH pitching (.204 with ten HRs and 31 RBI over 224 at-bats) while barely getting a chance against lefties (.204 with one HR and four RBI over 49 at-bats). His only glimmer of hope came in the World Series when Pederson went 6-for-18 with three HRs and five RBI while striking out eight times. Pederson had a sharp decline in his CTBA (.283) while maintaining a high average hit rate (1.914). His HR/FB rate (15.5) was a career low. He finished with a weaker swing path shown by his career high fly ball rate (46.6). By just looking at his major league resume, a Fantasy owner can see he has 30/80 skill set if he ever had 550 at-bats. The Dodgers don't trust him vs. lefties, and he won't hit in a favorable part of the batting order without a fast start to the year. I still in his upside while understanding I could get beat by the manager for playing time. Buy the talent at a discount and hope everything else comes together in 2018. Don't lose sight of his 2014 season at AAA (.303 with 106 runs, 33 HRs, 78 RBI, and 30 SBs over 445 at-bats) as these numbers are still attainable in the majors.

8. C Yasmani Grandal
The Dodgers resigned Grandal in the offseason for one-year for $7.9 million, which is plenty of reasons to believe he will be the starting catcher in 2018. Many Fantasy owners don't support this message based on Austin Barnes getting drafted before Yasmani in many drafts before mid-February. Grandal continues to have a high average hit rate (1.861) with a nice step forward in his CTBA (.351 – .325 in 2016), but he did have regression in his approach (K rate – 27.0 and walk rate – 8.3). Almost all of his power came against righties (.250 with 20 HRs and 51 RBI over 352 at-bats) while looking like a platoon option vs. LH pitching (.233 with two HRs and seven RBI over 86 at-bats). His best two months came in May and June (.329 with six HRs and 27 RBI over 146 at-bats) with fade in August and September (.187 with eight HRs and 17 RBI over 139 at-bats). His HR/FB rate (17.7) came in below 2016 (25.2). Nice catcher two option for power in deep league, but his playing time won't be as clean if he gets off to a slow start, Yamani has never had over 450 at-bats. Grandal has minimal upside in batting average without a big improvement in his K rate.

C Austin Barnes
Barnes looked close to the majors after his 2014 season at High A and AA (.304 with 80 runs, 13 HRs, 57 RBI, and 11 SBs over 464 at-bats) while taking more walks (69) than Ks (61). Unfortunately, the trade to LA led to him stalling at AAA in 2015 and 2016 (.304 with 15 HRs, 81 RBI, and 30 SBs over 628 at-bats) while maintaining a good approach (walk rate – 10.8 and K rate – 12.4). Over six seasons in the minors, Austin hit .299 with 46 HRs, 267 RBI, and 61 SBs in 2,201 at-bats. With the Dodgers, Barnes had an elite walk rate (14.9) with a slight step back in his K rate (16.4). He finished with his best average hit rate (1.683) of his career at any level while his CTBA (.360) fell in line with his recent minor league resume. Austin was a better hitter against RH pitching (.321) with short production (two HRs and 16 RBI over 109 at-bats) while showing playable power against lefties (.257 with six HRs and 22 RBI over 109 at-bats). Even with a career-high HR/FB rate (15.7), Barnes had a low fly ball rate (29.1). There is a lot to like here if he could steal the majority of at-bats at catcher for Los Angeles. His speed is a nice bonus for his position, and he could see some time at second base. Almost a slam dunk if his price point was low enough to roster him as a bench option, but that isn't the case in the high stakes market (ADP of 196 as the 12th catcher drafted).

2B Logan Forsythe
After a poor 2017 season (.224 with six HRs and 36 RBI over 361 at-bats), Forsythe will be under pressure to perform to keep a starting role with the emergence of Chris Taylor. Logan had fade in both his AVH (1.457) and CTBA (.321). He did set a career high in his walk rate (15.7) along with worst K rate (24.8). He hit .295 over his first 44 at-bats with three Ks and 16 Ks before landing on the DL for a month with a toe injury. Forsythe struggled against righties (.190 with three HRs and 20 RBI over 237 at-bats) with a better swing vs. LH pitching (.290 with three HRs and 16 RBI over 124 at-bats). Logan didn't have one month of value in 2017 while hitting only .201 after the All-Star break with three HRs and 20 RBI over 184 at-bats. His HR/FB rate (7.1) was less than half of 2016 (14.7). More of an insurance cover for 2B and 3B for LA while respecting his 37 HRs hit over his previous two years.
Bench Options
Edwin Rios (1B) – Rios will be blocked at first base in the majors with Cody Bellinger locking down the job for the next decade or so. Rois hit .302 over three seasons in the minors with 54 HRs and 180 RBI in 968 at-bats. He has a high K rate (23.8) with below par walk rate (6.3). Young developing power bat who may need to be traded to earn major league at-bats.
Chase Utley (IF) – Utley signed a two-year contract in February to provide a veteran bat off the bench. In his three seasons with LA, Chase hit .240 with 25 HRs, 95 RBI, and nine SBs in 945 at-bats. His approach remains intact (walk rate – 9.1 and K rate – 16.2). This season Utley will have minimal at-bats without an injury.
Enrique Hernandez (OF) – Enrique only hit .215 over 297 at-bats in 2017, but he did produce 11 HRs and 37 RBI. His walk rate (12.0) continues to grow with a below par K rate (23.4). He has no value vs. righties (.159 with one HR and ten RBI over 145 at-bats) compared to a high level of success against LH pitching (.270 with ten HRs and 27 RBI over 152 at-bats). Platoon options most likely tied to Joc Pederson.
Alex Verdugo (OF) – Verdugo will be in his fifth season in the minors at age 21. He hit .305 over 1,612 at-bats with 31 HRs, 227 RBI, and 36 SBs while showing the most upside at AAA (.314 with six HRs, 62 RBI, and nine SBs over 433 at-bats) due to his improved approach (walk rate – 10.5 and K rate – 10.1). If Joc Pederson doesn't produce in 2018, Verdugo will ready to take over in centerfield.
Andrew Toles (OF) – Toles suffered a torn ACL last May leading to him sliding in the 2018 depth chart. Over 201 at-bats in the majors, Toles hit .294 with eight HRs and 31 RBI. Andrew hit .309 in his minor league career over 1,264 at-bats with 17 HRs, 143 RBI, and 123 SBs. Only a name to follow while facing long odds to make the major league roster out of spring training even with upside talent.

Like and share our new Facebook page! Be sure to pay attention to our giveaways for your shot at some sweet prizes!
Pitching Staff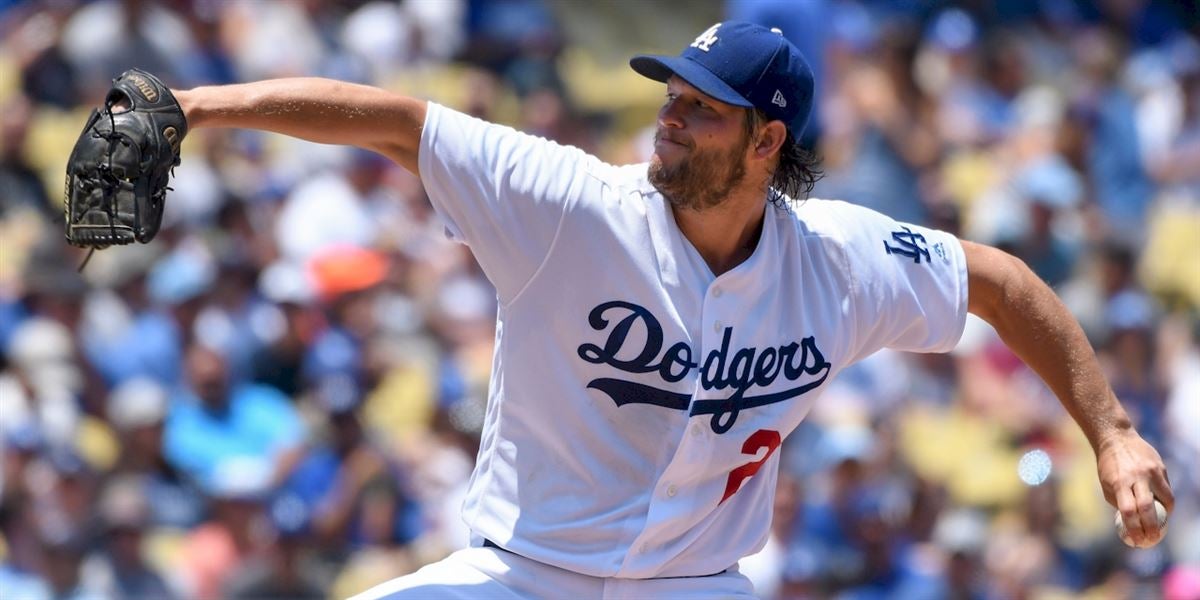 1. SP Clayton Kershaw
I've been fortunate to start a team in the high stakes market with Kershaw over the last two seasons, but I failed to have the correct structure behind him. Clayton didn't help my cause by missing 15+ starts over the last two years. He has an ERA under 3.00 in nine straight seasons with five of those years leading the league (2011 – 2.28, 2012 – 2.53, 2013 – 1.77, and 2017 – 2.31). Batters only hit .206 against him in his career, but that number fell to .212 in 2017. His regression came against lefties (.248 BAA) while also struggling with HRs (23 – 1.2 per nine) for the first time in his career. His walk rate (1.5) remains elite, but his K rate (10.4) is a step below his best season in 2015 (11.6). Kershaw missed five starts in August due to a back injury. His worst month of the year came in September (3.48 ERA) with another below-par postseason (3.81 ERA and eight HRs allowed over 33 innings). His AFB (93.2) was the lowest of his career with batters hitting .242 against his four-seam fastball with 19 HRs over 356 at-bats. Clayton still has an elite slider (.203 BAA) and curveball (.141 BAA).  Best arm in the game with a high floor and elite ceiling with a full healthy season. Kershaw has a career 144-64 record. His skill set gives him a chance at a sub 2.00 ERA with 250+ Ks with a full season of stats.

2. SP Alex Wood
Wood ended up being a great late buy for a Fantasy owner last year. He finished with a career high in wins (16) and a career low in his ERA (2.72). Over 139 games in the majors, Alex now has a 3.20 ERA with 603 innings in 651.2 innings. He had the best walk rate (2.2) of his career with strength in his K rate (8.9). Over ten starts from May 8th to July 15th, Wood went 9-0 with a 0.87 ERA, .164 BAA, and 74 Ks over 62 innings. He struggled in two starts after the All-Star break (11 runs and 21 baserunners over 11.2 innings) followed up by a 3.33 ERA over his last nine stats. Alex allowed 13 HRs over his last 65.2 innings. He pitched well against both RH (.213 BAA) and LH (.229 BAA) batters. Wood threw a sinker (92.2) as his best pitch with batters hitting .247 against it. Both his changeup (.156 BAA) and his curveball (.218 BAA) were edge pitches. The only concern here is a couple of pushed back starts due to a left SC joint issue that led to two stints on the DL The Dodgers suggested his injury had more to do with an issue in the sternum area. A healthy starter in LA is going to be a good Fantasy option in 2018. With a full season of starts, possible 15+ wins with a sub 3.00 ERA and a chance at 200+ Ks.

3. SP Rich Hill
Over his last 49 games in the majors, Hill went 26-14 with a 2.65 ERA and 331 Ks over 275 innings. Blisters cost him about 40 days over the first seven weeks of the year. Two bad outings (12 runs and 21 baserunners in eight innings) led to poor showing over his first eight starts (5.14 ERA). I suggested to one of the Scout Members (Jersey Girl) to pick Hill in May as he didn't belong in the free pool in shallow leagues. His second bad start led to her launching him back into the player pool. Over his last 17 starts, Rich allowed two runs or fewer in 13 games leading to a 9-5 record with a 2.68 ERA and 131 Ks over 100.2 innings. Hill dominated RH batters (.190 BAA) while needing to unlock the key to success against lefties (.255) with a poor BB:SO ratio (19:28). His AFB (89.3) was well below 2016 (91.1), but batters struggled to hit his four-seamer (.184 BAA). Rich has a plus curveball (.231 BAA) as well. His only negative was a spike in home runs allowed (1.2 per nine). Tough to ignore his recent success even with a short fastball. Command (3.3 walks per nine) is the key to repeated success while needing to solve his blister issue. Priced as a 200-inning starter in drafts, so a Fantasy owner has to believe in his recent resume. I'd bet on a value ace while understanding his downside risk. If you invest, try to buy more Dodger starting depth to cover him. Let's set the bar at 2.75 ERA with 15+ wins and 200+ Ks.

4. SP Kenta Maeda
Maeda struggled over his first five starts (8.05 ERA and .316 BAA) when he allowed seven HRs over 19 innings. He allowed three runs or fewer in his next eight starts (2.68 ERA and 52 Ks over 50.1 innings) to get his ERA (4.15) back in a respectable area. Kenta had too many disaster outings over his last 15 games (4.29 ERA) due to 12 HRs allowed over 65 innings. His failure was tied to lefties (.263 with 12 HRs over 251 at-bats). Maeda had more life on his fastball (92.4 – 90.9 in 2016). Batters struggled to hit his four-seamer (.216 BAA), his slider (.217 BAA), and his cutter (.207 BAA) while needing improvement with his curveball (.255 BAA), changeup (.275 BAA), and sinker (.310 BAA). Kenta did have improvement in his walk rate (2.3) and K rate (9.4). He just needs to clean up his HRs allowed (1.5 per nine). The rise of Alex Wood and depth of other starting options did cost Maeda a few starts and lowered his output in Ks (140). Over two seasons, he has 29 wins in 57 starts. Possible 15+ wins with a sub 3.50 ERA and 175+ Ks.

5. SP Hyun-Jin Ryu
Ryu battled his command (3.2 walks per nine) and home runs (1.6 per nine) in his first full season since 2014. His K rate (8.2) matched his career high while struggling with LH batters (.326 with eight HRs over 129 at-bats). Hyun-Jim had the stuff to get righties out (.240 BAA). On the year, Ryu had three disaster starts (16 runs and 30 baserunners over ten innings). Over 14 games mid-season, Hyun-Jim had a 2.69 ERA with 67 Ks over 77 innings. HIs AFB (90.7) below 2014 (91.6). His secondary stuff played well (changeup – .229 BAA, slider – .160 BAA, and curveball – .158 BAA) while his four-seam fastball (.369 and 15 HRs over 157 at-bats) had downside risk. Lot's of work to do here. Ryu needs to throw more strikes, find an out pitch against lefties, and keep the ball in the ballpark. Worth a backend flier based on his mid-season success and his two previous two strong years in the majors. A chance at a sub 3.50 ERA with 150+ Ks.

SP Brock Stewart
Stewart has one elite year (2016) on his minor league resume (9-4 with 1.79 ERA and 129 Ks over 121 innings). Over four seasons in the minors, Brock has a 3.12 ERA and 303 Ks over 274 innings. His 2017 year in the majors started with 16.2 shutout innings with 12 Ks after spending the beginning of the year on the DL at AAA with a right shoulder injury. LA gave him three starts over the summer, but Stewart was ready to handle the job (ten runs and 23 baserunners over 11.1 innings) thanks to poor command (11 walks). HIs AFB came in at 93.8 mph with batters hitting against his four-seamer (.206 BAA). He throws a changeup (.257 BAA) as his second pitch and a low volume slider (.000 BAA). Possible starting option if LA needs another starter while also being an option to fill the void created by the loss of Brandon Morrow.

SP Walker Buehler
The Dodgers selected Buehler 24th overall in the 2015 MLB June Amateur Draft after having TJ surgery. In his first full season in the minors, Walker went 3-3 with a 3.35 ERA and 125 Ks over 88.2 innings while pitching at three levels. His quick success led to a call-up to the majors where Buehler battled his command (7.7 walks per nine) and home runs (1.9 per nine). His AFB (98.4) was elite while offering a curveball (.182 BAA) with upside and low volume slider. Intriguing arm with explosive upside once he figures out how to throw more strikes in the majors. Must follow this spring while keeping a close eye on his minor league success in 2018 if he doesn't pitch out of the bullpen.

CL Kenley Jansen
Jansen threw the most first-pitch strikes (72.9 percent) in his career leading to only seven walks over 68.1 innings and the best K rate (14.4) since 2011 (16.1). Over a 30-game stretch from April 10th to June 29th, Kenley allowed one run and one walk with 51 Ks. He owned righties (.120 BAA) while throwing the ball well vs. LH batters (.236 BAA). Jansen had a 0.80 ERA on the road with one walk and 56 Ks over 33.2 innings. HIs AVB (95.2) was slightly improved. All three of his pitches (cutter – .189 BAA, slider – .077, and sinker – .167 BAA) were tough to hit. Pretty much the Clayton Kershaw of closers (2.08 ERA, 0.872 WHIP, and 230 saves) with a chance at an edge in all areas and league-leading saves. Kenley will be the first closer drafted in just about every league.
RP Pedro Baez
Baez has a 3.04 ERA and 225 Ks over 213 innings while pitching in front of Kenley Jansenover the last four seasons, but he continues to struggle with home runs (1.3 per nine). Last year he lost his way in his command (4.1 walks per nine), which led to a drop back in his K rate (9.0). Pedro looked closer-worthy over his first 29 games (0.91 ERA and .178 BAA). He pitched poorly over the last two months of the year (6.52 ERA) due to 13 walks and five HRs allowed over 19.1 innings. Baez served up six of his nine HRs to RH batters with solid success against both sides of the plate (RH – .238 BAA and LH – .206 BAA). His AFB (97.4) remains an edge (.216 BAA). Pedro has a plus slider (.212 BAA) while his changeup (.261 BAA) lost some value. Steady late-inning arm who should improve in 2018 with a rebound in his command.

RP Josh Fields
Fields never developed as a closer in the majors, which was expected after the Mariners selected him in the first round in 2008. Before last season, Josh had a 4.34 ERA and 219 Ks over 178.1 innings in the majors. His K rate (10.7 in his career and 9.5 in 2017) has always offered an edge. His late inning struggles tend to come from HRs and walks. In 2017, Fields had his best year in the majors (2.84 ERA) helped by a career-best walk rate (2.4). His failure with LA came from ten HRs allowed over 57 innings (1.6 per nine). He pitched better against RH batters (.169 BAA). Josh served up six HRs in 82 at-bats to lefties (.232 BAA). HIs AFB (95.8) was a career high. Batters hit .199 vs. his four-seamer with ten HRs over 171 at-bats. His curveball (.296 BAA) isn't a difference maker pitch. Pitching in LA helps, but he needs a secondary pitch of value and keep the ball in the park.
References
Baseball America Prospect Handbook. (n.d.).
Baseball-Reference. (n.d.). Retrieved from http://www.baseball-reference.com/
Brooksbaseball.net. (n.d.). Retrieved from http://www.brooksbaseball.net/
Fangraphs. (n.d.). Retrieved from http://www.fangraphs.com/
Roster Resource. (n.d.). Retrieved from http://www.rosterresource.com/mlb
Rotowire. (n.d.). Retrieved from http://www.rotowire.com/
RotoWorld. (n.d.). Retrieved from http://www.rotoworld.com/