The search for reliable starting pitchers in Fantasy Baseball is getting more and more difficult. Pitchers aren't going deep into games anymore and only 15 hurlers reached 200 innings last season. This phenomenon is pushing pitchers further up the board in drafts and some surprising names are going earlier than some might anticipate.
Aaron Nola is going as the 18th starting pitcher off the board with an ADP of 65 in early drafts on fantrax.com. Is the Phillies' right-hander worth taking that early as a SP2 for most teams? I say yes and consider him a dark horse candidate for the National League Cy Young award.
Nola, 24, doesn't have a deep resume, but he took major strides to enter the conversation as a Top 20 pitcher with the potential to breakout. Nola had a back strain that caused him to miss time early in the season, but pitched well upon his return. For the season, he went 12-11 with a 3.54 ERA and 1.21 WHIP. In 168 innings, he had a 184:49 K:BB ratio and a 49.8 percent ground ball rate. The average velocity on his fastball increased almost two miles per hour to 92 last season. While that pitch has improved, Nola has one of the best curveballs in the game to go with a good changeup.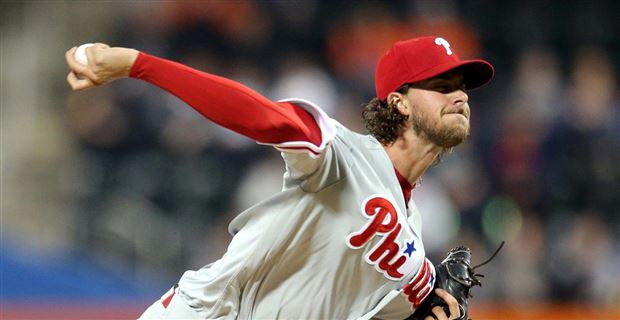 Nola pitched 77.2 innings with the Phillies in 2015 and 111 in 2016. Each season, he has increased his swinging strike rate, getting to 10.8 percent last season. In the second half of the season, Nola had a 28.3 percent strikeout rate, 6.6 percent walk rate and a 29.2 percent hard hit rate. In 13 of his final 16 starts, he allowed two earned runs or less. In a 10-start stretch from June 22 to Aug. 12, Nola pitched six innings and allowed two earned runs or fewer in each outing. Nola has pitched 356.2 innings over three seasons in the majors. He has a career 3.94 ERA and 3.38 FIP.
Nola has the components you want in an ace pitcher. He has a career strikeout rate of 25 percent, a walk rate of 6.5 percent and a 51 percent ground ball rate. In 12 of his 27 starts last season, Nola pitched at least seven innings.
Nola needs to show he can stay healthy for a full season. Getting to 200 innings would be ideal, but with the way the game has changed, getting 180 innings from him would be acceptable. Nola isn't a big name yet, but we have already seen periods of an upper-echelon pitcher. Draft Nola with confidence.