Washington Nationals
The Nationals have won the NL East four times over the last six seasons while averaging 96.5 wins in their playoff years. Even with their success, Washington hasn't been able to get path the League Division Series.
The pitching staff allowed about 606 runs per season headed into 2017. They allowed 60 more runs last season leading to the sixth-place finish in ERA (3.88). Their weakness continues to be their bullpen (4.41 ERA – 23rd).
Washington scored the most runs (819 – 5th) in franchise history, which was an improvement of 56 runs over 2016 (763) and 116 more than 2015 (703). They finished 13th in the majors in home runs (215).
In the offseason, the Nationals resigned C Matt Wieters, IF Howie Kendrick, RP Brandon Kintzler, and P Edwin Jackson. They lost 1B Adam Lind, OF Jayson Werth, IF Stephen Drew, and OF Ryan Raburn to free agency.
1B Matt Adams was signed in December to add power on the bench and provide insurance at first base. Michael Taylor is expected to move into the starting lineup in centerfield.
The starting rotation will have the same front four starters with the fifth starting job being up for grabs. The Nationals tried to rebuild their bullpen in the middle of last year. They hope a full season of fresh arms leads to a higher level of success in late games.
2018 will be the last dance for Bryce Harper in Washington unless they decide to place a huge bet in his future. For the fans of the Nationals' sake, I hope this year's team makes a deep playoff run resulting in a World Series title.
Washington is the clear favorite in the NL East with strength in their starting lineup and the front part of their starting rotation. The key to their success will be a healthy season and a step forward in the bullpen.
Starting Lineup

1. OF Adam Eaton
After being traded to the Nationals in the offseason in 2017, Eaton was only able to play for 23 games last year (.297 with 24 runs, two HRs, 13 RBI, and three SBs over 91 at-bats). A torn ACL in his left knee ended his season on April 29th. Headed into last year, Eaton posted back-to-back seasons with 14 HRs with repeated success in his AVH (1.506). His CTBA (.349) fell just below his last two full seasons. Adam improved on his walk rate (8.9) for the third straight season. His K rate (16.3) fell in line with his career average (16.8). He had almost equal success against RH (.285) and LH (.284) batters with 13 of his 14 HRs coming against righties. From May through June, Eaton hit .263 with seven HRs, 31 RBI, and eight SBs over 312 at bats. His best month was September (.333 with three HRs, 13 RBI, and two SBs in 108 at-bats). In 2017, Adam continues to hit a high number of ground balls (53.4 percent) leading to a short FB rate (24.9 in his career) with a step back in his HR/FB rate (8.7 – 10.9 and 11.0 over the two previous years). Adam appeared to have more speed in the minors (108 SBs over 1316 at-bats) with a much higher ceiling in batting average (.348). A nice player with a tweener skill set. A possible uptick in batting average with a 10/60/20 skill set while offering 100+ runs. His swing path does restrict a breakthrough in power.

2. SS Trea Turner
Turner has yet to play a full season in the majors, but he'll command a top-five pick in many of the high stakes drafts in 2018. Just six games into last year, Trea was on the DL for ten days with a tight hamstring. His counting stats were strong over his next 31 games (26 runs, four HRs, 22 RBI, and eight SBs), but he only hit .248. Fantasy owners saw the impact of his game over 32 games in late May through the second to last day of June (.324 with 27 runs, three HRs, ten RBI, and 24 SBs). His hot run in steals pushed most Fantasy teams through the standing in that category. An errant pitch on June 30th led to a broken right wrist and two months on the DL. Turner came home with a nice September (.297 with 22 runs, four HRs, 13 RBI, and 11 SBs). His season projected over 550 at-bats would have delivered 100 runs, 17 HRs, 60 RBI, and 60 SBs. These stats are impressive. If you dig one step deeper, Trea had 412 at-bats in 98 games. If he played 150 games at this pace, Turner would have had 630+ at-bats or 13 more percent production in his counting stats. HIs K rate (17.9) was slightly better than 2016 (18.2) while still needing to improve his walk rate (6.7). Turner came up empty in production against lefties (.245 with no HRs and five RBI over 94 at-bats). His HR/FB rate (9.9) was lower than his success with minimal at-bats in the majors (12.7) while having a spike in his ground ball rate (51.7). Best piece to build around in 5 X 5 Roto formats especially if he adds more batting average to his equations. Both his average hit rate (1.726) and CTBA (.352) have signs or more upside in his game. Place your investment on .300+ BA with 125+ runs, 20+ HRs, 70+ RBI, and 70+ SBs. I would draft him second overall ion 2018 if given an opportunity.

3. OF Bryce Harper
The final piece to Harper's game emerged in 2017. For the first time in his career, Bryce delivered an edge RBI rate (19). His CTBA (.414) came in over .400 for the second time in three seasons while maintaining his strength in his average hit rate (1.866). He hit well against RH (.322) and LH (.311) pitching while showing a dominating power swing vs. righties (26 HRs and 74 RBI over 301 at-bats). Bryce had two great months (April – .391 with nine HRs and 26 RBI over 92 at-bats and July – .378 with nine HRs and 22 RBI over 90 at-bats). His K rate (20.1) is about league average with a step back in his walk rate (13.8). His HR/FB rate (24.0) had a rebound after a down 2016 (14.3), but he did hit fewer fly balls (37.6 percent – 42.4 in 2016). Bryce suffered a left knee injury on August 12th after an awkward step on the first base bag, which led to 18 token at-bats in late September. He was on pace for 124 runs, 38 HRs, and 114 RBI with 550 at-bats, but he lost his value in steals. Harper will be a free agent after the season leading to the biggest contract in baseball history. He plays in a top scoring lineup with strength in front and behind him in the starting lineup. Possible triple crown run with a .325+ BA with 120+ runs, 40+ HRs, 120+ RBI, and sneaky value in steals.
4. 3B Anthony Rendon
Rendon has been a very good player in three of his four seasons in the majors. He set a career high in HRs (25), RBI (100), and batting average (.301) in 2017. His approach at the plate showed growth in all areas. Anthony had the best walk rate (13.9) and K rate (13.6) of his career. Rendon had growth in both his average hit rate (1.771) and CTBA (.359). He played great against lefties (.337 with nine HRs and 25 RBI over 104 at-bats). Anthony hit .347 over 251 at-bats from April 30th to July 30th with 51 runs, 21 HRs, 64 RBI, and five SBs. He lost his rhythm over the last two months of the season (.272 with 25 runs, four HRs, and 31 RBI in 173 at-bats). Over the last two years, Rendon hit more fly balls (43.8 percent in 2016 and 47.2 in 2017) with only a slight uptick in his HR/FB rate (12.3). His RBI rate (20) gives him a middle of the order opportunity plus his resume has complementary speed. Next step: .300+ BA with 100+ runs, 30+ HRs, 100+ RBI, and double-digit steals.

5. 2B Daniel Murphy
Murphy has been an exceptional player in his two seasons in Washington (.334 with 182 runs, 48 HRs, 197 RBI, and seven SBs in 1,065 at-bats). His CTBA was elite in 2016 (.388) and 2017 (.276) while seeing a rise in his average hit rate (1.717 and 1.686). Daniel led the NL in doubles (47 and 43) in each of the last two years. His RBI rate (20) ranked near the top of the league for the second straight year. Murphy had a career walk rate (8.8) for a full season. HIs K rate (13.0) was well below 2015 (7.1) and 2016 (9.8) while remaining in an area of strength. He hit over .300 in every month except August (.263) while being very good vs. RH pitching (.332 with 19 HRs and 74 RBI over 407 at-bats). His swing path led to a high line drive rate (27.6) and a career low GB rate (33.5). His HR/FB rate (12.8) was just above 2016 (12.5). Playing his best ball after the age of 30. All signs point to another strong season helped by his great supporting cast. If he turns some of his doubles into home runs, Murphy may even raise the bar in 2018. Possible .320 with 90+ runs, 25+ HRs, and 90+ RBI. Daniel had surgery on his right knee last October to repair a cartilage issue. He should be ready for opening day.

6. 1B Ryan Zimmerman
At the start of 2017, there was a lot of talk of Zimmerman working with Daniel Murphy to change his swing path to create more loft. Ryan had a great start over his first 29 games (.435 with 28 runs, 13 HRs, and 34 RBI over 108 at-bats), which supported his offseason work. When looking at his final ground ball rate (36.5) and fly ball rate (33.7), his swing had minimal change from 2016 (GB rate – 48.6 and FB rate – 34.7). His rise in power was due to a huge jump in his HR/FB rate (26.5 – 14.6 in his career). Zimmerman regressed in batting average with each month played (April – 420, May – .319, June – .283, July – .243, and August – . 233) before rebounding with a nice September (.325 with seven HRs and 20 RBI). His K rate (21.9) came in higher than his career average (18.3) for the third straight season. He took fewer walks (7.6 percent) than his career resume (8.8). Ryan finished with a huge CTBA (.399), which was much higher than his late five seasons. A veteran player who may hit in a favorable part of a high scoring lineup, but there are multiple signs of overachieving in 2017. Drive carefully as his batting average, home runs, and RBI will fall short of last season. Set his bar at .280 with 80 runs, 25 HRs, and 80 RBI and hope he repeats his thought process in 2018.

7. C Matt Wieters
In his mid-20s, Wieters had the appearance of being a 20/80 player annually with even more upside in power. Injuries and a fading skill set led to horrible 2017 season. He had a low CTBA (.290) after showing strength in this area in 2014 (.376) and 2015 (.361). His average hit rate (1.526) ranked at the bottom of his career range. Matt had a league average walk rate (8.2) with fade in his K rate (20.2). Looking back, Wieters had a nice April (.301 with four HRs and 12 RBI over 73 at-bats). Over his last four months of the season, Matt hit .195 with six HRs and 35 RBI over 272 at-bats leading to a fading role in playing time. He had his lowest HR/FB rate (8.3) since 2010 (8.0). I'm sure the Nationals would have liked to move on from him, but Wieters used his player option to gain one more big contract ($10.5 million) before becoming a free agent in 2019. He's a better than his failed season while needing to stay healthy. Even with 450 at-bats, Matt still has a 15/60 floor with more upside with a clear head this season. Buy the discount as a C2 in deep leagues.

8. OF Michael Taylor
With Jayson Werth no longer on the roster, Taylor will take over as the full-time center fielder. His K rate (31.7) invites slumps and job loss risk while owning a below-par walk rate (6.7). Michael has a power favoring average hit rate (1.798) with a jump in his CTBA (.412) in 2017. He hit well against lefties (.308 with four HRs and 13 RBI over 91 at-bats). Taylor didn't play at a high level on the road (.229 with eight HRs and 18 RBI over 201 at-bats). Most of his production came in June (.299 with seven HRs, 18 RBI, and six SBs over 97 at-bats) and September (.284 with seven HRs, 15 RBI, and five SBs over 95 at-bats). His HR/FB rate (20.0) is very good while coming in over his short major league average (17.2). Taylor hit .257 in his eight seasons in the minors with 53 HRs, 286 RBI, and 144 SBs in 2,092 at-bats. Nice combination of power and speed paired with a bottom of the order opportunity. With 500+ at-bats, Michael has a 25/30 type skill set with risk in batting average. A helpful piece to the puzzle if you build to cover his batting average risk.

SS Wilmer Difo
Difo ended up being a decent cover for Trea Turner for two months. From July 2nd to August 30th, he hit .345 with 32 runs, four HRs, 15 RBI, and seven SBs over 171 at bats. His K rate (20.3) came in about league average with a short walk rate (6.6). Wilmer was a better player against LH pitching (.310 with three HRs and six RBI over 84 at-bats). Difo has a ground ball swing (50.8) with a below-par HR/FB rate (7.9). Over eight seasons in the minors, he hit .273 with 30 HRs, 245 RBI, and 178 SBs in 2,234 at-bats. His best asset should be his speed highlighted by his strong 2014 season at A ball (.315 with 14 HRs, 90 RBI, and 49 SBs over 559 at-bats). Top insurance for Turner while working his way toward being the future second baseman.

OF Victor Robles
Robles isn't quite ready to compete for a starting job in the majors, but he will be in 2019 with a year of seasoning at AAA. Over four seasons in the minors, Victor hit .304 with 26 HRs, 141 RBI, and 110 SBs in 1,246 at-bats. His AVH (1.643) continues to improve while showings strength in his contact batting average in his minor league career. He has a below league average walk rate (7.0) with a favorable K rate (14.9). Robles will develop into a five-category type player when he adds more strength. If Michael Taylor has an issue, Victor is a worthy call-up helped by his ability to play a plus center field.
Bench Options
Miguel Montero (C) – Miguel signed a minor league contract in early February to compete for the backup catching job with the Nationals. His game has shown fade over the last two seasons (.216 BAA with 57 runs, 14 HRs, and 49 RBI over 426 at-bats).
Matt Adams (1B) – Matt will add power off the bench plus insurance at first base. Over the last three seasons as a part-time player, Adams hit .258 with 41 HRs and 143 RBI over 811 at-bats. He has 30+ HR power, but his bat has weakness against lefties (.206 with 12 HRs and 51 RBI over 325 at-bats in his career). Possible bench flier in NL only leagues.
Howie Kendrick (IF) – Howie has been downgraded to a veteran utility man in 2017. Washington signed him to a two-year deal in the offseason for $7 million. Last season Kendrick hit .315 with nine HRs and 41 RBI over 305 at-bats with regression in his K rate (20.4). Tough to believe in his at-bats without an injury.
Brian Goodwin (OF) – Goodwin will compete for a backup outfield job this spring. He played well in a half season's of at-bats (251) in the majors (.251 with 41 runs, 13 HRs, 30 RBI, and six SBs). Brian is a career .253 hitter in the minors with 52 HRs, 249 RBI, and 75 SBs over 2,068 at bats.
Pitching Staff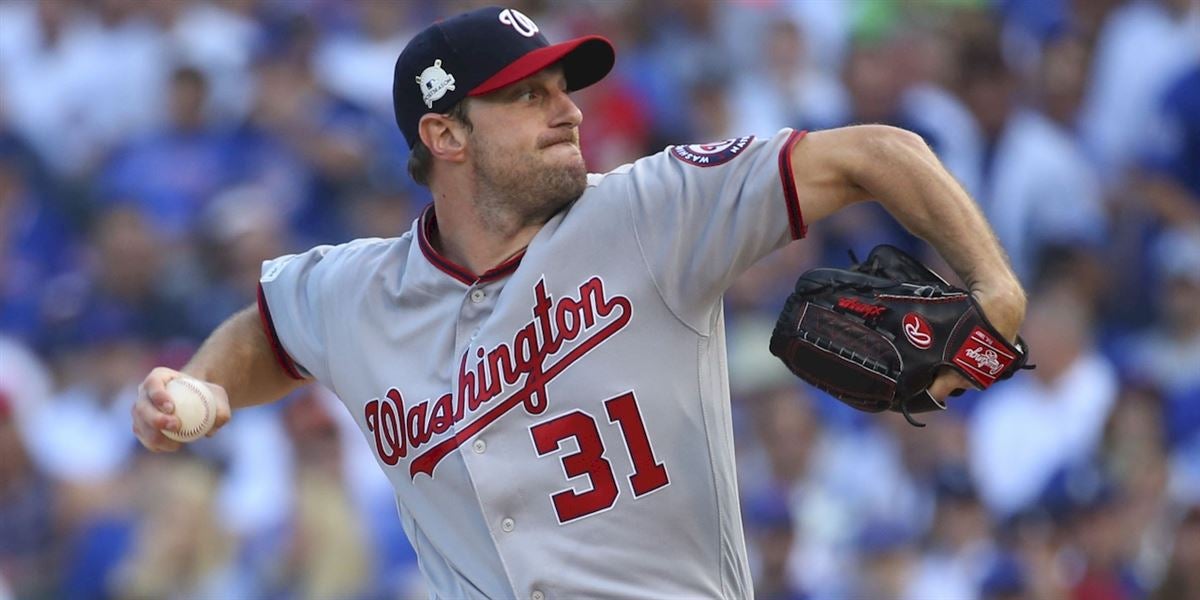 1. SP Max Scherzer
Scherzer led the NL in wins and WHIP in three of the last five seasons. He had a career-best K rate (12.0) in 2017 helping him win the strikeout title in each of the last two years in the National League. A neck issue led to a couple of weeks on the DL over the second half of August. Max battled a calf injury in September, and he left his last start of the year with a hamstring issue. From May 4th to August 28th, Scherzer had a 2.02 ERA and 190 Ks over 133.2 innings. He had double Ks in 13 of his 20 starts over this span. In his career in Washington, Max is 50-25 with a 2.76 ERA and 828 Ks over 657.2 innings. RH batters only hit .136 against him with 17 walks and 158 Ks over 337 at-bats. Lefties did hit 16 of his 22 HRs allowed even with a low batting average (.215 BAA). His AFB (94.4) was a step below 2016 (95.2). Batters hit .240 vs. his four-seam fastball with 16 HRs over 337 at-bats. Each one of his secondary pitches had elite value (slider – .128 BAA, changeup – .107 BAA, curveball – .192 BAA, and cutter – .103 BAA). Over the last three years, Scherzer pitched more up in the strike zone leading to a high fly ball rate (45.4, 47.9, and 46.6) and risky HR/FB rate (10.5, 11.9, and 10.8). One of best pitching skill sets in the game, and he continues to be harder to hit. If Max finds his 2015 walk rate (1.3), his next step could be a sub 2.00 ERA with league-leading wins and Ks. The one red flag is his late-season battle with multiple injuries.

2. SP Stephen Strasburg
Strasburg has been in the majors for eight seasons. His only season with 200+ innings came in 2014 (215) when he led the NL in starts (34) and strikeouts (242). Stephen missed another four starts in 2017 due to right forearm injury. After his DL stint, he pitched great over his last eight starts (5-1 with a 0.84 ERA, 1.71 BAA, and 63 Ks over 53.2 innings). Over his first 20 starts, Strasburg went 10-3 with a 3.25 ERA and 141 Ks over 121.2 innings. He allowed two runs or fewer in 20 of his 28 starts. Stephen pitched well against both RH (.215 BAA) and LH (.193 BAA) batters. His AFB (96.1) was his best since 2013 (96.2). Both his changeup (.094 BAA) and curveball (.155 BAA) are special pitches. Strasburg did lose some of his life on his fastball (.253 BAA), which led to 10 of his 13 HRs allowed. His K rate (10.5) was a step below his last two years (11.0 and 11.2). A great pitcher who can't match the top aces in the game in volume of innings. His stuff is electric with plus K ability, and Strasburg is a winning pitcher in his career (84-45). When playing Fantasy sports, you can predict injuries, but you can draft to avoid injury risk. At the same time, you can't ignore elite talent. Buy him as a foundation ace while hoping for a career year in innings leading to a special year. The numbers add up while just needing to stay healthy.

3. SP Gio Gonzalez
Based on the previous four seasons, Gio had his worst combination of walks per nine (3.5) and strikeout per nine (8.4). He led the NL in walks (79). His AFB (90.5) was a career low. Even with all of this, Gonzalez was the toughest to hit (.216 BAA) since 2012 (.206 BAA). His curveball (.161 BAA) was elite while regaining the form on his changeup (.204 BAA). Batters struggled to hit his four-seam fastball (.255 BAA). He dominated lefties (.183 BAA with two HRs over 164 at-bats). Gio allowed 19 of his 21 HRs to RH batters even with a low batting average against (.226). Gonzalez had a low ERA in April (1.62), June (2.53), July (2.14), and August (2.23). He failed in May (4.37 ERA) due to seven HRs allowed over 35 innings with weak command (24 walks). His season ended with poor September (5.47 ERA). His long resume in the majors points to an ERA closer to a 3.75 with a regression in his WHIP. I can't see the same success with the decline in his stuff and poor command. Avoid his higher price point while understanding Gio will still have many productive days in 2018.

4. SP Tanner Roark
Roark has been an every other year pitcher over the last four seasons. His walk rate (3.2) decline for the second straight year (2.1 and 3.1) and a spike in his HR/9 rate (1.1). Tanner had the highest K/9 rate (8.2) of his career. Other than one bad start (seven runs and 12 baserunners over five innings), Roark had a 3.86 ERA after his first ten starts. A terrible June (8.31 ERA, .338 ERA, and six HRs over 30 innings) put him in chaser mode for the rest of the year. Over his last 13 starts, Tanner allowed three runs or fewer in 11 games leading to a 3.99 ERA and .223 BAA. His failure came against lefties (.284 with 15 HRs over 352 at-bats). HIs AFB (92.8) was lower than his last two seasons (93.7 and 93.2). All of his secondary pitches were tough to hit (slider – .222 BA, curveball – .216 BAA, changeup – .223 BAA, and cutter – .222 BAA). Roark lost the value of his fastball (four-seam – .284 BAA and sinker – .289 BAA). With a 3.41 ERA for his career in the majors with a winning record (55-39), Tanner should have a better 2018. He needs to find his fastball and solve his command issues while rebounding against lefties (.214 BAA in 2016). Double-digit wins with a 3.50 ERA and 175 Ks with 200 innings pitched.

5. SP Erick Fedde
Over three season in the minors, Fedde went 17-13 with 3.37 ERA and 261 Ks over 275.1 innings. He had a low walk rate (2.2) and a reasonable K rate (8.5). His arm lost value at AAA (4.76 ERA over 34 innings) with three disaster outing in the majors in 2017 (9.39 ERA, .385 BAA, and five HRs over 15.1 innings). His AFB (93.0) was about league average. Erick will throw a high volume of strikes. His fastball could have more upside if he threw a four-seamer. His best combination is his sinker and slider while working to add a cutter and a split-finger fastball. Possible best option to be the fifth starter out of spring training if Washington doesn't add another free agent arm. Fedde should start the year at AAA while getting a quick call-up to the majors. Bet on his talent his crooked numbers in the majors in 2017. His season ended last year with a forearm issue.

SP Austin Voth
Headed into 2017, Voth had a 2.84 ERA with 469 Ks over 487.1 innings with a successful showing at AAA (3.15 ERA and 133 Ks over 157 innings). His arm lost all value last year leading to a disaster season (5.94 ERA and 88 Ks over 122.2 innings). He allowed 1.5 home runs per nine with fade in both his walk rate (3.5) and K rate (6.5). Austin is an older pitching prospect that's moved relatively slowly in the Nationals' farm system despite pitching well before last season. His fastball sits in the low 90s with a changeup that grades above the league average. Voth also throws an improving slider. His command will be the key to his success at the next level. Austin is back to ground zero at AAA in 2018.

SP A.J. Cole
Cole lost his way in 2017. He struggled at AAA (5.88 and 1.746 WHIP), but he was able to earn his way to the majors. With Washington, he posted a respectable ERA (3.81) while having risk in his WHIP (1.500) and struggling with home runs (eight over 52 innings). Over his last eight games with the Nationals. A.J did pitch well (3.00 ERA and 32 Ks over 36 innings) even with a few too many walks allowed (18). His AFB (93.2) was league average while offering a slider (.196 BAA) and curveball (.167 BAA) of value. He needs to clean up his walks (4.7 per nine) to be a viable option to be the fifth starter in the majors in 2018. Before 2017, Cole had a 3.63 ERA with 689 Ks over 730.2 innings in the majors over seven seasons. He's repeated AAA over the last four years despite having success in 2014 (7-0 with a 3.43 ERA and 50 Ks over 63 innings) and 2015 (3.15 ERA with 76 Ks over 105.2 innings). In 2016, A.J. regressed at AAA (4.26 ERA). Backend flier with plenty of downside risk at this point in his career.

CL Sean Doolittle
There's a lot to like about Doolittle's arm if he could stay healthy for the whole season. The A's yanked him around over the last three years while failing to give him the closing job. After the trade to the Nationals, Sean excelled in the 9th inning. He allowed four runs and eight baserunners in his first four innings with Washington before settling in for a great end to the year (1.38 ERA, 26 Ks, and 19 saves over 26 innings). Doolittle had a 3.52 ERA and 11 Ks in 7.2 innings in April, but he ended up on the DL at the end of the month for six weeks with a left shoulder injury. He owned both RH (.196 BAA) and LH (.146 BAA) batters. His AFB (95.0) was below his best seasons in the majors. Sean relies mostly on his four-seam fastball (.170 BAA) while his low volume slider (.000 BAA) and show me split (.222 BAA) offered an edge. Risk/reward decision which will be priced into his draft value. Viable for sure with a chance at 40+ saves and a run at 100+ Ks with a full season of innings, but insurance is a most all season.

RP Ryan Madson
Madson pitched well enough to close in both Oakland (2.06 ERA) and Washington (1.67 ERA), but the opportunity never developed in 2017. Ryan finished with the lowest walk rate (1.4) of his career with a nice bump in his K rate (10.2). Over the last three years, he has a 2.55 ERA, 174 Ks, and 35 saves over 187 innings. His stuff played well against righties (.171 BAA) and lefties (.204 BAA). His AFB (96.1) was the best of his career at age 36. Batters struggled to hit his four-seam fastball (.140 BAA), sinker (.188 BAA), and changeup (.238 BAA). Madson did a nice job keeping the ball on the ground (54.7 percent) leading to a short fly ball rate (21.2) and a weaker HR/FB rate (6.9). Very good insurance for Sean Doolittle, but he'll have a tough time repeating 2017. Ryan did miss some time in August with a finger injury.

RP Brandon Kintzler
Kintzler was the best looking option for saves headed into 2017 for the Twins based on his career resume in the majors. Over the first four months of the season with Minnesota, Brandon converted 28 of 32 saves with a 2.78 ERA despite 27 Ks over 45.1 innings. His walk rate (2.0) remained strong, but his K rate (4.9) was one of the weakest in the game. Over the last two seasons in the bullpen, Kintzler has a 3.08 ERA with 74 Ks and 46 saves over 125.2 innings. He pitched well in a set role for Washington over the last two months of the season (3.46 ERA). His stuff does have failure risk against righties (.297). His AFB (93.0) is just league average with a mediocre sinker (.250 BAA) and slider (.259 BAA) while throwing a low volume changeup (.143 BAA) with success. A risky option if asked to close again.
References
Baseball America Prospect Handbook. (n.d.).
Baseball-Reference. (n.d.). Retrieved from http://www.baseball-reference.com/
Brooksbaseball.net. (n.d.). Retrieved from http://www.brooksbaseball.net/
Fangraphs. (n.d.). Retrieved from http://www.fangraphs.com/
Roster Resource. (n.d.). Retrieved from http://www.rosterresource.com/mlb
RotoWire. (n.d.). Retrieved from http://www.rotowire.com/
Rotoworld. (n.d.). Retrieved from http://www.rotoworld.com/