QB Kirk Cousins – Over three seasons as a starter for the Redskins, Kirk went 24-23-1 while averaging 4,392 passing yards and 27 passing TDs per year. Cousins adds value with rushing TDs (13 over the last three years) despite minimal upside in rushing yards. He did set career highs in rushing attempts (49) and rushing yards (179) in 2017. In 2015, Kirk led the NFL in completion rate (69.9) with strength in 2016 (67.0). Last year the receiving talent in Washington was a step below his previous season leading to a regression in his completion rate (64.4). Cousins will make plenty of plays downfield, which led to 7.8 yards per pass attempt over the last three seasons. In 2017, Kirk had five games with over 300 yards passing and six games with three TDs. The talent at the receiving positions in Minnesota has more upside while setting a high level in completion rate in 2016 (70.4) and 2017 (67.7), which bodes well for Cousins in 2018. I don't like his offensive line, but they did allow only 24 sacks last year. I expect 4,500 combined yards with 30+ TDs while being a steady backend QB1 in the Fantasy market.
ADP:
July 17
 – Pick 99 | 
August 1
 – TBD
Position Rank:
July 17
 – QB11 | 
August 1
 – TBD
---

Join FullTime Fantasy Sports for top advice in the industry from check-cashing, proven winners!
---
Running Backs
RB Dalvin Cook – There's a lot to like in Cook's resume at Florida State. He rushed for 4,464 yards on 687 carries over three seasons while scoring 48 TDs. Dalvin even chipped in with 79 catches for 935 yards. His looked more explosive rushing the ball in 2015 (7.4 yards per rush), but he gained an amazing 14.8 yards per catch last season. His running style has something in common with Devonta Freeman who also went to FSU. The key for his upside will breaking free at the second level of the defense where his vision and his open field quickness will create huge plays. Cook will make plenty of yards after contact due to his strength and ability to break arms tackles. Dalvin will be a massive threat in the passing game, but he needs to improve his technique and toughness in pass protection. In 2017, Cook blew out his ACL in his left knee. I'm never a fan of a player coming off an injury as too much could go wrong in his recovery. Last season the Vikings' RBs finished with 457 rushes for 1,803 yards and 14 TDs plus 84 catches for another 681 yards and two more TDs. With repeated success, Minnesota will once again have a special run game, but their offensive line will rank at the backend of the league. Of all the backs on the Vikings in 2017, Cook was by far the most dynamic with three down value. In his four games, he had 95 touches for 444 yards with two TDs and 11 catches. His skill set points to 50+ catches at the minimum with a floor of 275 rushes. Possible 1,300+ yards with six to eight TDs and 40+ catches with the best value coming late in the season.
Update: 7/27/18 > Dalvin Cook looked locked and loaded for a full go in training camp, which is more fuel to his rising draft value. Fantasy owners have enough respect in his recovery from a major knee injury to draft him in the first round in some drafts in the FFWC. Even with a full bill of health, I would drive my 2018 draft feelings carefully as the Vikings may still limit his touches early in the year.
ADP:
July 17
 – Pick 14 | 
August 1
 – TBD
Position Rank (PPR):
July 17
 – RB11 | 
August 1
 – TBD
Position Rank (Non-PPR):
July 17
 – RB9 | 
August 1
 – TBD
---
PLAY AGAINST THE BEST WITH FullTime Fantasy! | Odds
---
RB Latavius Murray – After having a minimal role over the first four games (46 combined yards and two catches on 16 touches) with Dalvin Cook as the lead back, Murray turned into the top early back in Minnesota over the last ten games of the season. He averaged 18.5 touches per game over this span with 818 combined yards with eight TDs and ten catches. On the year, Latavius gained 3.9 yards per rush compared to 4.8 by Cook. The Vikings will give him a more significant share of the offense especially early in the year. Minnesota should give him eight to ten touches per game leading to 600+ yards with a handful of TDs. Murray is a must handcuff for Dalvin Cook owners.
ADP:
July 17
 – Pick 194 | 
August 1
 – TBD
Position Rank (PPR):
July 17
 – RB53 | 
August 1
 – TBD
Position Rank (Non-PPR):
July 17
 – RB46 | 
August 1
 – TBD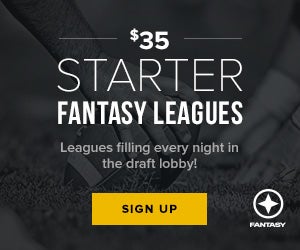 Wide Receivers
WR Adam Thielen – Some Fantasy owners may look at Thielen as fool's gold in the Fantasy market. After breaking through in 2016 (69/967/5) in 2016, Adam added follow through to his resume last year. He caught 91 of his 142 targets (9th in the NFL) for 1,276 yards and four TDs. Late in the season, Thielen played through a back injury that led four short games (4/51, 3/30, 2/24, and 6/61) over his last five starts, which led to some stats being left on the table. He played almost the whole season with a backup QB who overachieved his skill set, which is a testament to the upside and talent of Adam. He runs good routes with extra hands (75 percent catch rate in 2016 and 64 percent in 2017). His next step is adding more TDs to his resume. Thielen doesn't have name value, which may lead to him being discounted on draft day. With Kirk Cousins added to the roster, he'll be positioned to take another step forward. I'll take the same catches (91) and yards (1,276) while hoping for a handful more TDs in a developing Vikings' offense.
ADP:
July 17
 – Pick 28 | 
August 1
 – TBD
Position Rank (PPR):
July 17
 – WR14 | 
August 1
 – TBD
Position Rank (Non-PPR):
July 17
 – WR13 | 
August 1
 – TBD
WR Stefon Diggs – Over his first three years in the NFL, Diggs missed eight games while flashing impact value in many games. Last year he had two thrilling games (7/93/2 and 8/173/2) over the first three weeks of the year, but he lost his explosiveness over the last 12 games of the season which included two missed games with a groin issue. Stefon caught 41 of 59 targets over the last nine games of the season for 454 yards and four TDs while failing to gain over 80 yards in any game. With Adam Thielen banged up late in the year and the playoffs, Diggs caught 36 passes in his last six starts with one impact game (6/137/1) vs. the Saints in the playoffs. He's ranked 47th, 31st, and 19th in WR scoring in PPR leagues over his first three years in the league while leaving 20 percent of possible stats on the table due to injuries. I like his game, and he has 90+ catch upside with a full season of games. The change at QB should be positive, and he could be considered the WR1A on the Vikings.
ADP:
July 17
 – Pick 32 | 
August 1
 – TBD
Position Rank (PPR):
July 17
 – WR19 | 
August 1
 – TBD
Position Rank (Non-PPR):
July 17
 – WR19 | 
August 1
 – TBD
WR Kendall Wright – After a notable second year in the NFL (94/1079/2 on 139 targets), Wright has been unable to repeat his success over the last four seasons. Last year he caught 59 passes for 614 yards and one TD on 91 targets for the Bears' weak passing attack. Kendall has 57 catches or more in four of his six seasons in the NFL, but he scored 19 TDs in 82 career games. In Week 14, Wright had ten catches for 107 yards vs. the Bengals. Possession type WR who works best in the slot, which is an area Adam Thielen excelled at in 2017. Possible 50+ catches, but Minnesota may turn to Laquon Treadwell as the WR3.
ADP:
July 17
 – Pick 292 | 
August 1
 – TBD
Position Rank (PPR):
July 17
 – WR74 | 
August 1
 – TBD
Position Rank (Non-PPR):
July 17
 – WR73 | 
August 1
 – TBD
---
Learn more about the Fantasy Football World Championships where you can win a whopping $150K!
---
WR Laquon Treadwell – Over three years at Mississippi, Treadwell caught 202 passes for 2,393 yards and 21 TDs. His breakthrough season came in his junior year in 2015 when Laquon caught 82 balls for 1,153 yards and 11 TDs. He even completed three passes for 134 yards and a TD. His speed (4.65) is well below league average for his position, but he more than makes up for it in his size (6'2″ and 221 lbs.) and power. Treadwell will add scoring value in the red zone. Laquon has excellent hands where he will win many jumps balls even with a defender in his hip pocket. His route running and feel for defensive positioning will be an asset at the next level. In his second year in the NFL, Treadwell caught 20 of his 35 targets for 200 yards. His size should lead to the best opportunity of his career in 2018, but he has a lot to prove based on his snail's path over the first two years in the league.
ADP:
July 17
 – Pick 250 | 
August 1
 – TBD
Position Rank (PPR):
July 17
 – WR113 | 
August 1
 – TBD
Position Rank (Non-PPR):
July 17
 – WR113 | 
August 1
 – TBD
Tight Ends
TE Kyle Rudolph – After a breakout Fantasy season in 2016 (83/84/7 on 132 targets) with Sam Bradford behind center, Rudolph had a dull 2017 (57/532) except his eight TDs. His targets (81) dropped by 38 percent. Kyle only had ten catches for 109 yards and one TDs on 15 targets over his first four games. Over his next six games, Rudolph caught 32 of his 46 targets for 257 yards and two TDs before fading again over his last six games (15/166/5 on 20 targets). A late-season ankle injury required surgery after the season. Kirk Cousins like to throw to the TE position, but Kyle will only be the third option in the passing game behind the top two WRs. I'll set his bar at 65 catches for 650+ yards and respectable TDs, which paints him as a back-end TE1 in PPR leagues.
ADP:
July 17
 – Pick 93 | 
August 1
 – TBD
Position Rank (PPR):
July 17
 – TE8 | 
August 1
 – TBD
Position Rank (Non-PPR):
July 17
 – TE8 | 
August 1
 – TBD