St. Louis Cardinals
The Cardinals have been one of the better teams in baseball over the last 18 seasons. They've made the playoffs 13 times over his span with two World Series title. Unfortunately, their last losing season came in 2017 (78-84).
St. Louis will enter 2018 with back-to-back missed playoff berths. They had some regression both runs scored (761 – 14th) and runs allowed (705) in 2017. The Cardinals ranked 17th in home runs (196). Their pitching staff placed 10th in ERA (4.01) and 7th in bullpen ERA (3.81).
In the offseason, St. Louis lost three bullpen arm – Zach Duke, Juan Nicasio, and Seung Hwan Oh plus SP Lance Lynn. They made a pair of deals (Luke Gregerson and Dominic Leone) to fill some of their voids in the late innings.
The Cardinals signed SP Mike Mikolas to a two-year deal after spending the last three seasons in Japan. Their big move came with the acquisition of OF Marcell Ozuna from the Marlins for P Sandy Alcantara, OF Magbeuris Sierra, P Zac Gallen, and P Daniel Castano.
The starting lineup should produce enough offense to be competitive in most games, but I see some downside if a couple of players fail to live up to expectations.
St. Louis needs a healthy season out of Adam Wainwright and Michael Wacha to closer to expectations. The bullpen doesn't have those couple of lockdown arms championship teams need to win in the late innings.
Starting Lineup

1. OF Dexter Fowler
Fowler had the most HRs (18) in his career despite only being on the field for only 420 at-bats. His average hit rate (1.847) was well above his previous resume while showing regression in his CTBA (.348). Dexter has had a strong walk rate (12.8) in every season in the majors with growth in his K rate (20.6). Only once in his ten years in the pros has Fowler had over 485 at-bats. In 2017, he had two short stints on the DL for a heel issue and a left wrist injury. Over the first two months of the year, Dexter hit .228 with seven HRs and 19 RBI over 171 at-bats. His best production came in June (.286 with six HRs and 16 RBI over 70 at-bats). He hit .315 over the last two months of the year with four HRs and 14 RBI while failing to earn everyday at-bats (130). His best power still comes against RH pitching (.268 with 16 HRs and 52 RBI over 313 at-bats). His HR/FB rate (14.6) was a career high with a slight uptick in his fly ball rate (38.2). Tough player to build a Fantasy roster around due to his injury risk and minimal impact value in all categories.

2. OF Tommy Pham
Pham was one of the better waiver wire pickups in 2017. His stats projected over 550 at-bats would have been 118 runs, 28 HRs, 90 RBI, and 31 SBs, which adds up to a special player. Tommy had strength in his walk rate (13.4) with a slightly below average K rate (22.1). He had success against both RH (.310 with 16 HRs and 57 RBI over 348 at-bats) and LH (.292 with seven HRs and 16 RBI) pitching. After the All-Star break, Pham hit .313 with 12 HRs, 39 RBI, and 14 SBs over 240 at-bats with an improved approach at the plate (K rate – 19.4 and walk rate – 15.3). Tommy had a ground ball swing (51.7) in 2017 with a shallow FB rate (26.1) and elite HF/FB rate (26.7). Fantasy owners will invest a premium draft pick into Pham in 2018. He's jockeyed between AA, AAA, and the majors in recent years while failing to come close to matching his 2017 output with the Cardinals. Over 825 at-bats at AAA, he hit .301 with 24 HRs, 132 RBI, and 45 SBs while taking 98 walks (10.5 percent) and striking out 192 times (20.6 percent). I bet that Tommy can't repeat in 2018 while going down as a wasted early draft pick. He had a good thought process last season while lacking opportunity in most years. Possible 20/20 type guy with a chance to help in batting average. In 2015, Pham missed time with a quad injury. In 2016, he landed on the DL with a hamstring issue. I will not own him in any leagues in 2018.

3. 1B Matt Carpenter
Carpenter finished with a nice total in runs (91) and HRs (23), but his swing wasn't the same as the two previous year partly due to a bum right shoulder. Over the first half of the year, Matt hit .237 with 51 runs, 14 HRs, and 42 RBI over 287 at-bats putting him on pace in the counting categories. His batting average (.322) came around in July, but he posted no HRs and only eight RBI. His shoulder issues led to a poor finish to the year (.213 with nine HRs and 21 RBI over 150 at-bats. Carpenter struggled against lefties (.202 with two HRs and 12 RBI over 109 at-bats). His walk rate (17.5) was the best fo his career with a slight step back in his K rate (20.1). Matt has a huge spike in his fly ball rate (50.1 – 39.8 in his career) while his HR/FB rate (12.2) regressed for the second straight season while remaining above his career average (10.0). In the end, he traded batting average for more loft on his swing, which may have been the compensation for his sore shoulder. A nice on-base player with a much-improved average hit rate over the last three seasons. A rebound in his CTBA (.323) come with a healthy season. A .280 type hitter with a chance at 90+ runs, 20+ HRs, 80 + RBI.

4. OF Marcell Ozuna
In 2016, I identified Ozuna as a value power hitter, but I failed to double down on him last year after ending the previous season on a down note after the All-Stark break (.209 with six HRs and 29 RBI over 234 at-bats). Marcell was great in 2017. His AVH (1.795) had more growth setting the stage for a career high in HRs (37). His biggest surprise with the jump in his batting average (.312) due to a huge uptick in his CTBA (.407). He had elite RBI chances (467) and RBI rate (19). Ozuna finished with his best walk rate (9.4) of his career with some pullback in his K rate (21.2). His swing was dominant against RH pitching (.313 with 34 HRs and 109 RBI over 485 at-bats). Marcell hit .295 or higher in each month with a consistent range of production in each month (11/6/21, 18/8/18, 16/6/15, 15/4/27, 15/7/22, and 18/6/21). His HR/FB rate (23.4) was well above 2016 (14.1) and his best HR season in the majors in 2014 (16.8), but Ozuna flashed a similar number at HIgh-A (29.4) in 2012 when he hit 24 HRs over 489 at-bats. Even with a jump in home runs, Marcell still hit a lot of ground balls (47.1 percent) with a low fly ball rate (33.5). His overall resume points to regression in batting average with more follow through in his power. His runs will be at the mercy of the lineup behind him. I can't see repeated RBI chance even with Matt Carpenter getting on base a high volume of time in front of him. Possible .275 with 85+ runs, 30+ HRs, and 90+ RBI with a chance of steals being better than expected.
5. C Yadier Molina
Molina found his power swing (18 HRs and 1.606 AVH), which was missing since 2012. The added power helped him repeat his high RBI rate (18). His K rate (13.6) was the highest of his career while his walk rate (5.2) was the lowest on his major league resume. Yadier was productive in four months (May – 4/14, June – 4/13, August – 5/16, and September – 4/22). He had an edge vs. lefties (.266 with seven HRs and 20 RBI over 109 at-bats). His swing path was more balance (20/42/37) than his career path (21/46/33) with his second highest HR/FB rate (11.0) of his career. At age 35, it is hard to believe in repeated success in power or speed based on his short results in both areas over the previous three years. Don't overpay for last years stats. A neutral hitter with a 60/12/60/5 skill set.

6. SS Paul DeJong
Between AAA and the majors, DeJong hit .289 with 82 runs, 38 HRs, and 99 RBI over 594 at-bats. Paul had a high K rate (28.0) in the majors with a low walk rate (4.7). His swing had similar value against righties (.285 with 19 HRs and 51 RBI over 337 at-bats) and lefties (.288 with six HRs and 14 RBI over 80 at-bats). DeJong was a free swinger over his first 101 at-bats in the majors (one walk and 32 strikeouts). Over the last three months of the season with a starting job, Paul hit .288 with 45 runs, 19 HRs. 49 RBI over 316 at-bats with a better BB:SO ratio (20:92). His HR/FB rate (19.8) ranks highly with a fly ball swing path (42.9 percent). Over three seasons in the minors, DeJong hit .283 with 44 HRs, 148 RBI, and 16 SBs over 929 at-bats while still having a high K rate (23.4). In the minors, his walk rate (7.5) was closer to league average. St. Louis will play him at shortstop in 2018, and his basher swing should play well in power. His CTBA (.406) tends to be high, which offsets some of his weakness in strikeouts. Paul has an average hit rate (1.866) that supports 30+ HRs over the last two seasons. The key this year is shaving off some strikeouts to help restrict the downside in batting average. Set his floor at .265 with 80+ runs, 25+ HRs, and 80+ RBI while hoping for growth and upside in 2018.

7. 3B Jedd Gyorko
Gyorko has 50 HRs and 126 RBI over 826 at-bats in his two seasons with the Cardinals, but he still can't work his way into an everyday job. His production projected over 550 at-bats would deliver 33 HRs and 84 RBI. Jedd posted a career-best walk rate (9.8) and K rate (21.8). His jump in batting average came from his best CTBA (.361) since his 2012 season in the minors (.384). He had a fade in his average hit rate (1.733) while still being high enough to hit 25+ HRs with a full season of at-bats. Gyorko is a dangerous hitter vs. LH pitching (.327 with seven HRs and 17 RBI over 101 at-bats). When given full-time at-bats (188) in May and June, Jedd hit .293 with eight HRs and 32 RBI. A short July (.208 with two HRs and 12 RBI over 77 at-bats) led to lost playing time on August paired with the emergence of Paul DeJong. Gyorko landed on the DL in September with a hamstring injury. His HR/FB rate (15.5) was well below 2016 (24.4) while almost matching his career average (16.0). This season Jedd will compete for at-bats with a couple of other players at 1B, 2B, and 3B as the Cardinals try to squeeze a good season out of four players at third positions. Gyorko has a 30+ HR swing if given a starting job all year, and his game did have growth in his approach in 2017. Sneaky bench hitter in deep leagues.

8. 2B Kolten Wong
Wong had a boring start to the 2017 season (.278 over 133 at-bats with 18 runs, one HR, 16 RBI, and three SBs) before landing on the DL for the better part of the next six weeks with a left elbow strain and right triceps issue. After the All-Star break, Kotlen hit .274 with 32 runs, three HRs, 23 RBI, and five SBs over 201 at-bats. HIs average hit rate (1.446) is trending backward while having a rebound in his CTBA (.344). His approach at the plate (walk rate – 10.0 and K rate – 14.6) would give him a top of the order skill set if his overall game offered a better power/speed combination. HIs HR/FB rate (4.3) was a career low while continuing to have a low FB rate (31.8). Last year he ended the year with a back issue. Both his minor league resume and early production in the majors in 2014 and 2015 painted him as neutral hitting with mid-teen HRs and a chance at 20+ SBs. Kolten is young enough to have a rebound season and offer playable value at middle infield, but a slow start could lead to a platoon role. Player to keep an eye on this spring and Wong mentioned over the winter that he wanted to steal more bags.

1B Jose Martinez
Similar to Tommy Pham, Martinez had his best success in the majors at age 29. For his size (6'6″ and 215 Lbs.), he's had a weak power hitting swing over 11 seasons in the minors (.294 with 62 HRs, 400 RBI, and 73 SBs over 3,254 at-bats). Over the last two years at AAA, Jose hit .324 with 21 HRs, 120 RBI, and 19 SBs over 783 at-bats with strength in his approach (K rate – 14.6 and walk rate – 9.8). Both his CTBA (.396) and AVH (1.679) in his first year in the majors were above his recent resume in the minors. Martinez crushed LH pitching (.407 with seven HRs and 15 RBI over 59 at-bats) in the majors. Over his last 137 at-bats with the Cardinals, Jose hit .328 with seven HRs, 25 RBI, and three SBs. I want to believe in his push forward, but his usage by St. Louis and his long path to the majors points to a platoon role at best in 2018. Viable bench cover if you own some of the other question playing time options on the Cardinals.
OF Jose Adolis Garcia
In his first year in the minors in the USA, Garcia hit .290 with 15 HS, 65 RBI, and 15 SBs over 445 at-bats between AA and AAA. He had a below par walk rate (6.7) and K rate (22.1). Jose had a high CTBA at AA (.379) and AAA (.390). His scouting reports points to more speed. He'll start 2018 at AAA with his eye of making the majors over the summer.
Bench Options
Carson Kelly (C) – Kelly hit .253 with 45 HRs and 243 RBI over 1,955 at-bats. His K rate (14.3) comes in a favorable area with a mid-tier walk rate (7.4). In 2017, Carson hit .283 at AAA with ten HRs and 41 RBI over 244 at-bats. Over the last two months f the season in the majors, Kelly hit .174 over 69 at-bats with No HRs and six RBI. Kelly will be the backup catcher for the Cardinals in 2018.
Greg Garcia (IF) – Garcia will have a minimal opportunity if he makes the opening day lineup. Over 455 at-bats with St. Louis over the last two seasons, Greg hit .264 with five HRs, 37 RBI, and three SBs. His best asset was his walk rate (13.7) while owning a league average K rate (20.8). In his minor-league career, he hit .281 with 27 HRs, 221 RBI, and 65 SBs in 2,177 at-bats.
Harrison Bader (OF) – Harrison hit .235 with three HRs, ten RBI, and two SBs over 85 at-bats in his first chance in the majors. He had a high K rate (26.1) with a low walk rate (5.4). Over three seasons in the minors, Bader hit .282 with 50 HRs, 145 RBI, and 45 SBs over 1,131 at-bats while striking out 23.8 percent of the time. Harrison has a 25/25 skill set with some early batting average risk when he earns a starting job in the majors. He may play well enough to pass Tommy Pham in the starting lineup in 2018.
Tyler O'Neil (OF) – O'Neil hit .267 in his 1,725 at-bats in the minors with 101 HRs, 339 RBI, and 49 SBs. Tyler has 24 HRs or more in each of his last three seasons at High A, AA, and AAA. His K rate (28.1) does invite batting average risk. Tyler has an above average walk rate (9.1). With a full season under his belt at AAA (.246 with 31 HRs, 95 RBI, and 14 SBs), O'Neil isn't far away from the majors. A nice power hitter with some value in steals. The key in 2018 is making enough contact in the majors to be Fantasy relevant. If you invest in Dexter Fowler, Tyler will be your insurance card.

Like and share our new Facebook page! Be sure to pay attention to our giveaways for your shot at some sweet prizes!
Pitching Staff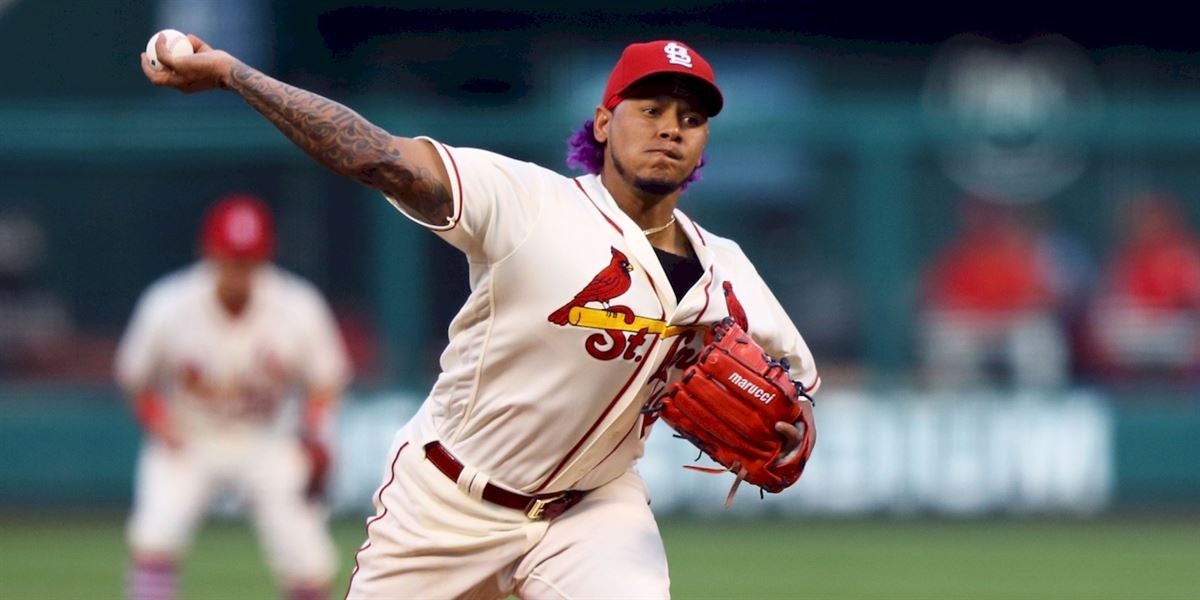 1. SP Carlos Martinez
2017 should have been a better year for Martinez. He shaved off a couple of walks (3.1 per nine) with a nice step up in his K rate (9.5). Carlos tossed a pair of shutouts and batters only hit .232 against him. His regression in ERA (3.64) was due to a jump in HRs allowed (27 – 15 in 2016). Martinez started the year with a great game (7.1 shout innings with ten Ks). After his next three starts (12 runs and 28 baserunners over 15.1 innings), Fantasy owners were scratching their heads with his direction. He rebounded for a nice 12-start run (2.37 ERA and .182 BAA). Carlos struggled in July (5.90 ERA and .308 BAA) with some fade over his 11 starts (3.88 ERA). His next step forward will come from improvement against lefties (.262 BAA and 44 of 71 walks). HIs AFB (96.9) remains elite. Batter struggled to hit his slider (.145 BAA), but 11 of his home runs allowed came via this pitch over 256 at-bats. His changeup showed growth (.214 BAA). His two fastball options had night and day results (four-seam – .236 BAA and sinker – .345 BAA). On the verge of greatness, but he can't match the top arms in the game without improvement in his walk rate leading growth in his WHIP. At 26, Martinez looks poised to be considered a legit Fantasy ace. Possible career-best ERA with 15+ wins and 225+ Ks. Upside bet in 2018.

2. SP Luke Weaver
Weaver had no problem with AA (6-3 with a 1.40 ERA and 88 Ks over 77 innings) and AAA (11-2 with a 2.37 ERA and 90 Ks over 83.2 innings) over the last two seasons. In his first start in the majors in 2017, Luke allowed four runs and seven baserunners over five innings with five Ks. Over his next eight games, Weaver had a special arm (7-0 with a 1.61 ERA, .213 BAA, and 58 Ks over 44.2 innings) helping Fantasy owners up the league standings in the pitching categories. The Brewers and the Cubs drilled up for 14 runs, 22 baserunners, and three HRs over 7.2 innings over his last two starts of the year. His late fade led to RH batters hitting .288 against him with five HRs over 132 at-bats. Luke pitched at a high level against lefties (.210 BAA). His AFB (93.5) was about league average. His changeup (.200 BAA) ended up being the only edge pitch in the majors. Over 22 games in the majors, Weaver has strength in both his walk rate (2.7) and K rate (10.9). He showed better command in the minors (1.8 walks and 8.8 Ks per nine). Last season Luke did battle a lower back issue a couple of times. His great changeup is the ticket to a successful career in the majors. When Weaver adds some more bulk and strength, his fastball is going to get more velocity and life in the strike zone. His command gives him elite upside. His next step is proving he can handle 200 innings in the majors. This season Weaver should make 30+ starts with a chance to pitch 180+ innings. I fully expect a great season – 15+ wins, sub 3.00 ERA, and 200+ Ks. Excellent gamble as SP2 in 15-team leagues with an ADP of 108.

3. SP Michael Wacha
Wacha hasn't developed as expected with the Cardinals creating trust issues for Fantasy owners. He flashed top of the rotation upside in 2015 (17-7 with a 3.38 ERA and 153 Ks over 181.1 innings), but Michael was a disaster over his last 57 games in the majors (19-16 with 4.56 ERA and 272 Ks over 303.2 innings). Over his first six starts in 2017, Wacha appeared to be on track for a bounce-back season (2.74 ERA and 39 Ks over 42.2 innings). He struggled in too many of his next 20 starts (4.74 ERA and 2.86 BAA) leading to some Fantasy owners launching him into the free agent pool. Wacha was at least serviceable over his last six games (3.44 ERA and 34 Ks over 36.2 innings). He struggled with LH batters (.277 BAA with 11 HRs and ten SBs over 300 at-bats) while still not creating an edge against righties (.259 BAA). HIs AFB (95.6) was the best of his career, but batters crushed his four-seamer (.300 BAA) while making too many mistakes with his cutter (.266 with seven HRs allowed 143 at-bats). Both his changeup (.236 BAA) and curveball (.167 BAA) offer upside. Wacha finished with a career-high K rate (8.6) for a full season with more erosion in his walk rate (3.0). A 95-mph fastball and two secondary pitches of value should add up to a productive major league arm. His squirrelly path will create a buying opportunity if you can see better the crooked lines. The key to his improvement will be more strikes thrown and batter command in his fastball in the strike zone. If his spring training reports are positive, double-digit wins with an ERA in the mid 3.50 range while setting a career high in Ks.

4. SP Miles Mikolas
Mikolas had a nice career in the minors as a reliever. He went 23-16 over six years with a 3.01 ERA, 292 Ks, and 66 SVs over 344.1 innings. The Rangers saw enough in his arm to try him as a starter at AAA in 2014 (3-1 with a 3.58 and 29 Ks over 32.2 innings). MIles struggled in ten starts in the majors in 2014 (2-5 with a 6.75 ERA and 38 Ks over 57.1 innings) leading to him taking his ball to Japan to fine tune his career (31-13 with a 2.18 ERA and 378 Ks over 424.2 innings). Milokas had plus command overseas (1.5 walk rate) and in the minors (1.8). His K rate (9.0) made a step forward in 2016 in Japan (7.8 in his minor league career). The Cardinals signed him to a $15.5 deal for the next two seasons. His AFB (93.7) was about league average in the majors in 2014 while offering a slider, changeup, and curveball paired with both a two-seam and a four-seam fastball. This season I expect a step back in his command with more balls leaving the ballpark. Pitching in the NL does help raise his floor. Miles is coming off a career-high 188 innings, which was 96.1 more than 2016. I'm going to set his bar closer to a 4.00 ERA with a chance of 150+ with a full season of starts while some injury risk due to career path and usage.

5. SP Adam Wainwright
Over the last two seasons, Wainwright has a 4.81 ERA, 1.441 WHIP, and 257 Ks over 322 innings. As bad as this looks, he did still win 25 of his 56 starts. After five starts, Adam buried Fantasy teams in ERA (6.37) and WHIP (1.868). He won his next four starts with only one run allowed over 26.1 innings with 21 Ks, but two disaster games on the road (18 runs and 20 baserunners over 5.1 innings) gave away any gains. Over his last nine starts, Wainwright had a 4.20 ERA and 35 Ks in 49.1 innings. After the season, Adam had surgery on his right elbow, which came after missing most of the last six weeks of the year with the injury. His AFB (90.7) declined slightly for the third straight season. Not one of his pitches had winning value. With a fading walk rate (3.3) and K rate (7.0), Wainwright is no longer an ace. There is something to be said about winning games in baseball, and he did that well in 2016 and 2017 despite being hurt. On draft day, he will be a free swing if the spring training news doesn't pump up his value. Take a shot at the wins, but be ready to hit the eject button at the first sign of disaster downside. St. Louis expects him to be ready for spring training.

SP Alex Reyes
I wrote Reyes off in 2016 due to 50-games for failing a drug test (marijuana). He missed the first 39 games of that AAA season. When Alex returned to the mound, he struggled to get batters out (4.96 ERA) while posting an elite K rate (12.8). His high strikeout total fell in line with his minor-league career (12.1). Over four years in the minors, Reyes has a 3.50 ERA with 449 Ks over 334 innings. He's walked 4.6 batters per nine in his career. The Cardinals called him up in August. He outpitched his minor-league resume (4-1 with a 1.57 ERA and 52 Ks over 46 innings). Alex repeated his failure in his walk rate (4.5). Righties only hit .170 against him. His AFB (97.4) is electric. Batters hit .172 vs. his four-seam fastball, .143 against his slider, and .172 vs. his changeup. Almost a carbon copy of Tyler Glasnow with a bigger fastball. Last year Reyes blew out his right elbow in mid-February, which led to TJ surgery and a lost season. A high upside arm with command issues coming off a major injury is a bad combination in 2018. I'm going to wait on the sidelines due to his minimal upside in innings this year.

SP Jack Flaherty
Over four seasons in the minors, Flaherty went 29-17 with a 2.77 ERA and 389 Ks over 400.1 innings. After a step back at High A in 2016 (3.56 ERA and 1.299 WHIP), his arm pushed forward in a big way at AA (7-2 with a 1.42 ERA and 62 Ks over 63.1 innings) and AAA (7-2 with a 2.74 ERA and 85 Ks over 85.1 innings). Jack had a low walk rate (2.6) and a major league K rate (8.9). In his six appearances in the majors, he struggled with his command (4.2 walks per nine) and home runs (1.7 per nine) leading a poor ERA (6.33) and WHIP (1.547). HIs AFB (93.9) was about league average while relying on his slider (.207 BAA), curveball (.250 BAA), and changeup (.677 BAA). His changeup projects as the pitch with the most upside. When/if Flaherty adds more velocity to his fastball, he'll have top of the rotation upside. With no clear path to a starting job early in 2018, Jack is only an upside flier. Nice stack and cash type player.

CL John Brebbia
Brebbia pitched his way out of the minors in 2014 and 2015 where he found action in the Independent League (10-4 with a 2.15 ERA, 155 Ks, and 20 SVs over 129.2 innings). John struggled at AA (4.06 ERA) and AAA (6.23 ERA) in 2016. His arm made a nice step forward at AAA (1.69 ERA and 29 Ks over 26.2 innings) last year leading to his first chance at the majors. Brebbia had elite command (1.7 walks per nine). In the majors, he repeated his strike-throwing ability (1.9 walks per nine) with nice production in Ks (8.9 per nine). John looked good against both RH (.183 BAA) and LH (.208 BAA) batters. Over his last 26.1 innings, Brebbia allowed six HRs. HIs AFB (94.5) was tough to hit (.187 BAA) while also offering a swing and miss slider (.173 BAA). I'm listing him as closer by default. Brebbia needs a lot to go right for him to close in 2018. He needs to keep the ball in the park, continue his command, and get the job done when asked to pitch in the 9th. Only a late flier as the closing job in St. Louis will be fluid this season.

RP Luke Gregerson
Gregerson allowed 21 of his 31 runs in eight of his 65 appearances in 2017 sprinkled throughout the year, which led to his worst ERA (4.57) and second highest WHIP (1.344). Most of his damage came in April (5.06 ERA and two HRs in 10.2 innings), May (6.30 ERA and three HRs in ten innings), and September (7.71 ERA and four HRs in 9.1 innings). His weaker side came against RH batters (.269 BAA and seven HRs over 145 at-bats). His AFB (89.7) was a career low. Luke threw his slider (.221 BAA) as his best pitch, but he did serve up seven HRs in 131 at-bats. The value of his sinker (.270 BAA) is sliding (.226 in 2016). Gregerson is a ground ball pitcher (50.0) with a huge HR/FB rate (23.6). In the early draft season, Fantasy owners have drafted Luke as if he's going to be the full-time closer. I know he has 66 saves on his major league resume, but his guile is sliding. Just another setup man despite a jump in his K rate in 2016 (10.5) and 2017 (10.3). Gregerson has been tough to hit on his career, which gives a possible short-term window to earn saves.

RP Tyler Lyons
Lyons struggled to earn a starting job in the majors after seeing time at AAA in five different years (28-18 with a 3.70 ERA and 363 Ks over 382.1 innings). Tyler has a plus walk rate (1.9) in the minors with a second tier K rate (8.2). In the majors, Lyons improved his ERA in each in the league (2013 – 4.75, 2014 – 4.42, 2015 – 3.75, 2016 – 3.38, and 2017 – 2.83). His arm shown growth in his K rate (11.3) despite a slide in his K rate (3.3 – career high) last season. In 2015 and 2016, Tyler got himself in trouble by allowing 21 HRs over 108 innings. Lyons held an edge over both RH (.224 BAA) and LH (.178 BAA) hitters in 2017. From July 7th to September 14th, he looked closer-worthy (one run and nine hits over 23 innings with 29 Ks). Tyler stumbled in three bad outings over his last six appearances of the year (6.35 ERA) despite striking out 11 batters in 5.2 innings. His AFB (90.6) doesn't have a closing feel. His best pitch is a slider (.157 BAA) while both of his fastballs have some risk (four-seam – .275 BAA and sinker – .303 BAA).  Dark horse for saves, but his total package says search elsewhere for saves in St. Louis.
References
Baseball America Prospect Handbook. (n.d.).
Baseball-Reference. (n.d.). Retrieved from http://www.baseball-reference.com/
Brooksbaseball.net. (n.d.). Retrieved from http://www.brooksbaseball.net/
Fangraphs. (n.d.). Retrieved from http://www.fangraphs.com/
Roster Resource. (n.d.). Retrieved from http://www.rosterresource.com/mlb
Rotowire. (n.d.). Retrieved from http://www.rotowire.com/
RotoWorld. (n.d.). Retrieved from http://www.rotoworld.com/
2018 Team Outlooks