Our experts are going on the record, providing you with their favorite Week 11 NFL DFS plays on both DraftKings and FanDuel!
---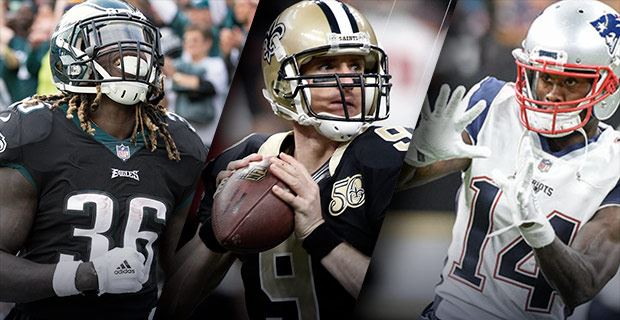 Our experts are going on the record, providing you with their favorite Week 11 NFL DFS plays! Check it out!
Week 11 NFL DFS Expert Picks
Adam Ronis is a well-known commodity in the Fantasy sports industry and has been a staple at SiriusXM Fantasy Radio for many years. He is an FSTA award winner for the Best Fantasy Sports Radio program in 2015, has won several high-stakes Fantasy Football leagues and is cash money with his DFS picks!
Brandin Cooks, New England Patriots (DK: $6,600/FD: $7,700)

Cooks has only had one huge game this season, which came in Week 3 when he scored two touchdowns. He only has three scores on the season, but has been getting peppered with targets. With Chris Hogan out, Danny Amendola banged up, and a great matchup against a Raiders' secondary with no interceptions this season, Cooks has a solid chance to find the end zone twice again in Week 11. Not to mention, the Raiders rank 32nd in pass DVOA.
Jamison Crowder, Washington Redskins (DraftKings: $4,300)

Crowder is healthy again. He has seen tons of targets over the last two games, as Kirk Cousins has looked his way 24 times in two games. Crowder produced 25.5 DK points against the Cowboys in Week 8 and 12.1 against the Vikings last week. Mostly lining up in the slot, Crowder will be the focal point of the offense this week as the Saints' cornerbacks are among the best at taking away opportunities from the outside receivers. That means Crowder will catch a lot of passes as he runs across the middle of the field. As a result, don't be surprised if he finds the end zone for the first time this season. Don't forget that Crowder scored seven touchdowns last season.
Like and share our new Facebook page! Be sure to pay attention to our giveaways for your shot at some sweet prizes!
Stephen Renner AKA SDChickens is one of the best DFS players in the world and has won several tournaments throughout his DFS career,
Jay Ajayi, Philadelphia Eagles (FD: $6,900)

The Eagles have said Ajayi will play more snaps this week and with LB Sean Lee out, the Cowboys' defense takes a massive blow to their rushing defense. Ajayi is one of my favorite plays on FanDuel this week as a late night hammer. He's not a pass-catcher, which is why I wouldn't target him on DraftKings, but the volume should be there in this potential shootout between two NFC East rivals. I think Ajayi will score twice.
Brandin Cooks, New England Patriots (DK: $6,600/FD: $7,700)

The "Archer" is always a preferred pick on turf or indoors, but the bottom line is Oakland has NOBODY who can keep up with Cooks this week. Although Brady is normally a guy who you can play naked, I can't plug Brady into a lineup this week without playing Cooks. Cooks torched the Raiders' secondary last year in New Orleans and is the focal point of almost all my lineups this week. The volume and big-play ability in altitude are going to leave the Raiders' secondary gasping as he's running by them for multiple scores.
Dr. Roto won the 2011 FSWA Newcomer of the Year and has been dominating the industry ever since. He's won four FullTime Fantasy Online Championships and is on the verge of winning the grand prize this year, as he sits in first place. He's a two-time SiriusXM Host League winner and has won many other high-stakes leagues. Check out his prescriptions for this weekend!
Travis Kelce, Kansas City Chiefs (DK: $7,300/FD: $7,500)

Sometimes the chalky, easy play is good chalk. The Giants are the worst team (possibly EVER) against opposing tight ends and this week they face Kelce, who feasts on bad defenses. If Tyler Higbee and Garrett Celek can score on the Giants, can you imagine what Kelce will do? I know his price tag is heavy, but 20 points seems like a lock for him in this game and I will take 20 points at the tight end position any way I can get it.
Larry Fitzgerald, Arizona Cardinals (DK: $6,900/FD: $6,900)

The Texans have been incredibly stingy this year against the run allowing only one rushing TD all season. It makes perfect sense to start AP as he returns to Houston as a narrative play yet I am not willing to say that AP will score. Rather than scoring on the ground, I think the Cardinals will air it out to Fitzgerald, who gets a terrific matchup against a weak Texans' secondary. Therefore, Blaine Gabbert will look to Fitzgerald on virtually every passing down as his his first read, which should ensure double-digit targets and a potential monster performance from the veteran wide reciever.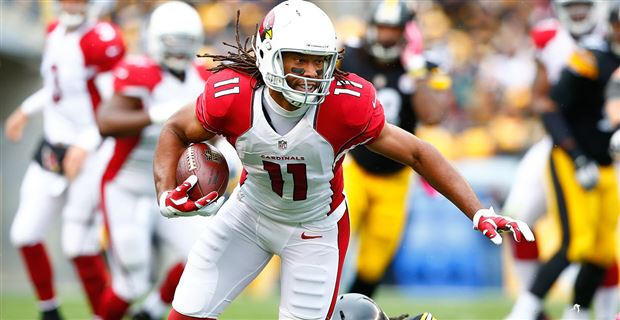 Shawn Childs is our Fantasy Football Rainman and a true statistical genius. In 2014, he placed second in the FantasyPros Most Accurate Salary Cap Expert competition. Childs is the force behind our RDA (Rainman Data Analytics) and a consistent DFS winner. This week, he picked Antonio Brown as his top receiver, which was a no-brainer, but he also ranked Ben Roethlisberger as his No. 1 quarterback. How many other experts predicted Big Ben to produce the type of numbers he did on Thursday Night Football? Just remember… not all experts are created equal. Now let's take a look at another quarterback and wide receiver Childs likes in Week 11…
Drew Brees, New Orleans Saints (DK: $6,800/FD: $8,100)

Brees is having the worst season of his career with the Saints due to a huge uptick in the success of the running game in the red zone and a much-improved defense. New Orleans has seven straight wins despite Brees failing to throw more than two TDs in eight of nine games. Brees has fewer than 300 yards passing in six of his last seven starts and 30 or fewer pass attempts in four of his last five contests. He's on pace for 4,263 passing yards with only 23 passing TDs. The Redskins have really struggled to defend opposing quarterbacks in four games (KC – 349 combined yards with two TDs, PHI – 331 combined yards with four TDs, SEA – 374 combined yards with two TDs, and MIN 304/4). Brees has plenty of weapons in the passing game if game score creates a better matchup via the air. At some point, he is going to deliver an impact game at home. The Saints have 13 rushing TDs over their last five games with six coming in Week 10. Washington has to be concerned with the run game, which is just enough for Drew to pay off in a big way with his right arm.
Sterling Shepard, New York Giants (DK: $6,300/FD: $6,500)

Shepard ran wild in the 49ers' secondary in Week 10 (11/142 on 13 targets). Over the last two games, he has 16 catches on 22 targets for 212 yards. His other game of value came in Week 3 (7/133/1) vs. the Eagles. The injuries at WR in New York created this high-volume opportunity for Shepard. The Chiefs allow the most Fantasy points to WRs (114/1682/15 on 204 targets) with four WRs gaining over 100 yards (Travis Benjamin – 5/105, Antonio Brown – 8/155/1, Amari Cooper – 11/210/2, and Terrance Williams – 9/141). Shep will have a huge advantage over slot CB Steven Nelson unless the Chiefs decide to break form and move top CB Marcus Peters to cover him. This is a very nice matchup and Shepard has a good chance of finding the end zone.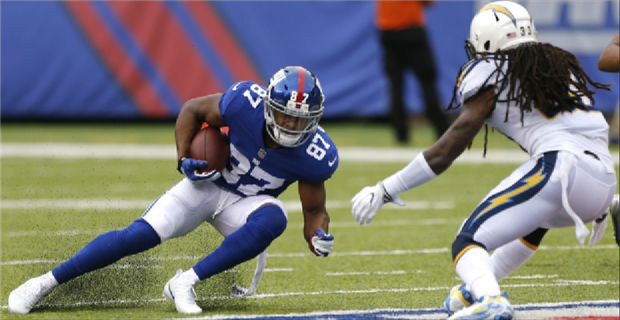 Steve Hillman AKA Fuego Steve is the 133rd ranked DFS player out of 34,000 players on RotoGrinders. He has won over $200,000 in DFS winnings and is a two-time qualifier winner on FanDuel. There is a reason he's called Fuego Steve. His picks are straight fire!
Rex Burkhead, New England Patriots (DraftKings: $3600)

Burkhead has scored 15.3 DraftKings points two weeks in a row. Last week, he surprisingly carried the ball 10 times to go along with three catches and a touchdown. If only the Patriots would stick with one running back, it would make things so much easier. However, I do think there is enough to go around in the highest Over / Under matchup on the slate. Brady and the Patriots are going to put plenty of points on the board and I think Burkhead could hit four or five times his price tag for 15-20 DK points this week.
Alex Smith, Kansas City Chiefs (FanDuel: $7,900)

Alex Smith and the Chiefs are coming off a bye, which is good news when Andy Reid is your head coach. Reid is one of the best coaches EVER coming off a bye week with a career 16-2 record! I like Smith a lot on FanDuel where he is only the eighth-most expensive QB on the board. My only concern is that the Chiefs get out to a huge lead early and don't have to throw the ball very much in the second half. As long as the game remains remotely close, I expect Smith to have a huge day, hitting Travis Kelce for at least one touchdown and possibly running one in himself.
Sign up for Fantasy e-mail updates that'll keep you dominating all-season long!
Mark Deming is one of FullTime Fantasy's Senior Fantasy Football experts. He also happens to be the Former No. 1 Fantasy Owner in the World so you don't want to miss out on these three sneaky GPP DraftKings plays!
Davante Adams, Green Bay Packers (DraftKings: $5,300)

Don't look now but Adams is a sneaky Week 11 steal. Adams and Brett Hundley connected for a nice TD in Week 10 and Adams had his third-most productive Fantasy performance despite Aaron Rodger's absence. This week's home matchup favors Adams against the Baltimore defense. Nobody is on Adams and his ownership will be quite low.
Blake Bortles, Jacksonville Jaguars (DraftKings: $5,200)

Bortles gets the Browns' secondary that is struggling mightily plus the debut of preseason standout WR Dede Westbrook will only help Bortles' cause. This just might be the week Bortles goes for 300 yards passing, 3 touchdowns and is barely owned by anyone. If the Jags were ever going to test their up-tempo ability on offense, it should be against the Browns.
Marshawn Lynch, Oakland Raiders (DraftKings: $4,300)

I like Lynch against the Patriots in a game that is sure to be very high scoring in Mexico City. For just $4,300, that's a lot of value for a a RB who could go for 20 points along with low ownership since many are avoiding the Raiders' backfield. This is a revenge game for Lynch. It's the first time he will face the Patriots since that dreadful Super Bowl loss with Seattle. He will be highly motivated to truck some defenders and find a way into the end zone.
---
DOMINATE Week 11 with ourr NFL DFS Optimizer powered by Shawn Childs' RDA (Rainman Data Analytics)!