FFWC ADP Series
QB1 | QB2 | Starting RBs | Backup RBs | Starting WRs | Backup WRs | TEs
One of the better positions to gain an edge over your competition can come from the TE position. To get a feel for the recent history of Fantasy points in PPR leagues, a Fantasy owner will have to look no further than the Fantasy Points Targets. Here's a look at the top 12 TE based on ADPs in July in the Fantasy Football World Championships:
When deciding between an elite TE and a second tier WR, a Fantasy owner has to understand the gaps at both WR and TE in value and price point in the draft. A Fantasy owner can draft a top TE ahead of a WR2 due to more outs at wide receiver later in drafts than at the tight end position.
Travis Kelce has been the top TE in PPR leagues in back-to-back seasons. Kelce should almost be considered the top WR in the Chiefs' offense as he's used in that way. Travis will help a Fantasy owner win multiple games in the regular season while impact potential in the championship rounds in the high-stakes market.
Rob Gronkowski remains a beast when on the field. Over the last four seasons, he's finished first or second in TE scoring three times with his only failure coming in 2016 due to injuries. Overall, Gronk lost some of his impact upside due to a step back in targets. His lost opportunity is partly due to defenses double and triple teaming him on many plays. Rob will gain the most yards per play at TE with high scoring ability. Great buy at the back end of his range (44) while his injury risk would keep me away from paying full price (ADP of 19).
Zach Ertz is a nice consolation prize at TE while playing in a developing high scoring offense. His floor has been extremely high over the last three years in catches and yards. His TD production (8) made a step forward with Philly clicking on offense. Even with his success, Ertz did miss two games in each of the last two season, which lowered his finishing value. Complete steal if ever slips into the fifth round in the FFWC.
The change to the Packers should be a positive for Jimmy Graham even with some decline in his game. He has high volume catch ability plus upside in TDs. When you add in the best QB in the game, a Fantasy owner can't overlook his possible value. Graham had a high ADP of 46 and a low of 96, which forces a Fantasy owner to have a backup plan in case he's drafted earlier than expected.
If a Fantasy owner wants to wait at TE, the ideal drop down will come in the area of the draft where Evan Engram and Greg Olsen get drafted. Engram should offer a steady output in most weeks with explosiveness in some games. Olsen has a long resume of success while earning top targets in Carolina with Cam Newton behind center. His injury season in 2017 helps Greg become more of a value play this year even with age (33) becoming an issue.
Both Delanie Walker and Kyle Rudolph fall into the steady category. Walker is nearing the end of his career at age 34, so I'm inclined to let him beat him this year. Rudolph has too many options to compete with at WR to expect a tremendous season. Kirk Cousins likes to throw to the TE, which makes him a more attractive option of these two choices.
The wildcard TE in 2018 has to be Jordan Reed. He has the talent and the opportunity to produce a top-five TE season if healthy, but that is a big "if." The key with Reed is buying another strong TE after him or hope he becomes a value play for a Fantasy owner leading to him becoming a TE2 on some teams if he slides in drafts.
---
Think you can beat the elite? Just $299 to find out if you have what it takes to win the $50K grand prize!
---
I'm sorry I'm not beating the drum of Trey Burton in 2018. His resume doesn't support a top ten TE season, and I expect him to have a tougher time getting open as starting TE. Last year Philly had plenty of talent surrounding him in their offense. Only a flash and fade player for me.
George Kittle played well enough last year to expect growth, and the change to Jimmy Garoppolo at QB should work in his favor. Not quite a target at TE for me but Kittle does make sense as a TE2 in 2018.
There is some debate at ScoutFantasySports on who will emerge as the top TE in Indy, but we all agree that Andrew Luck will throw plenty of balls to the TE position this year. Jack Doyle has a dump-off skill set with a high catch rate, so I have him priced ahead of Eric Ebron in the early projections.
The gap in drafting a starting TE has a range of about 90 drafts picks. Last year only one of the top five TEs in scoring in PPR leagues were selected after round ten, which shows a shape eye will uncover a winning jewel.
Here's a look at the top backup TEs:
When reviewing the next 16 TEs options, I get the feeling there is more risk than reward. I highlighted five possibilities with upside, but most of these players lack the winning ingredient – opportunity.
The Browns have passing catching talent at RB and WR, which tells he that David Njoku is overpriced in the early draft season.
O.J. Howard has the talent to breakout, but Tampa paid Cameron Brate in the offseason. Brate is the better options in an offense where the TE position will receive a high volume of targets and TDs. I view Howard this way; upside candidate as long as a Fantasy doesn't buy him as a TE1. If I happen to whiff at TE and want Howard, a Fantasy owner must roster Brate as well.
Eric Ebron should be the most attractive option on this list as he could emerge as the top TE in Indy with a chance of being the second receiving option in the passing game. Ebron is the ideal candidate to breakout at TE2 in 2018.
I'm not a fan if Ricky Seals-Jones with my reasons stated in the Arizona Cardinals Outlook page.
Jonnu Smith may be a sneaky play if Delanie Walker has an issue.
---

Check out the FullTime Fantasy Sports Show with Adam Ronis and Dr. Roto on demand here at ScoutFantasySports.com!
---
Jared Cook falls into the steady category with some upside within games.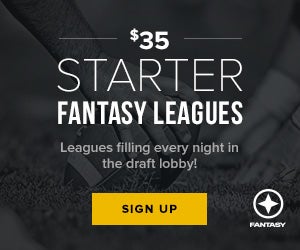 I'd love to view Austin Hooper as a breakout candidate, but he'll have too much competition for targets to deliver a huge step up in chances. Hooper works for me as backend TE2 if I'm strong at TE1 (top six option).
Austin Seferian-Jenkins won't have enough chances in an offense that is built on the running game and a strong defense with multiple options at WR.
The top six TEs in 2018 should deliver a solid floor. After those choices, there are at least four options with a chance to provide 10+ Fantasy points in PPR leagues. With this in mind, a Fantasy owner can cheat the TE position until after the sixth round. By doing so, your foundation at RB and WR should be strong enough to build a winning team.
My goal is to find a TE that has a chance to score 200+ Fantasy points, which entails about 70+ catches for 850+ yards and eight TDs. The need for depth at WR will lead to a strong TE options sliding to a fair position in many drafts. With this in mind, I would try to take what the draft gave to me to solve the TE position.
The backend TE inventory will move up and down with any injury update and team news. A Fantasy owner will need to pay close attention to the value of a targeted player. If you wait at the TE position and miss on a player of interest, it will force you in another direction while possibly leaving you weaker than expected.
A Fantasy owner has to be aware that some Fantasy owners like to double up at the TE position making it tough to finesse the position if you wait too long. The free agent inventory may have a couple of outs early in the seasons, but it will be difficult to find a steady option as the season moves on.
---


Are you a Die-Hard Fantasy Football Player? CLICK HERE to Start Your Road to the 2018 Fantasy Football World Championships.