It's easy to look at the last few seasons and expect a player's stats to continue. It's a crutch, and we all do it. If the stats are similar for three straight years, it's logical to expect another good season if there aren't significant changes.
These players are often deemed "safe picks." One player that fits in this category is Larry Fitzgerald.
While many pundits in the Fantasy industry are locking in Fitzgerald in for 100 receptions again, a source close to the Cardinals told FullTime Fantasy that it is the opposite.
The source said Bruce Arians loved Fitzgerald and inflated his stats. Volume is crucial in Fantasy Football, and Fitzgerald had been fed the football under Arians. Fitzgerald hasn't missed a game the last three seasons and been targeted 146, 150 and 161 times. He had 109 catches for 1,215 yards for nine touchdowns in 2015, followed by 107 for 1,024 yards with six touchdowns and 109 catches for 1,156 yards with six touchdowns last season. The yards per reception were 11.1, 9.6 and 10.6.
---

This Overlooked Rookie RB Will Finish in the Top 10! <== Yes, You Read That Right!
Not a member, Join Now!
---
The Cardinals wide receiver has defied the typical aging process for wide receivers and continued to produce top numbers, especially in PPR formats. It's easy to declare Fitzgerald will get 100 receptions again, but there are concerns, and it won't happen this season.
The source also said Fitzgerald couldn't get open against man defense and they moved him to the slot to get him the ball against zone defenses. Fitzgerald isn't a big play threat and is dependent on volume. Once the targets drop, he becomes a major risk. He's not beating defensive backs down the field. There won't be a lot of touchdowns. At age 35 and years of wear and tear, any player won't be the same.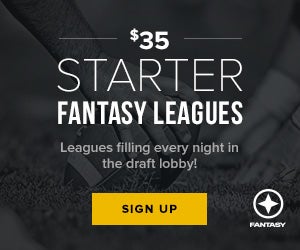 The source said there's disagreement on the quarterback. Coach Steven Wilks wants rookie quarterback Josh Rosen right away to give Rosen a chance to develop and have an excuse should the team fail to win, while the General Manager Steve Keim wants Sam Bradford to start for a chance at a better season and a chance to be competitive in a tough NFC West.
It was clear Arians wanted to feature Fitzgerald heavily. Wilks is the new head coach, and Mike McCoy will be the offensive coordinator. Fitzgerald had a good rapport with Carson Palmer and still did well with Blaine Gabbert and Drew Stanton last season.
On paper, the quarterback play should improve with Bradford or Rosen. David Johnson returns after getting injured in Week 1 last season. Johnson caught 80 passes on 120 targets two years ago. The Cardinals drafted receiver Christian Kirk, signed Brice Butler and have J.J. Nelson and second-year receiver Chad Williams.
The Cardinals didn't use a tight end often in the offense under Arians, and Ricky Seals-Jones could be a factor in the offense under McCoy.
Fitzgerald is one of the most durable receivers in the game. He has missed eight games in 14 years, but he will be 35 when the season begins. He rarely gets open against man coverage. Moving to the slot has helped him in recent seasons, but it's a new offense, he's older and depending on volume is dicey.
---
Think you've got what it takes to win the Main Event? Claim your spot in the FFWC and take your shot at the $150K grand prize!
---
The source said teams played the Cardinals last year with man coverage on top and zone inside, which is why Fitzgerald did well. Now, with Johnson back, they will play more man in the middle and zone on top to control the outside and not let Johnson be matched up one-on-one with a linebacker. If it's zone on the outside, they will consider putting Fitzgerald back there instead of the slot, but it's still unclear.
Most analysts will tell you Fitzgerald is safe based on the last few seasons. There are several things to be concerned about with Fitzgerald. Will there be as many plays designed for Fitzgerald? Will he finally succumb to age? Will he have chemistry with the new quarterbacks? If opposing defenses play more man defense, will Fitzgerald get open? How will the presence of Johnson change the way defenses play the Cardinals?
While many will lock in Fitzgerald for 100 receptions, don't be quick to do it. He's a bigger risk than it seems and far from a safe pick, especially since he will be 35 and dependent on volume. At some point, the volume goes down, and there's a good chance it happens in 2018.
Click screenshot to expand to full-size
Larry Fitzgerald's current FullTime Fantasy ADP is pick #41 (solidly in the 4th round) and just two days ago in our Online Championship, he was taken exactly there, at pick 41 as a WR3 in the fourth round. I'm okay with that, but I'd much rather count on any of the guys drafted immediately after him (Demaryius Thomas, Jarvis Landry, Amari Cooper, JuJu Smith-Schuster, Golden Tate). After this conversation with our Arizona insider, I wouldn't touch Fitzgerald until Round 5.
---


Are you a Die-Hard Fantasy Football Player? CLICK HERE to Start Your Road to the 2018 Fantasy Football World Championships.