Miami Marlins
Last updated: March 23
A group led by Derek Jeter acquired the Marlins this offseason. Over the winter, they started the rebuilding process by unloading their top salaries with the idea of creating a new long-term brand.
Miami made the playoff twice in the team's 25 seasons with both resulting in World Series titles. Their last appearance in the postseason came in 2013, which gives them 14 straight failed years. The Marlins have lost more games than they won in each of the last eight seasons.
They lost C A.J. Ellis, IF Mike Aviles, OF Ichiro Suzuki, and P Dustin McGowan to free agency.
Their big trade came with the salary dump of OF Giancarlo Stanton to the Yankees for 2B Starlin Castro, SS Jose Devers, and P Jorge Guzman. Cameron Maybin was signed to fill none of the voids in the outfield.
With the change in the direction of the franchise, some of the younger veteran players on the roster wanted to avoid the long rebuilding process by asking to be traded.
The Marlins sent OF Christian Yelich to the Brewers for OF Lewis Brinson, OF Monte Harrison, SS Isan Diaz, and P Jordan Yamamoto. They sent 2B Dee Gordon to Seattle for P Nick Neidert, SS Chris Torres, and P Robert Dugger. Miami donated OF Marcell Ozuna to St. Louis for P Zac Gallen, P Sandy Alcantara, P Daniel Castano, and OF Magneuris Sierra. P Edinson Volquez earned his walking papers.
All of these transactions is enough to make a Marlins' fan head spin wondering where the team will land in 2018.
In a minor more, Miami acquired 1B Garrett Cooper and P Caleb Smith for P Michael King and a pocket full of international signing bonus money.
After the loss of the great P Jose Fernandez, the Marlins fell to 26th in ERA (4.82) while allowing 140 more runs than 2016 (682). They cleaned out their bullpen last summer after the trade of P A.J. Ramos to the Mets. They finished 21st in bullpen ERA (4.40) in 2017.
Even with Giancarlo Stanton and Marcell Ozuna blasting 96 home runs, Miami placed 18th in HRs (194) and 12th in runs (778). They scored 123 more runs than 2016 (655) and 265 more runs than 2013 (513).
2018 will be a long year for the fans at South Beach with questions about every area of their major league roster. There will be more in-season trades with hopefully a rainbow and a pot of gold coming after this stormy offseason.
Starting Lineup
1. OF Cameron Maybin
Maybin started off slow in 2017 over his first 157 at-bats (.242 with 29 runs, three HRs, and 12 RBI), but he did chip in with 13 steals. After a ten day DL stint with an oblique issue, Cameron was a fun ride over the last three weeks of June (.284 with 20 runs, three HRs, six RBI, and 11 SBs over 81 at-bats). A knee injury in mid-July led to about three weeks on the DL and a poor finish to the year (.185 over the last three months with four HRs, 17 RBI, and nine SBs – seven caught stealing). Maybin had a league average K rate (20.9) with a career high walk rate (11.3), but his game wasn't the same after his injuries with Houston (K rate – 25.4 and walk rate – 4.8). He had a career high average hit rate (1.600), but regression in his CTBA (.299). Cameron only hit .215 against righties with nine HRs and 27 RBI over 279 at-bats. The Marlins added him in February and he should bat leadoff. His skill set is strong enough to be 10/35 type player with a full season of at-bats. Maybin just needs to stay healthy to live up to his potential.
2. 3B Martin Prado
Prado just couldn't get rolling in 2017. He started the year on the DL with a hamstring issue. After playing 17 games over 21 days (.290 with three HRs and 11 RBI over 69 at-bats), he landed back on the DL for six weeks with the same hamstring injury. His bat came up empty over his next 20 games (.211 with no HRs and six RBI) before being shut down for the year with a right knee injury that required surgery in late July. His lack of power and speed kills Prado's Fantasy value due to him only qualifying at 3B. His batting average had been an asset in every full season in the majors except 2011 (.260) thanks to a low K rate (11.1). Martin has a low walk rate (6.7). His AVH (1.429) remains in a weak power hitting area. Prado was one of the best hitters in the game in 2016 vs. lefties (.424), but he only had one HR in 125 at-bats. His best success came over three months from June through August (.319 with 44 runs, seven HRs and 46 RBI over 317 at-bats). Martin had his lowest HR/FB rate (5.4) in 2016 since 2009 while continuing to be a ground ball hitter (47.5). Prado tends to be a good hitter with runners on base while being limited to his opportunities. One category player (batting average) with below league average value in the other four categories. Miami would love to dump him, which may lead to him being a role player in 2018.

3. 2B Starlin Castro
There aren't many times in baseball history when a player is better at age 21 than later in his career. From 2011 to 2013, Starlin led the National League in at-bats in each season while setting a career-high in runs (91), hits (207), and double (36) in 2011. Last year he missed more than two-thirds of the season due to with a hamstring injury. Hidden in his numbers was a jump in his CBTA (.380) and a rise in his run rate (42). His stats projected over 550 at-bats would have been 82 runs, 20 HRs, 78 RBI, and three SBs. Castro would have delivered league-average production or better in four of five categories. HIs K rate (19.7) was career high while still taking a low volume of walks (4.9 percent). Starlin hit well against lefties (.321), but he only had two HRs and seven RBI in 106 at-bats. His bat had strength vs. RH pitching (.294 with 14 HRs and 56 RBI over 337 at-bats). Before his hamstring issue, Castro hit .313 with 52 runs, 12 HRs, 45 RBI, and one SB over 294 at-bats while primarily batting fourth or fifth in the batting order. His HR/FB rate has been very good over the last two seasons (2016 – 15.0 and 2017 – 16.2), but his swing path still delivers too many ground balls (51.8 percent in 2017 and 49.7 in his career). His career resume points to mediocre option at second base, but he still has a chance to reach 3,000 hits if he can keep a starting job over the next 10 to 12 years. Castro carries a lot more weight than his early days so he may flash one season with 30+ HRs if he can get his GB rate under 45 percent. For a team loading up at corner infield and outfield early in drafts, Starlin should be a nice late target in 2018. He should bat in a premium part of the Marlins batting order with a hot start leading to a trade to a contending team. I'm going to stick my neck out here: .290+ with 85+ runs, 25+ HRs, 90+ RBI and a handful steals. Excellent value play for the right team structure.

4. 1B Justin Bour
Bour had a nice year in 2017 despite missing 11 weeks with an ankle injury and an oblique issue. Over the first third of the season, Justin hit .295 with 16 HRs and 40 RBI over 190 at-bats. He remained productive after his ankle injury (.279 with five HRs and 23 RBI over 111 at-bats) with a nice run over the last three weeks of the year (.289 with four HRs and 20 RBI over 76 at-bats). His K rate (22.1) is just above the league average (20.3) while offering strength in his walk rate (11.0). Bour proved to be more than a platoon hitter (.253 vs. lefties with six HRs and 21 RBI over 87 at-bats). His swing played well against RH pitching (.300 with 19 HRs and 62 RBI over 290 at-bats). Justin finished with a career-high in his HR/FB rate (26.0) while his swing produces a few too many ground balls (45.8 percent in his career). His rise in batting average was due to a higher CTBA (.387), which will lead to regression in his batting average especially if he starts to press at the plate with no one supporting him in the batting order. His average hit rate (1.853) is strong enough to hit 30+ HRs. With 550 at-bats, .270 with 70+ runs. 30+ HRs, and 80+ RBI.

5. C J.T. Realmuto
Realmuto has over 500 at-bats in each of the last two seasons, which is an attractive opportunity for the catcher position. He had growth in his average hit rate (1.622) with some improvement in his approach at the plate (K rate – 18.3 and walk rate – 6.2). HIs CTBA (.347) failed to match his breakout year in 2016 (.377) leading to a step back in his batting average. Realmuto was about the same player against righties (.277 with 13 HRs and 51 RBI over 419 at-bats) and lefties (.283 with four HRs and 14 RBI over 113 at-bats). His bat was much weaker at home (.224 with five HRs and 20 RBI over 241 at-bats). J.T. tends to have a ground ball favoring swing (47.3 percent) while setting a career high in his HR/FB rate (11.6). His minor league resume (.268 with 33 HRs, 200 RBI, and 54 SBs over 1,590 at-bats) gives him a chance at more speed with expected improvement in his strike zone control (15.8 percent K rate in the minors). Realmuto may get traded, which will help his counting stats. Next step: 20+ HRs and 15+ SBs with neutral value in runs, BA, and RBI. Of the three options, batting average could have the biggest move upward.

6. OF Derek Dietrich
Dietrich has never had a starting opportunity in his five years in the minors. Over his five years with Miami, Derek hit .250 with 44 HRs, 159 RBI, and three SBs in 1,380 at-bats. His K rate (21.6) is just below the league average (21.6) with a respectable walk rate (7.8) over the last three seasons. The Marlins gave him only 75 at-bats against lefties, but he responded with a .307 BA with no HRs and eight RBI. He set a career high in HRs (13), which all came off RH pitching (.236 BAA). His best production in 2017 came over short at bats in September (.281 with five HRs and 14 RBI). In his minor league career, Dietrich played well in his half season's worth of stats at AAA (.277 with 14 HRs and 259 RBI over 274 at-bats). Sneaky backend player in deep leagues if he does indeed get a starting opportunity in 2018. Derek has 20+ home run upside with 500+ at-bats supported by his AVH (1.703), but his HR/FB rate (10.2) says drive carefully if he has an early hot streak.

7. SS Cristhian Adames
Adames played well enough at AAA in 2015 (.311 with 11 HRs, 51 RBI, and 11 SBs in 463 at-bats) to earn a reserve role in 2016 in the majors with the Rockies. His bat was unimpressive in Colorado (.218 in 225 at-bats with two HRs, 17 RBI, and two SBs) leading a third year at AAA in 2017 (.263 with 11 HRs, 52 RBI, and three SBs over 323 at-bats). In his minor league career at AAA, he hit .299 with 23 HRs, 117 RBI, and 19 SBs in 931 at-bats. Both his walk rate (8.4) and K rate (15.5) project to be above the league. Miami doesn't have a viable option at shortstop this season unless they shift Starlin Castro back to the position. Miami acquired multiple options to cover shortstop down the road this offseason. Not a great name, but Cristhian may end up being the starting player at short opening day.
8. OF Lewis Brinson
The Rangers drafted Brinson out of high school in the 1st round (29th) in the 2012 MLB June Amateur Draft. Over his first two seasons in the minor, he flashed power (28 HRs) and speed (38 SBs) over 684 at-bats, but Lewis did strikeout 265 times (34.5 percent). He cleaned up his Ks (.21.5 percent) over his last four years in the minors while having just above a league average walk rate (8.6). Even with six seasons in the minors, Brinson has never had more than 450 at-bats in a season. His game did make a step forward in his three seasons at AAA (.349 with 18 HRs, 72 RBI, and 18 SBs over 418 at-bats). In 2017, he looked overmatched in his limited at-bats (47) in the majors (.106 with two HRs, three RBI, and one SB) while striking out 30.9 percent of the time. Lewis is a free swinger who will take some time to develop in the majors. Miami will give him plenty of time to prove his worth after gutting their starting lineup after last year. Possible 20/20 season with a possible top of the order opportunity. His batting average will have some risk out of the gate against better pitching, and Brinson needs to prove he can handle 162 games in the majors.
OF Rafael Ortega
Ortega has a decent minor league resume (.295 with 45 HRs, 395 RBI, and 232 SBs over 3,424 at-bats), but he's been a slow mover in the minors after spending part of the last four years at AAA (.304 with 12 HRs, 127 RBI, and 59 SBs over 1,199 at-bats). His walk rate (8.8) and K rate (12.2) at AAA showed a good approach with limit downside in Ks. The Angels gave him 185 at-bats in the majors in 2016 (.238 with one HR, 16 RBI, and eight SBs) to prove his worth. He was tough to strike out (11.4) with a shorter walk rate (6.4). Over the last six years in the minors, Rafael never had a HR/FB rate over 6.0. His AVH (1.474) is trending up, but I don't feel confident about him hitting double digit HRs even if he had a full season of at-bats. Speed flier with a chance to offer a plus batting average and runs if given a favorable slot in the batting order. He needs to improve his success rate (70.7) stealing bases to get more chances in the majors. Possible bridge player in Miami until one of the younger option develop in the minors.

OF Magneuris Sierra
Sierra was able to make the jump from AA to the majors last year, but his game isn't ready to make an impact in Miami's starting lineup. Magneuris has a Judy-like skill set, but he didn't have separator steals on his minor league resume. His AVH (1.345 in the minors in 2017) points to minimal value power. Over five seasons in the minors, he hit .292 with 11 HRs, 177 RBI, and 98 SBs over 1,740 at bats. His path paints him as a five HR/30 SB guy with more steals when/if he learns to improve his success rate (69.0). His walk rate (6.0) isn't strong enough to hit at the top of the batting order while his K rate (17.1) is a bit high for his skill set. His swing will produce a high volume of ground balls with meniscal HR/FB rate. Sierra is a great defender while his hitting talents will improve quickly with added bulk and strength. With no experience at AAA, he should start the year in the minors setting up a potential early summer call-up where he will offer a Fantasy team with complementary steals.

SS Isan Diaz
Diaz may be the closest young shortstop option to the majors for Miami. Over four season in the minors, he hit .261 with 49 HRs, 201 RBI, and 38 SBs in 1,344 at-bats. His best season came at High A in 2016 (.264 with 20 HRs, 75 RBI, and 11 SBs over 507 at-bats). Isan will take walks (12.3), but he needs to cut down on his strikeouts (24.9). His AVH (1.694) points to 30+ HRs while his CTBA has had a wide range in the minors (.270, .473, .373, and .324). After hitting .221 in 2017, he'll need a bigger push to reach even AAA this season. Last year he broke a bone in his hand in late August that ended his season and required surgery.
Bench Options
Tomas Telis (C) – Telis spent time at AAA over the last four seasons (.302 with 19 HRs, 122 RBI, and 13 SBs over 1,085 at-bats) while playing at catcher and first base. He had a below par walk rate (5.9) while having a low K rate (10.2). Tomas os the favorite to win the backup catching job in Miami in 2018.
Garrett Cooper (1B) – Cooper has a weak power hitting resume over five seasons in the minors (.305 with 45 HRs, 269 RBI, and five SBs over 1,579 at-bats) for a first baseman. His swing did make a step forward at AAA in 2017 (.366 over 17 HRs and 82 RBI over 279 at-bats) with a nice walk rate (10.3) and strength in his K rate (15.0). Player to follow as he may hit well enough to work his way into at-bats in left field.
Miguel Rojas (IF) – Rojas hit well with Miami in 2017 (.290 over 272 at-bats), but he only had one HR and two SBs. Over 608 at-bats majors, Miguel hit .256 with four HRs, 66 RBI, and four SBs. Only a utility option due to his low power/speed combo.
J.B Shuck (OF) – J.B signed a minor league contract with the Marlins in November. Over five seasons in the minors, Shuck hit .251 with eight HRs, 80 RBI, and 22 SBs over 995 at-bats. Only an option to be the fourth outfielder for Miami while offering some speed off the bench.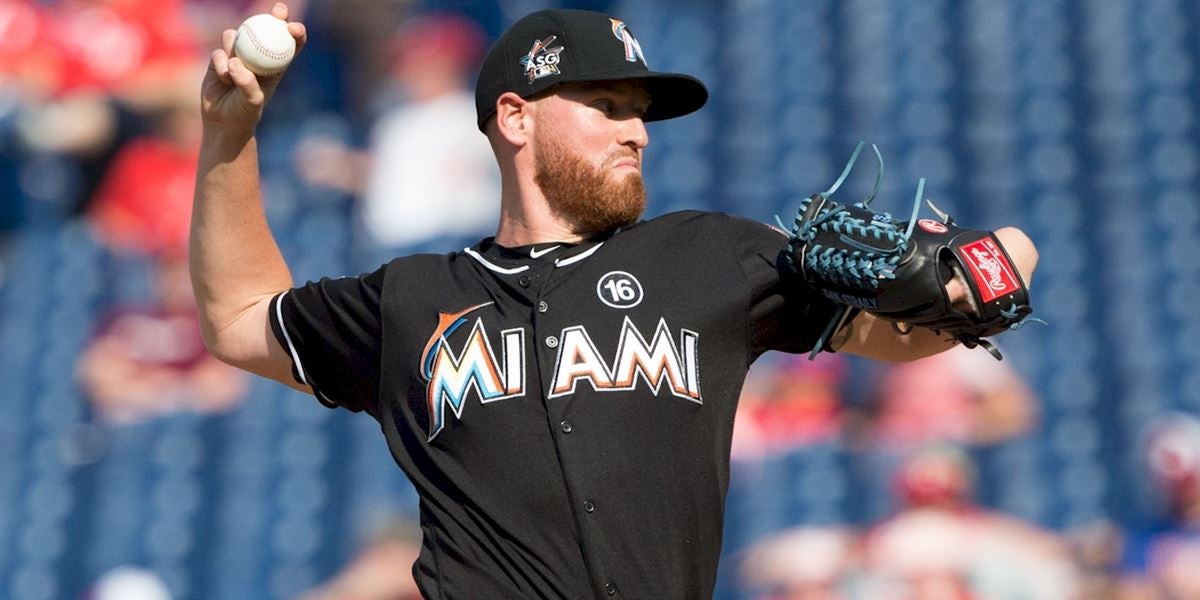 Pitching Staff

1. SP Dan Straily
Straily had improvement in both his walk rate (3.0) and K rate (8.4) in 2017, but he was easier to hit (.256 BAA) while allowing too many long balls (1.5 per nine). Dan didn't have an edge against either RH (.263 BAA) or LH (.250 BAA) batters. Straily pitched well over an 18-start stretch from April 11th to July 14th (7-3 with a 3.00 ERA, .211 BAA, and 98 Ks over 105 innings). After two down starts (10.00 ERA and .452 BAA), Dan allowed three runs or fewer in his next six starts (3.67 ERA and 31 Ks over 34.1 innings). A bad September (6.60 ERA and .336 BAA) gave away his playable value over his first 27 starts. His AVB (90.8) was slightly better than 2016 (90.0), but batters hit .280 against his four-seamer. His slider (.229 BAA) and curveball (.222 BAA) offered an edge while his changeup (.267 BAA) had less value than 2016 (.219 BAA). Straily is a fly ball pitcher (45.9 percent) with a high HR/FB rate (13.0). Better than his results. Wins will be a problem while HRs will lead to a few too many disaster starts.
2. SP Wei-Yin Chen
Chen started off slow over his first five starts (4.33 ERA and 1.185) before landing on the DL with a bum left elbow. He had platelet-rich plasma injections in May and in late September. Headed into 2017, Chen was coming off worst season (4.96 ERA) in his five-year major league career. His walk rate (1.8) and K rate (7.3) was in line with his previous success, but he was easier to hit (.276) with struggles with HRs (22 over 123.1 innings) especially to RH batters (21 over 406 at-bats). Lefties hit him hard (.325). Wei-Yen had an ERA over 4.25 in each month that he pitched. In June and July, he allowed 12 HRs over 50.1 innings. In late July, Chen went on the DL with a sprained left elbow. After two months on the DL, he made three mediocre starts over the last three weeks in September (5.73 ERA). His AFB (91.1) was one mph lower than 2015 (92.7). His curveball (.171 BAA) and changeup (.236 BAA) held value with his downside tied to a fading sinker (.423 BAA) and weak slider (.284 BAA). Wei-Yin has solid command with limited value in Ks. I can't trust him coming off two elbow issues.

3. SP Adam Conley
Conley threw the ball well over his first four starts in 2017 (3.00 ERA, .203 BAA, and 14 Ks over 18 innings). Three disaster starts later (18 runs and 25 baserunners over 10.2 innings), Adam was earning his keep at AAA. Over 12 starts in the minors, his arm didn't show any value (5.49 ERA and .289 BAA) due to continued failure in his walk rate (3.7). A positive three starts in the minors in July (four runs over 16.2 innings with 15 Ks) gave him enough of a window to be called up to Miami. Conley teased Fantasy owners with three starts over the second half of July in the majors (2-0 with four runs and 15 Ks over 20.2 innings), but he lacked follow through over the last two months of the seasons (7.09 ERA and 1.631). His stuff lost its swing and miss ability in the majors (6.3 K/9 – 8.4 in 2016). Over Adam's first 40 games in the majors in 2015 and 2016, he had a 3.82 ERA with 183 Ks over 200.1 innings despite a high walk rate (3.7). HIs AFB (90.1) was almost two mph lower than 2016 (92.0). In 2016, he had a high level of success with his slider (.167 BAA) and changeup (.197 BAA). Both of those pitches lost value last season (SL – .250 and CH – .300). There's better pitcher here while still having risk until he improves on his ability to throw strikes. For now, a backend inning eater with an expected rebound in strikeouts after a winter off to clear his head and clean up his mechanics. Possible 3.75 ERA with 150+ Ks with 175 innings pitched in the majors.

4. SP Jose Urena
Urena gives the appearance of being a soft tosser based on his low K rate in his major league career (5.7) and the minors (6.5). Last season with Miami, his AFB came in at 95.9 MPH with batters hitting .271 against his four-seamer. Jose had two strong secondary pitches (slider – .181 BAA and changeup – .221 BAA). Even though he was tough to hit (.238 BAA), he allowed too many home runs (1.4 per nine) with a poor walk rate (3.4). His arsenal played well vs. righties (.235 BAA) and lefties (.241 BAA). His biggest failure in strikeouts comes against LH batters (36 walks and 39 Ks over 311 at-bats). Last season he allowed three runs or fewer in 21 of his 28 starts with his best run coming from July 31st to September 20th (2.73 ERA and .223 BAA). His HR/FB rate (13.1) has been poor over the last two years with the Marlins. Over two seasons at AAA, Urena went 9-4 with a 2.87 ERA and 82 Ks over 116 innings. Jose needs three things to happen to become an asset in the majors. First, he needs to throw more strikes. Second, Urena must find a swing and miss pitch against left-hand batters. Don't dismiss as better command and more Ks will make him a sneaky backend starter. I'd pay close attention to spring training to see if he adds a cutter or even a split to improve his overall game. Future sub 3.50 ERA with 150+ Ks with a full season of starts in the majors and fewer walks.

5. SP Dillon Peters
Peters pitched well at every level of the minors over the last two seasons. He has 22-13 record on the farm with a 2.40 ERA and 200 Ks over 236.2 innings. Jason has a low walk rate (1.9) with a below par K rate (7.6). In his six starts in the majors, Peters had two shutout performances (12.2 shutout innings with 12 Ks), but he did have disaster in two of his other four starts (13 runs and 21 baserunners over 7.2 innings). His AFB (91.7) is below the league average. Dillon throws a plus curveball (.193 BAA) while his changeup (.286 BAA) still needs some work to be an asset in the majors. After getting drafted in 2014, Peters had TJ surgery slowing his push to the majors. His fastball had more life in college, and it should improve when he adds more bulk and strength. Last season he missed two and half months of the season with a broken left thumb. Dillon has never pitched at AAA, so he may need another half season of seasoning to be a viable option in the majors. I'm interested in his upside if he does make the major league roster out of spring training.

SP Sandy Alcantara
Alcantara doesn't have the best resume in his four seasons in the minors (17-29 with a 3.95 ERA and 365 Ks over 369 innings) due to battles with his command (3.7 walks per nine). Even with a poor season at AA (7-5 with a 4.31 ERA and 106 Ks), Sandy was given some token innings in the majors (4.32 ERA and ten Ks over 8.1 innings). He has one of best fastballs (98.7) in the game plus a slider with swing and miss ability. His development as a starter will hinge on the success of his changeup. His fastball/slider combination gives him a chance at saves as early as this year if Alcantar improves his command. A Fantasy owner needs to track his development this spring just in case a bullpen opportunity presents itself in the majors. Sandy should start the year at AAA where he'll try to fine-tune his mechanics.

SP Nick Neidert
Neidert looks to be about a year away from the majors. Over three seasons in the minors, Nick went 18-11 with a 2.87 ERA and 214 Ks over 254 innings. He has a low walk rate (1.6) while his K rate (7.6) tends to be short, but it did spike in 2017 at High A (9.4). His fastball sits in the low 90s with his changeup offering the most upside. Nick continues to work on his slider, which will give him more strikeout ability going forward. His strike-throwing ability puts him on the fast track to the majors. More of a backend starter unless he adds more zip to his fastball and life in his secondary pitches.

CL Kyle Barraclough
Barraclough has 28 saves on his minor league resume, but his wildness in the majors (5.5 walks per nine) keeps him away from saves with Miami. Over three years in the majors, Kyle has a 2.87 ERA and 219 Ks over 163 innings. Over about a three month stretch from early June through early September, Barraclough looked closer to saves (1.95 ERA, .215 BAA, and 47 Ks over 37 innings) thanks to some improvement in his walk rate (2.7 per nine). His August (one run over nine innings with one walk and 14 Ks) showcased his upside with better command. His best edge came against lefties (1.84 BAA) while needing to improve vs. RH batters (.263). His AFB (95.2) was a step below 2016 (96.5) while remaining elite. Both his slider (.150 BAA) and low volume changeup (.111 BAA) were tough to hit. Batters still have success vs. his four-seam fastball (.298 BAA with five HR allowed over 114 at-bats). Right kind of gamble as a late closer with his command being his ticket to the upper echelon of closers.

RP Brad Ziegler
When a Fantasy owner sees a pitcher with a poor walk rate (3.1), a nonexistent K rate (5.0), and a high batting average against (.306), he has all the reasons to avoid Ziegler as a closing option in 2018. The Diamondbacks had all these stats last year plus a 6.52 ERA over his first 29 innings last year, but Brad was still able to deliver a special August (no runs over 13 innings with six Ks and nine saves). Righties hit .347 against Ziegler with two HRs over 117 at-bats. His AFB (83.6) was a career low with no value (.356 BAA). Brad still has a sliver of value (.235 BAA). With 95 career saves, a novice Fantasy owner may be drawn to him by lack of knowledge about his empty skill set. Pretty much Fantasy road kill and a waste of a roster spot.


RP Drew Steckenrider
Drew has a nice minor league resume (2.83 ERA with 259 Ks and 20 saves over 238.1 innings), but his high walk rate (4.0) hurts his upside. In 2017 at AAA, Steckenrider finally figured how to throw strikes (2.2 walks per nine) leading to a 1.62 ERA over 33.1 innings with 44 Ks. Miami called him up in late May. After a slow start (4.05 ERA and 2.250 WHIP), he threw the ball well over the next 23.2 innings (1.52 ERA and .195 BAA) with 40 Ks. Drew pitched well against righties (.207 BAA), but Steckenrider did allow four HRs over 82 at-bats. For him to gain a closing role in the majors, he needs improvement vs. LH batters (.260 BAA). His AFB (95.6) has strength with batters only hitting .207 against it. Drew throws a slider as his second best pitch, but it had losing value in 2017 in the majors (.300 BAA). Live arm with some closing experience, but he did walk 4.7 batters per nine innings in the majors.
References
Baseball America Prospect Handbook. (n.d.).
Baseball-Reference. (n.d.). Retrieved from http://www.baseball-reference.com/
Brooksbaseball.net. (n.d.). Retrieved from http://www.brooksbaseball.net/
Fangraphs. (n.d.). Retrieved from http://www.fangraphs.com/
Roster Resource. (n.d.). Retrieved from http://www.rosterresource.com/mlb
RotoWire. (n.d.). Retrieved from http://www.rotowire.com/
Rotoworld. (n.d.). Retrieved from http://www.rotoworld.com/