The Boston Red Sox finished last in the American League in home runs last season. That's not going to happen in 2018.
The Red Sox bolstered their offense by adding outfielder J.D. Martinez. They signed Martinez to a five-year, $110 million contract. The deal has an opt out after two years and $50 million and another opt out after three years and $72 million.

Join FullTime Fantasy Sports for top advice in the industry from check-cashing, proven winners!
Martinez has been going in the middle to end of the second round of early drafts. He was going to be a stud in almost any ballpark, but the move to Boston is appealing. I already had Martinez ranked as the No. 6 outfielder before the move and will keep him there, making him a Top 15-20 pick.
Martinez will likely be the designated hitter most of the time and that might help him stay healthy, which is one of the few things that's a concern. Over the last four seasons, Martinez has played in 123, 158, 120 and 119 games.
The numbers Martinez put up last season were among the best considering he played 119 games. He homered once every 10.87 plate appearances. In 432 at-bats, Martinez batted .303 with 85 runs, 45 home runs, 104 RBIs and a 1.066 OPS. After being traded from the Tigers to the Diamondbacks, Martinez hit 29 home runs in 62 games.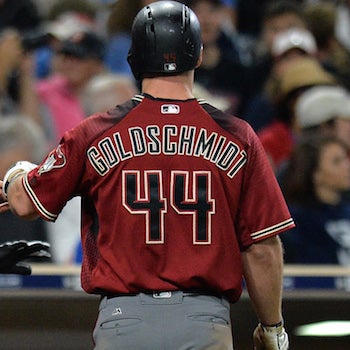 Check out our Fantasy Baseball Draft-n-Go PLUS leagues! Play for $44 or $88! Learn more now!
 Martinez is a power hitter that hits for average, too. Over the last few seasons, he has batted .315, .282, .307 and .303. Martinez has increased his walk rate each season, going from 8.1 percent in 2015 to 10.8 percent last season. He had a hard hit rate of 49 percent last season and while a 33.8 percent HR/FB rate is extremely high, a floor of 35 home runs seems reasonable for Martinez. The RBI opportunities will be plenty with Mookie Betts and Andrew Benintendi in front of him.
The counting stats will be there in a good Red Sox lineup and the presence of Martinez is a big boost for the rest of the team. The addition of Martinez means Mitch Moreland and Hanley Ramirez will split time at first base.
This was a move the Red Sox needed to make and it's a win for Fantasy owners. Martinez is someone you want on your team in 2018.