Atlanta Motor Speedway will play host to the Monster Energy NASCAR Cup Series this weekend, and for fantasy owners, Sunday's Folds of Honor QuikTrip 500 is a chance to get back on track after wreck-filled opener at Daytona.

Join Scout Fantasy Sports for top advice in the industry from check-cashing, proven winners!
Atlanta is one of the many 1.5-mile ovals on the schedule, and while the predictability of these types of track can make for boring racing at times, they are also a great spot to put up big fantasy scores.
With that in mind, I won't be shy about rolling out the top options in both Fantasy Live and the Driver Group Game. Not only do the top drivers in the series tend to dominate the mile-and-half ovals, but they also tend to be the most consistent from one year to the next, which is a big plus this early in the year.
As the season goes on and we have had more time to see the cars on the track, I'll have a better idea of how the drivers stack up, and I'll start plugging in the middle-tier drivers alongside some of the heavy hitters.
For the Fantasy Live game this weekend, I'll also give a little preferential treatment to the bigger names starting up front. With the dominator points out of the equation this year and place differential no longer a factor, earning stage points is going to be a must to boost your point total. Drivers starting up front have an obvious leg up, especially in Stage 1.

Like and share our new Facebook page! Be sure to pay attention to our giveaways for your shot at some sweet prizes!
As I mentioned last weekend, don't hesitate to reach out to me at @BPolking or at bpolking@fuse.net if you are playing in different fantasy NASCAR leagues this year and are looking for advice and lineup tips.
NASCAR.com Fantasy Live
Kevin Harvick
Although laps led is no longer a category in Fantasy Live, the fact that Harvick has led more than 100 laps in all four races at the track with Stewart-Haas Racing is still important. After qualifying third and loving his car in practice, he should be up front early and often Sunday, and that means a lot of stage points. Harvick should be one of the top contenders for the win, and he could easily finish as the top scorer. I don't mind burning up one of his starts at one of his best tracks.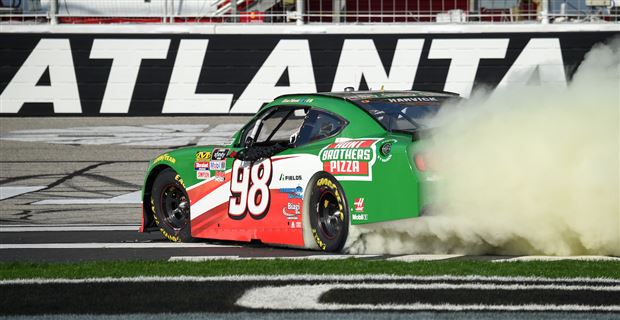 Brad Keselowski
Keselowski is the defending winner of this weekend's race, and he has three straight Top 10s at Atlanta. He qualified in the Top 5, so I like his chances of piling up the stage points. I don't mind using more dependable options early in the year as I get a feel for how the middle-tier options are performing, and Keselowski is as reliable as any driver in the series today.
Kyle Busch
Yes, Busch has been hot and cold at Atlanta, but he won here in 2013 and has showed elite speed at the mile-and-a-half tracks over the last two years. More importantly, he starts on the pole, so he is in prime position for a bunch of stage points. Again, I'd rather lean on the big names at this point in the year.
Kurt Busch
When you save starts from the elite options, it is important that you maximize the value from the midrange options. Atlanta happens to be one of Busch's best tracks, and he has three Top 10s in his last four starts here and an 8.0 average finish in three starts with Stewart-Haas Racing. He also ranks second in laps led at the track. After qualifying seventh, I think Busch has a great shot at a Top 10 Sunday, and he could provide a decent amount of dominator points, as well.
Denny Hamlin
Using Hamlin always scares a little because he tends to be more hit and miss than some of the other top drivers, but he has been fast all weekend, and he was a Top 5 machine at the 1.5-mile ovals throughout the second half last year. He's in perfect position to earn some stage points, and he appears to have a car capable of delivering a strong finish.
Garage Driver – Martin Truex Jr.
He has to start 35th, so I'm a little worried about him losing out on points in Stage 1. However, his stats at the mile-and-a-half tracks in 2017 were video game-like, so I want him at the ready in case he storms to the front. Truex cracked the Top 10 in all 11 races, winning seven times and compiling a ridiculous 2.5 average finish.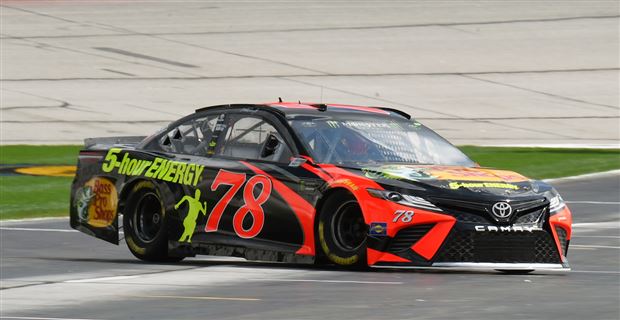 Fantasy Racing Cheat Sheet Driver Group Game
Group A – Kevin Harvick
Martin Truex Jr. has been the man at the 1.5-mile tracks, but I can't use him in every race, and he has to start 35th because he couldn't pass qualifying inspection. Enter Harvick, who is in the middle of a dominant stretch at Atlanta, leading more than 100 laps in all four starts with Stewart-Haas Racing. Harvick should give me a great shot at the win, and I'll still have Truex available for the rest of the 1.5-mile tracks.
Group B – Ryan Blaney
I was planning on using Chase Elliott this weekend, but he qualified even worse than Blaney and wasn't happy in his car in practice. Blaney, on the other hand, turned the sixth-quickest lap in practice and was a consistent Top 10 threat at the 1.5-mile tracks at the end of last year. With Elliott disappointing so far this weekend, Blaney looks like my best option.
Group B – Kurt Busch
Busch has been locked in at Atlanta for a while now, reeling off eight straight Top 15s and posting an 8.0 average finish in three starts here with Stewart-Haas Racing. He is also a three-time winner at the track overall and ranks second in laps led. I'll gladly use up one of his starts at one of his strongest tracks, especially after a Top 10 qualifying effort.
Group C – Darrell Wallace Jr.
I want to give William Byron a few races to get his feet under him at the Cup level before I start using him routinely, so that leaves Wallace and Bowman as the cream of the Group C crop. In part because of the momentum he has from his second-place run in the Daytona 500, I decided on Wallace, but he also managed a 11th-place run in his only start at a 1.5-mile track last year and was in the Top 10 in Happy Hour. I think he can challenge for a Top 15 this weekend.