QB Cam Newton – Over the last two seasons, Newton struggled with his consistency to make long plays. His yards per pass attempts (6.7) was a career low in 2017 with weakness as well in 2016 (6.9). Cam offset his regression in passing yards to posted a career high in rushing attempts (139) and rushing yards (754) while scoring six rushing TDs. Over 109 career games, he has 54 rushing TDs. Last year Newton passed for 3,302 yards with 22 TDs and 16 Ints. He finished with two games with over 300 yards passing and three other games with 300 or more combined yards. Cam had four games with three TDs or more. In 2017, he played most of the season without his top TE, which created a void in the Panthers' offense. Overall, the WR core lacked a true WR1 which left Devin Funchess playing the lead role at WR despite having a WR2 skill set at best. The second highest WR in catches came at 32 receptions. This season Newton will have a new hotshot WR drafted in the first round plus a speedy Torrey Smith added to the roster via trade. Curtis Samuel struggled in his rookie season due to injuries, but he could be the sneaky swing option on the roster. Even with short passing results, Cam finished as the third highest scoring QB in the World Championships scoring system. Remember, rushing yards are worth twice as much as passing yards in the high stake's market, and rushing TDs are 1.5 times more than passing TDs. In essence, Newton had 4,800+ passing yards with 31 passing TDs if you converted his yards on the ground to the air. His pass/run package should lead to 5,000 combined yards with improvement in production at WR and TE. His gain in passing yards will lead to regression in rushing yards as Cam won't feel the need to carry the team on the back on the ground. His floor is combined TDs should be 30 in 2018.
ADP: July 17 – Pick 88 | August 1 – TBD
Position Rank: July 17 – QB3 | August 1 – TBD
---

Join FullTime Fantasy Sports for top advice in the industry from check-cashing, proven winners!
---
Running Backs
RB Christian McCaffrey – In his first year in the NFL, McCaffery finished third in RB catches (80) and fifth in RB receiving yards (651). When adding in his seven TDs, Christian has a floor of 200 Fantasy points in PPR leagues without even considering his value as a runner. Last year the Panthers' RB had 349 rushes for 1,350 yards and nine TDs, but McCaffrey had fewer than 33 percent of the early down action (117/435/2). With Jonathan Stewart no longer on the roster, Christian can't help but gain a much better portion of the run game. Carolina added C.J. Anderson in the offseason to fill the void created on early downs in the run game. Cam Newton runs the ball a ton at QB, which limits the overall chances on the ground for the Panthers' RB. At the very least, McCaffery will see a bump to 50 percent of the RB carries. With 175 rushes, Christian should gain at least 700 yards. He'll catch between 80 and 100 balls leading to another 700 yards at a minimum. His ability to catch the ball gives him a nice consistency factor from week-to-week while adding big game ability when the Panthers are forced to chase on the scoreboard. With 1,400 combined yards, 80 catches, and eight TDs, McCaffrey would score 284 Fantasy points in a PPR league, which would have ranked sixth in 2017, seventh in 2016, and 2nd in 2015. Even with a ten percent error on the downside, Christian will finish with a top 10 RB season with a full season of games.
ADP: July 17 – Pick 18 | August 1 – TBD
Position Rank (PPR): July 17 – RB12 | August 1 – TBD
Position Rank (Non-PPR): July 17 – RB20 | August 1 – TBD
---
PLAY AGAINST THE BEST WITH FullTime Fantasy! | Odds
---
RB C.J. Anderson – Over the last two seasons, Anderson has been a trap for Fantasy owners due to his best opportunity coming in Week 1 (2016 – 139 combined yards with two TDs and four catches on 24 touches and 2017 – 88 combined yards with a catch on 21 touches) and Week 2 (2016 – 93 combined yards with one TD and three catches on 23 touches and 2017 – 154 combined yards with two TDs and three catches on 28 touches). Over his other 19 games over the last two years, C.J. had four other games with over 100 combined yards and five games with 20 touches or more. On the downside, Anderson had 11 games over this stretch with fewer than 50 yards rushing. In 2017, he had his first season with over 1,000 yards rushing (1,007) with a career-high in touches (273) and combined yards (1,231). C.J. has 14 TDs over his last 38 games. There is no doubt Anderson will see plenty of touches on early downs, and he will pick up a few catches. I expect between 200 and 225 touches for 900+ yards with 20 catches and about five TDs. At best, he's a low upside RB4 in PPR leagues unless McCaffrey has an injury.
ADP: July 17 – Pick 98 | August 1 – TBD
Position Rank (PPR): July 17 – RB42 | August 1 – TBD
Position Rank (Non-PPR): July 17 – RB31 | August 1 – TBD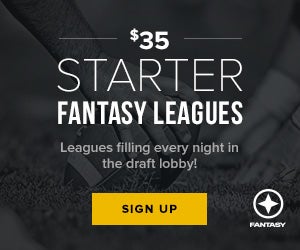 Wide Receivers
WR Devin Funchess – After two boring seasons (31/473/5 and 23/371/4) to start his NFL career, Funchess looked the part of a starting NFL WR in 2017. He caught 63 passes for 840 yards and eight TDs in 111 targets. Devin had a poor catch rate (56.8), but he did play through multiple injuries (knee, hamstring, toe, and shoulder). Funchess had five games with five catches or more and one game with over 100 yards receiving. His best success came in Week 4 (7/70/2 and Week 10 (5/92/2). Last year Carolina completed 151 passes to the WR position on 260 targets for 1,922 yards and 12 TDs. With a healthy Greg Olsen and D.J. Moore added to the roster, Funchess will have more competition for targets. Cam Newton has never attempted over 517 passes in a season, and his completion rate tends to be around 60 percent. The quick math breaks down to about 300 completions with Christian McCaffrey and Greg Olsen expected to catch at least half of those balls. The WR position again is left with only about 150 catches in 2018 unless Newton has a jump in passing attempts or completes a high percentage of throws. I'll set his bar close to his final stats in 2017 – 60 catches for 800 yards and seven TDs while understanding Devin has as much upside as a downside if D.J. Moore hits the ground running.
ADP: July 17 – Pick 68 | August 1 – TBD
Position Rank (PPR): July 17 – WR46 | August 1 – TBD
Position Rank (Non-PPR): July 17 – WR40 | August 1 – TBD
WR D.J. Moore – Over three seasons at Maryland, Moore caught 146 passes for 2,027 yards and 17 TDs highlighted by his junior season in 2017 (80/1033/8). When doing my research on incoming rookies, I read scouting reports to come up with my initial picture then watch player highlights to get a feel for a player's movements in game action. When doing the first step of research on Moore, I got the feeling that he was going to project or work as one-dimensional speed threat in 2018 for the Panthers. His highlights painted a different picture. Moore is a physical WR who will break many arm tackles while working the short areas of the field on many plays. His open field ability will turn a short pass into long TD if given daylight at the second level of the defense. He didn't create huge separation in the deep passing game even with plus speed, but D.J. did show he could win tightly contested passes. I sense that the Panthers saw some of Steve Smith in his game, which allows Moore to test a defense all over the field. His next step is proving he can beat top CBs in the NFL when drawing WR1 coverage. His game will improve in the NFL, and his style should work well in Newton's passing game. Overall, I see him outperforming Devin Funchess in his rookie season thanks to his better overall skill set. Outside chance at 65+ catches for 1,000+ yards and mid-level TDs. I expect him to be the new and improved version of Kelvin Benjamin in the Panthers' offense.
ADP: July 17 – Pick 112 | August 1 – TBD
Position Rank (PPR): July 17 – WR56 | August 1 – TBD
Position Rank (Non-PPR): July 17 – WR49 | August 1 – TBD
WR Torrey Smith – Over the last three seasons, Smith lost his way after offering big play ability on the outside for the Ravens from 2011 to 2014. His best year came in 2013 (65/1128/4) while showing growth in scoring in the red zone in 2015 (11 TDs). The 49ers poor offense and QB play led to two seasons of emptiness (33/663/4 and 20/267/3). Last year Torrey struggled to make big plays (11.9 yards per catch – career low) while being the third wheel in the Eagles' WR rotation. He finished 36 catches for 430 yards and two TDs on 68 targets. In 2013, Smith caught 21 passes for 20 yards or longer with eight gaining 40 yards or more. This year he'll be the much needed deep threat for Carolina while working similarly as Ten Ginn in 2015 (44/739/10) and 2016 (54/752/4). His targets won't be impactful due to the overall structure in the passing game, but Torrey will hit on some long TDs while adding value on crossing routes at the goal line. Possible 40 catches for 600 yards and about five TDs.
ADP: July 17 – Pick 247 | August 1 – TBD
Position Rank (PPR): July 17 – WR67 | August 1 – TBD
Position Rank (Non-PPR): July 17 – WR65 | August 1 – TBD
WR Curtis Samuel – Ohio State listed Samuel as a running back for his whole career. He had minimal touches in his freshman and sophomore years (899 combined yards with nine TDs and 33 catches). His game shined in all areas in 2016. He rushed the ball 97 times for 771 yards with eight rushing TDs while making a huge step forward as a receiver (74/865/7). Curtis runs with vision, but his ability to outrun defenders drive his success. He has more strength than meets the eye with an excellent gear to create separation on pass routes. Last year I had high hopes for Samuel that were short-lived after a season full of injuries. He finished 2017 with only 19 touches for 179 yards and four catches, which in a way show his explosive upside. In 2018, Curtis may work his way into more playing time in the backfield while possibly being a thorn in Christian McCaffrey's side. Samuel is an upside talent who will be a matchup problem for the defenses. I view him closer to being the handcuff to McCaffrey than being the top WR3 option on the roster. In this case, I wish he was listed as RB in 2018. Keep an open mind especially if he's looking healthy in training camp. Fantasy team can never have enough talent or playmakers.
Update: 8/11/18 > Curtis Samuel was a non-factor in 2017 with a slow path in training camp with an ankle issue. Carolina looked his way four times vs. the Bills in their first preseason game leading to four catches for 43 yards. Intriguing upside player who may lack an opportunity out of the gate in this year.
---
Learn more about the Fantasy Football World Championships where you can win a whopping $150K!
---
Tight Ends
TE Greg Olsen – Heading in 2017, Olsen had this player profile at Scout: If a Fantasy owner is looking for a player to show up every Sunday, Greg is that guy at TE. He's never missed a game in his career while setting a high floor over his last three seasons. Olsen has three straight years with over 1,000 yards receiving while averaging just over 80 catches over this span. His targets have grown in each of his last six seasons (69, 89, 104, 111, 123, 124, and 129). The weaker play of Newton led to a career low in TDs (3) in 2016. Greg scored over 200 Fantasy points in PPR league in his last three full seasons (84/1008/6, 77/1104/7, and 80/1073/3). In 2016, his best success came over the first six games of the season (39 catches for 610 yards and two TDs on 60 targets) highlighted by Week 2 (5/122/1) and Week 5 (9/181). Olsen only scored one TD over the last 12 games of the season. Well, the safe bet at TE in 2017 ended up missing nine game with minimal success over his other seven games (17/191/1 on 38 targets) due to an early-season broken right foot. With Olsen out the Panthers' line most of the year, the TE positioned with only 49 catches for 645 yards and two TDs on 87 targets. With more competition for targets in 2018, I'll lower his bar to 70 catches for 850+ yards and about six TDs.
ADP: July 17 – Pick 76 | August 1 – TBD
Position Rank (PPR): July 17 – TE5 | August 1 – TBD
Position Rank (Non-PPR): July 17 – TE4 | August 1 – TBD