Philadelphia Phillies
Updated: March 23
The Phillies had a great run from 2007 to 2011 where the made the playoffs in five straight seasons with two World Series appearances and one World Series title. They've missed the playoffs in each of the last six years while failing to win more than 73 games in each of their last five seasons.
Much of their failure was due to a sharp decline in offense. Philly did score the most runs (690 – 27th) in 2017 since 2011 (713), which was 80 more runs than 2016 (610). They finished 26th in the majors in home runs (174).
Philadelphia ranked 18th in ERA (4.55) with a little more strength in their bullpen ERA (4.18 – 14th).
All losses to free agency were minor for Philly in the offseason – IF Andres Blanco, OF Hyun-Soo Kim, OF David Nava, and P Clay Buchholz.
Philadelphia shipped SS Freddie Galvis to the Padres for P Envel De Los Santos. They signed Carlos Santana, which was strange when considering they already had Rhys Hoskins and Tommy Joseph as options at first base. The only other moves of value were a pair of relievers added to the bullpen – Tommy Hunter and Pat Neshek. The Phillies added SP Jake Arrieta in mid-March to strengthen their starting rotation.
Philly now has a new young core of batters they hope to develop in a way similar to Ryan Howard, Chase Utley, and Jimmy Rollins. Hoskins already flashed his power upside, and we know Maikel Franco has the making of a nice power hitter at third base. The middle infield combination of J.P Crawford and Scott Kingery will determine how far this franchise will rise on the offensive side of the ball.
The starting rotation now has two potential aces while each other option has some upside paired with disaster or injury risk. The bullpen could be the weak link in this team headed into 2018.
Overall, Philly will score runs with improved starting pitching. The backend of the pitching staff isn't strong enough to compete for the division title, but they have enough talent to have a winning season. A Wild Card berth isn't far off especially with a healthy season from their top starting pitchers.
---

Check out our 5-Star Fantasy Baseball Draft Kit jam packed off information that will help you DOMINATE your competition!
---
Starting Lineup

1. 2B Cesar Hernandez
The Phillies signed Hernandez to a $5.1 million contract, which suggests Cesar will hold off the up and coming Scott Kingery. His AVH (1.433) was a career high while delivering his second strong year in CTBA (.369). Hernandez continues to show growth in his approach at the plate (K rate – 18.0 and walk rate – 10.6). Both stats were at career-best levels. Cesar started off with a nice April (.323 with four HRs, ten RBI, and three SBs in 96 at-bats). Over the next 35 games, his game lost value (.246 with one HR, four RBI, and four SBs over 142 at-bats). He missed five weeks with an oblique injury. After the All-Star break, Hernandez hit .308 with 45 runs, four HRs, 20 RBI, and nine SBs over 273 at-bats. Cesar was a slightly better hitter vs. RH pitching (.299 with seven HRs and 27 RBI over 358 at-bats) with success against lefties (.281 with two HRs and seven RBI over 153 at-bats). His swing path still delivers plenty of ground balls (52.8 percent). Hernandez did have a career-high HR/FB rate (9.3) with some uptick in his fly ball rate (24.6). Improving player with enough experience to hang onto the second base job all season. I'd like to see him run more to add value to his playable skill set. Hernandez will offer an edge in batting average and runs. Possible .300+ BA with 100+ runs, double digit HRs, low RBIs, and 25+ SBs if he gets 550 at-bats.

2. OF Odubel Herrera
Herrera ended up being a bust pick in 2017 highlighted by his poor first two months of the season (.218 with 16 runs, three HRs, 14 RBI, and four SBs over 193 at-bats). His play was so bad that he played his way onto the waiver wire in many Fantasy leagues. Odubal has a rebound in his batting average (.321) in June while still having an emptiness in his production (two HRs and 14 RBI over 106 at-bats). Over his last 62 games, Herrera hit .317 with 36 runs, nine HRs, 28 RBI, and three SBs in 227 at-bats. He missed three weeks late in August with a hamstring injury. His K rate (22.4) matched his career average, but he lost his 2016 growth in his walk rate (5.5). Odubal hit well against righties (.279 BAA) and lefties (.288 BAA). His HR/FB rate (10.2) was just below his career best in 2016 (10.6). Herrera has had a high CTBA (.370) over the last four years supporting upside in batting average while his average hit rate (1.608) was a career high while trending upward. The step back in steals is a concern. Overall, there is plenty to like here even with a disappointing year. Odubel has the talent to hit over .300 with 100+ runs, 15+ HRs, 65+ RBI, and 20+ steals. Take the discount and enjoy his career year.
3. 1B Carlos Santana
Santana has been fairly consistent in his home runs and RBI production over the last five years. He's settled into being a 20/80 player with more upside in power with a rebound in his average hit rate (1.757). Carlos has one of the better walk rates (13.2) in the game while trending backward over the last three seasons. Santana had a career-best K rate (14.1), which should point to an uptick in batting average. Unfortunately, Santana continues to have a low CTBA (.310) limiting his ceiling in average. He's never had an elite RBI rate (13), which make him a misplaced option as a middle of an order hitter. His swing path remains balanced (20/41/39) with a dip in his HR/FB rate (13.2). Easy player to overlook, but Carlos is a steady piece to the puzzle with the approach to have a breakout season in batting average. With Philly having overlapping options at first base, I wonder if Santana will find his catcher's mitt of some days. With a catcher qualification, his Fantasy value would be much higher. Keep an open mind here, more growth in batting average with an 85/25/85 skill set while not being dead in speed.

4. OF Rhys Hoskins
Hoskins has been special over the last two seasons in pro ball. Rhys dominated at AA in 2016 (.281 with 95 runs, 38 HRs, 116, RBI, and eight SBs over 498 at-bats) while having follow through at AAA last year (.284 with 78 runs, 29 HRs, 91 RBI, and four SBs over 401 at-bats). Hoskins' bat was even more electric in the majors (.259 with 37 runs, 18 HRs, and 48 RBI over 170 at-bats). His combined total in 2017 is quite impressive (115 runs, 47 HRs, and 139 RBI). He had a huge walk rate (17.5) in the majors with a slightly below league average K rate (21.7). His walk rate (11.0) was lower in the minors with more strength in his K rate (18.5). He had a tough time with lefties (.171) with Philly while still delivering six HRs and 16 RBI in 41 at-bats. Rhys has a fly ball swing path (45.2 percent in the majors, 48.6 at AAA, and 51.6 at AA). His HR/FB rate (31.6) with Philadelphia was much higher than his last two years in the minors (19.9 and 18.2). Nice skill set, which will deliver plus runs, HRs, and RBI. I'd set his targets for 2018 at .280+ BA with 100+ runs, 35+ HRs, 100+ RBI, and five stolen bases.
5. 3B Maikel Franco
Franco lost his luster in the 2018 draft season after regressing in batting average over the last two years. His CTBA (.275) barely had a pulse despite having a low K rate (6.6). Maikel had growth in his average hit rate (1.780) while continuing to have a short walk rate (6.6). Franco hit under .220 in four of his six months with his best production coming in April (four HRs and 21 RBI), July (six HRs and 17 RBI), and September (six HRs and 14 RBI). Maikel only .209 vs. lefties with seven HRs and 18 RBI over 148 at-bats. His HR/FB rate (13.5) drifted backward in each year in the majors while hitting a few too many ground balls (45.4 percent). Just by looking at his stats and career path, a Fantasy won't view Franco as an edge at third base in his fourth season in the majors. There's enough here to expect a rebound in batting average with more production in HRs and RBI. I'll set his floor at .280 with 80+ runs, 25+ HRs, and 90 RBI. Just remember, a hitter playing in front of or just below a star batter will have a very good opportunity. The question here is: Is Rhys Hoskins a star? For the record, I like Franco's swing and quick wrists, so I'm buying in 2018.
6. OF Aaron Altherr
The Phillies gave Altherr minimal chances (eight at-bats) over the 13 days of the season. He seized the starting job in mid-April leading to a nice 74-game run (.289 with 39 runs, 13 HRs, 42 RBI, and five SBs over 263 at-bats). A hamstring injury pushed him to the DL for the better part of the next eight weeks. Over his last 18 games, Aaron hit .224 with three HRs and 16 RBI over 67 at-bats. His K rate (25.2) remains high while being much better than 2016 (30.4). Altherr tends to have an above average walk rate (8.8). He had power (eight HRs and 22 RBI in 109 at-bats) vs. lefties, but Aaron only hit .239. His HR/FB rate (18.8) was a career best while improving his swing path (43.1 percent ground ball rate) from 2016 (51.2). Altherr finished with a jump in his CTBA (.377), which was well above his two seasons in the minors (.344 and .302). His stats projected over 550 at-bats would have delivered 86 runs, 28 HRs, 96 RBI, and seven SBs. Overall, he did outperform his minor league resume in 2017 while his rise in home runs was supported his higher average hit rate (1.901). Best resume to start in right field, but he'll have competition for playing time. More of a .250 hitter with a chance at reaching 30+ HRs with a full season of at-bats.

7. C Jorge Alfaro
Over eight seasons in the minors, Alfaro hit .262 with 74 HRs, 360 RBI, and 39 SBs in 2,416 at-bats. His approach at the plate (K rate – 26.8 and walk rate – 5.0) is great, which will invite risk early in his career in the majors. Jorge struck out 113 times in 350 at-bats (32.2) at AAA in 2017 while taking only 16 walks. His short sample size of success in the majors (.318 with five HRs and 14 RBI over 107 at-bats) will tempt Fantasy owners in 2018. He had a similar weakness in his approach in the majors (K rate – 29.0 and walk rate – 2.6). Alfaro only hit .200 against lefties in the majors while showing strength against RH batters (.375 with five HRs and 13 RBI over 72 at-bats). Nice power bat as a second catcher in deep leagues, but there will be many down nights with some resulting in a seat on the bench. Batting average risk with double power with 350+ at-bats. His downside would be more development at AAA.

8. SS J.P. Crawford
Crawford looked to be on the fast track to the majors after playing well in the minors in 2014 (.285 with 11 HRs, 48 RBI, and 24 SBs over 463 at bats) and in 2015 (.288 with six HRs, 42 RBI, and 12 SBs over 430 at-bats). He's struggled to make an impact in his career at AA (.265 with eight HRs, 47 RBI, and 12 SBs over 487 at-bats). After a poor start at AAA in 2017, J.P. made a push in power (15 HRs and 63 RBI) while failing to save his batting average (.243). He had a top of the order walk rate (14.2) in the minors last year with an above the league average K rate (17.1). Crawford did enough to earn a call-up to the majors where he looked overmatched (.214 with no HRs, six RBI, and one SBs in 70 at-bats) based on his K rate (25.3), but J.P. did take a high volume of walks (18.4 percent). Work in progress while still having questions about his power and speed. His batting average can't become attractive without a higher CTBA, which has been low at AAA and the majors. May surprise with a 15/25 type season, but Crawford is only a dart in deep leagues in 2018.

C Cameron Rupp
Cameron hit his way out into a platoon role after a poor start in 2017 (.208 over his first 159 at-bats with five HRs and 14 RBI). He played better over six weeks mid-summer (.284 with eight HRs and 14 RBI over 74 at-bats) despite losing playing time. Rupp finished the year on a down note (7-for-51 with one HR and six RBI). His K rate (34.4) fell dramatically from his previous two seasons in the majors (23.8 and 27.2), but he did take a few more walks (10.2 percent). Cameron had the most problems with RH pitching (.195 BAA with 82 Ks in 205 at-bats). He had a career-high HR/FB rate (21.5) while still hitting plenty of ground balls (48.4 percent). Rupp has a lot in common with Jorge Alfaro except more major league experience and a higher average hit rate (1.922). Plenty of power, but he will be tough to time.

1B Tommy Joseph
Joseph looks to be the odd man out in 2017 after the Phillies added Carlos Santana. Last season he set a career high in at-bats (495), runs (51), doubles (27), and RBI (69). His K rate (24.2) was higher than 2016 (21.6) with a short walk rate (6.2). Over May, June, and July, Tommy hit .273 with 15 HRs and 46 RBI over 289n at-bats. Once Rhys Hoskins was called up, Joseph had a drop in value over the last two months of the season (.201 with six HRs and 16 RBI over 139 at-bats). He hit seven HRs off lefties in 133 at-bats, but his batting average (.211) came in a weak area. His best path for playing time will come via a trade or an injury. 20+ HR power, but his opportunity will be much lower than 2017.

2B Scott Kingery
Kingery has been gaining momentum in drafts due to his step forward in 2017 between AA and AAA (.304 with 26 HRs, 65 RBI, and 29 SBs over 543 at-bats). His success was much higher than his first two years in the minors (.271 with eight HRs, 67 RBI, and 41 SBs over 783 at-bats). His walk rate (6.6) is below average with strength in his K rate (16.5). With about a half season at AAA (.294 with eight HRs, 21 RBI, and ten SBs over 265 at-bats), Scott isn't far off the majors. I can't trust his power based on his lower average hit rate over the first two years in the minors (1.349 and 1.383), and his batting average should be a drag out of the gate in the majors with expected fade in his 2017 CTBA (.380). Draft him for the speed while understanding the rest of his skill set will need some time to develop.

OF Nick Williams
Williams had his best season of his career between AAA and the majors in 2017. He hit .284 with 88 runs, 27 HRs, 99 RBI, and six SBs over 595 at-bats. As great as this looks, he did strike out 187 times (28.8 percent) with higher failure in the majors (29.4 percent). Nick doesn't take many walks (5.0 percent). Over six seasons in the minors, he hit .286 with 77 HRs, 324 RBI, and 53 SBs in 2,283 at-bats. A free swinger who hits the ball hard when he makes contact. His power will continue to grow, but Williams needs to clean up his approach to steal a starting job. Nick will battle Aaron Altherr for the starting right field job in 2018.
Bench Option
Roman Quinn – Roman hit .276 with 25 HRs, 133 RBI, and 169 SBs over 1,569 at-bats in his six seasons in the minors. Last year he missed most of the season with a left elbow injury. Quinn will try to work his way back to the majors in 2018 at AAA. His speed is an edge, but his path to playing time with the Phillies is much cloudier than last season.
Pitching Staff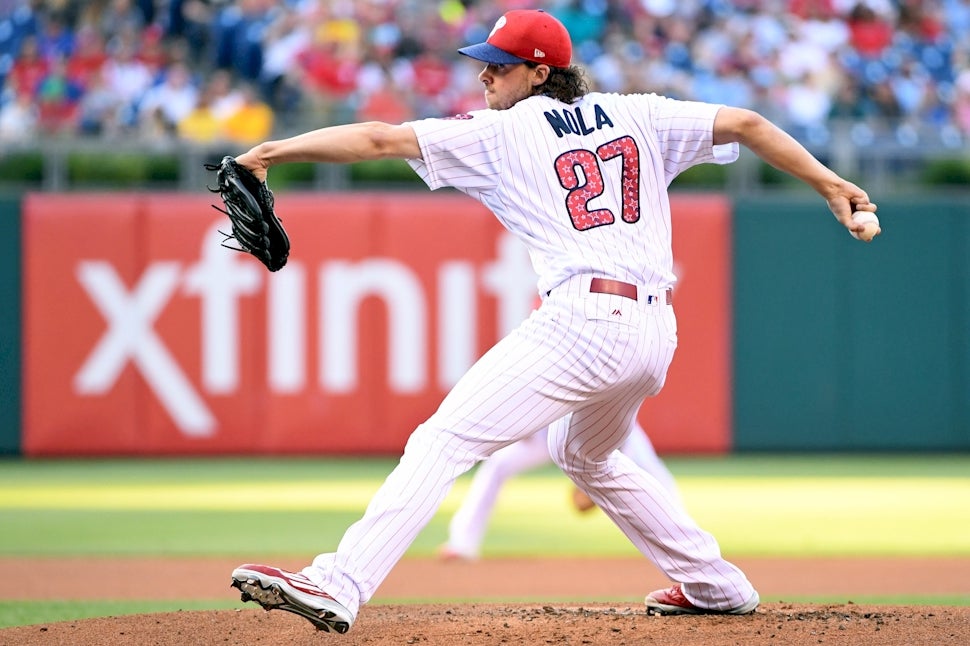 1. SP Aaron Nola
I loved Nola headed into 2016, but his injury risk and down season last year left me watching him from the sidelines in 2017. Aaron went 2-0 over his first 16 innings with 15 Ks and a 4.50 ERA before landing on the DL for a month with a back injury. He had mix results over his next six starts after returning from the DL (4.89 ERA). Over his last 18 starts of the season, Nola allowed two runs or fewer in 14 games leading to a 3.00 ERA and 137 Ks over 117 innings. His second half would have been even better if he didn't lose his way in three of four starts from August 17th and September 2nd (19 runs and 37 baserunners over 23.1 innings with 23 Ks). His K rate (9.9) was in line with 2016 with more fade in his walk rate (2.6). Aaron was at his best against righties (.228). He did have trouble holding runners on base (21 steals in 23 chances). HIs AFB (92.5) was a career high with about 1.5 MPH of velocity from his rookie season. Nola has an elite curveball (.172 BAA with 93 Ks in 232 at-bats). The rest of his pitches graded below the league average in 2017. He's a ground ball pitcher (49.8 percent) while owning a high HR/FB rate (13.3). Not quite an ace, but his season stats projected over 32 starts would have delivered 218 Ks. With better command and a step up in his changeup, Aaron could push his game to the next level. Just another pearl in the sea of Quahogs, possible sub 2.75 ERA with 225 Ks with a full season of starts.
2. SP Jake Arietta
After two dominating seasons with the Cubs (32-11 with a 2.08 ERA and 403 Ks over 385.2 innings), Arrieta hasn't been the same pitcher in 2016 and 2017 (3.30 ERA) despite winnings 32 games with 353 Ks over 365.2 innings. Last year he regained some of his lost value in walks (2.9), but he served up 1.2 home runs per nine. Jake led the NL in wild pitches in each of the last two seasons (16 and 14). A hamstring issue in September led to a couple of missed starts and short innings (10.1) for the month. On the year, Arrieta averaged only 5.6 innings per start compared to 6.9 in 2015. The Cubs held him under 100 pitches in 23 of his 30 contests. Jake struggled vs. lefties (.267 with 13 HRs allowed over 288 at-bats. Over his first 16 starts, he had a 4.67 ERA and 1.365 WHIP. His arm looked elite in July and August (7-2 with a 1.69 ERA and 60 Ks over 69.1 innings). When at his best, Arrieta will induce a high number of groundballs (56.2 percent in 2015) with minimal balls reaching the outfield. Last year he had a much high fly ball rate (34.4) than his previous three years (28.4, 22.8, and 27.9) with a third straight season of regression in his HR/FB rate (14.0). HIs AFB (92.7) was more than 1.5 mph lower than 2016 (94.3) and his slider lost value (.272 BAA). Jake still has a plus curveball (.165 BAA) and changeup (.158 BAA).There are some cracks here that will get exposed with more regression in his fastball. The key to Arrieta's success is command. His secondary stuff is tough to hit when he's pitching ahead in the count. I expect the Phillies to push him deeper in games in 2018. With 32 starts and 200+ innings pitched, Jake should win about 15 wins with a 3.25 ERA and 200+ Ks.
3. SP Jerad Eickhoff
Eickhoff looked sharp of his first four starts (2.55 ERA with 25 Ks over 24.2 innings). Over his nine starts, he crushed Fantasy owner's ERA and WHIP (0-6 with a 6.65 ERA and 1.804 WHIP). A back issue led to three missed weeks in late June and early July. Jerad reversed the tide over his next ten starts (3.25 ERA), but his WHIP (1.428) was still a negative part of his game. He suffered a hand injury in late August that ended his season. On the year, Eickhoff had a drop in his walk rate (3.7 – 1.9 in 2016) while seeing a bump in his K rate (8.3). His AFB (90.5) was a career low with decline as the year went on due to his hand injury. Jerad has plus curveball (.166 BAA) with failure in his slider (.347 BAA) and his sinker (.410 BAA). MId-level arm with a nice 2016 season (3.65 ERA) on his resume, but his soft-tossing style will lead to disaster outings when he's not throwing strikes. About a 4.00 ERA with risk in home runs allowed as well. He needs to correct his decline against lefties (.314 with 11 HRs allowed over 271 at-bats).
4. SP Vincent Velasquez
Velasquez struggled from game one in 2017 leading to a bad ERA (5.58) and WHIP (1.460) over his first 50 innings. His disaster downside was tied to 11 HRs allowed and a high walk rate (3.8). He missed six weeks before the All-Star break with a right elbow injury. Even with a 3.00 ERA over his next 21 innings, Vincent allowed 12 walks and three more HRs. His season ended in mid-August with a finger injury on his pitching hand. He had surgery on August 22nd to correct a blood circulation issue. His AFB (94.3) is trending downward. Batters struggled to hit his four-seam fastball (.220 BAA) and slider (1.85 BAA). At this point in his career, Velasquez doesn't have a third pitch of value. He struggled with both his changeup (.457 BAA) and curveball (.366 BAA) in 2017. Vincent needs to correct his failure in his HR/9 rate (1.9) and his walk rate (4.3). I see more risk than reward with an arm more suited for a late-inning role. Avoid the hype if he pitches well in spring training.
5. SP Nick Pivetta
Over the last two seasons in the minors, Pivetta started to show growth in his K ability and overall game. He went 11-6 at AA in 2016 with a 3.41 ERA and 111 Ks over 124 innings. Nick still issued too many walks in that season (3.1 per nine). In his ten starts at AAA over the last two years, he had a 1.91 ERA with 62 Ks in 56.2 innings. The Phillies called him up last year where Pivetta continue to strikeout batters (9.5 per nine). Unfortunately, he allowed too many HRs (1.7 per nine) and issued plenty of walks (3.9 per nine). His disaster downside led to a huge ERA (6.02) and poor WHIP (1.511). In his 26 starts, Nick gave up three runs or fewer in 15 starts. His arm looked special in back-to-back starts in June (three runs over 13 innings with three walks and 19 Ks). Over a 15 start stretch, Pivetta allowed 5, 6 (twice), 7, 8, and 9 runs in six different games. His season ended with a three games winning streak with a 1.06 ERA, .186 BAA, and 19 Ks over 17 innings. Nick had a tough time vs. RH batters (.308 ERA and 20 HRs allowed over 263 at-bats). His AFB (94.7) should offer an edge with his best pitch being his slider (.188 BAA). More of start-to-start option in 2018 until Pivetta shows he can have success against righties and throw more strikes.
SP Ben Lively
Lively was exceptional in 2016 between AA and AAA (18-5 with a 2.69 ERA and 139 Ks over 170.2 innings). His game lost some value at AAA last year (7-5 with 3.15 ERA and 82 Ks over 97 innings). The Phillies gave Ben 15 starts in the majors in 2017 (4-7 with a 4.26 ERA and 52 Ks over 88.2 innings) where he showed a decline in his K rate (5.3) and risk in his HR/9 rate (1.3). With Philadelphia, Lively allowed three runs or fewer in 12 of his 15 starts. His biggest weakness in the majors came against lefties (.286 BAA) with a poor BB:SO ratio (17:19). Ben has a below-par fastball (91.8). He threw a slider (.184 BAA) as his best pitch. Over his five years in the minors, Lively went 46-28 with a 3.07 ERA and 559 Ks over 603.1 innings. Sneaky backend arm with more K ability than he showed with Phillies.

SP Jake Thompson
Thompson has double digits wins in three straight seasons in the minors leading to a 36-22 record and a 3.06 ERA over 451 Ks over 503.1 innings headed into 2017. After posting a 2.50 ERA over 21 starts at AAA in 2016, Jake lost interesting and his way in last season when asked to repeat the level. He went 5-14 with a 5.25 ERA and 90 Ks over 118.1 innings. Thompson was easier to hit (.293 BAA) with regression in his walk rate (3.6). Despite his bad year, the Phillies still called him up to the majors. Somehow with poor peripheral stats (1.554 WHIP, 1.7 HRs per nine, and 4.3 walks per nine), Jake was able to post a 3.88 ERA over 46.1 innings in the majors. His AVB (91.5) was a career low. Batters crushed his four-seam fastball (.382 BAA and .655 BAA). Both his slider (.226 BAA) and changeup (.132 BAA) remain pitches of value. Soft tosser with command issue is a risky way to build the backend of your Fantasy pitching staff.

SP Mark Leiter
Over five seasons in the minors, Mark went 29-23 with a 3.44 ERA and 444 Ks over 470.1 innings while splitting time between starting and the bullpen. His best season in the minors came in 2015 (3.09 ERA and 121 Ks over 142.2 innings). As a reliever with the Phillies, Mark has a 4.50 ERA and 29 Ks over 30 innings. The move to the starting rotation resulted in a weaker ERA (5.19) due to 14 HRs allowed over 60.2 innings. His best month in the majors came in August (3.41 ERA with 29 Ks in 29 innings). Leiter has a below-par fastball (91.2) with an upside split-finger fastball (1.93 BAA). Not ready for prime time, but he may be the first name called if one of the top five starters on Philly can't make the call in 2018.

Like and share our new Facebook page! Be sure to pay attention to our giveaways for your shot at some sweet prizes!

CL Hector Neris
In his first season as the closer of the Phillies, Neris gave Fantasy owners plenty of doubts that he couldn't keep the job long term. He tossed 8.1 shutout innings to start the year with two hits, nine Ks, and a save. Hector allowed a run or more in five of his next nine games (7.71 ERA, 3.57 BAA, and 1.928 WHIP) to put his job at risk. After 6.2 shutout innings, he struggled again over his next 14 innings (4.50 ERA and .268 BAA). At the All-Star break, Neris only had seven saves. After the All-Star break, he picked 19 saves with a 2.48 ERA and 44 Ks over 36.1 innings. Hector still has a high walk rate (3.1) with a step back in his K rate (10.4). His struggled came against lefties (.270), but he allowed six of his nine HRs to RH batters. Neris has a career-high fastball (95.0). His best pitch is a swing and miss split-finger fastball (1.79 BAA with 68 Ks in 162 at-bats. Looks the part as a closer, but Hector needs to cut down on the home runs (1.1) per nine with growth in his command. Possible value closer with a chance at 40+ saves and 100+ Ks. The Phillies will play plenty of close games helping his opportunity.

RP Pat Neshak
Neshek used elite command (0.9 walks per nine) to post his best K rate (10.0) since 2008 (10.1). Over the last four seasons, Pat has a 2.45 ERA with 231 Ks over 231.1 innings. Three times over the last six years Neshek has an ERA under 2.00. He dominated both RH (.201) and LH (.230 BAA) batters with a great BB:SO ratio (2:45) vs. righties. His AFB (90.4) remains short with batters struggling the most to hit his slider (.156 BAA). Pat is a fly ball pitcher (46.1 percent in 2017), but he finished with a career-low HR/FB rate (4.2). At age 37, Neshek has the skill set to close even with a risky fastball.

RP Tommy Hunter
Hunter has his best all-around season in the majors in 2017. He continued to have a low walk rate (2.1) with a career-high K rate (9.8). Batters only hit .202 against him with his biggest edge coming against lefties (.170 BAA). His only down month came in August (4.40 ERA) when Tommy allowed four HRs over 14.1 innings. Hidden in his sketchy career K rate (6.0) is an elite fastball (97.1). Hunter had three elite pitches in 2017 (four-seamer – .108 BAA, curveball – .185 BAA, and cutter – .185 BAA). Closer type skill set if he repeats his 2017 success while lacking the major resume. Low-value insurance if Hector Neris fails this year.
References
Baseball America Prospect Handbook. (n.d.).
Baseball-Reference. (n.d.). Retrieved from http://www.baseball-reference.com/
Brooksbaseball.net. (n.d.). Retrieved from http://www.brooksbaseball.net/
Fangraphs. (n.d.). Retrieved from http://www.fangraphs.com/
Roster Resource. (n.d.). Retrieved from http://www.rosterresource.com/mlb
RotoWire. (n.d.). Retrieved from http://www.rotowire.com/
Rotoworld. (n.d.). Retrieved from http://www.rotoworld.com/