Kansas City Royals
The Royals finished with a losing record (80-82) in 2017 for the first time being since 2012. The direction of the franchise is fading with most of the damage showing on the pitching side.
Kansas City allowed 79 more runs than 2016 (712), which was 150 more runs than their World Series-winning season in 2015. They had the 10th ranked ERA (4.61) in the AL while placing 16th in the majors in bullpen ERA (4.24).
The Royals scored 702 runs (13th), which was 27 more than last year (702). This season the offensive structure will have a different look with 1B Eric Hosmer, 3B Mike Moustakas, OF Melky Cabrera, and OF Lorenzo Cain eligible for free agency. Kansas City signed OF Jon Jay and Lucas Duda in February to help improve the major league roster and the Royals decided to re-sign Moustakas after the free agent market offered no viable option.
The only major changes on the pitching side were the loss of RP Mike Minor, SP Trevor Cahill, and SP Jason Vargas.
Major league baseball suspended Jorge Bonifacio for 80 games for failing a drug test.
2018 will be a rebuilding year in all areas with no chance of making a playoff run.
Starting Lineup

1. 2B Whit Merrifield
Merrifield ended up being a great waiver wire find in 2017, but it didn't come without some difficult moments. He played well at AAA (.412 over 34 at-bats with three HRs and nine RBI) leading to a call-up to the majors. Over his first 20 games with the Royals, Whit hit .211 with three HRs, six RBI, and two SBs. A Fantasy owner looking for more upside most likely dumped him back into the free agent pool in mid-May. Merrifield hit .298 over his last 516 at-bats of the season with 72 runs, 16 HRs, 72 RBI, and 32 SBs. He had the most success against righties (.292 with 14 HRs and 66 RBI over 466 at-bats). His AVH (1.598) was a step up from his career path. His K rate (14.0) was excellent, but he barely took any walks (4.6 percent). Over eight seasons in the minors, Whit hit .274 with 46 HRs, 274 RBI, and 143 SBs in 2,796 at-bats. His success in 2017 was a step up from his career resume, especially in power. The downturn in the Royals scoring this season will lead to Merrifield regression back to his previous skill set. Possibly .280 hitter with low double-digit HRs and 25+ SBs while being overpriced on draft day. HIs RBI rate (20) isn't repeatable.

2. SS Raul Mondesi
Mondesi wasn't ready for the majors last year. He hit .103 over his first 39 at-bats with a home run, two RBI, five SBs, and 16 Ks with the Royals. His bat did gain momentum at AAA (.305 with 13 HRs, 52 RBI, and 21 SBs over 321 at-bats). His K rate (24.0) was only slightly better than his career average (24.9) while continuing to have a short walk rate (5.0). Over six season in the minors, Raul hit .258 with 44 HRs, 225 RBI, and 116 SBs in 2,166 at-bats. His AVH (1.765) at AAA gives him 20+ HRs upside while flashing a high contact batting average (.417). His time is now, but strikeout will be his nemesis early in his career. On the verge of being a 20/30 type player with early risk in his batting average, but his approach isn't ideal to bat near the top of the batting order early in his career.

3. OF Jorge Soler
The middle of the order cupboard in Kansas City looks empty, but someone will emerge to be a productive bat. Soler was once considered a top prospect. He's lost his way over the last three seasons. When glancing at his 1,013 at-bats in the minors (.286 with 52 HRs, 179 RBI, and 18 SBs), a Fantasy owner should be able to see the upside and potential of Jorge. He has 32 HRs and 89 RBI over 403 at-bats at AAA, but Soler struck out 24.5 percent of the time with a huge walk rate (14.7). In the majors, he's yet to produce a winning season. Over 779 at-bats, Jorge hit .244 with 29 HRs and 104 RBI. HIs K rate (28.2) in the majors needs a lot of work with a slight step back in his walk rate (9.3). In AAA in 2017, he had a huge HR/FB rate (28.2) supported by his previous minor league resume. With the Royals last year, Soler only hit .144 with two HRs and six RBI over 97 at-bats. Post-hype type player who won't draw a lot of attention on draft day unless he has a great spring training. Possible breakout player with a chance at 20+ HRs and 80+ RBI.
4. 3B Mike Moustakas
Moustakas found his power stroke in 2017 leading to a career high in runs (75), HRs (38), and RBI (85). His HR/FB rate (17.8) was well above his career average (10.6) while delivering a high volume of fly balls (45.7 percent – 44.0 in his career). His CTBA (.328) almost matched his 2015 season (.330), but Mike did have a slight fade in his K rate (15.7). His quest for home runs led to a career low in his walk rate (5.7). Overall, his approach regressed even with a power surge. Moustakas had a lower than expected total in RBI (85) due to only 312 RBI chances. In his career, Mike's never had over 360 runners on base. This season he'll bat in the middle of the Royals' starting lineup, but the strength of this roster is well below 2017. Moustakas is a nice player with high enough average hit rate (1.914) to deliver another 30+ home runs with a neutral batting average and about 160 combined runs and RBI. Steadier than explosive with power being his best area of success. Mike has a low enough K rate to see a rise in batting average with a jump in his CTBA. His fly ball swing does restrict a big improvement in BA.

5. C Salvador Perez
Perez continues to add length to his hits (AVH – 1.849) leading to five straight years of growth in home runs. His RBI rate (17) was the best of his career. Also, Salvador has a rising CTBA (.335). His walk rate (3.4) remains in a free-swinging area with a slight rebound in his K rate (19.0). Perez had five HRs or more in five of his six months with his only failure coming in August due to two weeks on the DL with an oblique injury. Salvador was a slightly better against righties (.272 with 17 HRs and 53 RBI over 335 at-bats). His growth in power is due to his repeated high fly ball rate (47.0) and a career-high HR/FB rate (15.1). In the prime of his career with a chance to hit over 30 home runs for the first time if his swing path remains in line with his last two seasons. His added weak fly balls and slow feet point to a neutral batting average at best.
6. 1B Lucas Duda
After inputting Duda's stats from last year, I had to do a double take. His low RBI rate (12) didn't seem to match up with his 30 HRs over 423 at-bats. Lucas has a career-high average hit rate (2.283), but his CTBA (.319) was well below his success from 2012 to 2015. Duda had a spike in his K rate (27.5 – career high) while still taking a high volume of walks (12.2 percent). He hit .227 with 25 HRs and 50 RBI vs. RH pitching while still showing risk against lefties (.188 with five HRs and 14 RBI over 101 at-bats – 39 Ks as well). Lucas landed on the DL in late April due to a left elbow injury. Duda had four HRs or more in each month despite not having over 81 at-bats in any month. His best production came in July (.247 with 12 runs, seven HRs, and 12 RBI) while falling in batting average in August and September (.164) after the trade to Tampa. He had 58 Ks over his last 183 plate appearances (31.7 percent). Lucas is a fly ball hitter (48.6 percent in 2017 and 46.8 in his career) who set a career high in his HR/FB rate (21.3). This season Duda will be in the lineup every day vs. RH pitching while the Royals will try to find a complementary RH bat to face lefties. At best, .250 with 25 HRs and 75 RBI with 450+ at-bats.
7. OF Alex Gordon
Gordon hit .214 with 26 HRs, 85 RBI, and 15 SBs over his last 921 at-bats, which is 400 at-bats too many. His RBI rate (12) fell into a leadoff hitter or less area over the second straight season. Alex had a sharp decline is his CTBA (.283), which means he was extremely unlucky or he lost some juice in his swing. His K rate (23.3) moved closer to his career average (21.7) while improving from 2016 (29.3). Gordon took fewer walks (8.3 percent). Alex struggled against both RH (.210 BAA) and LH (.202) batters with no HRs in 114 at-bats against lefties. He hit under .200 over his first 408 at-bats with a short flash over the last three weeks of the season (.279 with four HRs and ten RBI). Alex lost almost half of his HR/FB rate (7.8) from 2016 (15.0) while hitting fewer fly balls (33.0 percent). Pretty much Fantasy road even with a good spring training. Freelook if you must with a quick trigger on the eject button with continued failure at the plate.

8. 3B Cheslor Cuthbert
2017 was a lost season for Cuthbert. He struggled as a bench player for the Royals over the first half of the season (.196 with a home run and ten RBI over 92 at-bats) before suffering a left wrist injury in late June. Cheslor missed six weeks of the season. Over his last 51 at-bats, he hit .294 with a home run and eight RBI. His K rate (25.5) had more risk than his previous resume in the majors (18.8) while continuing to post a short walk rate (5.9). Over eight seasons in the minors, Cuthbert hit .262 with 60 HRs, 336 RBI, and 31 SBs over 2,360 at bats. He played well enough in the majors in 2016 to expect him to be the starting third baseman for Kansas City in April. At best, Cheslor is a 15/60 type player with some batting average and job loss risk. He'll be on the waiver wire in most leagues, and the Royals may end up signing another option to offer more upside at third base.
Update: The signing of Mike Moustakas should have killed Cuthbert's 2018 value, but an 80-game suspension for Jorge Bonifacio does create a window for playing time at DH. The Royals will give Moustakas some playing time at first base as well giving Cheslor a chance to play third base. Only a bench player in deep leagues unless he's playing every day early in the year.
9. OF Jon Jay
Other than batting average (.288 in his career), there isn't a ton of excitement in Jay's skill set. Over his last four seasons, Jon only has eight HRs, 116 RBI, and 14 SBs in 1,349 at-bats. His K rate (18.5) has been below his career average (16.6) in the last two years while setting a career high in his walk rate (8.6) in 2017. His major league experience may lead to the playing time edge in centerfield for the Royals, but I expect many nights with empty stats. Weak bench player at best on Fantasy teams.
OF Jorge Bonifacio
Bonifacio flashed power with the Royals (17 HRs with over 384 at-bats), but he has short RBI rate (11). Jorge had a nice run over 247 at-bats (.267 with 12 HRs and 29 RBI) before losing his way in limited at-bats over the last two months of the seasons (.231 over 91 at-bats with three HRs and six RBI). During his bad run, Jorge had 33 Ks. On the year in the majors, his K rate (28.0) was much higher than his minor league career (21.4) with a league average walk rate (8.3). Over eight seasons in the minors, Bonifacio hit .268 with 65 HRs, 392 RBI, and 45 SBs over 2,751 at-bats. His HR/FB rate (18.3) in the majors was his highest of his career at any level even with a low fly ball rate (34/8). Slugger type bat with 25/80 skill set.
Update: Mr. Bonifacio will miss the first 80 games of 2018 due to a failed drug test.
OF Paulo Orlando
Orlando played most of his career in the minors with his best opportunity in the majors coming in 2016. He hit .302 that season, but his average hit (1.341) was in a Judy-like area while barely taking a walk (2.7 percent). Last season a shin injury cost him three months in the majors. Paulo struggled in all areas with Kansas City in 2017. Over five seasons at AAA, he hit .282 with 17 HRs, 172 RBI, and 59 SBs over 1,267 at-bats. At his age (32), it would be tough to believe in him getting full time at-bats in the majors with the Royals looking to get younger to rebuild their franchise. Possible starter with a neutral batting average and a 10/30 skill set if ever given 550 at-bats. His lack of approach will keep him at the bottom of the batting order.

1B Ryan O'Hearn
O'Hearn is the closest replacement to Eric Hosmer in the Royals system. Over four seasons in the minors, Ryan hit .278 with 84 HRs, 273 RBI, and 14 SBs over 1,705 at-bats. He has over 20 home runs in each of his last three years. His walk rate (10.6) projects to be above the league average while needing to shave off some of his strikeouts (25.7 percent). His average hit projects well in the majors, but his contact batting average may slide early in his career until O'Hearn proves he can handle major league pitching. Decent late flier in deep leagues with a very good chance of being in the majors in April. With 500+ at-bats, Ryan will hit under .250 with 20+ HRs and short RBI.

OF Hunter Dozier
Kansas City drafted Dozier 8th overall in the 2013 MLB June Amateur Draft. His road to the majors has been slow (five seasons). He had his best year in 2016 at AAA (.294 with 15 HRs and 54 RBI over 391 at-bats) that put him on pace to make the majors in 2017. Last season he missed much of the year with three injuries (oblique, broken left wrist, and broken nose). Over his limited at-bats (84) at AAA last season, Hunter hit .226 with four HR and 12 RBI while striking out 37 times. He is a career .261 hitter in the minors with 54 HRs, 253 RBI, and 27 SBs over 1,803 at-bats. Dozier has a below par K rate (23.8) with some upside in walks (10.6 percent). In 2018, Hunter will compete for at-bats in the outfield and DH. He has enough size (6'4" and 220 lbs.) to have further growth in power. For now, a low average power hitter with a questionable opportunity in the majors.
OF Billy Burns
Burns didn't have a chance to play in the majors in 2017 with Lorenzo Cain on the roster. Billy remains a one-dimensional speed player with empty power. Last season at AAA, he hit .285 over 354 at-bats with no HR, 22 RBI, and 24 SBs. His best year in the majors came in 2015 (.294 with five HRs, 42 RBI, and 26 SBs over 520 at-bats). Over seven seasons in the minors, Burns hit .288 with two HRs, 153 RBI, and 212 SBs over 1,913 at-bats, His walk rate (11.4) in the minors is high enough to hit at the top of the order while limiting the damage strikeouts (14.2 percent). This season he'll compete for starting at-bats with the Royals, which will be contingent on any new players added to the roster. Possible 50+ SBs with a starting job all season. He has no value in HRs and RBI, so he has to be running to be in the starting lineup in the Fantasy games.
Bench Options
Cameron Gallagher (C) –  Cameron may offer upside as the backup catcher for Kansas City in 2018. He is a former second-round pick (2011) who hit .244 in his 1,583 at-bats in the minors with 26 HRs, 160 RBI, and four SBs. His approach grades well (9.2 percent walk rate and 12.3 percent K rate), but he needs to do more with the ball at the plate to earn more playing time.
Ramon Torres (IF) – Torres will compete for a middle infield job this year with the Royals. Over eight seasons in the minors, he hit .271 with 28 HRs, 231 RBI, and 128 SBs over 2,483 at-bats. His game did show improvement at AAA (.275 over 592 at-bats with eight HRs, 62 RBI, and 29 SBs), which lead to a starting job in the majors. If Kansas City shifts Whit Merrifield to the outfield, Ramon might emerge as starting option at second base in 2018. Possible 10/30 skill set with a neutral batting average.
Nicky Lopez (SS) – Nicky looks to be a year or so away from the majors. In his two seasons in the minors, Lopez hit .279 with eight HRs, 67 RBI, and 45 SBs over 748 at-bats. He has more walks (87) than strikeouts (82) in his career, which points to a top of the order opportunity down the road. Possible mid-season call-up with a chance to offer difference maker speed.
Bubba Starling (OF) – The Royals drafted Bubba in the first round in 2011 as the fifth overall pick. Over six seasons in the minors, Bubba hit .234 with 58 HRs, 255 RBI, and 71 SBs in 2,169 at-bats. Starling still strikes out too much (27.4 percent). Last year he missed a couple of months of the season with an oblique issue. He needs a big step forward to have a chance at getting at-bats in the majors.
Michael Gigliotti (OF) – Gigliotti played well in his first season with Kansas City. He hit .320 with four HRs, 38 RBI, and 22 SBs over 241 at-bats while showing a strong approach at the plate (13.7 percent walk rate and 14.1 percent K rate). With no at-bats above single A, Michael has no real chance of making the majors in 2018. A future leadoff hitter with a potential 10/40 skill set when Gigliotti adds more bulk.
Pitching Staff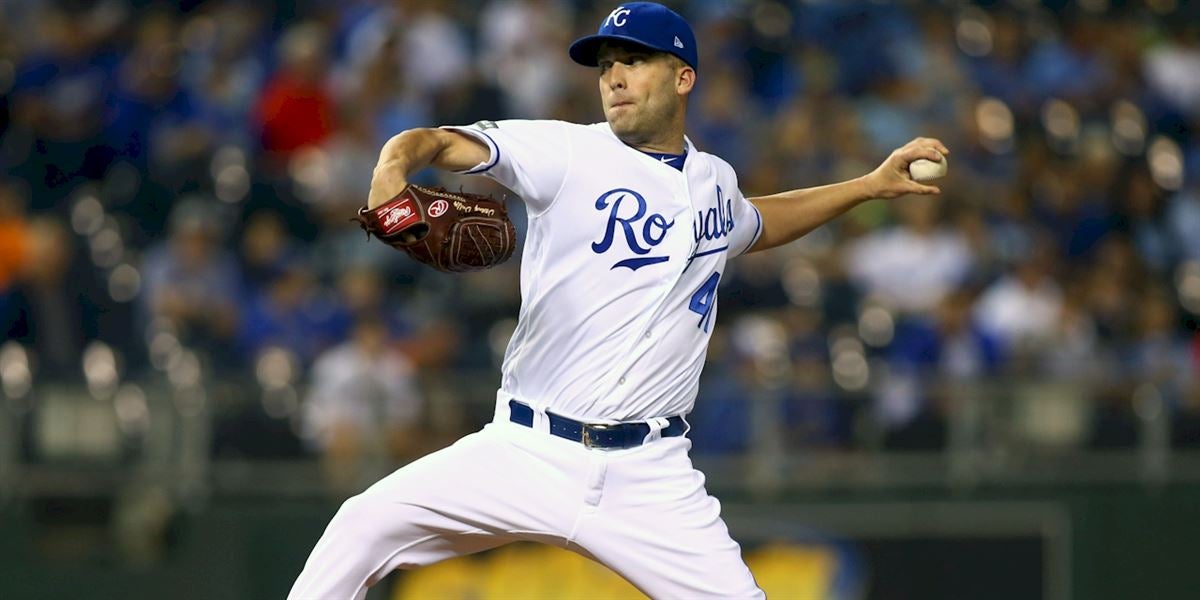 1. SP Danny Duffy
After a nice move in 2016 over his first 19 starts (2.61 ERA and .978 WHIP with 126 Ks in 120.2 innings), Duffy hasn't been the same pitcher since. Danny finished last year on a down note (6.37 ERA and 1.585 WHIP) in his last seven starts. Over his last 41 innings, Danny allowed 12 HRs compared to 15 HRs over his previous 120.2 innings. In 2017, he threw the ball at a high level over his first ten starts (2.82 ERA) despite two disaster games (12 runs and 23 baserunners over 9.2 innings). Danny missed the month of June with an oblique injury. When he returned, Duffy had a 4.06 ERA over his last 77.2 innings with 76 Ks. A left elbow injury led to another three missed starts. He has surgery in early in October to clean up his left elbow. Both his walk rate (2.5) and K rate (8.0) declined from his breakout 2016 season (2.1 and 9.4) while being higher than his career resume (3.2 and 7.8). Danny dominated lefties (1.67 BAA) with below league average success vs. RH batters (.278 BAA). His AFB (93.4) was more than two MPH below 2016 (95.5). All of his pitches lost value expect his changeup (.191 BAA). Duffy had the biggest regression with his slider (.247 BAA – .212 in 2016) and his four-seam fastball (.268 BAA – .234 in 2016). In the end, 2017 was that far off 2016 when you take in his elbow issue. The key to his value this year with be a rebound in his velocity. Minimal upside in wins with a sub 3.75 ERA and 150+ Ks.

2. SP Ian Kennedy
Kennedy was a tough ride in 2017. His walk rate (3.6) was well below his last two seasons (2015 – 2.8 and 2016 – 3.0) leading to a decline in his K rate (7.7) and more failure in his home run rate (2.0). Ian had a 2.30 ERA over his first five starts with 28 Ks over 31.1 innings. He allowed 16 HRs over his next 66.1 innings creating a losing ERA (5.70). Over his last 11 starts, Kennedy regressed even more (7.33 ERA over 50.1 innings with  15 long balls allowed). Batters hit .246 against him with Ian pitching the best against lefties (.236 BAA). His AFB (92.4) was in the same range of his last few seasons. Batters had 22 home runs off his four-seam fastball even with a respectable batting average against (.243). Ian had the most success against his changeup (.198 BAA). In the past, Kennedy has bounced back from a bad season. It looked like he lost confidence in his stuff. The rise in his HRs allowed is a huge concern. Worth a backend flier if his spring reports are positive. Possible sub 4.00 ERA and 175 Ks with a rebound his command and fewer fly balls landing in the seats.

3. SP Jason Hammel
Hammel struggled again in the AL in 2017. Over 13 years in the majors, Jason has a 5.00 ERA over 712.2 innings in the American League compared to 4.15 ERA in the National League over 970.2 innings. His walk rate (2.4) beat his career average (2.8) with a step back in his K rate (7.2). Hammel was much easier to hit (.284 BAA) compared to his last two seasons (2015 – .242 BAA and 2016 – .239 BAA). He had failure against both righties (.287 BAA) and lefties (.281 BAA). His only month of value came in June (3-0 with a 2.51 ERA over 36 innings with 28 Ks). Jason had an ERA over 4.70 in every other month. HIs AFB (92.5) was a career low. Hammel continues to have success with his slider (.244 BAA) with every pitch losing value. Aging arm with disaster downside in many games due to his low K ability and high HR/9 rate (1.3). Only a short-term play when he has favorable matchups.

4. SP Jake Junis
Junis didn't have a great resume in the minors headed in 2017 (4.40 ERA with 455 Ks over 539 innings). Jake started to shine at AAA (2.92 ERA over 71 innings) thanks to a spike in his K rate (10.9 – 8.0 in his minor league career). Junis struggled with home runs (9) over his first six starts in the majors, which led to a low 6.00 ERA and a poor batting average against (.299). After a trip back to the minors, his game had more value over his last 11 games in the majors (3.61 ERA and 50 Ks over 62.1 innings). Jake showed great command (1.3 walk rate) over this span. He has below average fastball (91.8) with his success coming from his edge slider (.195 BAA). Junis throws enough strikes to be a league average pitcher with more upside with fewer home runs allowed and growth in his K rate (7.3 in the majors and 8.0 in the minors).

5. SP Nate Karns
Karns had a hot and cold April (two games with one run allowed over 11.2 combined innings and three games with 14 runs allowed over 11.1 innings). Nate looked great over his four starts in May (2.01 ERA and 32 Ks over 22.1 innings) highlight two double-digit strikeout games (10 and 12). A forearm issue led to thoracic outlet syndrome surgery in mId-July. His AFB (93.4) was a tick below 2016 (93.7) while his changeup (.170 BAA) and curveball (.175 BAA) graded as plus pitches. Last season he had the best walk rate (2.6) and K rate (10.1) of his career, but it was a short sample size. The recovery from his surgery gives him a chance to be ready for opening day, but we saw Matt Harvey pitch poorly the next season after having the similar issue in 2016. Overall, Karns doesn't have a great resume in the majors (4.37 ERA with 321 Ks over 310.2 innings) due to his inability to throw strikes (3.6 walks per nine). I'd avoid on draft day while understanding the balance between K ability and disaster starts.

6. SP Eric Skoglund
Skoglund had flashes at AAA in 2017 leading to his first chance in the majors. His K rate (8.9) was a step from 2015 (7.0) and 2016 (7.7) while having some fade in his walk rate (2.8). Over four seasons in the minors, Eric went 17-20 with a 3.75 ERA and 328 Ks in 367.2 innings. He flashed in his major league debut on May 30th (6.1 shutout innings with a walk and five Ks), but Skoglund pitched his way to the minors over his next two starts in the majors (six runs and 15 baserunners over 3.1 innings). Kansas City gave him another chance late in the season (14.04 ERA and 2.880 WHIP). His AFB (92.2) was short in the majors while offering a curveball with upside plus a changeup and a slider that still need work. Not quite ready to be a factor in the majors. His command is his best asset and some time at AAA should lead to better results in 2018.

7. SP Trevor Oaks
Oaks has the look of a soft tosser when based on his low K rate (6.5) in the minors, but his hard sinker can reach the mid-90s. Trevor has been a strike-throwing machine (1.6 walks per nine) so far in his pro career. In 2016, he pitched at three different levels in the minors leading to a nice season (14-3 with a 2.74 ERA and 108 Ks over 151 innings). Last season he missed time with oblique and groin issues at AAA. Over two seasons at AAA, Oaks went 9-4 with a 3.37 ERA and 120 Ks over 147 innings. For him to gain more value in strikeouts, Trevor needs to add a swing and miss type pitch. For now, he relies on his sinker and serviceable cutter to induce a high volume of ground balls. The Royals have enough weakness at the backend of the starting rotation to gets a reasonable chance of pitching at least a half season in the majors. His command should limit his disaster downside. Over his four seasons in the minors, Oaks went 31-13 with a 3.27 ERA with 292 Ks over 404 innings. Kendall Graveman type career path with lower valued secondary pitches.

CL Kelvin Herrera
Headed into 2017, I liked the upside of Herrera as the closer for the Royals. His stuff lost value across the boards, which led to a tough ride. Kelvin pitched well over his first 15 games (3.00 ERA and .185 BAA) while converting seven of eight saves. Over the next month, he crushed Fantasy teams when Herrera allowed ten runs and 20 baserunners over 9.1 innings with 15 Ks. Kevin earned six of seven saves over this span to keep hold of the closing job. He stablized over the next 11 weeks covering 25.1 innings (2.13 ERA and .211 BAA) before running off the tracks again in September (6.52 ERA and .300 BAA). On the year, Herrera was much easier to hit (.255) with a spike in his walk rate (3.0) and HR/9 rate (1.4). He had fewer Ks (8.5 per nine) with regression in his command against lefties (.282 BAA while issuing 18 of his 20 walks). HIs AFB (97.8) remains elite, but it is below his best season (2014 – 99.0). Batters struggled to hit his changeup (.211 BAA) and cutter (.191 BAA). Plenty of talent with upside in K ability with a rebound in his command. I'd write off 2016. Sub 3.00 ERA with 35+ saves and 75+ Ks.

RP Brandon Maurer
Over the last two seasons with a closing opportunity, Maurer went 3-11 with a 5.44 ERA, 131 Ks, and 35 SVs over 129 innings. In 2017, he pitched his way out of the 9th inning in San Diego despite showing growth in his walk rate (1.8) and strength in his K rate (8.7). Brandon had a brutal stretch over six weeks for San Diego (10.06 ERA and 1.764 WHIP) while converting ten of 12 saves over this stretch. With Kansas City, Maurer lost his command (5.0 walks per nine) leading to an 8.10 ERA and 45 baserunners allowed over 20 innings. Brandon has disaster downside against righties (.319 with six HRs allowed over 138 at-bats). His AFB (96.8) was the best of his career, but batters hit .304 against it was five home runs. Both his slider (.274 BAA) and changeup (.286 BAA) had losing value for a setup man. Flashes of talent and a career-high first strike rate (67.4) gives him a chance to be serviceable as a setup man with the Royals if he regains his early season command.