Toronto Blue Jays
The Blue Jays have been an interesting follow over the last three seasons. They jump to first in the AL East in 2015 when they scored a major league-high (891 runs), which was 127 more runs than the closest team. Over the last two years, they lost value in runs scored (759 and 693) with the latter being 198 runs fewer than 2015. When you add in the huge step back in pitching staff in 2017 (4.42 ERA – 118 more runs allowed in than 2016), a baseball fan can see why they slipped to fourth in the AL East while finishing with a 76-86 record. The Blue Jays made the playoffs just twice over the last 24 seasons.
In the offseason, Toronto lost C Miguel Montero and OF Jose Bautista to free agency. They acquired SS Aledmys Diaz and 2B Yangervis Solarte in a pair of trades over the winter for a couple of minor leagues. The Blue Jays signed Curtis Granderson in mid-January, and they traded P Connor Greene and P Dominic Leone for OF Randal Grichuk. Toronto added SP Jaime Garcia to their starting rotation as well via free agency.
The starting rotation needs SP Aaron Sanchez to regain his elite form that he showcased in 2016 (3.00 ERA). Also, the Blue Jays need the rest of their returning starters to regain their previous form shown in 2015 and 2016. The fifth starter is wide open.
The closing job should be in good hands with Roberto Osuna who had a battle between greatness and disaster in 2017. His age and skill set should lead to many saves in his career with continued growth in his skill set. The options in the 7th and 8th need to be stronger in 2018 to improve on the bullpen ERA (4.21 – 15th).
The biggest question about the Blue Jays going forward will be the strength of their starting lineup. 3B Josh Donaldson remains an elite bat while almost every other option behind him lacks explosiveness and upside.
Overall, the pitching should be better in 2018 with questions about the scoring production. The Blue Jays look to be back in the rebuilding mode meaning they will need to lose some of their fading offensive talent this season.
Starting Lineup
1. OF Curtis Granderson
Granderson finished 2017 with his highest average hit rate (2.137) of his career, but his contact batting average (.291) was his lowest of his career. He continues to talk a high volume of walks (13.5) with some risk in his K rate (23.3). Curtis struggled vs. both righties (.214 with 21 HRs over 345 at-bats) and lefties (.202 with five HRs over 104 at-bats). Granderson played well in June (.316 with eight HRs and 15 RBI) with his best power coming in August (ten HRs and 22 RBI) despite only hitting .190 over 84 at-bats. Over the last three months of the year, he struggled to get everyday at-bats (199) due to a low batting average (.181 with 14 HRs and 30 RBI). The move to Toronto won't give him a full-time opportunity, but Curtis should be able to bat leadoff against RH pitching. Only a 60/20/60 guy going forward with 450 at-bats while sitting on many nights against lefties.

2. SS Troy Tulowitzki
Tulowitzki will be a freebee on draft day in 2018. His K rate (15.4) came in better than his career average (16.6), but his walk rate (6.5) was a career low. His CTBA (.299) declined in each of the last three years and it is well below his success in 2014 (.415). Last season Troy missed another 98 games with right ankle injury and a hamstring issue. Over the first 16 games of the season, he hit .263 with one HR and ten RBI with quiet stats (.245 with six HRs and 16 RBI over 184 at bats). Tulowitzki's swing path turned in to a shell of his previous resume. He had the weakest line drive rate (14.4) of his career with a huge spike in his ground ball rate (52.5). Tulowitzki was as special player in his career with the Rockies while battling multiple injuries over the last six seasons. His 2018 draft value (ADP of 338 in mid-January) will put him in the range of the have-nots while still owning a high skill set if healthy. Decent gamble at the backend of the draft as he will his in a favorable part of the batting order plus own a baseline of a 20/80 skill set even with some missed time.
Update: Tulowitzki is going to miss some part of the start of the season due to a heel issue.

3. 3B Josh Donaldson
After two special seasons with the Blue Jays and four straight years with more than 575 at-bats, Donaldson broke down last year. He landed on the DL for 40 days in April and May with a calf injury. Josh played well over nine games in early April (.310 with two HRs and four RBI). When he returned in late May, Donaldson played at a high level (.321 with six HRs and 12 RBI over 53 at-bats). Over the next six weeks, the luster was lost (.188 with one HR and 13 RBI over 128 at-bats) leaving doubt about his future value. Donaldson regained his form in late July leading to nice run over six weeks (.277 with 16 HRs and 35 RBI over 137 at-bats). After missing four games over the first ten days over September with an illness, Josh drove the bus home with a great 18 games (.353 with eight HRs and 14 RBI). In the end, his K rate (22.4) was his highest over his last six seasons while repeating his elite walk rate (15.3). HIs bat had almost equal value against RH (.270) and LH (.271) pitching while posting an elite slugging percentage against lefties (.671 – 10 HRs and 21 RBI over 85 at-bats). HIs HR/FB rate (25.6) was the highest of his career leading to his five straight seasons of growth in his AVH (2.232). His FB rate (42.3) is trending up in Toronto. The only negative from 2017 was a fade in his run rate (35) and a drop in his RBI chances (241 – 319 prorated over 550 at bats), which is an early sign of the decline of the supporting cast around him. One of the better foundation power bats with a floor of 30+ home runs. His batting average should be in an area while I'd only bet on 160 to 180 combined runs and RBI.

4. DH Kendrys Morales
Morales fell back in the steady power bat category while offering short runs (67) and continued fade in his batting average (.250). His average hit (1.784) was his highest over the last six years with fade in his K rate (21.7). His walk rate (7.1) is below league average (8.3) with regression back to back seasons. HIs HR and RBI production fell into a tight range over all six months (HRs between 3 and 6 and RBI between 13 and 16). His lost value in his swing came against RH pitching (.216) with offering an edge against lefties (.362 with eight HRs and 30 RBI over 127 at bats). Kendrys repeated a strong HR/FB rate (19.7), but regressed in his line drive rate (18.5) and his ground ball rate (48.4). The baseline of a 20/80 skill set with a chance to bounce back in batting average with improvement against RH pitching.
5. 1B Justin Smoak
After failing to live up to expectations over his first seven seasons in the majors, Smoak set career highs in at bat (560), runs (85), hits (151), double (29), HRs (30), and RBI (90). His declining strike out issue rebounded in a big way in 2017 (20.1 percent K rate – 32.8 in 2016). His walk rate (10.5) fell in line with his career resume. When comparing the last two seasons, he had almost the same CTBA (.350 – .348 in 2016) with only a slight step up in his AVH (1.969). This fell in range of his two previous seasons (2014 – 2.075 and 2015 – 1.800). Justin played extremely against lefties (.331 with seven HRs and 18 RBI over 124 at bats) , which has a giant step up from 2016 (.209 with three HRs and nine RBI over 86 at bats). Smoak hit .252 vs. RH pitching with 31 HRs and 72 RBI. From May 11th to August 28th, he hit .300 with 31 HRs and 67 RBI over 353 at bats. He lost his swing over the last five weeks of the year (.175 with two HRs and six RBI over 97 at bats). His path leaves Fantasy owners debating on fact or fiction. In a way, 2017 was well within his projected career path based on his being drafted in the first round in 2008. Even with an uptick season, his RBI rate (14) was below the league average for a middle of an order hitter. The power is for real supported by a high HR/FB rate over the last three years (25.4, 17.7, and 19.7). Justin has a fly ball swing (45.5 percent in 2017 – 41.8 in his career). Based on the early roster in Toronto, full time at should be expected unless his K rate invites in another option for playing time. I'd buy him with the idea of 25+ HRs and around 80 RBI while understanding his batting average should have regression and determine his opportunity. I would only buy at a discount.

6. C Russell Martin
Martin struggled over his first 23 games (.197 with three HRs and seven RBI over 76 at bats) due to a high K rate (29.2). He landed on the DL in mid-May for two weeks with a left shoulder injury. His bat was unimpressive over his next 52 games (.238 with nine HRs and 20 RBI over 193 at bats). An oblique issue cost him another month starting in mid-August. In September, it was more of the same failure (.206 with a HR and eight RBI). His walk rate (13.7) almost matched his career high (13.9) while still having some risk in his K rate (22.7). Russell struggled with lefties (.154 with two HRs and seven RBI over 65 at bats) and on the road (.167 with five HRs and 15 RBI over 174 at bats). Aging catcher with a strong enough HR/FB rate (20.6) to hit 20+ HRs with a correction in his fly rate (28.1) while still having batting average risk. His approach may lead to some at bats at the top of the Blue Jays batting order.
7. OF Randal Grichuk
8. 2B Devon Travis
Travis has been unable to stay healthy over his three years in the majors. In early January, I didn't have him listed as a starting option due to the offseason moves by the Blue Jays and concerns with his health after coming off a knee injury in 2017. After a poor April (.130 with one HR and four RBI) in 2017, Devon started to show impact upside in May (.364 with 17 runs, four HRs, 19 RBI, and two SBs over 99 at-bats). Toronto shut him down in early June after suffering a knee and wrist injury. Last year Travis barely took any walks (3.6 percent) with a career average K rate (19.3). His minor league resume (.317 with 29 HRs and 42 SBs over 1,072 at-bats) suggested he had a 15/20 skill set with a top of the order ability. His spring success will determine his opportunity in 2018. Player to follow in March as a move to leadoff would be a good sign of his direction this year.

9. OF Kevin Pillar
Pillar had a rebound in his power (16 HRs) in 2017, but his RBI rate (8) continues to have a Judy feel. His CTBA (.305) regressed for the third straight year while adding more length to his hits (1.580). Kevin still has a poor walk rate (5.2) holding him back from a top of an order opportunity. His K rate (15.0) remains in a favorable area. He struggled against RH pitching (.230 with 12 HRs and 32 RBI over 444 at bats) while offering much higher strength vs. lefties (.336 with four HRs and ten RBI over 143 at bats). Over June and July, Pillar only hit .211 over 194 at bats with five HRs, 12 RBI, and four SBs. For him to have playable Fantasy value, he needs to get his SBs total closer to 25 while repeating his 2017 some in home runs. The some of his parts points to a below average Fantasy option while having some sneaky backend upside as well if he has a rebound his CTBA.

OF Dalton Pompey
Pompey is a home-grown player who made impressive strides at three levels of the minors in 2014 (.317 with nine HRs, 51 RBI, and 43 SBs). His success led to a September call that season. His K rate (27.9) in the majors in 2014 suggested his ride in 2015 wouldn't be easy. Dalton should be a plus defender with a solid arm. His walk rate (11.3) is in a top of the order area in his minor-league career. The Blue Jays gave him 23 games to prove his worth in 2015 where he hit .193 with two HRs, six RBI, and two SBs over 83 at bats. His bat had less pop at AA and AAA in 2015 (AVH – 1.370) with no pulse in 2016 (AVH – 1.308) plus Dalton didn't run as much (41 SBs over his last 724 at bats in the minors). Over eight seasons in the minors, Pompey hit .280 with 33 HRs, 195 RBI, and 155 SBs in 1,989 at bats. Last season he only played 13 games in the minors due to bad concussion and a bad knee issue. This season he'll try to work his way back into a favorable opportunity in the majors. Player to follow this spring with the Blue Jays having one open spot in the outfield headed into 2018.
OF Steve Pearce
Pearce can have short term power value, but his path doesn't point to a full-time job. Over the last four seasons in the majors, Steve hit .263 with 62 HRs and 161 RBI over 1,209 at bats. His CTBA (.322) has been erratic over the last three years (2015 – .284 and 2016 – .362) while owning a short RBI rate (14) in most season. His K rate (19.5) fell in line with his career average (19.8) with a step back in his walk rate (7.8). He struggled against lefties (.207 with five HRs and eight RBI over 87 at bats) points to a platoon role at bats. In 2017, Pearce missed some time with a calf and back issue. His best run came over short at bats in May (.276 with four HRs and nine RBI over 29 at bats). Only a place holder until one of the young outfield options emerge.
OF Teoscar Hernandez
I was lucky enough to catch a hot ride from Teoscar over the last 22 games of the season (.280 with eight HRs and 19 RBI over 75 at bats). As great as it looks, he had a huge K rate (40) pointing to failure over the long haul in the majors. Hernandez struck out 13 of 27 plate appearances against lefties with a .192 batting average, two HRs, and five RBI. Over two seasons at AAA comprising of about a full season of at bats (544), Teoscar hit .278 with 22 HRs, 89 RBI, and 21 SBs. His walk rate (9.7) offered some upside with a much better K rate (20.6). Over seven seasons in the minors, he hit .269 with 91 HRs, 365 RBI, and 167 SBs over 2,706 at bats. His success in the majors should put him in line for a much-improved opportunity out of the gate. Hernandez has a 20/30 type skill set as long as he doesn't whiff his way out of the majors. His batting average risk until Teoscar shows the ability to control the strike zone.

IF Yangervis Solarte
Solarte was acquired to help cover any infield injuries with the Blue Jays. Last year he saw time at 1B, 2B, 3B, and SS. I don't expect him to win the second base job (in the Aledmys Diaz camp). Yangervis has a low K rate (11.9) and just below a league average walk rate (7.2). His AVH (1.630) continues to trend upward, but he made weaker contact (CTBA – 0.294). Last year he missed time with an oblique issue. Solarte struggled against LH pitching (.211 with two HRs and 11 RBI over 128 at bats). His best run in power came in June (.317 with seven HRs and 15 RBI over 63 at bats). Streaky hitter will chance to have starting at bats. I view him more as bench options with injury cover value in deep leagues if he's in the lineup every day. Possible 20+ HRs with 500+ at bats and a neutral batting average with a better contact rate in 2018.
Update: Tough player to gauge his playing time in 2018. At best, 450 at-bats without an injury to Devon Travis.
SS Aledmys Diaz
Diaz was one of the better waiver wire pickups in 2016, but he hit his way out of the majors last year. His CTBA (.303) fell in line with 2016 (.307) with a similar K rate (14.0 – 13.0 in 2016). Aledmys took fewer walks (4.3 percent) while being a much weaker hitter with runners on base (RBI rate of 17 percent in 2016 compared to only eight percent last year). At AAA in 2017, Diaz hit .253 with four HRs, 26 RBI, and three SBs over 170 at-bats). His average hit was trending upward while peaking in 2016 (1.702) suggesting a solid floor in home runs. Last year his swing lost value in both AAA (AVH – 1.535) and the majors (AVH – 1.514). Over 762 at-bats in the minors, he hit .270 with 22 HRs, 102 RBI, and 16 SBs. Before last year, Aledmys appeared to be a young player with upside. It appears that he lost confidence last year leading to his trade to the Blue Jays. Diaz played well enough in the majors to expect a reasonable floor in 2018. Possible starting player for Toronto with a 20/10 type skill set with 550 at-bats. His walk rate doesn't project as a top of an order option, but he looks to be the best option if he regains his previous form.
Update: With Devon Travis looking healthier and Yangervis Solarte being threat for playing time at second base, Diaz will only be an insurance policy for Troy Tulowitzki while being expected to payoff in some fashion in 2018.
Bench Options
Danny Jansen (C) – Jansen had a nice step forward in his game over three levels in 2017. He hit .323 with ten HRs and 48 RBI over 368 at bats. Danny even took more walks (41) than strikeouts (40). Over five years in the minors, Jansen hit .267 with 21 HRs, 138 RBI, and 12 SBs over 984 at bats. His K rate (11.9) is very low with strength in his walk rate (10.7). Sneaky C2 in AL-only leagues, but Jansen only has 67 at bats at AAA on his resume.
Lourdes Gurriel (SS) – Gurriel is a Cuban defector. Over his six seasons in Cuba by the age of 21, he hit .277 with 27 HRs, 161 RBI, and 23 SBs over 945 at bats. He showed the ability to take a walk (10.7) with a low K rate (12.4). Toronto signed him to a seven-year $22 million contract in November in 2016. Last season a hamstring issue cost him a couple of months of playing time at High A. Over 236 at-bats between High A and AA, Gurriel hit .229 with five HRs, 36 RBI, and three SBs. Player to watch, but he looks to be a year away from the majors. His older brother Yulieski plays for the Houston Astros.
Vladimir Guerrero (3B) – Guerrero is on the fast track to the majors. His bat and approach started to make a nice step forward in 2017 between A and High A (.323 with 13 HRs, 76 RBI, and eight SBs in 437 at-bats). He finished with more walks (76) than strikeouts (62). HIs walk rate (14.4) is elite already with a very low K rate (11.8). This season Vlad should start the year at AA giving him an outside shot of making the majors in 2018. Guerrero will be a hot commodity in the 2019 Fantasy draft season.
Ezequiel Carrera (OF) – Ezequiel played well in 2017 in what amounted to a half-season of at-bats (287). He hit .282 with 38 runs, eight HRs, 20 RBI, and ten SBs. This success would play better than some of the options in left field. His K rate (23.1) is a bit high for his skill set. Over three seasons with the Blue Jays, Carrera hit .262 with 19 HRs, 97 RBI, and 44 SBs over 1,164 at bats. The early favorite to be the fourth outfield for the Blue Jays.
Update: The Blue Jays released Carrera after adding a couple of free agent outfielders.
Anthony Alford (OF) – Alford missed a big part of 2017 in the minors with a left wrist injury, which came in the majors. He played well at AA (.310 over 245 at-bats with five HRs, 24 RBI, and 18 SBs over 245 at-bats). His improvement came after underperforming at High A in 2016 (.236 with nine HRs, 44 RBI, and 18 SBs). He hit .274 over 1,124 at-bats in the minors with 21 HRs, 113 RBI, and 75 SBs. his walk rate (12.9) has top of the order ability while needing to shave off some Ks (K rate – 23.6). Future option in centerfield while being a possible base stealing out in 2018. Toronto though even of him last year to call him up in mid-May (1-for-8 with three Ks).
Looking for DFS advice? FullTime DFS.com is LIVE and absolutely DOMINATING week in and week out! Check out the best of the best content from real cash winners! Not all experts are created equal… Join Now!
Pitching Staff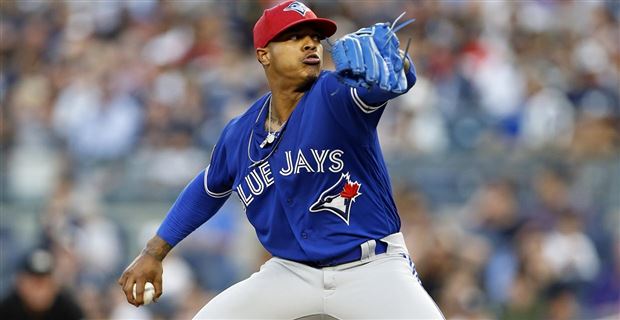 1. SP Marcus Stroman
Stroman had his best season of his career in 2017, but he still failed to deliver enough upside in Ks while underachieving in WHIP (1.308). His K rate (7.3) remains below expected value while his walk rate (2.8) has regressed in each season in the majors. He's pitched over 200 innings in back to back seasons. Last year he allowed two runs or fewer in 23 of 33 starts with four disaster outings (23 runs and 38 baserunners over 17 innings). Marcus needs to improve against righties (.275 with 17 HRs allowed over 415 at bats). His AFB (94.1) was higher than 2016 (93.7). Batters teed off on his sinker (.300 with 11 HRs over 444 at bats) while his secondary stuff continues to grade well (slider – .188 BAA, changeup – .167 BAA, and curveball – .115 BAA). Stroman has a huge ground ball rate (62.1), but he does make too many mistakes with the long ball (17.8 HR/FB rate) when considering his low FB rate (19.7). Last year he relied less on his cutter, curveball, and changeup putting more volume into his slider and sinker. Real close to being an impact arm. Marcus needs to find a better balance between his hard stuff and his upside off-speed pitches. When it comes together, his K rate should jump while being tougher to hit. Ace talent even with an undersized frame (5'8″ and 180 lbs.). Ideally, I'd like to steal him as an SP3 in 15 team leagues, but the wise guys will be on him. I can't trust a huge win total without better run support. Possible sub 3.00 ERA with 200+ Ks and growth in his WHIP.

2. SP Aaron Sanchez
2017 was a lost year for Sanchez due to a season long battle with a finger injury. He made four trips to the DL with his blister issue. Rather than rehash his bad season, here's a look at his 2016 player profile:
Sanchez was a pitcher I didn't trust going into 2016 due to his command (4.3 walk rate) and questionable value as a starter. For those that believe in him, he delivered an exceptional season for where he was drafted. Aaron threw more first strikes (60.8 percent) leading growth in his walk rate (3.0) and more strike outs (7.5 per nine). His AFB (95.6) was better than his success in relief in 2015 (95.4). Batters struggled to make hard contact with his four-seam fastball (.241 BAA) and his sinker (.244 BAA), which he threw a combined 74.3 percent of the time. His changeup (.155 BAA) became relevant with growth as well with his curveball (.145 BAA). Most of his failure in walks comes against lefties (44 in 364 at bats) even with a high level of success (.217 BAA). Sanchez did an excellent job against RH batters (.231 with 74 Ks in 355 at bats). Over the first four months of the year, Aaron had 2.71 ERA with 108 Ks in 139.1 innings. The Blue Jays wanted to limit his innings, but his arm was too important to their playoff run. His walk rate did rise in September (4.2 per nine) with some struggles with HRs (4). The biggest question for 2017 with be the jump from 92.1 innings to 192 in 2016. Over six years in the minors, Sanchez had a 3.54 ERA with 356 Ks in 366 innings while walking 4.9 batter per nine innings. Very tempting, but I still fear the regression in his command. He'll be drafted as a SP2 in the high stakes market. A step back in success is expected with some WHIP risk.
His blister issues must be in a Fantasy owner's thoughts in 2018, but his price is just about free in the early draft season (ADP of 238). Ideally, I'd like to see no finger issues in March before investing. Possible sub 3.50 ERA with a push to 175 Ks. The key to his upside will be his command.

3. SP J.A. Haap
The strength of my early baseball Fantasy career came from identifying breakout players and avoiding suspect options after career years. Happ pitched at an incredible level over his last 42 starts (28-6 with a 2.76 ERA and 1.110 WHIP over 254 innings while striking out 226 batters) headed into 2017, which was well above his major league resume headed into 2015 (4,24 ERA and 1.387 WHIP). Last season his ERA (3.53) finished in a favorable area, but he was easier to hit (.252) even with growth in his K rate (8.8 – 7.7 in his career). J.A suffered a left elbow injury in mid-April leading to six weeks on the DL. His command was elite over his first three starts (no walks and 20 Ks over 16 innings) before his injury, but he did allow four home runs. Over his last 22 starts, Happ allowed two runs or less in 15 starts. His downside over this period came from a spike in walk rate (3.2). He pitched well vs. lefties (.198 BAA), but his stuff lost value against RH batters (.265 with 15 HRs allowed over 464 at bats). His AFB (92.9) was the second highest rate of his career with batters hitting only .233 against his four-seamer. His slider (.276 BAA) and changeup (.274 BAA) are only league average pitches while his low volume curveball (.177 BAA) is an edge. J.A. has developed into a nice arm thanks to a fastball that is tough to hit. The elbow issues of 2017 must be a concern going forward, but I see enough in his overall package to trust as fourth or fifth starter in deep leagues. Happ will be a free agent after this season pointing to a mid-season trade to a contender. Let's set the bar at a sub 3.75 ERA and 1.25 WHIP with a chance at a career high in Ks.

4. SP Marco Estrada
Estrada didn't look healthy over the middle of 2017 leading to a spike in HRs allowed (31 – 1.5 per nine innings) and continued fade in his walk rate (3.4). His K rate (8.5) came in above his career average (8.1) for the second straight season. Marco handled lefties (.216), but he did serve up 15 HRs over 328 at bats. His fade in WHIP (1.382) came against RH batters (.289 BAA) with a bad combination of HRs (16 in 398 at bats) and walks (49 of his 71). Even with two bad starts (ten runs and 16 baserunners over 14 innings) over his first 11 games, Estrada was on track for his previous success (.315 ERA, 1.107 WHIP, and 78 Ks) after 68.2 innings. From June through August, he allowed five runs or more in seven of his 17 starts leading to an ugly number in ERA (6.85), WHIP (1.716), and HR/9 (1.7). Marco rebounded over his first four starts in September (3-1 with a 1.67 ERA, .141 BAA, and 0.741 WHIP) before blowing up again in his last contest of the year (seven runs and ten baserunners over 2.1 innings). His AFB (90.1) gained value, but batters drilled his two low volume pitches (curveball – .340 BAA and cutter – .340 BAA). His best pitch continues to be his changeup (.243 BAA), but it was much better in 2016 (.151) and 2015 (.176). This season Marco will have a much lower draft value (ADP of 326) with Fantasy owners still wondering if he can rebound. A soft tosser with fading command and a rising home run rate is bad equation, but he's been tough to hit multiple times in his career with Toronto (6.7 and 6.8 hits per nine innings in 2015 and 2016). Not a bad dart at his price point while understanding the eject button maybe an option if he stumbles out of the gate.
5. SP Jaimie Garcia
Garcia lost his way over the last two seasons in the majors (15-23 with a 4.55 ERA and 279 Ks over 328.2 innings). His failure was tied to decline in his walk rate (2.8 in his career, 3.0 in 2016, and 3.7 in 2017). Jaime didn't have an edge against RH (.263 BAA) or LH (.252 BAA) batters with his best value coming over his first 12 starts (3.16 ERA). After the trade to the Yankees, Jaime failed to pitch six full innings in any game. HIs AFB (91.3) was a career high, but batters hit .297 vs. his four-seam fastball. Garcia has a changeup (.228 BAA) and slider (.216 BAA) with upside. The move to the AL East will invite disaster downside in some games. Not dead in the water even with a muddy path over his recent history. More of start-to-start play if he's throwing more strikes in 2018.
SP Joe Biagini
Biagini did good job for the Blue Jays in 2016 when they moved to him in the bullpen. He posted a 3.06 ERA while throwing a high percentage of first pitch strikes (69.3). Last season Joe pitched well out of the bullpen in April (2.12 ERA, .193 BAA, and 12 Ks over 17 inning). After a bad outing (three runs over 1.2 innings with no walks and five Ks), the Blue Jays moved him to the starting rotation. His stuff played well over his first seven starts (3.38 ERA, .208 BAA, and 31 Ks over 37.1 innings), but Biagini pitched his way back to the bullpen after a poor four-start run (21 runs and 39 baserunners over 18.1 innings). After 10.2 shutout innings with nine Ks in relief, he struggled in another appearance (three runs and three baserunners over one-third of an inning) leading to a trip to AAA. As a starter in the minors, Joe had a 3.12 ERA over 17.1 innings with 14 Ks. Toronto gave him a second chance in the starting rotation late in August, but he posted a 5.94 ERA over 33.1 innings with 53 baserunners allowed. In the end, Biagini struggled with lefties (.279 with seven HRs and 14 SBs allowed over 201 at bats) with no real upside vs. RH batters (.256 BAA). HIs walk rate (3.2) was shorter than 2016 (2.5) with decline in his K rate (7.3). Joe has a solid fastball (94.1) and two good secondary pitches (changeup – .147 BAA and curveball – .197 BAA). Over five seasons in the minors, he had a 4.02 ERA with 379 Ks over 465.1 innings. Not dead in the water if he can locate his fastball better in the strike zone. His failure comes when he pitches behind in the count and then has to rely on his hittable fastball. April favorite to win the fifth staring job.

SP Sean Read-Foley
Reid-Foley struggled over his first 34 appearances in pro ball in 2014 (4.76 ERA) and in 2015 (4.22 ERA) due to a huge walk rate (5.8). His arm was much improved in 2016 (10-5 with a 2.81 ERA and 130 Ks in 115.1 innings), but he had no answer for batters at AA (5.09 ERA and 1.492 WHIP) last season. Sean walks too may batters (4.1) with an upside K rate (9.9). He is a power pitcher with a fastball that sits in the mid-90s. His slider offers upside while his changeup still needs plenty of work to be viable pitch at the major-league level. His two-pitch arsenal will work well out of the bullpen. Late in August in 2016, Reid-Foley suffered an elbow injury that ended up being minor. His lack of success in 2017 may be a sign of an underlying issue with his right arm. This season he has a lot to prove and a second trip to AA makes a lot of sense. Without a step up in his command, Reid-Foley will have a long season on the farm.

SP Ryan Borucki
After battling health issue early in his pro career that included TJ surgery, Borucki started to make a run at the majors in 2017. He pitched well at High A (3.58 ERA with 109 Ks over 98 innings) while being even better over eight starts between AA and AAA (1.72 ERA with 48 Ks over 52.1 innings). Over five seasons in the minors, Ryan has a 23-19 record with a 3.32 ERA and 343 Ks over 354.2 innings. His changeup is an edge pitch while arm and arsenal will gain value when he adds more bulk (6'4″ and 175 Lbs.) and velocity. Headed in to 2018 on paper, Borucki looks to be the best option to be the fifth starter for the Blue Jays by the All-Star break. Interesting arm to follow this spring.

CL Roberto Osuna
Osuna is one of the best young closing options in the game. Last year he showed more growth in his walk rate (1.3) despite throwing a few less strikes (66.9 percent – 70.7 in 2016). His ability to get ahead in the count led to a rise in his K rate (11.7). Even with an elite WHIP (0.859) and steady ERA (3.38), Roberto did blow ten of his 49 save chances. Osuna dominated both RH (.191 BAA) and LH (.204 BAA) batters, but he did struggle on the road (0-3 with a 5.10 ERA. After a subpar April (5.63 ERA), Roberto was exceptional over a 31-game stretch (0.86 ERA, .121 BAA, 43 Ks, and 22 SVs over 31.1 innings). He lost his edge over his next 16 games (7.80 ERA and .290 BAA) with most of the damage coming away from home. Over the last five weeks of the season, Roberto converted seven of his nine saves with a 2.31 ERA and .146 BAA. His AFB (95.0) had less velocity (96.6 in 2016). Each one of his secondary pitches offered elite value (cutter – .222 BAA, sinker – .211 BAA, changeup – .083 BAA, and slider – .127 BAA). Great closing arm with a long career success going forward. Possible league leader in saves while striking out 100+ batters in 2018. His ERA has chance to be under 2.00 this year.

RP Ryan Tepera
After spending most of his career in the minors as a starter, Tepera started to show life as a reliever in 2015 (1.06 ERA at AAA over 34 innings with 37 Ks). He has a 52-33 record in the minors with a 3.98 ERA and 542 Ks over 657.2 innings. Last season the Blue Jays had him in the bullpen for the full season. His K rate (9.4) gained value, but he still had a high walk rate (3.6). Tepera has success against both righties (.211 BAA) and lefties (.194 BAA), but his command had more risk vs. LH batters (20 of his 31 walks over 103 at bats). After struggling over his first 10.1 innings (7.84 ERA), Ryan tossed 27.1 strong innings (0.66 ERA with 31 Ks) to lower his season ERA to 2.63. He tripped up again over 7.2 innings (9.39 ERA and .324 BAA). His stuff was once again tough to hit over his next 19 innings (1.42 ERA and .127 BAA). Tepera drove the bus home with a poor five weeks (6.08 ERA over his last 13.1 innings). His AFB (95.3) is over the league average. His best success comes from his four-seam fastball (.237 BAA) and elite cutter (.163 BAA). Ryan needs to improve the value of his slider (.296 BAA). Not closer worthy while lack of command does invite too many disaster games. Getting better with more upside if he can find a worthy off-speed pitch.

RP Carlos Ramirez
Carlos struggled in the minors as a batter for six seasons (.225 with 17 HRs, 104 RBI, and 35 SBs over 1,121 at bats). Toronto switched him to the bullpen late in 2014. He's made steady progress as a reliever highlighted by a special run between AA and AAA in 2017 (no runs over 37.2 innings with 45 Ks). He extended his scoreless streak to 47.2 innings in the majors. Batters finally solved him on September 20th vs. KC (four runs, four baserunners, and two HRs over one inning). Over 16.2 innings in the majors, Carlos had a 2.70 ERA and only six hits allowed (three were home runs). His AFB (92.5) is only league average. Batters only hit .087 against his four-seam fastball and .129 vs. his slider. Interesting bullpen arm, but it is a small sample size. Possible bench flier in an AL only league with minimal chance at saves without an injury.
2018 Fantasy Baseball Team Outlooks