Chicago Cubs
Updated: March 1, 2018 (addition of SP Yu Darvish)
The Cubs lost their flash on the pitching side in 2017, which was the key reason why they didn't make it to the World Series. They allowed 139 more runs than 2016 (556) leading to a drop to 7th in ERA (3.95).
Over the last three years, Chicago average over 97 wins per seasons. They've made the playoff three straight seasons with one World Series title.
Their bullpen placed 6th in the majors in ERA (3.80).
Even with some underachieving players, the Cubs ended up scoring 14 more runs than 2016 (808), which was the fourth-highest total in baseball. They had the 9th most home runs (223) in the majors.
Chicago will return the same starting lineup with only Chris Gimenez added to provide a backup option at catcher.
The Cubs lost C Alex Avila, C Rene Rivera, SP Jake Arrieta, SP John Lackey, CL Wade Davis, and RP Koji Uehara to free agency. RP Brandon Morrow and RP Steve Cishek were signed to compete for the closing job. They added SP Tyler Chatwood to fill one of their voids in the backend of their starting rotation. Chicago signed Yu Darvish in mid-February to help add a second ace to their starting rotation.
Their offensive has plenty of firepower, and it will be helped by a better season from OF Kyle Schwarber and SS Addison Russell. The Cubs have talent in just about every slot in the batting order with a couple of viable options on the bench.
The starting rotation now has a World Series structure if Lester and Darvish both pitch at a high level. The bullpen has a lot to prove for Chicago to make a deep run in the playoffs. The goal entering 2018 is to win another World Series title. They have the bats to contend for sure while we wait to see if the pitching comes together.
Starting Lineup

1. OF Kyle Schwarber
More than one-third of Schwarber's hits ended up in the seats in 2017. His lack of contact (30.9 percent K rate) led to a frustrating season for Fantasy owners and Cubs' fans. Over his first 64 games, Kyle hit .171 with 31 runs, 12 HRs, and 28 RBI over 222 at-bats leading to a refresher course at AAA. His bat had a slight uptick in July (.250 with five HRs and eight RBI). Schwarber was more productive over the last two months of the season (.257 with 27 runs, 13 HRs, and 26 RBI over 144 at-bats). His walk rate (12.1) remains an asset along with strength in his average hit rate (2.213). The other flaw in his game in 2017 was the huge drop in his CTBA (.327). When Kyle was at his best in the minors, his contact batting average was well over .400, which offset some of his downside in batting average due to his strikeouts. The biggest question headed in 2018 will be his role against lefties. Last year he hit .171 vs. LH pitching with three HRs, eight RBI, and 34 Ks in 82 at-bats. Chicago has a couple of extra viable bats who will compete with him for playing time if his game doesn't make a huge step forward. Schwarber has a fly ball producing swing (46.5 percent) with strength in his HR/FB rate (24.0). In the offseason, Kyle has made an effort to have one of those "best shape of my life stories" in spring training. The reports have him losing 20 lbs., which may help his chances to see some time as a backup catcher. His bat was a huge edge over 554 at-bats in the minors (.334 with 110 runs, 38 HRs, 111 RBI, and six SBs) with a more favorable K rate (21.2). There's a special player here, but a Fantasy will need to bet on the come in 2018. Buy the 40+ HR swing while hoping his approach is improved with his new found fitness. If he qualifies at catcher, Schwarber could very well be the best option at that position this season. Priced to pay off.

2. C Willson Contreras
Contreras had a rather boring start to last season. He hit .239 over his first 176 at-bats with 20 runs, five HRs, and 25 RBI. Willson found his swing on June 16th leading to a great run over his next 45 games (.313 with 26 runs, 16 HRs, and 45 RBI over 163 at-bats). A hamstring injury on August 9th resulted in a DL stint for the next month. When he returned in September, Contreras wasn't the same player (.289 with no HRs and four RBI over 38 at-bats). His average hit rate (1.808) was a career high with another solid season in his CTBA (.373). Willson pushed his walk rate (10.5) to an area where he may hit near the top of the Cubs' lineup. His K rate (22.9) still ranked below the league average (20.3). Contreras had similar value against RH (.274 with 14 HRs and 53 RBI over 266 at-bats) and LH (.279 with seven HRs and 21 RBI over 111 at-bats) pitching. Even with a jump in power, Willson still has a ground ball swing (53.7 percent in his major league career). His HR/FB rate (25.0) has been exceptional with the Cubs. He's a better player than his minor league resume (.283 with 39 HRs, 282 RBI, and 31 SBs over 1,896 at-bats). Even with his swing path, .280 with 70+ runs, 25+ HRs, and 80+ RBI should be attainable while also chipping in with a few steals. For further growth in power, Contreras will need to his fewer ground balls.
3. 3B Kris Bryant
Bryant was a failure in 2017 with runners on base. He finished with a weak RBI rate (12), which is well below a middle-of-the-order hitter. Kris did have growth in his approach at the plate with both his K rate (19.3) and walk rate (14.3) becoming career bests. After a decent April (.289 with four HRs, 14 RBI, and four SBs), Bryant was a tough ride in May and June (.250 with 12 HRs, 18 RBI, and two SBs over 172 at-bats). His swing came together over the last three months of the year (.325 with 13 HRs and 41 RBI over 280 at-bats). His biggest gain in approach came against lefties (31 walks and 24 Ks in 124 at-bats). Kris was about the same hitter vs. righties (.294 with 23 HRs and 56 RBI over 425 at-bats) and lefties (.298 with six HRs and 17 RBI over 124 at-bats). His HR/FB rate (17.0) still ranks well below his minor league resume (2013 – 31.3, 2014 – 27.5, and 2015 – 25.0). Bryant has a fly ball swing (42.5 percent). Special player and Fantasy owners haven't seen his next level. 2018 is going to be a fun ride for this man: .320+ BA with 120+ runs, 45+ HRs, 120+ RBI, and a nice push in steals. Pretty much a gift in 2018 and he'll be a top-five player drafted in the 2019 draft season.

4. 1B Anthony Rizzo
For the second straight season, Rizzo had one of the best RBI opportunities in the game (2016 – 502 chances and 2017 – 482 chances). His average hit rate (1.873) was a career high while remaining in a tight area over the last five seasons. His final total in HRs (32) has been almost identical over the last four years. Anthony had the best approach in his career (K rate – 13.0 and walk rate – 13.2). His CTBA (.324) was below his last three seasons. Rizzo finished with the same slugging percentage (.507) against both righties and lefties with a little more risk vs. LH pitching (.260). His best production came in June (.320 with six HRs and 20 RBI) and August (.355 with seven HRs and 30 RBI) while leaving some stats on the table in September (.236 with one HRs and 12 RBI). Even with a nice floor in home runs, Anthony doesn't have an impact HR/FB rate (16.9 in 2017 and 15.5 in his career). Very good option at first base, but I only see only minimal upside in his profile if the surrounding core in the Cubs' lineup plays at a higher level in 2018. Possible .280+ BA with 100+ run, 35+ HRs, and 110+ RBI with bonus points for steals.

5. 2B Javier Baez
Baez should be ready to get a full-time job in 2018. Last year he had growth as a run producer (17 percent RBI rate). His K rate (28.4) remains in a weak area while his CTBA (.394) moved in a range with his minor league career helping his downside in batting average. He did a take a couple more walks (5.9). Javier is dangerous against LH pitching (.315 with nine HRs and 32 RBI over 124 at-bats). With a full-time everyday job in August, Baez hit .290 with seven HRs and 25 RBI over 107 at-bats. His season started on a down note in April (.203 with one HR and five RBI over 59 at-bats) while striking out 21 times. He finished with strength in his HR/FB rate (19.7), but Javier did hit too many ground balls (48.6 percent). His minor league resume (.287 with 90 HRs, 301 RBI, and 81 SBs over 1.524 at-bats) gives him a 30/25 skill set if given the green light on the base paths. With 550 at-bats this season, about a .275 hitter with 85+ runs, 25+ HRs, and 85+ RBI with a run at 20+ steals.

6. SS Addison Russell
The fifth hitter in the Cubs' lineup is going to have a huge RBI opportunity. Russell had a flat April (.258 with two HRs, 14 RBI, and two SBs in 97 at-bats). After watching his boring ride from early May through early August (.234 with eight HRs and 22 RBI over 222 at-bats), the cat was out of the bag that Addison had a bum right shoulder. He was also batting an off the field issue with his wife that led to divorce late in the season. A right foot issue (plantar fasciitis) led six weeks on the DL starting in early August. Russell had a step back in both his K rate (23.6) and K rate (7.5). His swing had regression against RH pitching (.230 with nine HRs and 37 RBI over 265 at-bats). Addison's HR/FB rate (12.5) was about his career average (12.2) with sliding fly ball rate (36.8). His average hit rate (1.750) points to more upside in power, and he did do a good job driving in runs in 2016 (95 RBI with a 17 percent RBI rate). For his batting average to move into a neutral area, Russell needs to improve his CTBA (.322). His minor resume (44 SBs over 964 at-bats). If you cheat the shortstop position, Addison would be a nice target. His skill set points to .270 BA with 70+ runs, 25+ HR, 70+ RBI, and a chance at double-digit steals. With a clear head and health, Russell will be poised for a bounce-back season.

7. OF Jason Heyward
Heyward has been a poor investment for the Cubs over the last two years (.243 with 120 runs, 18 HRs, 108 RBI, and 15 SBs over 962 at-bats). His production falls short of a mediocre middle infielder. Jason had a career-best K rate (13.9) with weakness in his walk rate (6.2). His average hit rate (1.500) only gives him about 15 HR upside. Heyward has struggled to deliver a winning contact batting average (.307). His best months came in April (.279 with three HRs and 16 RBI over 86 at-bats) while being unplayable in May (.222 with two HRs and five RBI), June (.259 with one HR and eight RBI), and August (.262 with no HRs and seven RBI). Heyward is a ground hitter (47.4 percent in 2017 and 49.1 in his career) with a weak HR/FB rate (9.2). With fading steals and a lower slot in the batting order, Jason won't be drafted in many leagues. He's making tons of money, so Chicago did believe in his talent two years ago. At the point, Hail Mary flier only with more failure leading to lost playing time.
8. OF Ian Happ
A nice start at AAA in 2017 (.298 with 21 runs, nine HRs, 25 RBI, and two SBs over 104 at-bats) led to Happ getting a call-up to the majors at age 22. Ian gave the Cubs 364 productive at-bats (.253 with 24 HRs, 68 RBI, and eight SBs). His combined total came in at 83 runs, 33 HRs, 93 RBI, and ten SBs with only 468 at-bats. His K rate (31.2) needs to improve while posting an above the league average walk rate (9.4). Happ was a better player vs. lefties (.276 with five HRs and 16 RBI over 105 at-bats) while showing plenty of power against RH batters (.243 with 19 HRs and 52 RBI over 259 at-bats). His best power came in June (.271 with eight HRs and 18 RBI) and August (.269 with seven HRs and 17 RBI). His HR/FB rate (25.3) was well over his path in the minors in 2015 (Low A – 16.0 and A Ball – 11.1) and 2016 (High A – 12.1 and AA – 11.8). Over three seasons in the minors, Ian hit .275 with 33 HRs, 133 RBI, and 28 SBs over 843 at-bats. He had much lower K rate (22.8) in the minors with a top of the order walk rate (12.2). His set gives him a good chance of batting first or second in the batting order if he gets his strikeouts under control. Call em intrigued with positive reports with his opportunity in the batting order. A neutral type hitter with a chance to deliver 80+ runs and 80+ RBI. His swing has 30+ HR upside based on 2017, but I see regression this year. Any stolen bases over ten would be a great bonus.

2B Ben Zobrist
Zobrist will be paid like a starter in 2018, but this year he looks to be downgraded to a super utility player with Javier Baez and Ian Happ pushing their way into more at-bats. His approach remains favorable (K rate – 14.3 and walk rate – 10.9). Last season Ben lost 17 days in June with a wrist injury. His failure in 2017 came from a sharp decline his CTBA (.277) while his average hit rate (1.614) almost matched his previous two seasons (1.628 and 1.641). Zobrist struggled vs. lefties (.179 with one HRs and seven RBI over 106 at-bats) after holding an edge in this area in 2016 (.301 with four HRs and 11 RBI over 143 at-bats). Ben played great in May (.406 with six HRs and 25 RBI over 101 at-bats) before fading over the last four months of the year (.255 with six HRs and 32 RBI over 285 at-bats). His swing path delivers too many ground balls (51.1 percent) with fade in his HR/FB rate (9.8). There are enough questions at shortstop, second base, right field, and center field to earn 450+ at bats. Not a bad injury cover in the middle infield with only teen upside in power.

OF Albert Almora
Over five seasons in the minors, Almora hit .290 with 24 HRs, 191 RBI, and 33 SBs in 1,622 at-bats. His walk rate (4.3) is well below par with a low K rate (11.7). Albert had a career-high average hit rate (1.494) in the majors while doing a nice job with runners on base (17 percent RBI rate). He took a few more strikeouts with the Cubs (16.4 percent). Almora was a better player against lefties (.342 with four HRs and 16 RBI over 111 at-bats). His lack of upside in power and speed paints him as a fourth outfielder.
Bench Options
Victor Caratini (C) – Caratini will be the backup catcher for the Cubs in 2018. Over five seasons in the minors, Victor hit .289 with 26 HRs, 241 RBI, and four SBs in 1,673 at-bats. His game made a step forward over a half season at AAA in 2017 (.342 with 10 HRs and 61 RBI over 292 at-bats). Caratini didn't show much in the majors over 59 at-bats (.254 with one HR and two RBI. Upside player with a minimal opportunity this season.
Tommy La Stella (IF) – Tommy signed a $950,000 contact in January to be the utility infielder for Chicago. In 2017, he had his best year in the majors (.288 with five HRs and 22 RBI over 125 at-bats). Low-value bat with a weak opportunity even with an injury in the infield.
Mark Zagunis (OF) – Mark has no real chance of making the majors based on the starting roster of the Cubs. He's a career hitter .277 over 1,313 at-bats with 33 HRs, 190 RBI, and 37 SBs in four seasons in the minors. Over two seasons at AAA, Zagunis hit .269 with 19 HRs, 80 RBI, and eight SBs in 509 at-bats.

Like and share our new Facebook page! Be sure to pay attention to our giveaways for your shot at some sweet prizes!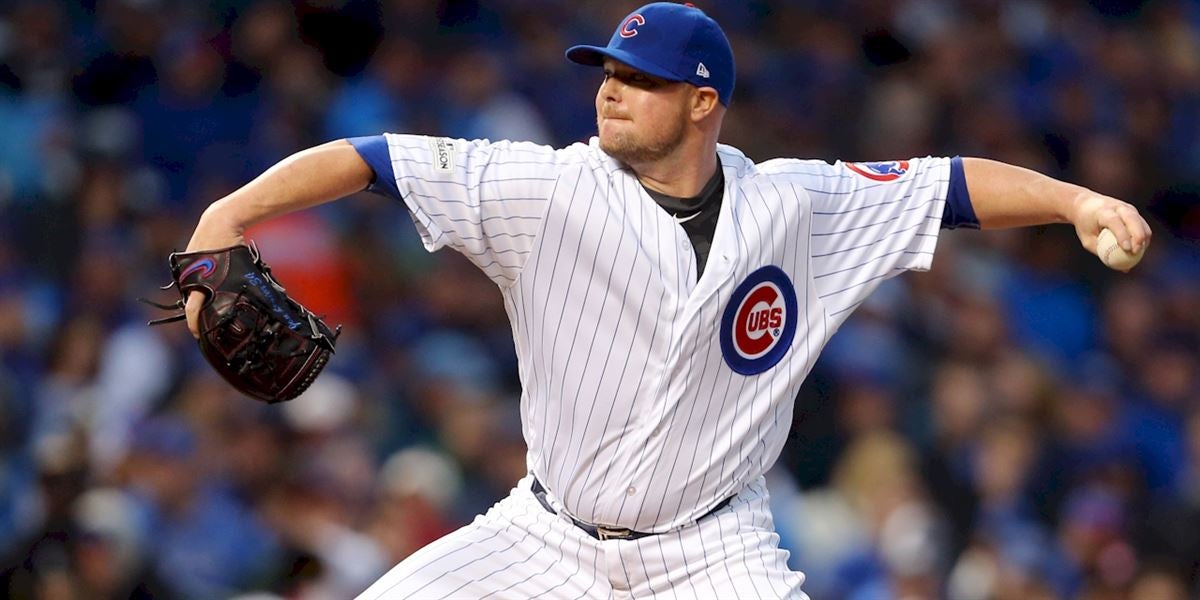 Pitching Staff

1. SP Jon Lester
Lester had his worst season since 2012 (4.82 ERA). Over three seasons with the Cubs, Jon went 43-25 with 3.33 ERA and 584 Ks in 588.1 innings. His K rate (9.0) has been over his career average (8.4) in each of the last four seasons. Lester was easier to hit (.259 BAA) with huge regression vs. righties (.275 with 22 HRs over 530 at-bats). He issued 55 of his 60 walks to RH batters. He still has an edge against lefties (.205 BAA) with a great BB:SO ratio (5:55). Also, Jon lost his way with his command (3.0 walks per nine). Lester only pitched well in April (3.68 ERA) and June (3.41 ERA). Over the last three months of the year, he had a 5.17 ERA and 76 Ks over 78.1. His failure came in four disaster starts (23 runs and 38 baserunners over 11.2 innings). His AFB (91.8) was more than one mph lower than his eight seasons. Lester still has a plus curveball (1.63 BAA) with his changeup (.224 BAA) and his cutter (.239 BAA) playing well. His HR/FB rate (15.8) was a career-high with three straight years of regression. Long resume of success, but Jon needs to regain some life and command on his fastball to have a bounce-back season. He's going to win plenty of games thanks to Chicago's high scoring offense. Set his floor at 13+ wins, a sub 3.50 ERA, and 175+ and hope he develops into a value ace in 2018.
2. SP Yu Darvish
Darvish fell short of expectation in 2017 leaving Fantasy owners with a hole in the front of their rotation due to his subpar ERA (3.86) and win total (10). His K rate 10.1) remains strong while failing to match his career major league resume (11.1). He matched his best level in his walk rate (2.8), but home runs continue to be a problem (1.3 per nine). Over his first 17 starts, Darvish had a 3.11 ERA with batters only hitting .205 against him. Yu had two disaster starts in July (17 runs and 22 baserunners over eight innings) setting up his trade to the Dodgers. In LA, he allowed two runs or fewer in five of his nine starts while seeing his stats dragged down in two outings in early September (ten runs and 18 baserunners over 7.1 innings). On the year, Darvish allowed three runs or fewer in 24 or his 31 starts. His stuff had the most value against RH batters (.194) while needing to regain his form vs. lefties (.262 BAA – .232 in his career). HIs AFB (94.7) remained in an area of strength. Batters struggled to hit his slider (.174 BAA) and low volume curveball (.167 BAA). Both his sinker (.292) and cutter (.301 BAA) came up short of expectations. There's a nice arm here and one that will be overlooked by Fantasy owners due to his below par finish last year. Top ten ace in baseball with 15 wins, a sub 3.00 ERA, and 250+ Ks well within reach. Yu is my kind of ride in 2018.
3. SP Jose Quintana
Quintana struggled with his command (3.5 walks per nine) with the White Sox leading to a poor start to the year (4.49 ERA over 104.1 innings). He allowed three runs or fewer in 11 of his 14 starts with the Cubs, but a couple of disaster outings (12 runs and 20 baserunners over ten innings) led only a 3.74 ERA. Jose flashed a higher K rate (10.5) after the All-Star break with a step forward in his walk rate (2.2). Quintana allowed 22 of his 23 HRs to righties with about equals success on both sides of the plate (RH – .242 BAA and LH – .222 BAA). His AVB (92.6) was in line with 2016. Batter struggle to hit his four-seamer (.214 BAA) with a high level of success with his changeup (.198 BAA) and curveball (.220 BAA). His HR/FB rate (13.2) was a career-high with a fade over each of the last three seasons. Only a .500 pitcher (57-57) in his six years in the majors with strength in his ERA (3.53). With a career high in strikeouts (207) in hand from 2017, Jose looks poised for his best year in the majors. Next set: Sub 3.25 EA with 15+ wins and career high in Ks. The move to the NL will treat him well in 2018.
4. SP Kyle Hendricks
Hendricks wasn't sharp out of the gate in 2017. He had a 4.09 ERA and 51 Ks over his first 61.2 innings before landing on the DL for six weeks with a right-hand issue (tendinitis). Kyle allowed three runs or fewer in all 13 of his final starts leading to a 2.19 ERA and 72 Ks over 78 innings. He had almost the same value against righties (.243 BAA) and lefties (.241 BAA). Hendricks has one of the shorter fastballs (86.6) in the game while losing more than two mph from 2016 (88.9). Batters struggled to hit his sinker (.226) and his changeup (.225 BAA). Kyle lost the feel for his low volume curveball (.368 BAA). He continues to be a groundball pitcher (50.1 percent) while having a career-high HR/FB rate (14.8). Soft tosser with fade in his K rate (7.9), walk rate (2.6), and HR/9 rate (1.1), but he still has the stuff to get batters out in the majors. With a career 2.94 ERA in the majors with a winning record (38-22), Hendricks is a sneaky arm in the Fantasy market. His value works well for a team that decides to punt saves where his short strikeouts will have less of an impact with a deeper starting rotation. Excellent bet to win close to 15 games with a sub 3.50 ERA and a chance at 175 Ks with over 200 innings pitched. Kyle does need to regain some of his velocity on his fastball. If not, he'll fade off into the sunset quickly.
5. SP Tyler Chatwood
Chatwood finally gets out of Colorado in 2018. He has 4.18 ERA in his career with the Rockies. Tyler continues to walk too many batters (4.2 per nine in his career) with minimal upside in Ks (6.1 per nine in his career and 7.3 in 2017). Hidden behind his poor results in Colorado is a 3.13 ERA on the road in his career. Batters hit .241 against him on the road and .297 at home. In 2017, Chatwood struggled with lefties (.270 BAA) with plenty of failures at home (3-8 with a 6.01 ERA). His rhythm within season fails on his home/away schedule. Chatwood pitched his way out of the rotation over five starts in late July and early August (9.67 ERA and 21 walks over 22.1 innings). His AFB (95.2) is well below expected value when looking at his short output in Ks while being a career high. Batters struggled to hit his slider (.194 BAA, curveball (.091 BAA), and low volume changeup (.086 BAA). The bottom line here is fastball command in and out of the strike zone. This arm could make a huge step forward if a pitching coaching can unlock his mechanics. His road resume points to a late gamble while expecting some crooked numbers in his WHIP and low Ks. I fully expect an ERA under 3.75 with double digits wins.

SP Mike Montgomery
Montgomery has been very good as a swingman over the last two years. Over 230.2 innings, he has 3.00 ERA with 192 Ks. His downside is still tied to his high walk rate (4.7), which was well below 2016 (3.4). Even with a step back in his command, Mike did set a career high with his K rate (8.9). Last season he had a 4.15 ERA as a starter with much better success as a reliever (2.49 BAA). Montgomery had the most failure in July (7.11 ERA) when he allowed four HRs over 19 innings. His stuff played well against righties (.215 BAA) and lefties (.230 BAA). Mike lost some of his velocity on his fastball (92.3 – 94.3 in 2016). Batters had a tough time with his curveball (.196 BAA), changeup (.169 BAA), and four-seam (.241 BAA). He's become a high ground pitcher (58.4 and 57.8) over the last two seasons. This former first-round pitcher has never lived up to expectation. Montgomery is getting closer to earning a full-time job in the starting rotation, but he can't make a huge impact without better command. Worth a dance with his draft value being determined by any other new additions added to the Cubs' starting rotation. For now, WHIP risk with potential help in ERA and Ks. His wins will be suspect until he adds more length to his starts via more strikes thrown. Update: The addition of Yu Darvish pushed Montgomery back into a swing role in 201. He'll need an injury to work his way back into contention for a starting job.

SP Eddie Butler
Butler just hasn't been good enough to belong in the majors. Over six seasons in the minors, Eddie has a 34-25 record with a 3.23 ERA and 369 ks over 532.2 innings. His arm has been much weaker at AAA (4.82 ERA) with a weak K rate (4.7). Butler did show a spark at AAA in 2017 (2.17 ERA and 30 Ks over 45.2 innings). Over 13 games with the Cubs, he had a 3.95 ERA despite a poor walk rate (4.6). Eddie held lefties to a .217 batting average while issuing more walks (15) than strikeouts (13). His AFB (93.6) is about league average. His curveball (.227 BAA) and slider (.227 BAA) were tough to hit while his sinker (.304 BAA) and changeup (.292 BAA) invited risk. Moe risk than reward until he figures out how to throw more strikes.

SP Jen-Ho Tseng
Over four seasons in the minors, Tseng has 32-20 record with a 3.17 ERA and 363 Ks over 482.2 innings. His walk rate (2.1) is very good while offering minimal value in Ks (6.8). Jen-Ho made a step forward in 2017 between AA and AAA (13-4 with a 2.54 ERA and 122 Ks over 145.1 innings. In the majors, his fastball (92.0) came in below the league average while relying on a curveball, changeup, and slider combination. Low-grade inning eater even if he was to get some time in the majors in 2018.

CL Brandon Morrow
From 2013 to 2016 in the majors, Morrow has a 4.48 ERA and 103 Ks in 136.2 innings while battling multiple injuries. His season started with disaster over 20 games at AAA (7.20 ERA and 1.500 WHIP). Brandon saved six games while allowing five HRs over 20 innings. In the majors, his arm regained his form. Morrow finished with the best K rate (10.3) of his career while showing growth in his walk rate (1.9). His stuff was at its best vs. lefties (.125 BAA) while offering an edge against RH batters (.231 BAA). Brandon had the best fastball (97.8) of his career. Batters hit struggle vs. his four-seam fastball (.205 BAA) and his cutter (.194 BAA). Morrow has one sub 3.00 ERA on his resume (2012 – 2.96 ERA) and a short run of success as a closer. Viable swing as a closer, but I wouldn't overpay just based on his injury history. A relief role does suit his game better.

RP Carl Edwards
Edwards has an electric arm. Over the last two years in the majors, batters have only hit .130 against him. For him to be an option in the 9th, Carl needs to clean up his walks (5.2 per nine in 2017 and 4.6 in his major league career). His K rate (12.8) was elite for the second straight season. Edwards dominated both righties (.148 BAA) and lefties (.119 BAA). He struggled in June (5.40 ERA) and August (6.35 ERA) when he allowed four HRs over 23 innings. HIs AFB (95.5) is tough to hit (four-seamer – .160 BAA) and his curveball is almost unhittable (0.96 BAA). Closing arm if he gets his walk rate in the 3.5 range. His stats remind me of Carlos Marmol who saved 117 games for the Cubs despite a terrible walk rate (6.1). Very good bet as a closer in waiting in the early draft season.

RP Steve Cishek
A hip injury cost Cishek the first six weeks of the season. Steve struggled in four of his first 14 games leading to a 4.50 ERA over 12 innings. Over his last 35 innings, he allowed only four runs over 32.2 innings with 30 Ks (1.10 ERA and 1.48 BAA). Three of those runs came in a bad game on September 6th (three runs and three baserunners over one-third of an inning). Cishek pitched well against both RH (.148 BAA) and LH (.208 BAA) batters. His AFB (90.6) was well below his rookie season in 2010 (94.7). Steve has a plus slider (.118 BAA), and his sinker (.203 BAA) was tough to hit in 2017. He has 121 saves on his major league resume, but his arm isn't where it was earlier in his career. His closing experience gives him a short-term window to prove his worth in the 9th if Carl Edwards doesn't show improved command and Brandon Morrow happens to break down.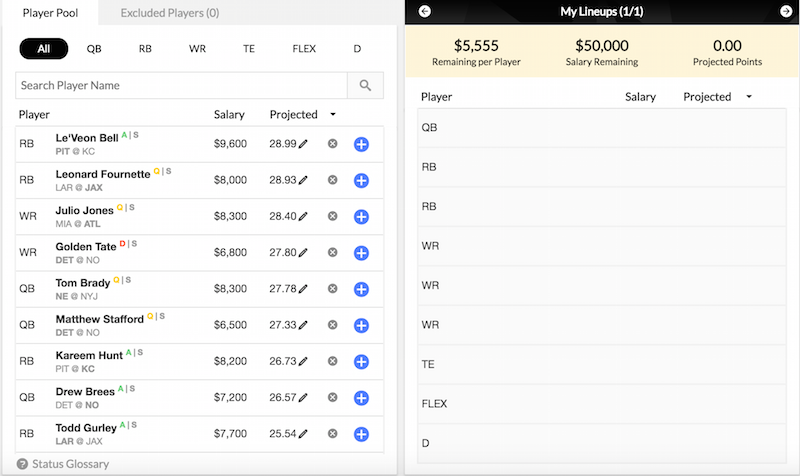 Join FullTime DFS.com and receive DFS content from our team of experts: Steve Renner, Fuego Steve, Jaguar Lou, Nate Weitzer, Shawn Childs, Dr. Roto & Adam Ronis… If you choose an optimizer plan, we have optimizers for every major sport based on our Rainman Data Analytics (RDA) that work for DraftKings, FanDuel and Yahoo. All of this is yours via a FullTime Fantasy subscription. What are you waiting for? The best deals in the industry are waiting for you at FullTime DFS!