Fantasy Preview in a Nutshell: Atlanta Braves
C Kurt Suzuki — Suzuki had a respectable 2017 with the Braves, but he is still nothing more than a part-time catcher (he shares time with Tyler Flowers) who is worth rostering only in the deepest of formats.
1B Freddie Freeman — Give Freeman 600 at-bats, and you might be looking at the next Triple Crown winner in the NL. He is an ideal pick at the beginning of the second round in any draft.
2B Ozzie Albies — It's Albies' time now in Atlanta, and Fantasy owners would do wise by drafting this kid early. He's got a hot bat (with surprising power), and he should steal 20-25 bases. A must own in dynasty leagues.
SS Dansby Swanson — It was just last year when Ron Shandler took Swanson in the mid-rounds of the FSTA draft. Swanson underperformed last season, but we've seen too many post-hype sleepers rebound to give up on him just yet. I love the idea of taking Swanson in the reserve rounds and hoping he figures it all out in 2018.
3B Johan Camargo — Camargo is a placeholder until minor leaguer Austin Riley is ready to assume the 3B job for the Braves. Look for Camargo and Rio Ruiz to split time until Riley is ready.
OF Ender Inciarte — Inciarte is so undervalued that he slips through the cracks of most drafts. He is the ideal OF3 for all any team. I think he could go 15-25 this season which makes him a steal in Rounds 7-9.
OF Nick Markakis — I would never draft this guy in a mixed league, and I would do it begrudgingly in NL only formats. What does he do well? Nothing, except that he won't kill you.
OF Ronald Acuna — The Braves prized prospect might just start with the team if he has a hot spring. He is eventually going to be a star, but it might take him a few years to his power to emerge. Acuna is one name you MUST own in dynasty formats. As for redraft leagues, you might be a year too early if you take him as much more than a OF4.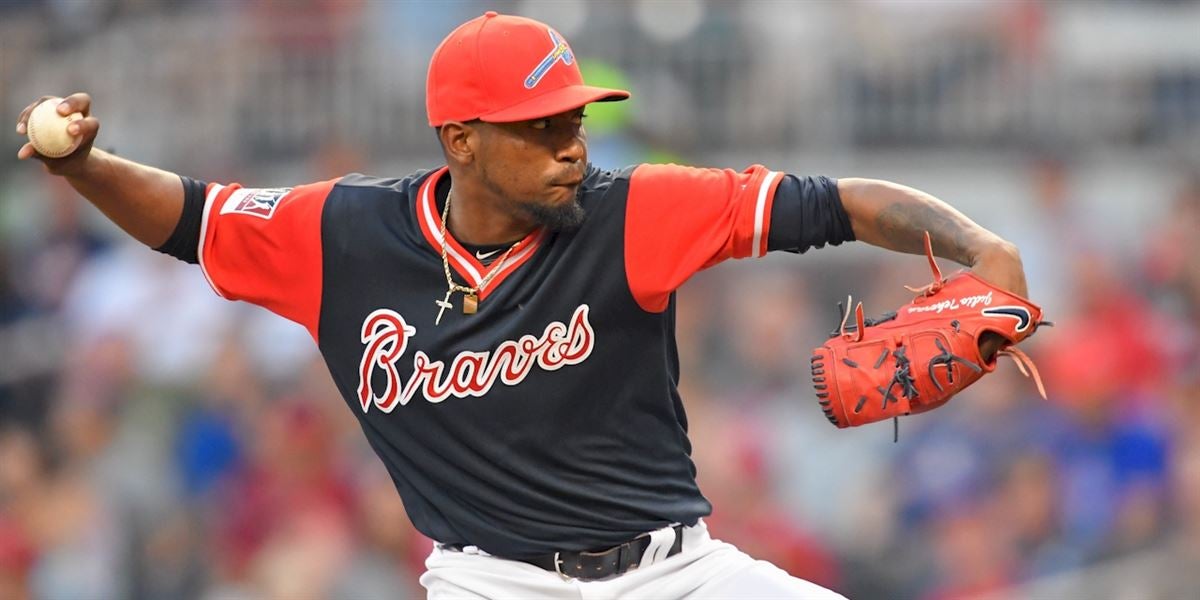 SP  Julio Teheran — I never bought into Teheran after his great year in 2016, and I am still not buying into him today. He's a little better than last year, but I still think his ERA will be closer to 4.00 than 3.00.
SP Mike Foltynewicz — Folty is prone to giving up bad innings and walks too many guys for my liking. I am not willing to roster him even in the deepest of leagues.
SP Sean Newcomb — If Newcomb could ever figure out how to stop walking guys we might be looking at a potential stud pitcher. Watch him closely in the spring and see if he is showing any improvement with his control. If so, throw him on your roster at the end of your drafts as a flyer.
SP Luiz Gohara — He was a beast in the minors until Atlanta brought him up to the majors and he got hit hard. He's still only 20 years old, and I love his upside. I can see him on the Gwinett/Atlanta express a few times this season, but he will eventually stick at some point soon.
SP Brandon McCarthy — Zero interest in mixed leagues. Would only use him as a SP4 or 5 in NL only leagues.
RP Arodys Vizcaino — Vizcaino is an interesting pick in your draft. He's never going to be a shutdown closer (he struggles with LHB), but he could be just good enough to get 30+ saves as Minter might not quite be ready for prime time.
RP Jose Ramirez — If your league uses holds as a category Ramirez is a pretty solid option.
Stash and Cash: RP A.J. Minter — He's a fireballer with an incredible upside. If Vizcaino struggles, he will get a shot to close. If not, he could be an eighth-inning holds monster.