One of the most popular Fantasy Football leagues offered by FullTime Fantasy is called the Draft-N-Go. For those of you who do not know about this fun yet competitive format, it is perfect for the Fantasy owner who is tired of all the weekly preparation a typical standard league requires. You get to focus on the draft and afterwards, you don't have to do a thing. Just sit back, relax and enjoy the games. There is no trading, no waiver wire, no free agents.

Instead, your team is set in stone, and the computer optimizes your lineup on a weekly basis. In this league, a starting lineup consists of: one QB, two RBs, three WRs, one TE, two FLEX, one PK and one Team Defense/Special Teams. To see the official scoring, click here. If this sounds like something you'd be interested in pursuing, reserve your team now in the Draft Lobby when leagues open for registration. This league is all about the draft.
So, what are there specific strategies when preparing for a Draft-N-Go? Do you plan any differently here than for any other Fantasy draft? To get the inside scoop, I asked Mike Santos — the 2016 No. 2 Fantasy Football player in the world — how he approaches this unique type of draft. Should you listen to him? Mike Santos entered 13 Draft-n-Go Leagues in 2014. He made the playoffs in 11 of them. Below are some tips to help you DOMINATE your league. Remember, in every league of 12, there are 11 losers. Let us help you be the one winner!
1. Go with the quarterback-by-committee approach
Instead of drafting a stud QB in the beginning stages of the draft, be patient and wait until at least Round 7 to snag your first signal caller. This will allow you to load up on the two most important positional players in Fantasy: running back and wide receiver. Since the computer will calibrate your top scoring quarterback, Santos suggests waiting on quarterbacks, perhaps even longer than you would in a typical Fantasy draft,
If you target your QBs in Rounds 7-12, you should be able to grab 2-3 solid players who will still score very well at the QB position. By taking three QBs, you further your chances of having at least one of them produce a huge stat line on any given Sunday. And of course, this kind of depth will help when the injury bug strikes.
2. Draft at least one stud running back
Running back is perhaps the thinnest position in 2017. The days of workhorse backs are fading as more NFL teams utilize an RBBC attack.
I have had a lot of success in the past nailing down 2-3 very good RBs early on in the draft because the position dries up very quickly. You need at least one stud running back.
Santos stresses the importance of having at least one player you can truly count on in case none of your sleeper backs pan out. Wide receivers are much more likely to produce big numbers, even if they are the third or fourth option on their own team. Conversely, you don't see a backup RB erupt for a big statistical performance very often so get that superstar early.
3. Be sure to draft your stars' handcuffs if you can
Drafting your star player's backup is not exclusive to Draft-N-Go's; it's a strategy that most advanced Fantasy owners utilize, especially at the RB position.
I like to take quality backup RBs later on in the draft that are in a good offense and have a potential injury-prone starter ahead of them. I tend to handcuff my stud RB to lock down a particular backfield. For example, in rostering both LeSean McCoy and Jonathan Williams, you are virtually assured of an RB1 all year.
This game plan is crucial if you want to bring home any hardware.
4. Target at least eight WRs in the middle rounds of the draft
In a Draft-N-Go, you need only three of your wide receivers to produce big stat lines each week. So, the more wideouts you draft, the greater the likelihood that three of them will put up big numbers in any given week. Though Santos typically drafts at least eight wideouts, he likes to see closer to 10 on his roster. Leaving yourself thin at WR could be a costly mistake. It should be the deepest position on your team. As with RBs, Santos likes to handcuff some of his receivers. His other tip when selecting wide receivers in Draft-N-Go's:
I like to target wide receivers who have explosive scoring potential and guys who can score touchdowns. Of course I want to have some volume-based receivers who catch a ton of balls but I also like to go for the home run in this league. Guys like DeSean Jackson, Martavis Bryant, Tedd Ginn Jr., etc.
5. Monitor bye weeks for only certain positions
In a 28-round draft, each owner will have plenty of players on his or her team. That is why you should pay no attention to bye weeks when drafting running backs and wide receivers. However, bye weeks do have significance at certain positions.
Particularly in best-ball formats, I only monitor bye weeks among quarterbacks, kickers and defenses.
When participating in a Draft-N-Go, it is critical to make sure that you don't get stuck with three quarterbacks who share the same bye week. Since you are drafting only a few players at QB, PK and DEF, the bye week has some meaning. At RB, WR and TE, depending on how many you draft at each position, you should never pass on a superior player because of a bye week conflict.
6. Take a few fliers in the later rounds
In Fantasy Football, you have to be willing to take risks if you want to win a championship. That is why Santos likes to take backups who could carve out a significant role in the event of an injury, or youngsters who could potentially emerge as the season progresses. When assessing which players are worth gambling on, there are many factors to look at, including the player's offensive system.
Not only do I like young players with upside, but I target players from elite offenses if possible.
If you are going to draft a talented wideout who doesn't quite have a clear role with his team yet, it would be wise to make sure he is playing in a pass-first offense with a good QB.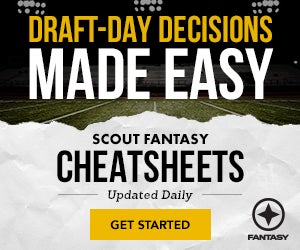 FullTime Fantasy offers various Fantasy Football formats, so you can choose which one suits you best. Do you like this Draft-N-Go format because you are tired of the weekly preparation? FullTime Fantasy Sports offers these contests at a variety of different prices, including $35, $99, or $299. Do you want to spend the big bucks, go up against the big dogs and draft live in Vegas in the Main Event? Maybe you would rather participate in an Online Championship? Or perhaps you're a Dynasty kind of guy who knows everything there is to know about college platers and rookies. Whatever your flavor, FullTime Fantasy gives you the option to choose the format you want.

Join FullTime Fantasy Sports for top advice in the industry from check-cashing, proven winners!