San Francisco Giants
The Giants 2017 season ended about the time Madison Bumgarner decided to crash his dirt bike in April. San Fran never had a winning month while posting their worst record (64-98) since 1985 (62-100). Before last year, the Giants made the playoffs in four of the previous seven seasons with three World Series title.
Their pitching staff finished 16th in ERA (4.50) and 19th in bullpen ERA (4.34) while allowing 145 runs more than 2016 (631). San Fran placed last in home runs (128) and 29th in runs (639). They regressed by 76 runs scored from the previous year (715).
The only loss to free agency was P Matt Cain who retired.
The Giants traded P Matt Moore to the Rangers for P Sam Wolff and P Israel Cruz. OF AndrewMcCutchen came in a deal with the Pirates for P Kyle Crick and OF Brian Reynolds. The last trade was the addition of 3B Evan Longoria from Tampa for OF Denard Span, 3B Christian Arroyo, P Matt Krook, and P Stephen Woods. They signed Austin Jackson for outfield depth.
The starting lineup now has more depth and length especially with a healthy year from Hunter Pence and Brandon Belt. The only question going onto 208 will be the starting centerfielder.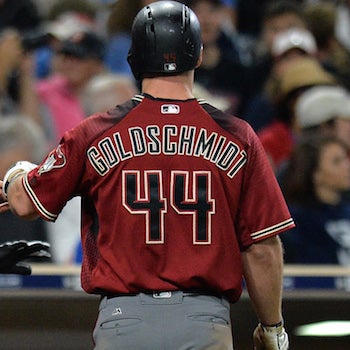 Check out our Fantasy Baseball Draft-n-Go PLUS leagues! Play for $44 or $88! Learn more now!
The Giants need the starting options behind Madison Bumgarner to have a productive season to move back into playoff contention. The fourth and fifth slots in the starting rotation are up for grabs. I'm not confident that San Fran had enough strength in the bullpen to remain in the hunt over the long haul.
Starting Lineup

1. OF Andrew McCutchen
McCutchen has 20+ HRs in seven straight seasons while failing to deliver more than 100 RBI in any year. The structure of Giants lineup in 2018 screams leadoff hitter for Andrew where his speed may reemerge. His walk rate (11.2) has been strong in each in the league while delivering a league average K rate (17.9). McCutchen failed to match his previous success in his CTBA (.350 ) from 2012 to 2015 (.421, .384, .397, and .381), which limits his upside in batting average. His average hit rate (1.742) was a career high with an uptick in his HR/FB rate (16.4). Andrew has a plus bat against lefties (.336 with 11 HRs and 22 RBI over 125 at-bats), which will be needed to beat the Dodgers. McCutchen had a massive run from May 24th to August 8th (.362 with 54 runs, 17 HRs, 50 RBI, and five SBs over 229 at-bats). He struggled in both May (.206 with five HRs, 12 RBI, and three RBI) and August (.222 with one HR and eight RBI). Andrew is a proven major league bat. He rarely posted separator stats in any category, but he adds value in BA, runs, HRs, and RBI in most seasons. I'll set his bar at .280+ BA with 90+ runs, 25+ HRs, 80+ RBI, and 15+ SBs.

2. 2B Joe Panik
Panik makes sense as number two hitter for San Fran. He rarely strikes out (9.4 percent) with a league average walk rate (8.0). His CTBA (.322) flashed more upside in 2014 (.347) and in 2015 (.350) in the majors pointing to a .300+ batting average. With no speed and a low average hit rate (.1463), Joe offers minimal upside in two categories. Panik hit over .300 in April (.301), June (.356), August (.305), and September (.370) with emptiness in his other two months (May – .192 with one HR and six RBI and July – .216 with one HR and eight RBI). Joe didn't have a home run at home (.320 with ten HRs and 36 RBI over 278 at-bats on the road). Panik hit about the same against RH (.287) and LH (.290) pitching, but nine of his ten HRs came against righties. He tends to be low fly ball hitter (34.1 percent) with a weak HR/FB rate (6.4). If he turns some his road power into HRs at home, Panik could be ready to produce a .300/70/15/70/5 season. Possible fit for the right team structure in deep leagues especially if he has growth in his swing path.
3. C Buster Posey
Posey just doesn't have the same luster as he did after his strong 2012 season (.336 with 24 HRs and 103 RBI). His average hit rate (1.443) was a career low for a full season while treading backward over the last five years. His walk rate (10.7) is an area of strength while maintaining a low K rate (11.6). Buster is still one of the better hitters in the league against lefties (.360 with seven HRs and 21 RBI over 139 at-bats). He hit for a high average (.304) vs. RH batters with low production (five HRs and 46 RBI over 355 at-bats). Before the All-Star break (.354 with 36 runs, ten HRs, and 35 RBI), Posey appeared to be on a reasonable path in 2017. He hit only two HRs over his last 281 at-bats (none in his last 137 at-bats) while battling a thumb and finger issue late in the year. His HR/FB rate (8.4) was a career low while falling below his career average (12.1) in four of the last five seasons. The question a Fantasy owner has to ask is if they believe he's still more than a one-category edge at catcher. Buy the .300+ batting average while respecting the improved talent around him will create more all-around scoring chances. Set his floor at 80+ runs, 20+ HRs, and 80+ RBI and take the 2018 discount on draft day. His batting average will allow you to add low average power later in the draft.

4. 3B Evan Longoria
It's been seven seasons since Longoria drove in 100 runs, which is a little surprising considering his skill set and talent. Even with a career-best K rate (16.1), Evan had a set back in his walk rate (6.8) for the fourth straight year with a much weaker CTBA (.317). Longoria struggled against lefties (.217 with seven HRs and 25 RBI), which was his second straight season of failure (2016 – .250 with four HRs and 17 RBI over 140 at-bats). Evan didn' hit over four HRs in any month in 2017 with fade in August and September (.243 with four HRs and 24 RBI over 202 at-bats). His HR/FB rate (10.5) came in below his career average (14.4) in three of his four seasons. In 2016, he had a fly ball swing path (46.8), which wasn't the case in 2017 (36.8). The change to the NL won't raise expectation when you add in his steady results in three of the last four years. I believe he still has 35+ HRs power, but Longoria's recent path paints him as a .270 type hitter with a 20/80 skill set. The only attractive part of his game in 2018 is a much lower ADP (199) in 15-team leagues in mid-February.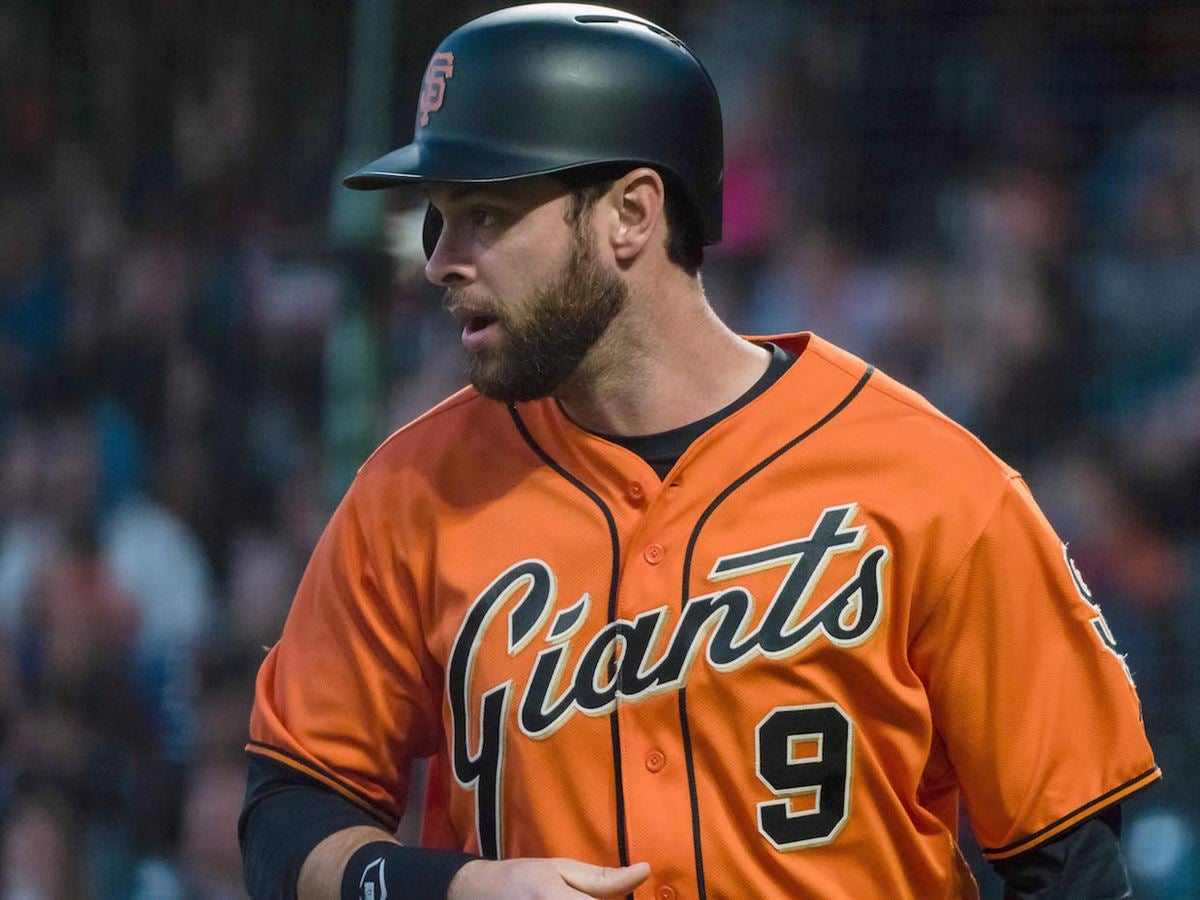 5. 1B Brandon Belt
After a slow start in April (four HRs and 11 RBI over 92 at-bats), Belt was more productive over his next 236 at-bats (38 runs, 12 HRs, and 33 RBI) while failing in batting average (.242). A concussion in early August cost him most of the last two months of the year. HIs walk rate (14.6) remains strong with a below par K rate (23.1). Brandon had a career-high average hit rate (1.946) with a huge step back in his CTBA (.331 – .378 in 2016 and .400 in 2015). Belt struggled vs. lefties (.223 with four HRs and 15 RBI over 103 at-bats) after holding his own in their area in 2016 (.279 with six HRs and 31 RBI over 179 at-bats). Brandon has a fly ball swing (46.9) while beating his career HR/FB rate (11.7) for the third time in four seasons (14.1 in 2017). His stats projected over 500 at-bats would have delivered 82 runs, 23 HRs, 65 RBI, and five SBs. Better player than he's shown while failing to hit on all cylinders in any season in his career. Belt will lose playing time at first base to Buster Posey, which limits his upside. Possible 80/25/80/5 skill set with a rebound in his batting average.

6. OF Hunter Pence
After playing in 154 games or more for seven straight years, Pence missed 194 games over the last three years. Both his average hit rate (1.484) and CTBA (.327) were in much weaker areas in 2017. Hunter almost matched his career levels in his K rate (18.9) and his walk rate (7.4). Pence struggled over his first 37 games (.243 with three HRs and 16 RBI over 136 at-bats) before landing the DL for 3+ weeks with a hamstring issue. He played better over the last two months of the season (.289 with 23 runs, six HRs, and 25 RBI). Hunter continues to have a huge groundball rate (57.2) with fade in his HR/FB rate (11.2). Pence isn't the player he once was where volume of at-bats helped his counting starts. With 550 at-bats and a rebound in his swing path, he still has enough in his bat to deliver a .280+ BA with 75+ runs, 20+ HRs, and 75+ RBI. Easy to overlook based on his last three years. Pence is a veteran player who may work his way into a more favorable slot in the batting order with a fast start.

7. SS Brandon Crawford
Crawford has an above the league average RBI rate (14) in his last four seasons (17, 18, 17, and 16). Brandon landed on the DL in late April for a couple of weeks with a groin issue. His K rate (19.8) was just above his career average (19.6) with regression in his walk rate (7.4). After short production in April and May (three HRs and 17 RBI), Crawford picked up in the pace over the next two months (six HRs and 36 RBI) despite a low batting average (.207). His game was sharper in August and September (.293 with five HRs and 24 RBI). Brandon had the most success vs. righties (.258 with 11 HRs and 53 RBI over 376 at-bats). His RBI opportunity (411 chances) was helped by batting fifth in the batting order for 57.5 percent of his plate appearances. The changes to the 2018 roster may very well push Crawford lower in the batting order, but his RBI rate does work in his favor. Only once in his career in the majors has Brandon had higher than a 10.0 percent HR/FB rate (2015 – 16.2). Tough piece to a winning puzzle on a Fantasy roster due to most Fantasy owners looking for more speed from their MI position. Crawford is a .260 hitter with a 15/70/5 skill set.

8. OF Austin Jackson
Jackson played his way out of a starting job in 2014 and 2015 leading to his sixth home in five years (DET, SEA, CHC, CHW, CLE, and SF). In 2016, a torn meniscus in his left knee led to his 3+ months on the DL. Last season Austin had a rebound in his average hit rate (1.517) with strength in his CTBA (.412). He did spend two stints on the DL last year with quad and toe issues. Jackson will be in the lineup against lefties (.352 with four HRs and 15 RBI over 122 at-bats). His best opportunity for at-bats with Cleveland came in August and September (.305 with four HRs, 18 RBI, and two SBs in 154 at-bats). Austin did handle RH pitching (.291 with three HRs and 20 RBI over 158 at-bats), which gives him a chance at better than expected at-bats. Jackson typically has a low fly ball rate (31.1) with a short HR/FB rate (10.3). At best, an at-bat filler in deep leagues. He needs a bump in power or rebound in speed to earn the attraction from Fantasy owners.

OF Steven Duggar
Duggar hit .292 over three seasons in the minors with 17 HRs, 107 RBI, and 31 SBs over 900 at-bats. He has a top of the order walk rate (12.8) while needing to shave off some strikeouts (21.3 percent). Steven has enough speed to offer upside in stolen bases, but his success rate (62) will limit his opportunity early in his career. With only 46 at-bats under his belt at AAA (.261 with two HRs, six RBI, and three SBs), Duggan will need to work his way to the majors via his bat in the minors. Player to follow with minimal upside in power early in his career.

OF Chris Shaw
Over three seasons in the minors, Shaw hit .280 with 57 HRs and 194 RBI in 1,149 at-bats. Chris played well at AAA in 2017 (.289 with 18 HRs and 50 RBI over 336 at-bats) giving him a chance to win a starting job in the majors if the Giants are willing to place Andrew McCutchen in center field. Shaw came up through the system at 1B before switching to left field in 2017. His walk rate (8.2) projects to be league average with some risk in his K rate (23.4 – 29.4 at AAA). Chris suffered a shoulder injury in the Arizona Fall League while expected to be ready for spring training. A pure power hitter with a below-par glove.
Bench Options
Nick Hundley (C) – Hundley was able to get 287 at-bats in his first season in San Fran leading to a .244 batting average with nine HRs and 35 RBI. He's a career .249 hitter with 81 HRs, 340 RBI, and 13 SBs in 2,745 at-bats. Nick will be the backup catcher again in 2018, but his opportunity should diminish with a healthy season from Brandon Belt and Buster Posey.
Kelby Tomlinson (IF) – Kelby hit .282 with three HRs, 37 RBI, and 19 SBs over 478 at-bats with Giants over three seasons. Tomlinson has strength in his walk rate (10.4) with a league average K rate (20.7). He'll compete for the utility infield job this year.
Pablo Sandoval (3B) – Pablo turned in another poor season after signing a big contract in 2015 for the Red Sox. He hit .220 with nine HRs and 32 RBI over 259 at-bats. The Giants saw enough of him to pick up his option (league minimum) for 2018. Health has been the issue over the last two seasons along with lack of commitment to the game. His only chance to start would be at first base with Brandon Belt moving to the outfield. He's just not a good baseball player.
Pitching Staff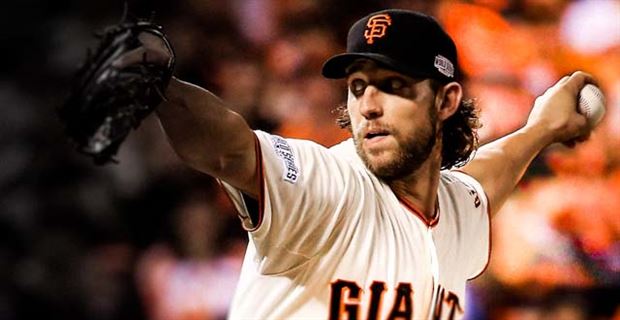 1. SP Madison Bumgarner
Bumgarner's season went off-road in late April after he crashed a dirt bike in Colorado. Over his first four starts, Madison went 0-3 with a 3.00 ERA and 28 Ks over 27 innings. He returned to the mound after the All-Star break. His game didn't appear to lose any value over his first nine starts back in the rotation (2.78 ERA with 53 Ks in 58.1 innings), but he did allow nine HRs. Bumgarner struggled in his first two starts in September (11 runs, 18 baserunners, and four HRs over 11 innings) pushing his ERA (3.55) below expected value. After two strong starts (three runs over 14.2 innings with 11 Ks), the Giants shut him down for the year. He had the lowest walk rate (1.6) of his career while losing some value in his K ability (8.2). The recovery from his shoulder injury led to a spike in HRs allowed (1.4 per nine). Sixteen of his 17 HRs came from RH batters who hit .245 against him. HIs AFB (91.4) was a career low while being well below his best year in 2015 (93.0). In 2016, Madison had four pitches that were tough to hit (four-seam – .232, cutter – .231, curveball – .128, and changeup – .229). Last season his fastball (.250 BAA) lost some value while losing the feel for his changeup (.389 BAA). Bumgarner won't be a free agent until 2019. One of the most stable skill sets in baseball – sub 3.00 ERA with 15+ wins and 225+ Ks if he makes 33 starts.

2. SP Johnny Cueto
Cueto could be one of the most important pitchers to get a handle on his value in 2018. His poor 2017 (4.52 ERA) pushed his early 2018 ADP to 150 in 15-team leagues in mid-February. From 2011 to 2016, Johnny went 82-43 with a 2.73 ERA and 941 Ks over 1,109 innings making him a potential low-value ace again this season. A blister issue led to him being placed on the DL just after the All-Star break. A couple of weeks later in a rehab outing in the minors, Cueto developed a forearm issue. His season ERA was over 4.00 after every start of the year except his third outing of the year (3.79 ERA). Over his first 19 starts, Johnny had a 4.59 ERA  and 103 Ks over 115.2 innings. When he returned from the DL in September, Cueto posted a 4.26 ERA despite a high WHIP (1.610), a .312 BAA, and a rise in walks (3.4 per nine). He struggled against both RH (.268 BAA) and LH (.286 BAA). His AFB (91.8) decline for the third straight year (94.0 in 2014). Batters still have a tough time with his four-seamer (.227 BAA), but his slider (.301 BAA) was an issue, and he made too many mistakes with his changeup (.264 BAA with ten HRs over 125 at-bats). Cueto did maintain his K rate (8.3), but he had a huge step back in his walk rate (3.2 – 2.0 in 2015 and 1.8 in 2016). A declining fastball paired with a fading slider and rising walk rate points to TJ surgery when you add in his forearm issue last summer and questionable finish to the year. I'm going to fade him in 2018. Before taking this dance in 2018, Johnny needs to show a bump in velocity in March with no negative injury news.

3. SP Jeff Samardzija
Samardzija is going to be the most popular value Giants pitcher in 2018. Hidden behind his poor ERA (4.42) was the best walk rate (1.4) of his career leading to a rebound in his K rate (8.9). His downside last year was his seven disaster starts (45 runs, 69 baserunners, and 14 HRs over 39.2 innings) with six of them coming on the road (4.81 ERA and 22 HRs allowed over 112.1 innings). His best overall month came in May (3.32 ERA) thanks to one walk and 49 Ks over 40.2 innings. Jeff barely held an edge over righties (.258 with 11 HRs over 376 at-bats) or lefties (.252 with 19 HRs over 425 at-bats). His AFB (94.6) remains an asset while being a below his top year in 2012 (96.1). All four of his secondary pitches were tough to hit (slider – .229 BAA, curveball – .236 BAA, cutter – .208 BAA, and split-finger – .233 BAA) while fastball combination still needs growth (four-seam – .272 and sinker – .278 BAA). There is a better pitcher here, and his overall arsenal has upside. The question comes with his heart to win games. Samardzija has a career 68-87 record with his best winning season coming in 2016 (12-11). Jeff isn't far from his elite 2014 seasons (2.99 ERA) if he can limit the mistakes and make better pitches within the strikes zone. Only double-digit wins with a 3.50 ERA and 175+ Ks.

4. SP Ty Blach
Over four seasons in the minors, Blach has a 45-31 record with a 3.53 ERA with 414 Ks over 599.1 innings. He did trip up in 2015 at AAA (4.46 ERA) leading to him repeating the level the next season. In 2016, Ty rebounded with a nice season at AAA (14-7 with 3.43 ERA). He has a low K rate (6.2) with excellent command (1.9). In his first full season in the majors, Blach had a winning walk rate (2.4) while posting the lowest K rate (4.0) in the majors. He struggled with RH batters (.295 with all 17 of his home runs allowed over 461 at-bats. Ty had an every over 4.55 in every month with four starts or more. His best month came in July (3.67 ERA with 15 Ks over 27 innings). Blach allowed eight HRs and 18 walks over his last 50.2 innings leading to only 17 Ks. His AFB (90.4) is well below league average. Blach struggled with his curveball (.392 BAA) while his changeup (.274 BAA) and four-seam (.268 BAA) were only neutral pitches. Ty has a low-volume slider (.154 BAA) of value. A soft tosser who has enough talent to post a sub 4.00 ERA with minimal value Ks.

5. SP Tyler Bleede
Over his first three seasons in the minors, Beede went 13-18 with a 3.32 ERA and 239 Ks over 287 innings. His K rate (7.5) doesn't offer an edge with questionable command (3.3). Tyler struggled in his first step up AAA in 2017 (4.79 ERA and 1.468 WHIP). He had regression in his K rate (6.9) and a high HR/9 rate (1.2). A groin injury ended his year in late July. Beede has a league average fastball (93.9) followed up by a cutter, a curveball, and a changeup. Possible 5th starter for San Fran if he pitches like he did in 2016 at AA (2.81 ERA and 135 Ks over 147.1 innings). Tyler needs to throw more strikes to become a viable backend arm.

6. SP Chris Stratton
Stratton pitched well over his last nine games with the Giants (2.42 ERA and 43 Ks over 44.2 innings), but his success wasn't supported by his 2017 resume at AAA (5.11 ERA) or his minor league career (4.07 ERA and 544 Ks over 632.2 innings). His best year in the minors came in 20016 at AAA (12-6 with a 3.87 ERA and 103 Ks over 125.2 innings). His walk rate did show growth in 2016 (2.8) and 2017 (2.5) at AAA, but it has failure risk in the majors (4.3). Chris struggled with lefties (.295 BAA) with a poor BB:SO ratio (17:21). His AFB (91.8) doesn't offer an edge. Stratton had the most success with his curveball (.100 BAA) while his four-seam fastball (.295 BAA) and his changeup (.539 BAA) had downside. Stratton will get exposed with more innings thrown in the majors. He'll compete for a backend starting job this spring.

7. SP Andrew Suarez
Over three seasons in the minors, Suarez went 21-18 with a 3.24 ERA and 296 Ks over 338.2 innings. Even with success at AA (2.96 ERA) and AAA (3.55 ERA) in 2017, he did allow more hits to innings pitched at both levels (AA – 67 innings with 72 hits and AAA – 88.2 innings with 94 hits), which was an issue as well in 2016 at AA (129 hits allowed over 114 innings). Andrew had a low walk rate (2.0) in his minor league career with short K rate (7.9). He has a low 90s fastball with a slider that has some upside. More of a pitcher than a thrower, but Suarez needs to do a better job restricting hits at the major league level. Worth a look if he's call-up where pitching in San Fran should work in his favor.

CL Mark Melancon
From 2013 to 2016, Melancon had a 1.80 ERA, 268 Ks, and 147 SVs over 290 innings. After blowing his first save of the year (two runs and four baserunners over two-thirds of an inning), Mark allowed one run over 15.2 innings with 14 Ks and ten saves. His season started to go off track in early June (six runs, eight baserunners, and two HRs over 1.1 innings). The Giants barely used him over the last two weeks in June leading to six weeks on the DL with a forearm issue. After ten more games (4.82 ERA and ten Ks over 9.1 innings), Melancon was shut down again with the same issue. He had surgery in mid-September to hopefully correct his issue. San Fran expects him to be ready for spring training. His AFB (89.8) was well below 2016 (92.3) and his previous career high in 2012 (94.1). Both his cutter (.297 BAA) and curveball (.296 BAA) had losing value in 2017. Tough call here, his surgery should help. I just need to see the spring training reports on his velocity before adding to him to my Fantasy roster. If healthy, Mark will help in saves with minimal help in Ks. I suggest the insurance card.

RP Sam Dyson
Dyson was a Fantasy dream crusher from day one in 2017. He allowed eight runs and nine baserunners in his first three innings leading to 10.80 ERA, 2.580 ERA, and .392 BAA over his first two months of the season. After being banished to AAA, the Giants took a flier on him in mid-June. Sam was only slightly better in June in the majors (4.91 ERA), but he was able to land the closing job with San Fran after Mark Melancon landed on the DL. Over his next 28 games, Dyson converted 14 of 15 saves with a 2.45 ERA and 15 Ks. During this span, he did struggle with walks (13) and one disaster game (five runs and five baserunners over one-third of an inning). His season ended with two poor outings (five runs and eight baserunners over 1.1 innings). Sam still has a live fastball (95.6), but it declined for the second straight year. His cutter (.205 BAA) and four-seamer (.241 BAA) held value with his failure coming from his sinker (.305 BAA with six HRs over 131 at-bats) and his changeup (.300 BAA). This season Dyson needs to find his command (walk rate of 4.9 in 2017 – 3.4 in his career) while gaining back his K ability (5.6). Closing experience, but his striking trowing ability remains in question.

RP Hunter Strickland
Strickland has a closing fastball (96.1) even with fading value (about 98 mph over his first three years in the majors), but Hunter can earn saves until he finds his command (4.3 walks per nine). Over four seasons in the majors, Strickland has a 2.64 ERA, 1.140 WHIP, and 174 Ks over 180.2 innings. His regression in 2017 came against lefties (.303 BAA) with a poor BB:SO ratio (16:16). Hunter started the year with ten shutout innings with 11 Ks. Over his next 37 games, Strickland had a 3.18 ERA and 1.647 WHIP. His best pitch remains his four-seam fastball (.211 BAA) while his slider (.243 BAA) offered upside. There's a nice major league arm here if he can regain his command. With better success vs. LH batters, Hunter could very well make the move to the 9th inning. Player to follow if Mark Melancon struggles early in the year.
References
Baseball America Prospect Handbook. (n.d.).
Baseball-Reference. (n.d.). Retrieved from http://www.baseball-reference.com/
Brooksbaseball.net. (n.d.). Retrieved from http://www.brooksbaseball.net/
Fangraphs. (n.d.). Retrieved from http://www.fangraphs.com/
Roster Resource. (n.d.). Retrieved from http://www.rosterresource.com/mlb
Rotowire. (n.d.). Retrieved from http://www.rotowire.com/
RotoWorld. (n.d.). Retrieved from http://www.rotoworld.com/
2018 Fantasy Baseball Team Outlooks