Arizona Diamondbacks
Last Updated: March 17
Headed into the 2017 high stakes draft season in March, I heard multiple Fantasy owners talk about the Arizona Diamondbacks' Chase Field being a launching pad. My position was that the Diamondbacks had poor pitching in 2016 (5.09 ERA – last in baseball), which would be corrected with better arms.
After allowing 890 runs, Arizona shaved off 221 runs last year to move to 3rd in the majors in ERA (3.66). Also, the Diamondbacks improved by 60 runs scored from 2016 (752). This combination led to a gain of 24 wins from the previous year and their first playoff berth since 2011. Arizona placed 12th in home runs (220) and 8th in runs (812).
This franchise won the World Series in their fourth year of existence in 2001. They have six playoff appearance in 20 seasons (two in the last ten years).
In the offseason, the Diamondbacks lost multiple low-level players – C Chris Iannetta, IF Adam Rosales, OF Gregor Blanco, RP David Hernandez, and RP Jorge De La Rosa. Their biggest loss was OF J.D. Martinez.
Arizona took a shot on Alex Avila to start at catcher. They traded RP Curtis Taylor to Tampa for RP Brad Boxberger. Veteran Japanese arm Yoshihisa Hirano was brought in to compete for the closing role.
Without Martinez in the starting lineup, the Diamondbacks can't help but have regression in their offense. The starting pitching has two potential aces with serviceable depth. Archie Bradley looks poised to take over the 9th, which was the key reason why Arizona moved to 5th in bullpen ERA (3.78). I expect another playoff runs especially if the Diamondbacks add another power bat.
Starting Lineup

1. OF A.J. Pollock
Over the first six weeks of the year, Pollock hit .299 with 26 runs, two HRs, 11 RBI, and 11 SBs over 154 at-bats. He missed the next seven weeks with a groin injury. A.J. was productive over his last 271 at-bats (47 runs, 12 HRs, 38 RBI, and nine SBs), but his batting average slid to .247. His K rate (15.2) fell in line with his career average along with his walk rate (7.5). Pollock had a career-high AVH (1.770) while falling back in his CTBA (.319 – .365 in 2015 and .369 in 2016). His stats projected over 550 at-bats in 2017 would lead to 94 runs, 18 HRs, 63 RBI, and 27 SBs. A.J. played his best ball against lefties (.277 with seven HRs and 20 RBI over 141 at-bats). In his best year in 2015, Pollock had a high groundball rate (50.3). His swing path was a little more balanced in 2017 (23/45/32). A nice option for runs with an expected bounce back in batting average. 20/20 player with more upside in speed. They key here is staying healthy for the full season something he's done only one in his career.

2. OF David Peralta
Last season the Diamondback had one extra option in the outfielder with J.D. Martinez on the roster. Peratta settled into a five day a week player in most weeks, which hurt his value in the counting stats. David did set a career high in at-bats (525), runs (82), and hits (154). David had his lowest AVH (1.513) in the majors while his CTBA (.357) was still well below his breakout year in 2015 (.406). Over the first two months, Peralta only had four HRs and 12 RBI over 171 at-bats. David was more boring than explosive over his last three months (.273 with six HRs, 33 RBI, and three SBs over 264 at-bats). His K rate (16.3) was a career best with a rebound in his walk rate (7.5). He still hits too many ground balls (55.1 percent) with an uptick in his HR/FB rate (12.2). Steady batting average bat with some value in runs. With 600+ at-bats, there is a chance at 20+ HRs, and 80+ RBI with a rebound in his average hit rate and RBI rate. Also, Peralta needs to be more productive against lefties (.269 with two HRs and 13 RBI over 134 at-bats) to avoid more days off.

3. 1B Paul Goldschmidt
Goldschmidt finished 2017 with his best season in combined runs (117), HRs (36), and RBI (120), but he still left Fantasy teams with an empty feeling in September (.171 with three HRs, 11 RBI, and one SBs over 82 at-bats). For some reason, Paul stopped running after the All-Star break (five SBs over 241 at-bats). He continues to crush lefties (.311 with ten HRs and 30 RBI over 132 at-bats) while being extremely productive vs. RH pitching (.293 with 26 HRs and 90 RBI over 426 at-bats). Goldschmidt had a CTBA over .400 for the fourth straight year with growth in his average hit rate (1.892). Paul did have an impressive bat over the first three months of the year (.317 with 69 runs, 19 HRs, 66 RBI, and 13 SBs over 290 at-bats) with a great August as well (.330 with 18 runs, 11 HRs, and 31 RBI). His fade late in the year was due to a right elbow injury. A great five-category player with a high floor and explosive ceiling. Pencil him in for .300+ BA with 100+ runs, 35+ HRs, 110+ RBI, and 20+ SBs. If you decide to invest in him early in round one, just remember what the impact was with J.D. Martinez hitting behind him in the starting lineup.

4. 3B Jake Lamb
Lamb developed into a very good player over the last two years. His RBI rate (18), AVH (1.962), and CTBA (.346) almost matched 2016. He finished with a career high in runs (89), hits (133), HRs (30), and RBI (105). Jake now has an elite walk rate (13.7) while setting a career best in his K rate (23.9). His lack of upside in batting average is due to continued struggles with lefties (.144 with five HRs and 19 RBI over 132 at-bats). Lamb now looks the part of a developing stud against RH pitching (.282 with 25 HRs and 86 RBI over 404 at-bats). He played much better before the All-Star break (.279 with two HRs and 67 RBI over 315 at-bats – .204 after the break with ten HRs and 38 RBI over 221 at-bats). HIs HR/FB rate (20.1) is elite with a slight step up in his fly ball rate (38.7). Three-fourths of the time Lamb is going to be a good bat, but his success and development against vs. LH pitching will determine is ultimate value. Hitting behind Paul Goldschmidt is a great RBI opportunity. Potential pullback with a floor of 80+ runs, 25+ HRs, and 80+ RBI while still having another gear if everything comes together.
5. OF Steve Souza
There are parts of Sousa's game that offer upside, but his K rate (29.0), despite being a career best, does restrict his upside in batting average. Steve had the best walk rate (13.6) of his career. He had a spike in his AVH (1.920) setting up a career high in homeruns (30). Souza had 29 of his 30 HRs by the end of August. Over the last two months of the season, Steve hit .170 with failure in September (.152 and a HR over 66 at bats) due to a left knee issue. His HR/FB rate (25.6) was above his career average (22.5), but he did hit a few too many ground balls (44.6 percent). Improving player who needs to make better contact plus improve as run producer (only a 13 percent RBI rate in 2017). Next step looks to be a 30/20 player with a chance at 80+ runs and 80+ RBI.
6. 2B Chris Owings
Over the first two months. Owings gave the Diamondbacks very good at-bats (.316 with 21 runs, six HRs, 29 RBI, and nine SBs) with a productive power run (six HRs and 20 RBI) over his next 96 at-bats. His season ended in late July due to a broken middle finger on his right hand. Chris continues to have a shallow walk rate (4.4) while striking out at a high rate (22.5). His best production came against righties (.273 with ten HRs and 39 RBI over 275 at-bats). Owings had a career-high average hit rate (1.649). His swing path became more balanced (22/43/36) with a career-high HR/FB rate (12.2). If Chris has 550 at-bats in 2017, he would have delivered 62 runs, 18 HRs, 77 RBI, and 18 SBs. Just reaching the prime of his career and his minor league resume suggested Owings had a potential 15/15 skill set. His three-position eligibility does add value covering injuries. Sneaky middle infielder option who is just finding his major league rhythm. About a .270 hitter with 70+ runs, 10+ HRs, 60+ RBI, and 15+ SBs with 500 at-bats.
7. C Alex Avila
Avila will take plenty of walks (16.5), but he strikes out twice as much (31.9 percent). He gave Fantasy owners very good at-bats over the first four months (.274 with 30 runs, 11 HRs, and 32 RBI over 219 at-bats). After the trade to the Cubs, Alex only had a backup opportunity (.239 with three HRs and 17 RBI over 92 at-bats). Avila has no value against lefties (.216 with no HRs and seven RBI over 37 at-bats). His HR/FB rate (21.5) had been high over the last two seasons. Split role catcher with mid-teen power with 400+ at-bats while chipping in with league average runs and RBI in deep leagues with two catchers.
8. SS Nick Ahmed
Over four years in the majors, Ahmed hit .226 with 20 HRs, 79 RBI, and 12 SBs over 942 at-bats. His best opportunity came in 2015 (.226 with nine HRs, 34 RBI, and four SBs over 421 at-bats). Nick did show a spike in 2015 in his average hit rate (1.589) with some follow through in his limited playing time in 2017 (AVH – 1.667). Ahmed is a good defender, but his lack of upside in his swing will lead to a split role with Ketel Marte over the long haul of the season. In the minors, Nick hit .267 with 19 HRs, 170 HRs, and 98 SBs over 1,665 at-bats. In 2017, he missed the last three months of the year with broken right hand that required surgery. Boring player who is progressing toward double digit HRs with some underlying speed.
Marte was only able to earn a bench role in his first season in 2017. He showed growth in his walk rate (11.4) and his K rate (14.5). In each year in the majors, Ketel had regression in his CTBA (.312). He did have the most length on his hits of his career in 2017 (AVH – 1.517). Over seven seasons in the minors, he hit .296 with 17 HRs, 211 RBI, and 109 SBs over 2,088 at-bats. His skill set projects as a backend hitter will minimal value in home runs until he has more strength and bulk. Marte had a career-high HR/FB rate (7.9) while adding slightly more loft (FB rate – 34.2) to his groundball swing (45.1 – 50.3 in his career).
Update: The trade of Brandon Drury does create a better window for playing time for Marte. His best asset will be speed if your team can handle low production in power from the shortstop position. To start the year, Ketel will be behind Nick Ahmed for playing time at short. His higher ceiling should lead to 400+ at-bats at the minimum in 2018.
After first two months of the year, Tomas was on pace for 57 runs, 24 HRs, and 96 RBI. He had a career-high average hit rate (1.925) with a pullback in his CTBA (.345). His season ended on June 2nd due to a groin injury that required surgery in late August. In 2016, Yasmany responded with a huge step forward in his HRs (31) with growth in his AVH (1.868). This number was supported by his success in Cuba in 2012 (1.951) and 2013 (1.863). Tomas has a high K rate (27.9) after making gained in 2016 (24.2) while having growth in his walk rate (7.2). Tomas improved his swing path in 2016 leading to fewer ground balls (47.6 percent – 54.9 in 2015). Yasmany had a strong HR/FB rate (21.1) for the second straight year while still hitting minimal fly balls (32.5 percent). His injury season will create a buying opportunity in 2018. His higher AVH points to 30+ HRs and a career high in RBI. I expect Tomas to regain some value in batting average while finishing on the wrong side of the league average in runs.
Update: The trade for Steven Souza does crush the opportunity for at-bats for Tomas. He's a big liability defensively. Yasmany needs a trade to the AL where he can earn a DH role.
Dyson has 26 or more steals in each of his last six seasons in the majors. The Mariners gave him the best opportunity of his career last year (346 at-bats) leading to a career high in runs (56), hits (87), HRs (5), and RBI (30). Jarrod is career .258 hitter with a league average walk rate (8.0) with an improving K rate (14.1 – 16.3 in his career). Only a role player with possible playable value when covering an injury due to his upside in steals. Dyson will have a tougher time getting starting at-bats in 2018.
Bench Options
Chris Herrmann C) – Herrmann offered solid power (ten HRs) over the bench, but he only hit .181 with 27 RBI and five SBs over 226 at-bats. Chris took a high volume of walks (11.3 percent) while still striking out at a high rate (26.2). Backup catching options with a chance to get some at-bats in the outfield.
Danial Descalso (IF) – Descalso saw time at 1B, 2B, 3B, SS, and OF in 2017. Arizona decided to bring him back to be a utility option on the bench. He's coming off his best season (.233 with ten HRs, 51 RBI, and four SBs in 344 at-bats. His K rate (21.9) is rising with a short walk rate (5.6).
Jeremy Hazelbaker (OF) – Jeremy earned a backup outfield job with the Diamondbacks in 2016 (.235 with 12 HRs, 28 RBI, and five SBs over 200 at-bats) pointing to more chances last season. Hazelbaker only had 52 at-bats with Arizona in 2017 (.346 with two HRs and ten RBI). Over six seasons in the minors, Jeremy hit .277 with 32 HRs, 150 RBI, and 67 SBs over 985 at-bats. Nice power/speed combination, but he still has a high K rate.
Socrates Brito (OF) – Brito hit .288 with 38 HRs, 331 RBI, and 131 SBs over 2,739 at-bats over eight seasons in the minors. His K rate (19.8) came in at the league average with below par walk rate (6.1). Over short at-bats (128) in the majors, Socrates hit .211 with four HRs, 13 RBI, and three SBs. He missed much of 2017 with a broken left ring finger. In December while playing winter ball, Brito suffered another finger injury. Possible best option to be the fourth outfielder in 2018.

Like and share our new Facebook page! Be sure to pay attention to our giveaways for your shot at some sweet prizes!
Pitching Staff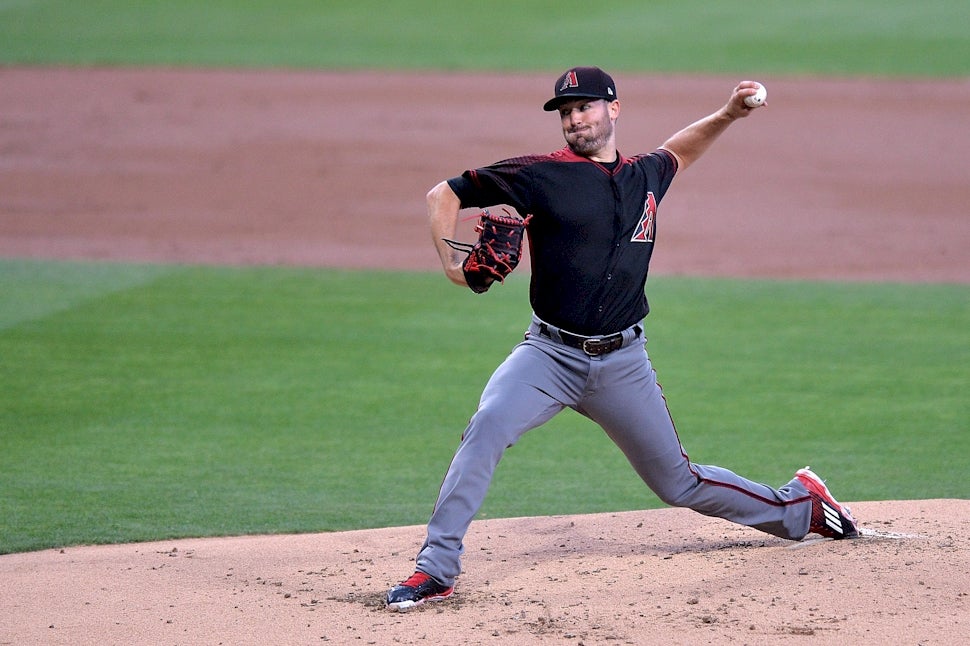 1. SP Zack Greinke
Over the last seven seasons, Greinke has a 112-40 record with a 3.06 ERA and 1,305 Ks over 1,347 innings. After a tough first year with the Diamondbacks in ERA (4.37), Zack bounced back in a big way in 2017 (17-7 with a 3.20 ERA and 215 Ks over 202.1 innings) to help Arizona make the playoffs. His K rate (9.6) was his highest since 2011 (10.5) while posting a low walk rate (2.0). Greinke pitched well against both RH (.217 BAA) and LH (.241 BAA) batters. Over his first 21 starts, he went 13-4 with a 2.84 ERA. 219 BAA, and 149 Ks over 136.1 innings. His AFB (91.0) was a career low by more than 1.3 mph. Batters hit .293 vs. his four-seam fastball (.293 BAA). Zack still has three secondary pitches of value slider (.197 BAA), changeup (.211 BAA, and curveball (.205 BAA). His HR/FB rate (13.4) has been high over the last two years. Greinke did fade over his last 11 starts (3.95 ERA) with two disaster outings (14 runs, 20 baserunners, and five HRs over ten innings). Half of his game relies on a fastball that may have some risk due to fading velocity tied a possible underlying elbow issue. Zack just wins games with a recent resume of an edge ERA. More of the same, but I wouldn't fight you for him while being ok with Greinke as a SP2 if he slides in drafts.

2. SP Robbie Ray
Despite more regression in his walk rate (3.9), Ray continues on his path to greatness. He posted an elite K rate (12.1). Batters only hit .199 against him with a high level of success against both RH (.195 BAA) and LH (.216 BAA) batters. Robbie allowed 18 of his 23 HRs to righties plus 65 of his 71 walks. Over his first eight starts, he had a 4.57 ERA and 1.433 WHIP. Ray only allowed one run over his next 37 innings with 14 hits, nine walks, and 48 Ks. After a down six starts (4.41 ERA and eight HRs over 34.2 innings), he landed on the DL for about four weeks with a concussion. Robbie went 6-0 over his last eight starts with a 2.22 ERA and 67 Ks over 43.1 innings. His AFB (94.5) stepped back from 2016 (95.3). Batters struggled to hit his four-seam fastball (.212 BAA), slider (.175 BAA), and curveball (.178 BAA). HIs HR/FB rate (15.6) has been high in the last two seasons while allowing more fly balls in 2017 (40.3). Ray will have more upside in Ks when he adds more length to starts via more strikes thrown. With any regression, his BAA against Robbie will have a step back in his ERA. On the verge of greatness, but it takes a committed heart. Buy him as SP2 to cover any WHIP risk. A chance at 15+ wins with a 3.25 ERA, and 250 Ks with 200+ innings pitched.

3. SP Taijuan Walker
Walker showed growth in 2017, but a high walk rate (3.5) led to less progress. He set a career high in his K rate (8.4) while being tougher to hit (.247 BAA). Taijuan allowed 11 of his 16 home runs to righties with some failure against them in batting average against (.262). He had an ERA under 3.94 in each month while struggling with HRs in July (five over 29.2 innings) and August (five over 27.2 innings) then walks in September (18 walks in 30.2 innings). His AFB (94.0) was a career low. Batters struggled to hit his four-seam fastball (.245 BAA), slider (.237 BAA), and curveball (.194 BAA). Walker still needs to find his rhythm with his split-finger fastball (.333 BAA) that was much more effective in 2016 (.229 BAA). He missed almost four weeks from May 19th to June 14th with a blister issue on his pitching hand. On the year, he allowed two runs or fewer in 15 of his 28 starts plus one outing with five runs allowed or more. On the verge of becoming a frontline ace, which will come with better command. Taijuan has plus secondary pitches with an improving K ability. Value ace with his next being a sub 3.00 ERA with 200+ Ks.

4. SP Patrick Corbin
Corbin had the potential to be an upside backend starter in 2017 while being drafted late. He finished with a career-high K rate (8.4) and a rebound in his walk rate (2.9). Unfortunately, a bad six-game stretch made him unbearable from May 6th to June 2nd (9.00 ERA, 1.935 WHIP, and 11 HRs over 31 innings). Over his last 21 starts, Patrick went 10-7 with a 3.28 ERAand 124 Ks over 123.1 innings. He had two disaster outings (15 runs and 24 baserunners over 7.1 innings) over this stretch. His downside came against righties (.292 with 20 HRs over 589 at-bats). Corbin was very good vs. LH batters (.220 BAA). His AFB (92.8) fell in line with his last three seasons. On the year, Patrick only had one pitch of value (.184 BAA) with failure behind his four-seamer (.306 BAA), sinker (.352 BAA), and changeup (.317 BAA). For comparison, over his last 21 starts, all of those pitches gained minimal value (four-seam – .313, sinker – .354, and changeup – .297). His finished to 2017 will put him on Fantasy owner's radar. The lack of depth of his pitches does invite disaster risk when he's falling behind in the count. Set his bar at 3.75 ERA with improvement in his WHIP and 150+ Ks.

5. SP Zack Godley
Over five seasons in the minors, Godley went 22-14 with a 2.96 ERA and 293 Ks over 291.2 innings. Zack pitched limited inning (60.2) at AAA with a high level of success (4-2 with a 2.97 ERA and 67 Ks). Any downside in the minors coming from failure with walks (3.1 per nine). He repeated his command in the majors while upping his results in Ks (9.6) in 2017. Hs AFB (92.1) is below the league average with batters struggling to hit his secondary stuff (curveball – .162 BAA, cutter – .233 BAA, and changeup – .229 BAA). If he's not throwing strikes, his four-seam fastball is very hittable (.308 BAA with seven HRs over 172 at-bats). Godley pitched well against both righties (.223 BA) and lefties (.219 BAA). Over his first 11 starts, Zack had a 2.58 ERA and .188 BAA. His game lost value over his last 14 starts (4.09 ERA, 1.327 WHIP, and 11 HRs over 83.2 innings). Not quite as good as 2017 and not as bad as his career resume in the majors (4.19 ERA). Goldey is moving in the right direction with a supporting resume in the minors. Closer to a 3.50+ ERA with a chance to add 175+ Ks.

SP Anthony Banda
Over five seasons in the minors, Banda has 40-34 record with a 3.83 ERA and 625 Ks over 644.2 innings. In two seasons at AAA, he went 12-11 with a 4.74 ERA and 184 Ks over 195.2 innings. His walk rate (3.3) is below major league expected value with a playable K rate (8.7). In 2017, Anthony struggled at both AAA (5.39 ERA) and the majors (5.96). His AFB (94.4) was a plus in the majors. His four-seam fastball (.211 BAA) and curveball (.174 BAA) graded well with the Diamondbacks with a losing fell for his changeup (.368 BAA). His next step is improvement in his command and changeup. In 2018, Banda looks positioned to be a viable option the majors. Follow him closely to see if he's throwing more strikes in spring training.
SP Jon Duplantier
The Diamondbacks selected Duplantier in the third round in the 2016 MLB June Amateur Draft. He missed the 2015 season at Rice with a left shoulder injury that didn't require surgery. After being drafted, Jon missed most of 2016 pro season with a left elbow injury. His stuff was elite at A and High A in 2017 where Duplantier went 12-3 with 1.39 ERA and 165 Ks over 136 innings. He had strength in his K rate (10.9), but his walk rate did fade at High A (3.8) after being elite at A ball (1.9). He threw a mid-90s fastball followed up by a plus curveball and a developing changeup. His success last year was also due to being older than his competition. If his command holds up, Jon will start the year at AA with a chance to make the majors with repeated success.

CL Archie Bradley
Bradley was impressive in 2017 after the Diamondbacks moved him into the bullpen. He showed growth in his command highlighted by his first pitch (59.0) and overall strike rate (66.2). His walk rate (2.6 was much better than his major league career as a starter (4.5) and his minor league resume (4.7) leading to a bump in his K rate (9.7). Over six seasons in the minors, Archie had a 35-19 record with a 3.01 ERA and 474 Ks over 443 innings. Bradley pitched at a high level against RH (.193 BAA) and LH (.223 BAA) while allowing all four of his HRs to righties and some weakness in walks (13 of 21 to lefties). Over his first 69 innings, he had a 1.17 ERA and 75 Ks before struggling in two of his last three appearances (five runs and 12 baserunners over four innings). His AFB (96.6) was the best of his career. Batters hit .238 against his four-seamer while offering an edge curveball (.188 BAA). Archie threw his fastball over 75 percent of the time. His next step is taking over the closing role, but a Fantasy owner will have to wait for him to win the job in spring training. His history of walks does temper my expectation in the 9th. Possible 40+ saves with a run at 100+ with repeated command.

RP Yoshihisa Hirano
Arizona signed Hirano to a two-year deal over the winter to add depth to the bullpen. Over the last five seasons in Japan, Yoshihisa picked up 143 saves. He has 48-69 career record with a 3.10 ERA, 884 Ks, and 156 SVs over 974.2 innings. In 2017, his game did show regression (2.67 ERA and 1.273 WHIP) leading to a decline in his K rate (7.4). Hirano relies on a low 90s fastball followed by a high volume split-finger pitch. He will pitch up in the zone, which may lead to more mistakes leaving the ballpark in the majors. More of an insurance policy for the Diamondbacks.

RP Brad Boxberger
Injuries over the last two seasons led to Boxberger failing to get another chance at saves. He missed almost all of the first three months of 2017 due to a back injury. Over his first 23 games, Brad had a 4.43 ERA while batters only hit .222 against him. His stuff did look much improved in September (one run over 9.1 innings with 17 Ks). His AFB (92.7) was about one mph lower than his 2015 season. Batters hit .162 against his four-seamer with success with his changeup (.240 BAA). Boxberger was about the same pitcher against righties (.216 BAA) and lefties (.214 BAA). His biggest downside to closing is a high walk rate (3.4 in 2017 and 4.4 in his career) and home runs allowed (1.2 per nine). If Archie Bradley trips up, Boxberger will be a consideration for saves if he's throwing strikes.