Daily Dr. Roto—February 15
Fantasy Preview in a Nutshell: Baltimore Orioles
C Chance Sisco — Take a chance on Chance? Maybe not just yet. Catchers take a while to develop as hitters and Sisco's power will take about three years to come to fruition. I'll pass in all mixed league formats.
1B Chris Davis — Davis has turned out to be a 2.5 category player in Fantasy Baseball. His HRs and RBIs will certainly help, but his .225 average might kill you along the way. I'm not against taking Davis, but you better have strong batting averages surrounding him.
2B Jonathan Schoop — Like a fine wine, Schoop seems to get better with age. Has he finally hit his peak? Probably so, but I can live with 30/100 any day.
SS Manny Machado — I can't picture myself drafting Machado this year mainly because of the shroud of trade discussions looming over his head. I can see him getting frustrated with all the press hanging around him asking questions about whether he wants to go to the Yankees or not. It won't matter as Orioles owner Peter Angelos won't trade him to the Yankees anyway.
3B Tim Beckham — Beckham finally had a chance to play in 2017 and he shined for the Orioles (and Fantasy owners). He still strikes out way too much for my liking, but I think he might be an interesting add if you choose to wait till the later rounds to select a 3B (plus he will qualify at two positions this season by mid-April).
OF Trey Mancini — Mancini showed that he could do more than just hit LHP last season. He was so good that Buck Showalter couldn't keep his bat out of the lineup. I see Mancini doing similarly in 2018 as he did in 2017. Nice power, decent average, solid player—the perfect OF3 for a Fantasy team.
OF Adam Jones — A model of consistency, Jones is exactly who Fantasy owners think he is—and there is nothing wrong with that. He will go 20-80 with a decent average and play most every day. His name recognition far exceeds his ability right now He's a 10th round player who ends up going in the 6th.
OF Austin Hays — Hays should get every chance to win the RF job after mashing the ball at every stop in the minors in 2017. Buck Showalter hates to play rookies, but I can see Hays getting about 350-400 at bats this year which would make him well worth owning in AL-only formats.
DH Mark Trumbo — I am not sure Trumbo is ever going to hit 40 Home Runs again, but he should mash about 25-30 in the middle of the Orioles lineup.  He reminds me of the AL version of Adam Duvall.
Check out our $44 & $88 Fantasy Baseball Draft-n-Go PLUS leagues! Learn more now!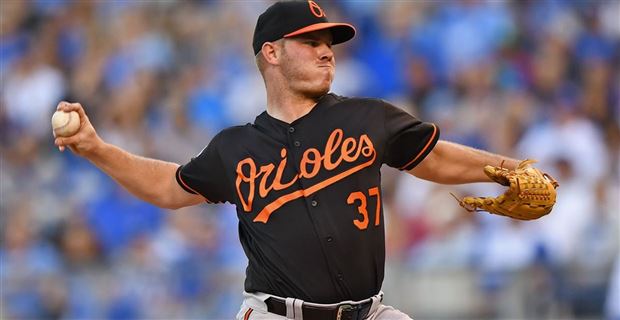 SP Dylan Bundy — There were times last season where Bundy looked like a future SP1 until he faded down the stretch. I would like to see him cut down on the walks and the home runs, but the seeds of something special are here. My biggest problem is if the Orioles match him up against the opposing team's top starter. If that happens, Bundy might struggle to win a dozen games.
SP Kevin Gausman — When Gausman is good, he is very good, but when he is bad, his nickname is "Gas Can" as he lights fires all over the place. I love his potential, but I can't take the risk with him as anything more than a guy to fill out the back end of my rotation (for now).
SP Miguel Castro — I would take a shot on Castro only if he looks good in Spring Training and if I were playing in an AL-only format.
RP Brad Brach — Brach will close while Britton is out, and I think he might be sneaky source of saves for the first couple of months of the season. Sadly, even if he pitches well I still think the O's will give Britton his job back, so look to Brach for about 15-20 saves and hope for more.
RP Zach Britton — Britton is a monster when healthy—the only problem is that he's currently not healthy (he has a ruptured Achilles tendon) and he's tentatively expected to return in June. If I were to draft him, I would expect an All-Star break return just to play it safe.
RP Mychal Givens — With Brach now serving as the closer until Britton returns, Givens slides into the role of primary setup man. Givens could vulture a few wins and he had over a K/per inning last season, so he is clearly one of the top setup men in the AL East.
Stash and Cash: Austin Hays — If the Orioles start the season with Joey Rickard at OF, make sure to stash Hays on your reserve squad. If he doesn't make the team in April, he will be up by June for sure.

Like and share our new Facebook page! Be sure to pay attention to our giveaways for your shot at some sweet prizes!