Colorado Rockies
The Rockies broke their seven-year playoff drought in 2017 thanks to a step forward in some of their young arms. Colorado allowed 103 fewer runs than 2016 (860) leading to a 17th place finish in ERA (4.51) and 20th in bullpen ERA (4.40).
Surprisingly, the Rockies fell to 20th in home runs (192) despite finishing 3rd in the majors in runs (824).
The 2017 starting lineup will be without C Jonathan Lucroy, 1B Mark Reynolds, OF Carlos Gonzalez. They signed C Chirs Iannetta to improve the catching depth. Any other upgrades in the offense will need to come through the minors.
Colorado lost SP Tyler Chatwood, RP Greg Holland, and RP Pat Neshek to free agency. Wade Davis was brought in to take over the closing role and Bryan Shaw for bullpen depth.
Overall, the offense has a pair of studs in OF Charlie Blackmon and 3B Nolan Arenado. A healthy season by OF Ian Desmond and a rebound by SS Trevor Story will set the stage for a high scoring season.
Even with the changes in the bullpen, I don't expect growth. Davis didn't look right last year, and the overall depth has more risk than upside.
I do like the overall depth of their starting options while questioning their consistency over the long haul. Borderline playoff contender with starting pitching and power being the key factors in repeated success.
Starting Lineup

1. OF Ian Desmond
A fractured left hand in spring training led to Desmond missing the first month of the season. Ian struggled to find his power stroke over his first 219 at-bats (.283 with five HRs, 26 RBI, and ten SBs). A calf injury at the end of July cost him another month of the year. After the All-Star break, there was more emptiness in his swing (.258 with two HRs, 14 RBI, and five SBs over 120 at-bats). His walk rate (6.4) regressed for the second straight year while his K rate (23.3) fell in line with his career resume. Desmond was a better hitter vs. righties (.283 BAA) while failing to take advantage of his home ballpark (.265 with two HRs and 20 RBI over 166 at-bats). Ian had a huge spike in his ground ball rate (62.7 – 51.4 in his career) leading to a shallow fly ball rate (20.8) HIs HR/FB rate (13.2) was below his previous three years (18.2, 15.4, and 18.2). Not the best skill set to bat leadoff, but someone may take that role if Charlie Blackmonis moved down in the batting order. I expect a rebound in his average hit rate (1.366) with a corrected swing path to match his career resume. A neutral hitter who should offer deliver 80+ runs, 20+ HRs, 80+ RBI, and 20+ SBs while understanding his home park should deliver more upside.

2. 2B D.J. LeMahieu
Over the last three years, LeMahieu hit .319 with 25 HRs, 191 RBI, and 40 SBs in 1,725 at-bats. His average hit rate (1.317) remains in a weak power hitting area while continuing to have a high CTBA (.364). D.J. has a low K rate (13.2) while producing an above the league average walk rate (8.7) for the third straight year. LeMahieu is at his best vs. lefties (.362 with five HRs and 24 RBI over 151 at-bats) and at home (.327 with three HRs and 35 RBI over 300 at-bats). From June 2nd to September 5th, he hit .347 with five HRs and 38 RBI over 303 at-bats. His swing path continued to deliver a high volume of ground balls (55.6 percent in 2017 and 54.6 in his career) leading to low fly ball rate (19.7). HIs HR/FB rate (7.8) declined from 2016 (10.2). Without a higher total in speed, LeMahieu is a tough start in Roto formats where he is only a two-category player (runs and BA). He needs more loft to become a factor in home runs and a higher green light level on the base paths. Last season the Rockies attempted 93 steals (59 successful chances) with Bud Black as the manager compared to 140 attempts in 2015 under Walt Weiss when D.J. had a career-high 23 stolen bases.

3. OF Charlie Blackmon
Blackmon improved in each of the last three seasons. He led the NL in plate appearances (725), runs (137), triples (14), and batting average (.331). His CTBA has been elite in 2016 (.393) and 2017 (.418). The most impressive stat from 2017 was his 104 RBI when you consider his low RBI chances (299). His average hit rate (1.817) was well above his early career and 2016 (1.706). Charlie posted a career-high walk rate (9.0) with regression in his K rate (18.6). His swing was impressive against both RH (.329 with 28 HRs and 78 RBI over 431 at-bats) and LH (.333 with nine HRs and 26 RBI over 213 at-bats) pitching. Blackmon is a huge edge at home (.391 with 24 HRs and 60 RBI over 304 at-bats). From May through August, he hit .351 with 25 HRs, 60 RBI, and 12 SBs over 430 at-bats. Charlie has almost the same fly ball rate (37.0) as 2016 (37.8) while improving his HR/FB rate (19.6). His development points to a move to the third slot in the batting order where Blackmon will have a huge jump in his RBI chances. His speed (43, 17, and 14 SBs) faded in back-to-back season along with his success rate (62 percent in 2016 and 2017). His home park creates a huge winning edge. Charlie lacks the star drawing power on draft day, and his short resume in power will raise concern with present value. A solid .300+ hitter with a chance at 110+ runs, 30+ HRs, 110+ RBI, and 20+ SBs.

4. 3B Nolan Arenado
Arenado had been one of the most consistent players in baseball over the last three years. Last season he had a slight drop in power (37) while almost repeating his RBI total (130) and RBI chances (449). With the growth in his CTBA (.374), Nolan set a career high in batting average (.309). He had a walk rate (9.1) above the league average for the second straight year with a repeatable K rate (15.6). Arenado crushed LH pitching (.420 with 16 HRs and 47 RBI over 150 at-bats) with a step back against righties (.272 with 21 HRs and 83 RBI over 456 at-bats). His power was about the same at home (19 HRs) as on the road (18 HRs) while producing a higher average in Colorado (.336). Over the last three months of the season, Nolan hit .325 with 22 HRs and 69 RBI over 286 at-bats. His swing path delivers plus fly balls (44.9 percent in 2017 and 42.6 in his career) while his HR/FB rate (16.3) is trending backward. A great hitter who is just reaching the prime of his career. His uppercut swing may limit his upside in batting average unless more balls leave the park. Not quite a lock to hit .300, but 240 combined runs and RBI with 40+ HRs is just another season in the big leagues.
5. SS Trevor Story
It took Story 130 more at-bats last year to reach many of his counting stats set in 2016. Both his AVH (1.917) and CTBA (.385) failed to match his previous bar with the Rockies while losing more value in Ks (34.4 percent K rate). Trevor hit well against lefties (.301 with ten HRs and 28 RBI over 133 at-bats) despite 50 Ks. Any progression in batting average will come vs. RH pitching (.216 with 14 HRs and 54 RBI over 370 at-bats). Over the first three months, Story hit .224 with ten HRs and 29 RBI over 228 at-bats, which included a DL stint with a left shoulder injury. His best month of the year came in September (.269 with six HRs and 22 RBI over 108 at-bats). His HR/FB rate (16.2) was much lower than his rookie season (23.7) while continuing to hit a ton of fly balls (47.9 percent). Over six seasons in the minors, Story hit .264 with 71 HRs, 286 RBI, and 97 SBs over 2,072 at bats. In 2015 between AA and AAA, Trevor hit .279 with 20 HRs, 80 RBI, and 22 SBs in 512 at-bats. Without improvement in his K rate, Story is going to have plenty of batting average even with a high CTBA. Possible 30/20 guy with his production in runs created by his ability to reach base.

6. OF David Dahl
Over six years in the minors Dahl hit .307 with 50 HRs, 221 RBI, and 75 SBs over 1,571 at bats. His K rate (19.8) looks about league average with a below-par walk rate (6.5). In 2016, the Rockies called him up in late July, and he responded with a hot bat for five weeks (.333 with 33 runs, five HRs, 17 RBI, and five SBs over 138 at-bats). David hit .286 in September with two HRs and seven RBI over 84 at bats. He had almost equal success against righties (.316) and lefties (.313) while all of his home runs (7) were hit off of RH pitchers (.534 SLG). He did have more strikeouts (24.9 percent). Dahl missed almost all of 2017 with a prolonged rob injury and a back issue late in the year. If David plays well, he could earn the leadoff spot in the batting order. I like his upside, and he did have a high CTBA at AAA (.433) and in the majors (.429) in 2016. All the making for a .300/20/80/20 hitter in the majors with plenty of upside across the board. The key here is staying healthy. With an ADP of 257 in the early draft season in 15-team leagues, Dahl looks ready to pay off nicely in 2018.

7. 1B Ryan McMahon
2017 was a big year for McMahon. His game started to come forward at AAA (.374 with 46 runs, 14 HRs, 56 RBI, and four SBs over 289 at-bats). Over five years in the minors, Ryan hit .298 with 79 HRs, 392 RBI, and 40 SBs in 2,132 at-bats. His K rate (17.7) in 2017 was improved over his minor league resume (25.2) while posting a favorable walk rate (9.4). McMahon tends to have a high CTBA (.442 in 2017 in the minors) with an average hit rate that points to 25+ home runs if some of his doubles end up in the seats in 2018. The Rockies have him penciled in as the top option at first base unless they decide to bring back Mark Reynolds or sign another player. Either way, McMahon will lose some chances to Ian Desmond when the Rockies decided to have David Dahl and Gerardo Parra in the outfield. Player to follow this spring. With 450+ at-bats, a neutral hitter with 20+ HRs, 65+ RBI, and some steals.

8. C Chris Iannetta
Iannetta has always had a high walk rate (11.9 – 13.6 in his career) with a relatively strong average hit rate. In 2017, his AVH (2.014) was a career high while having a nice rebound in his CTBA (.373). Over 12 years in the majors, Chris .231 with 124 HRs and 445 RBI over 3,120 at-bats. Iannetta was a better player against lefties (.300 with six HRs and ten RBI over 80 at-bats). Over the last two months of the year, Chris hit .286 with nine HRs and 18 RBI over 119 at-bats. He has a fly ball swing (42.5 percent) while setting a career high in his HR/FB rate (21.5). In 208, Iannetta will be in a split role at catcher if Tom Murphy can hit his way on to the major league roster. A chance at a 50/15/50 type season with batting average risk.

OF Gerardo Parra
The Rockies signed Parra to a three-year contract in 2016 for $16 million, but he's been unable to lock down a starting job over the last two seasons. Over the first two months of the year, Gerardo hit .318 with 23 runs, six HRs, and 28 RBI. A quad injury led to a missed month. Parra had a hot 40 games from July 7th to August 27th (.378 with 28 runs, four HRs, 32 RBI over 148 at-bats). His swing ran out of gas over the last month of the year (.188 with five runs, no HRs, and 11 RBI in 96 at-bats). His average hit rate (1.463) moved to a weaker area while Gerardo had a spike in his CTBA (.372). Parra still has a low walk rate (4.7) while beating his career average (17.0) in his K rate (15.8). He did a nice job vs.lefties (.347) even with low production (one HR and 11 RBI over 98 at-bats). Gerardo did shave off some ground ball (46.8 percent) leading a career-high fly ball rate (30.3). HIs HR/FB rate (10.1) is too low to expect a breakout in power. Decent major league bat, but the decline in steals paired with low output in power sets up a fourth outfield role if David Dahl regains his expected form. Possible 450 at-bats with 60+ runs, 10+ HRs, and 50+ RBI, and a handful of steals.

C Tom Murphy
Over six seasons in the minors, Murphy hit .280 with 76 HRs, 277 RBI, and 11 SBs over 1,501 at bats. Tom was expected to have the best opportunity of his career in the majors in 2017, but a broken right forearm led to a wasted season with minimal at-bats in the majors. His 2016 season started with him being on the DL due to a strained oblique as well. He struck out 26.4 percent of the time in the minors with a slightly below league average walk rate (7.3). He had a huge AVH (2.417 in the majors in 2016) over the last four seasons that projects to 30 HRs with 500 at-bats. Tom also had a high CTBA at AAA (.444) and in the majors (.480) in 2016, which was well above his two previous two years. His success in power (19 HRs) in 2016 was repeated over 44 at-bats in the majors (5), but he did strikeout 38.8 percent of the time. As great as he appears, he's an older prospect playing against younger players. Murphy has 20+ HR power in the majors, but he will have batting average if he doesn't get his strikeouts under control. In 2018, he'll play second fiddle to Chris Iannetta at catcher while his power swing will determine his opportunity. With the catching pool having weakness, Tom may become playable at some point in the year.

SS Brendan Rodgers
Over three seasons in the minors, Rodgers hit .301 with 40 HRs, 157 RBI, and 12 SBs in 957 at-bats His K rate (19.6) should be about league average in the majors while needing to improve on his walk rate (6.0). The Rockies selected him third overall in the 2015 MLB June MLB Draft. With about a quarter season at AA (.260 with six HRs and 17 RBI over 150 at-bats), Brendan looks to be about a year away from the majors. His bat has high upside with more growth expected in his approach. Don't dismiss as an option in 2018 if Trevor Story struggled to make contact out of the gate. His average hit rate (1.677) in the minors gives him 25+ HRs early in his career with a nice floor in batting average.
Bench Options
Pat Valaika (IF) – Valaika flashed power in his first season in the majors (.258 with 13 HRs and 40 RBI over 182 at-bats). He had a free-swinging approach (K rate – 27.2 and walk rate – 3.6). Over five years in the minor, Pat hit .261 with 36 HRs, 236 RBI, and 53 SBs in 1,658 at-bats. Viable short-term injury cover at 2B or SS if given an opportunity while his bat will get exposed with an everyday occasion.
Raimel Tapia (OF) – Tapia will compete for a backup outfield job in the majors while being a potential starter in 2019. With the Rockies in 2017, Tapai hit .288 with two HRs, 16 RBI, and five SBs over 160 at-bats. Over seven seasons in the minors, Raimel hit .322 with 39 HRs, 338 RBI, and 132 SBs over 2,559 at bats. His power disappeared in his 367 at-bats at AAA (.362 with two HRs, 44 RBI, and 18 SBs). He needs to improve his success rate (64.4) on the base paths. A little better than a Judy hitter while having the swing to produce an edge in batting average.

Like and share our new Facebook page! Be sure to pay attention to our giveaways for your shot at some sweet prizes!
Pitching Staff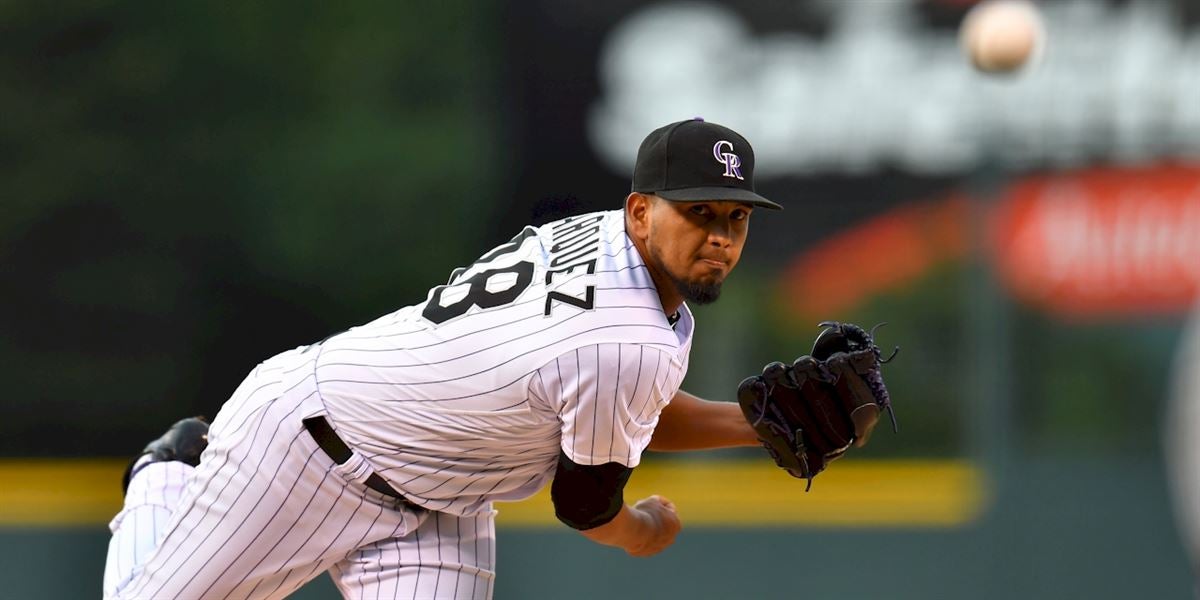 1. SP Jonathan Gray
It took all of three starts (4.38 ERA and nine Ks over 12.1 innings) before Gray landed on the DL for 11 weeks with a broken toe. When he returned in late June, Jon allowed three runs or fewer in 15 of his 17 starts (10-4  with a 3.58 ERA and 103 Ks over 98 innings) thanks to growth in his walk rate (2.1) over this stretch. Gray only had two bad games (12 runs and 21 baserunners over eight innings) over the last three months of the season. Even with a productive ERA (3.67) on the year, he didn't dominate either RH (.274 BAA) or LH (.260 BAA) batters. In 2016, batters only hit .243 against him. HIs AFB (96.3) was the best of his career. Both his slider (.194 BAA) and curveball (.200 BAA) were tough to hit, but the command of his four-seam fastball (.328 BAA with nine HRs over 253 at-bats) did limit his progression forward. Jon did a better job keeping the ball on the ground (48.9 percent) with some improvement in his HR/FB rate (11.1). Gray was a much better pitcher at home (.313 ERA – 4.06 on the road). On the verge of being a winning part of a Fantasy team. Next step: 15 wins with a sub 3.25 ERA and 200+ Ks with a full season of starts with his explosiveness coming from better success in his batting average against.

2. SP German Marquez
There are some nice hidden stats behind Marquez's shady 2017 resume in the majors. His season started with the Rockies with a disaster outing (eight runs and 12 baserunners over four innings) with another shaky performance in his third outing (five runs, eight baserunners, and two HRs over six innings). Over a ten-start stretch from April 30th to June 20th, German went 7-3 with a 2.91 ERA and 52 Ks over 55.2 innings while allowing one run or fewer in seven of those games. After another set back (five runs and nine baserunners over four innings), he threw the ball well again over his next seven starts (4-0 with a 3.18 ERA, .216 BAA, and 47 Ks over 45.1 innings). His stuff lost value over the last seven weeks (5.43 ERA and .323 BAA) due to 14 home runs allowed over 53 innings. Even with this fade, Marquez never allowed over five runs in any game after June 2nd. German needs to improve against both RH (.260 BAA) and LH (.288 BAA). HIs AFB (95.4) has plenty of life, but batters hit .297 against it with 18 HRs allowed over 377 at-bats. He throws a plus curveball (.188 BAA) and a changeup (.226 BAA) with upside. His minor league resume (3.61 ERA) gives him a chance at being a ground ball type pitcher. Colorado will score runs, so double-digit wins and serviceable Ks. Possible sub 4.00 ERA if he cleans up his downside in home runs. Just remember, Marquez made the jump from AA to the majors in 2017 after ten strong innings at AAA (2.70 ERA and 18 Ks).

3. SP Chad Bettis
Bettis missed the first four and half months of 2017 with his battle with testicular cancer. In his nine starts, Chad allowed three runs or fewer in six games while showing risk in home runs (eight over 46.1 innings). Hs AFB (90.3) didn't have the same velocity as 2016 (92.8) while no pitched prove to be an edge. In 2016, Bettis allowed three runs or fewer in 21 of his 32 starts. He allowed five runs or more in seven games. His K rate (6.7) faded in 2016 even with a low walk rate (2.9). Chad had plenty of risk vs. RH batters (.297 with 17 HRs over 374 at-bats – .508 SLG). He had three months of value (April – 3.77 ERA, July – 3.55 ERA, and September – 3.03 ERA) and three months with poor stats (May – 7.02 ERA, July – 6.84, and August (5.19 ERA). Bettis throw an upside changeup (.202 BAA) and solid curveball (.208 BAA). Batters crushed his four-seam fastball (.325 and .510 SLG). Over six years in the minors, he had 27-19 record with a 3.04 ERA and 417 Ks over 420.2 innings. A full offseason should help regain some of his fastball and his K ability (K rate – 5.8 in 2017 and 6.8 before last season). Only a double start option in deep leagues if he's throwing the ball well.

4. SP Tyler Anderson
Anderson was brutal in April (7.71 ERA and .303 BAA) due to nine HRs allowed over 30.1 innings. He did a complete 180 in his next four starts (2.55 ERA and .231 BAA) with strength in Ks (32 over 24.2 innings). A bad start (six runs and 13 baserunners over five innings) led to 3+ months on the DL with a left knee injury that required surgery in late June. Over his last four games, Tyler allowed three runs and 13 baserunners over 22.2 innings with 18 Ks. HIs AFB (92.4) was improved over 2016 (92.0) while Anderson didn't have a pitch of value in 2017. Over five seasons in the minors, Anderson went 25-14 with a 2.45 ERA and 306 Ks over 371.1 innings. He missed all of the 2015 season with a left elbow injury (stress fracture) that didn't require surgery. This same issue cut short his 2013 season. In 2016, Tyler started the year on the DL with an oblique issue. A former first-round draft pick with a low walk rate (2.2). Looks like a gamer while lacking a difference maker pitch. His success will fall on his ability to throw strikes and staying healthy.
5. SP Jeff Hoffman
The Blue Jays drafted Hoffman first overall in the 2014 MLB June Amateur Draft. Over two seasons in the minors, Jeff went 14-17 with a 3.77 ERA and 246 Ks over 272.1 innings. His walk rate (3.0) is close to being major league ready, but it did regress at AAA (3.4). Jeff started off well at AAA over his first seven starts (3.46 ERA and 33 Ks over 35 innings) leading to a call-up to the majors in late May. Hoffman looked explosive over a three-start stretch (three runs and 24 Ks over 20.1 innings), but a disaster outing on June 21st (nine runs and ten baserunners over 3.2 innings) ruined his early gains plus took away his swagger. Over his next ten starts in the majors, Jeff had a 5.95 ERA, .288 BAA, and 11 HRs allowed over 56 innings. His walk rate (3.6) had risk with minimal upside in his Ks (7.4 per nine). Hoffman had a tough time with righties (.314 BAA) and mentally handling Colorado (7.45 ERA with ten HRs allowed over 54.1 innings). His AFB (95.0) lacked location in the strike zone (.311 BAA and .548 SLG) while offering an upside curveball (.133 BAA) and playable slider (.241 BAA). There's talent here, but his downside and poor home park does outweigh any gamble of rostering him as a starting option on draft day. Keep an eye on him as Jeff may develop quickly in 2018.

SP Antonio Senzatela
Over six seasons in the minors, Senzatela went 41-19 with a 2.45 ERA and 362 Ks in 492.2 innings. His walk rate (2.0) has been an asset in each season, but his K rate (6.6) tends to fall short of expectations. He did have growth in strikeouts in 2015 at High A (8.4 per 9). In 2016, a right shoulder injury led to only seven starts (1.82 ERA). Antonio pitched well in spring training to win a starting job last year. In his first ten starts in the majors, Senzatela went 7-1 with a 3.19 ERA and .238 BAA, but he only had 37 Ks in 62 innings. Antonio pitched his way out of the starting rotation over his next five starts (8.54 ERA) after allowing eight HRs in 26.1 innings. Over his last 21 games with only five starts, he had a 4.47 ERA. Senzatela finished with struggles against both righties (.267 BAA) and righties (.240 BAA). His AFB (95.0) is special with batters hitting .263 against his four-seamer. Antonio has a good slider (.250 BAA) with a low volume changeup (.235 BAA) with upside. Just like Jeff Hoffman, Senzatela needs to solve Coors Field (8-3 with a 5.15 ERA and 13 HRs over 78.2 innings) before becoming a trusted Fantasy option on a weekly basis. Enough talent to win games while needing another swing and miss pitch.

SP Kyle Freeland
Freeland earned a full season ride in the majors in 2017 after pitching well over four seasons in the minors (17-12 with a 3.49 ERA and 169 Ks over 247.2 innings). He had a low walk rate (2.2) while having a weak K rate (6.1) on the farm. Kyle issued 55 of his 63 walks to RH batters over 458 at-bats. Both righties (.284 BAA) and lefties (.283 BAA) had success. Over his first 24 games, Freeland went 11-8 with a 3.71 ERA and 89 Ks over 133.1 innings. His stuff lost value over the last five weeks of the year (6.35 ERA and .387 BAA). Kyle has a league average fastball (93.0). He threw his four-seam fastball (.254 BAA), sinker (.321 BAA), and cutter (.260 BAA) a combined 88.6 percent of the time. Freeland had success with his a low volume slider (.167 BAA). There's a good major league arm here, but he needs to throw more strikes (walk rate – 3.6) while developing his offspeed pitches.

CL Wade Davis
Davis converted 32 of his 33 saves chances, but he had more erosion in his walk rate (4.3). After pitching 17.1 shutout innings to start the year with only six hits allowed and 22 Ks, Kyle didn't look closer-worthy over his next 23 games (4.43 ERA and 1.746 WHIP). He regained his form over the last 18 games of the year (1.89 ERA and .164 BAA). Davis held a big edge over lefties (.156 BAA). He allowed five of his six HRs to RH batters with a low BAA (.211). HIs AFB (94.7) had fade over 2015 (96.5) and 2016 (95.4). He threw a plus cutter (.177 BAA) and curveball (.186 BAA) while batters struggled to hit his four-seam fastball (.243 BAA). The slide in velocity and rise in walks could be a sign of an underlying elbow injury. Last season the Rockies created plenty of save chances (47 saves), so Wade should be a viable top ten closer with his upside in Ks tied to a rebound in his command.

RP Jake McGee
McGee had a rebound in his walk rate (2.5), and he was tougher to hit (.224) after a down 2016 season (4.73 ERA and 1.577 WHIP). After a couple down outing to start the year (7.36 ERA), Jake pitched well enough to close over the next 22 games (one run allowed over 23.2 innings with 25 Ks). Over his last 35 games, McGee allowed three runs in four games leading to a high ERA (5.70 ERA). He handled righties (.203 BAA) with risk vs. LH batters (.260 BAA). His AFB (95.4) was better than 2016 (94.0) while failing well below 2014 (97.4). Jake almost exclusively relies on his four-seam fastball (.218 BAA), which he threw 92.8 percent of the time. Tough to trust if asked to close.

RP Bryan Shaw
Shaw led the American League in appearances in three of the last four seasons while compiling a 3.13 ERA over seven years in the majors. Bryan had a rebound in his walk rate (2.6) while beating his career average (8.0) in his K rate (8.6). Over the first 39 games, Shaw had a 2.31 ERA with 35 Ks over 39 innings, but he lost his way over the second half of the year (4.78 ERA). All five of his home runs allowed came against RH batters while not holding an edge in BAA (.254). Shaw relies on his cutter (.242 BAA) as his number one pitch while offering plus velocity (94.6). His slider (.319 BAA) was much weaker than 2016 (.227 BAA). Decent bullpen arm with plenty of innings under his belt over the last five seasons. No chance of closing and his arm could falter in the open spaces of Coors Field.
References
Baseball America Prospect Handbook. (n.d.).
Baseball-Reference. (n.d.). Retrieved from http://www.baseball-reference.com/
Brooksbaseball.net. (n.d.). Retrieved from http://www.brooksbaseball.net/
Fangraphs. (n.d.). Retrieved from http://www.fangraphs.com/
Roster Resource. (n.d.). Retrieved from http://www.rosterresource.com/mlb
Rotowire. (n.d.). Retrieved from http://www.rotowire.com/
RotoWorld. (n.d.). Retrieved from http://www.rotoworld.com/
2018 Fantasy Baseball Team Outlooks