Pittsburgh Pirates
Last updated: March 23
The Pirates made the playoffs over three straight years from 1990 to 1992 with Barry Bonds leading the show. Without Bonds, it took 21 seasons of rebuilding to be a contender again. Pittsburgh made the playoffs again in 2014 and 2015. This time the key player was Andrew McCutchen.
In a similar path, Andrew was traded to the Giants for P Kyle Crick and OF Bryan Reynolds. Now the question is: will it take another 19 more seasons to be a contender in the National League?
The Pirates slipped to 28th in runs scored (668) and 29th in home runs (151). The only change in the starting lineup outside the system was the acquisition of 3B Colin Moran who came with SP Joe Musgrove and RP Michael Feliz from Houston for SP Gerrit Cole. Pittsburgh signed OF Daniel Nava to a minor league contract in February.
The Pirates acquired Corey Dickerson in a trade in February after the Rays released him.
Compared to their last playoff season in 2015, the Pirates allowed 135 more runs in 2017 (731). They slipped to 13th in ERA (4.22) and 10th in bullpen ERA (3.84).
Felipe Rivero emerged as s shutdown closer in 2017, which is one less inning Pittsburgh will have to worry about going forward.
The starting rotation has some live arms with upside. The Pirates need SP Tyler Glasnow to throw more strikes allowing him to develop into a top of the rotation arm. SP Joe Musgrove should prosper in the NL thanks to elite command. Overall, Pittsburgh has the talent to be competitive on the pitching side if their top arms stay healthy and produce as expected.
The offensive has weakness in multiple positions setting the stage for many low scoring games and a third straight losing record.
Starting Lineup
1. OF Starling Marte
Marte killed many Fantasy team last year when he was suspended for 80 games in mid-April for failing a drug test. Over the first 13 games of the season, Starling hit .241 with seven runs, two HRs, seven RBI, and two SBs in 54 at-bats. His bat was relatively quiet over his first 53 games after his vacation (.249 with 32 runs, four HRs, 16 RBI, and 14 SBs in 213 at-bats). He ended the year on an 11-game hitting streak (.452 with nine runs, one HR, eight RBI, and five SBs in 42 at-bats). His average hit rate (1.376) was a career low as well as his CTBA (.346) suggesting a lower hitting profile with less OJ in his swing. Despite 17 Ks in his first 54 at-bats, Marte had his lowest K rate (18.6) of his career with a bump in his walk rate (5.9). His swing lost all value against LH pitching (.162 with no HRs and two RBI over 74 at-bats). Over the winter, Starling suffered an injury to his left hand. The Pirates expect him to be ready for spring training. Trusting his power is going to be difficult based on his fade in HRs in 2016 (9) and 2017 (7). His skill set doesn't project well as number three hitter, but he may earn that job by default in 2018. I view him as 15/40 type player with upside in runs and batting average if he regains his previous form. His draft value in 2018 (ADP – 47) in 15-team leagues is much more favorable. Marte is a good hitter, and he does have more upside in all areas.
2. 2B Josh Harrison
Harrison fell short of expectation last season due to a hand injury in September that led to four missed weeks. Before the All-Star break, he hit .280 with 38 runs, ten HRs, 29 RBI, and ten SBs in 321 at-bats. A short July (.226 with two HRs and six RBI over 93 at-bats) paired with his injury led to an empty feeling down the stretch in Fantasy leagues. Josh played at a higher level against lefties (.286 with six HRs and 11 RBI over 112 at-bats). He continues to have a short walk rate (5.2 – career high) while striking out the most of his career (16.5 percent). HIs average hit rate (1.591) moved in line with his best power seasons. Both his RBI rate (12) and RBI chances (284) finished in a weak area. Harrison had his second-highest HR/FB rate (10.0) of his career while also hitting more fly balls (40.8 percent – 37.8 in his career). At best, a .280 hitter with a 15/20 skill set with 550+ at-bats. His RBI will be short, and Josh doesn't have the skill set to bat leadoff if he's not swinging a hot bat.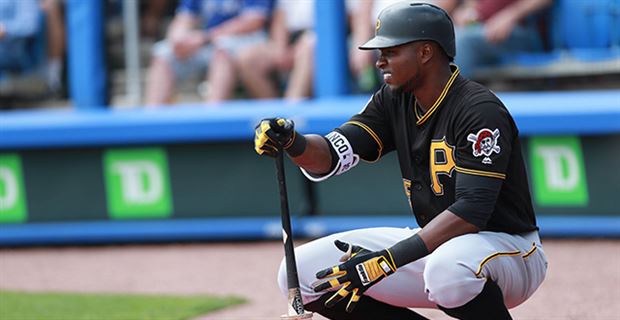 3. OF Gregory Polanco
Polanco had a breakout type season in 2017 despite playing through left shoulder and left knee injuries that required platelet-rich plasma injections after the 2016 season. Last year Gregory battled a groin issue in April. He landed on the DL in May with a hamstring injury plus missed sometime late in the month was an ankle issue. His hamstring injury led to second and third trips on the DL in July and August. Polanco didn't have over 93 at-bats in any month. Over the last 28 games of the year, Gregory hit .191 with two HRs and six RBI in 89 at-bats. His hamstring injury led to only one stolen base over the last four months of the season. Through it all, Polanco had the lowest K rate (14.6) of his career while losing value in his walk rate (6.6). In 2016, Polanco had a huge step forward in his AVH (1.794) leading to a career high in HRs (22). Over the first two months of the season, he hit .310 with eight HRs, 36 RBI, and seven SBs. His batting average regressed in each of his last four months (June – .272, July – .243, August – .221, and September – .191). In July and August, Polanco had 11 HRs and 35 RBI over 165 at bats. His swing path had improved over the last two seasons leading to regression in his GB rate (45.4 percent in 2015 and 38.8 in 2016) and a higher FB rate (37.1). Gregory moved his HR/FB rate to 14.4 percent. Over six years in the minors, he hit .285 with 41 HRs, 289 RBI, and 143 SBs over 1769 at bats. His improvement in power and RBI rate gives him a chance to bat cleanup in 2018. Polanco should steal more bases based on his minor-league resume (143 over 1,769 at-bats). Next step: .280+ with 90+ runs, 25+ HRs, 90+ RBI, and 30+ SBs.
4. 1B Josh Bell
Bell wandered through his minor league career with minimal power (44 HRs over 1,856 at-bats) while sporting a low AVH (1.492). After a quiet first two weeks in the majors (.200 with no HRs and one RBI over 40 at-bats), Josh flashed his possible power (four HRs and seven RBI) over the last 30 at-bats in April. After a short May (.198 with five HRs and 13 RBI) over 106 at-bats), Bell played at a high level over the next three months (.288 with 44 runs, 14 HRs, and 56 RBI over 278 at-bats). He brought the bus home with a boring September (.221 with three HRs and 13 RBI). Josh had power from both sides of the plate (RH – 18 HRs and 69 RBI over 421 at-bats and LH – eight HRs and 21 RBI over 128 at-bats). His walk rate (10.7) was better than his minor league resume (9.9) with a favorable K rate (18.9). Bell had a fade in his CTBA (.324) compared to his career in the minors (.362) while posting a nice average hit rate (1.829). He still hits a high volume of ground balls (51.1 percent). Josh had a HR/FB rate (19.1) that was almost double his best year in the minors (2013 – 9.6). There's a lot to like here with more upside on the way with growth in his swing path. Bell has the makings of a .300+ hitter with 100+ runs, 30+ HRs, 100+ RBI, and double digits steal. I expect a slight pullback in power with a jump in batting average while still being the best player on the Pirates in 2018.
5. OF Corey Dickerson
Dickerson had a rebound in his CTBA (.381), which led to a rise in his batting average. His AVH (1.735) was at the bottom of his major league range, but high enough to deliver a career high in HRs (27). His RBI rate (12) was extremely weak when compared to 2014 (19) and 2015 (19). Corey had a below league average approach (K rate – 24.2 and walk rate – 5.6) while both numbers are fading slightly. Dickerson had the best opportunity of his career leading to career highs in at-bats (588), runs (84), and hits (166). He hit .308 vs. lefties, but he had a weaker approach (six walks and 43 K over 156 at bats. Corey was a much better hitter before the All-Star break (.312 with 17 HRs and 42 RBI over 343 at-bats) compared to his second half (.241 with ten HRs and 20 RBI over 245 at-bats). The change in the Pirates will give Dickerson a chance at a middle of an order opportunity. He needs to be a much better hitter with runners on base to keep the job for the long haul. Corey is a .270 type hitter with 80/20/80 skill set.
6. 3B Colin Moran
Moran will compete for the starting third base job in Pittsburgh. Over five seasons in the minors, he hit .290 with 48 HRs, 279 RBI, and six SBs in 1,764 at-bats. Colin held his own against AAA pitching over the last two years (.279 with 28 HRs and 132 RBI over 761 at-bats). His K rate (18.4) is better than the league average with just over a league average walk rate (8.8). Moran should hit for average with more experience in the majors while needing to prove he can handle major league LH pitching. Player to follow this spring while expecting him to get 450+ at-bats in the majors. A possible streaky hitter with short-term value in power.
7. C Francisco Cervelli
There's isn't much of Cervelli as a Fantasy option. He is a career .275 hitter in the majors with 23 HRs, 199 RBI, and 13 SBs in 1,730 at-bats. He's never hit over seven HRs in any year in the big leagues. Francisco had his best production in 2015 (.295 with seven HRs and 43 RBI in 451 at-bats). In 2017, he had fade in his K rate (21.4) while doing a nice job taking walks (10.5 percent). Cervelli landed on the DL with a concussion in early June. His season ended in mid-August with a quad injury. Only an injury cover in deep leagues if he's hitting for average.
8. SS Jody Mercer
Mercer has been consistently mediocre over the last four years in the majors. He's settled into being a 15/60 type player at short with no real value in steals. Jodry had a career-high walk rate (9.1) in 2017 while his K rate (15.8) fell in line with his career resume. His best run last season came in June and July (.275 with five HRs and 26 RBI over 167 at-bats). He had a career-high HR/FB rate (10.9) with a ground ball swing path (48.3). Benchwarmer while making slight gains each year.
OF Austin Meadows
Despite being in the Pirates' system for five seasons, Meadows only had one full year in his minor league resume (2015 – .310 with seven HRs, 55 RBI, and 21 SBs over 533 at-bats). He's a career .292 hitter with 34 HRs, 186 RBI, and 54 SBs over 1,500 at-bats. In 2017, Austin battled a hamstring injury and an oblique issue for much of last year. His game doesn't look major league ready based on his two years at AAA (.239 with ten HRs, 60 RBI, and 19 SBs over 410 at-bats). Meadows will take walks (9.0 percent) with a low K rate (16.9). Austin is a former first-round draft pick (2013 – 9th overall) with enough talent to make a major step forward in his first year in the majors. Possible best leadoff option on the team with a skill set to hit double-digit home runs and steal 30+ bags. Worth an investment if he's not priced over his opportunity and injury risk. Nice low-end gamble in an NL only format.
Update: The Pirates weren't ready to give Meadows a major league opportunity once Corey Dickerson became available. Austin will start the year at AAA while trying to hit his way back to the big league club.
CI David Freese
With Josh Bell stiff arming Freese off first base, he had to earn the majority of at-bats at third. For the fifth straight year, David failed to get over 465 at-bats. His average hit rate (1.411) remains in a restricting power area. Freese had a career-high walk rate (11.5) with a career average K rate (23.1). He played well vs. lefties (.308 with three HRs and 15 RBI). David still hits way too many ground balls (57.0 percent) with a shallow fly ball rate (22.6). His HR/FB rate (14.1) is strong enough to deliver 20+ HRs, but he needs to hit 50 percent more balls in the air. A veteran player who will try to hold off Colin Moran for playing time at third base.
SS Cole Tucker
The Pirates selected Tucker 24th overall in the 2014 MLB June Amateur Draft out of high school. Over four seasons in the minors, Cole hit .270 with 12 HRs, 115 RBI, and 91 SBs in 1,254 at-bats. His best success came in 2017 at High A (.285 with four HRs, 32 RBI, and 36 SBs in 277 at-bats). Cole has an above average walk rate (9.1) with a reasonable K rate (18.1). With 167 at-bats at AA last year, Tucker should be able to make it to AAA in 2018. Possible out in speed if his game comes together quicker than expected.
OF Jordan Luplow
Despite only hitting 28 HRs over his first 864 at-bats in the minors, Luplow still had upside in his average hit rate (1.665). His power emerged in 2017 between AA and AAA (.302 with 23 HRs, 56 RBI, and five SBs in 414 at-bats). Jordan has a top of the order walk rate (11.8) and average favoring K rate (16.7). Over four seasons in the minors, Luplow hit .275 with 51 HRs, 207 RBI, and 32 SBs in 1,378 at-bats. This season he'll compete for the starting left field job in Pittsburgh. Possible handcuff with Austin Meadows.
Update: The addition of Corey Dickerson closes any window for Luplow to get at-bats in the majors without an injury or two.
Bench Options
Elias Diaz (C) – Diaz is the favorite to win the starting catching job in Pittsburgh. Over nine seasons in the minors, Diaz hit .259 with 27 HRs, 286 RBI, and 23 SBs in 2,222 at-bats. The Pirates needs someone in their system to emerge as a lead catcher, but they'll need a trade to fill that void.
Sean Rodriguez (IF) – Rodriguez will be the super utility player again in 2018 after spending most of last year with the Braves. Over three seasons with the Pirates, Sean hit .246 with 25 HRs, 78 RBI, and four SBs in 619 at-bats. Over this span, his K rate came in at 29.5 percent.
Adam Frazier (OF) – Frazier was able to earn 406 at-bats with Pittsburgh in 2017 leading to a .276 BAA with six HRs, 53 RBI, and nine SBs. His walk rate (7.9) was league average with a low K rate (12.6). Over five seasons in the minors, Adam hit .300 with three HRs, 122 RBI, and 48 SBs in 1,364 at-bats. His experience in the majors may give him the inside track for the starting left field job with the Pirates.
Pitching Staff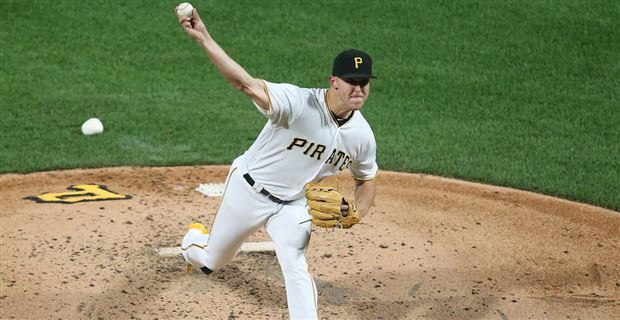 1. SP Jameson Taillon
Taillon threw the ball well in April (2-0 with a 2.08 ERA and 24 Ks over 30.1 innings). After one bad start in May (six runs and nine baserunners over five innings), Jamison landed on the DL for 39 days after being treated for testicular cancer. His stuff played well over his next seven starts (2.87 ERA) despite showing risk in his BAA (.286) and WHIP (1.407). Taillon buried Fantasy owners with two straight disaster starts (17 runs and 22 baserunners over 6.2 innings) leading to a mediocre finish to the year (4.00 ERA). His walk rate (3.1) was much weaker than 2016 (1.5) with a bump in his K rate (8.4). Jameson struggled with LH batters (.313 BAA) while posting a poor BB:SO ratio (25:41). His AFB (95.8) was a career high. Taillon only had one pitch of value in 2017 (curveball –  .245 BAA) with more success in 2016 (.181 BAA). His changeup (.135 BAA) was much better in the previous season. Upside talent, but he's never pitched over 170 innings in any season in his pro career. His stuff should produce an ERA under 3.50 with a rebound in his walk rate. If you want to bet on talent, Taillon falls in that category.

2. SP Tyler Glasnow
Glasnow made the Pirates starting rotation out of spring training. They gave him 12 starts to hang himself (7.45 ERA. 326 BAA, 1.914 WHIP, and 12 HRs over 54.1 innings). Tyler lacked confidence and command (6.4 walks per nine) in the majors. His AFB (95.2) had plenty of life while his curveball (.206 BAA) had winning upside. Tyler was again electric at AAA (9-2 with a 2.03 ERA and 140 Ks over 93.1 innings). He even showed growth in his walk rate (3.1). Over six years in the minors, Glasnow went 45-21 with a 2.02 ERA and 785 Ks over 593.1 innings while dominating at AAA (19-6 with a 1.95 ERA and 321 Ks over 245 innings). In September back in the majors, Tyler issued 15 walks over 7.2 innings leading to a 9.39 ERA. There is greatness within this arm, but his disaster command does force many Fantasy owners to wait on the sidelines until he throws more strikes. Priced to pay off in a big way in 2018 (ADP of 368 in the early drafts in 15-team leagues). Buy the upside in strikeouts while managing his downside risk if he struggles out of the gate.

3. SP Joe Musgrove
Musgrove just wasn't ready to be a relevant major league starter in 2017. Over his first 11 starts, Joe went 4-5 with a 4.81 ERA, 1.412 WHIP, and nine HRs allowed over 58 innings. He did flash at times over that stretch (two runs or fewer allowed in six games), but his disaster games crushed his stats. Two bad starts later (14 runs, 21 baserunners, and five HRs over 9.1 innings), Musgrove was back at AAA for just one start (seven shutout innings with one hit and seven Ks). Houston gave him two more starts in July (6.75 ERA) before shipping to the bullpen for the rest of the year. As a reliever, Joe pitched at a high level (1.44 ERA with 31 Ks over 31.1 innings). In the end, his walk rate (2.3) and K rate (8.1) just about match 2016 in the majors while his minor league walk rate (1.1) points to better command. Musgrove didn't have an edge over RH (.285 BAA) or LH (.268 BAA) batters. His AFB (93.8) was a career high. Both his slider (.183 BAA) and his curveball (.200 BAA) graded favorably with the Astros. Over seven seasons in the minors, Joe went 29-11 with a 2.77 ERA and 327 Ks over 344.1 innings while pitching well at AAA (3.41 ERA and 64 Ks over 66 innings). The move to Pittsburgh should work in his favor where double-digit wins, a sub 3.75 ERA, and 150+ Ks should be in the cards with a full season of starts.

4. SP Chad Kuhl
Kuhl had a huge step back in his walk rate (4.1 – 2.5 in 2016), which led to many off nights and a losing ERA (4.35) and WHIP (1.468). Over his first 15 starts, Chad allowed two runs or fewer in nine games while rarely pitching more than five innings. Even with success in 60 percent of his starts over this period, he still had a poor ERA (5.58) thanks to three disaster outings (20 runs and 31 baserunners over ten innings). Over the last three months of the season, Kuhl still walked too many batters (4.5 per nine), but he was tougher to hit (.245) leading to a nice ERA (3.38) and more strikeouts (83 over 88 innings). He struggled the most with lefties (.285 BAA and ten HRs over 284 at-bats). His AFB (96.9) had plenty of life, but he relied more on his sinker that was easy to hit (.300 BAA). His changeup (.397 BAA) still needs work while Kuhl had success with his slider (.185 BAA) and curveball (.097 BAA). In 2016 in the majors, Chad didn't throw a curveball. Over four seasons in the minors, he went 33-17 with a 2.75 ERA and 300 Ks over 445 innings. His K rate (6.1) on the farm gave him a soft tosser feel, but that isn't the case. He did have much better command in the minors (2.1 walks per nine). Kuhl pitched bad enough with too many walks to be overlooked by many Fantasy owners in 2018. I view him as a back-end target with a nice step forward in his command. Excellent bet to have an ERA in the mid 3.50 area with strength in his WHIP and 150+ Ks with 175+ innings pitched. Chad can't get a huge bump in wins without pitching deeper in games, which will come with better command.

5. SP Ivan Nova
Since arriving in Pittsburgh, Nova has done a much better job throwing first pitch strikes (2016 – 66.9 percent and 2017 – 64.4). Last year his better command (1.7 walks per nine) didn't help his K rate (6.3) while leaving too many hittable balls in the strike zone (1.4 homers per nine). Ivan pitched great in April (3-2 with a 1.50 ERA, one walk, and 22 Ks over 36 innings). His season started to get away from him in June when his mistakes started landing in the seats. Over an 18-start stretch, Nova allowed 24 HRs over 103 innings leading to a 5.16 ERA and a .284 BAA. Over this span, he allowed three runs or fewer in ten starts. Ivan had no answer to lefties (.309 with 16 HRs over 343 at-bats). His best games came at home (8-2 with a 2.80 ERA) while crushing Fantasy dreams on the road (3-12 with a 5.02 ERA). His AFB (93.6) fell in line with his last four seasons. Nova still has a plus curveball (.143 BAA), but batters tattooed every other pitch (four-seam fastball – .305, sinker – .301, changeup – .323 , and slider .400 BAA). HIs HR/FB rate (15.8) has been high in the last two seasons (16.4 in 2016). Ivan can have stretches or productive innings when he's throwing strikes. When he needs to rely on any other than his curveball to get batters out, he's going to have downside risk. May surprise, but my bet says over a 4.00 ERA and possible job loss risk. Only a back-end inning eater with low K ability and minimal wins.

SP Trevor Williams
Over four seasons in the minors, Williams went 25-25 with a 3.10 ERA and 307 Ks over 424.1 innings. He pitched his best ball at AAA in 2016 (9-6 with a 2.53 ERA and 74 Ks over 110.1 innings). Trevor tends to have a low walk rate (2.5) with minimal upside in Ks (6.5 per nine). Williams made the Pirates opening day roster out of spring training in 2017. He struggled in relief in April and his first major league start (7.98 ERA, 1.841 WHIP, and four HRs allowed over 14.2 innings). Pittsburgh showed confidence in him by sticking with him in the rotation. Over his next 15 starts, Trevor had a 3.66 ERA and 60 Ks over 86 innings. One disaster game (eight runs and nine baserunners over three innings) over his last eight contest led to a 3.83 ERA. Williams had more risk against LH batters (.286 BAA). His AFB (93.3) is about league average. Batters only hit .237 against his four-seam fastball with some success with his slider (.250 BAA). Trevor is a groundball pitcher (48.0 percent) with low upside in Ks. He needs his changeup to improve to help his chances long term as a starting option. Not a sexy back of the rotation option for a Fantasy team, but he will get outs and pitch to a playable ERA. More of a double start play if he's pitching well.

SP Steven Brault
At age 25, Brault still hasn't had a reasonable chance to pitch in the starting rotation in the majors. Over five seasons in the minors, he went 37-26 with a 2.56 ERA and 482 Ks over 540.2 innings. Steven dominated at High A and AA in 2015 (13-4 with a 2.43 ERA and 125 Ks over 155.2 innings) while finding his rhythm at AAA in 2017 (10-5 with a 1.94 ERA and 109 Ks over 120.1 innings). His walk rate (2.7) is respectable in the minors, but it did show risk at AAA (3.7). As a reliever for the Pirates in July and August, Brault posted a 5.93 ERA and .328 BAA over 13.2 innings). He looked much better when given three starts early in September (2.81 ERA and .220 BAA) before struggling on the last day of the year (four runs and ten baserunners over two innings). In the majors, Steven struggled RH batters (.303 BAA) while offering a high walk rate (3.6) and low K rate (6.0). His AFB (92.6) ranks just below league average while offering a slider (.227 BAA) and changeup (.150 BAA) with upside. Not dead in the water, but it may take him a year in the majors before Brault can help a Fantasy team. Only a late flier in deep leagues if he's pitching in the starting rotation.
SP Mitch Keller
The Pirates drafted Keller in the second round in the 2014 MLB June Amateur Draft out of high school. Over four seasons in the minors, Mitch has a 2.79 ERA and 308 Ks in 293.1 innings. His walk rate (2.5) and K rate (9.5) are both in an area where he'll have success in the majors. In 2017, he made six starts at AA (3.12 ERA and 45 Ks over 34.2 innings) putting him on track to pitch at AAA in early 2018. His fastball sits in the mid-90s with an upside curveball and a developing changeup. Player to follow early in 2018, but I can't see him pitching much more than 150 innings.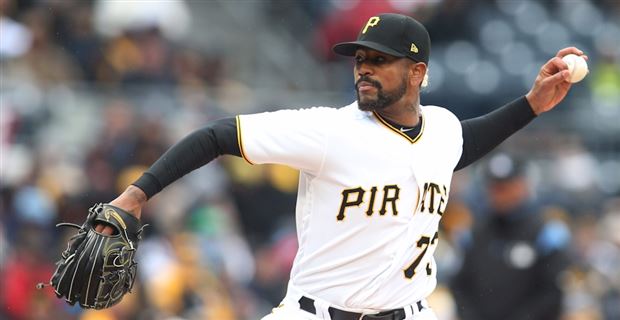 CL Felipe Rivero
Rivero came through the minors as a starter. Over seven seasons, he posted a 3.49 RRA and 370 Ks over 446.1 innings. He rarely offered upside in Ks (K rate – 7.5) while posting a respectable walk rate (2.8). The Nationals moved him to the bullpen in 2015 where his game started to emerge. Over 197 games in the majors in relief, Felipe has a 2.87 ERA and 223 Ks over 200.2 innings. He converted 21 of his 23 save chances in 2017. His K rate (10.5) was strong for the second straight season with a much-improved walk rate (2.4). He owned lefties (.082 BAA) with a high level of success vs. RH batters (.211 BAA). His only struggled came in August (5.40 ERA and 1.543) when he served up a couple of HRs over 11.2 innings. His AFB (98.9) was the best of his career in 2017 while jumping more than two mph from 2016 (96.7). All four of his pitches were tough to hit (four-seam fastball – .201 BAA, changeup – .163 BAA, curveball – .074 BAA, and slider – .033 BAA). An improving skill set with more upside in Ks with continued growth in command. The Pirates will play many low scoring tight games creating reasonable save chances for Felipe. Possible 100+ Ks with 40+ saves and an edge in ERA and WHIP.

RP Michael Feliz
Fantasy baseball is hard enough to win when surfing your way through the starting pitching pool. Last year Feliz came into the year with a nice foundation in his K rate (13.2) with some growth in his walk rate (3.0). His only issue was ten HRs allowed over 65 innings (1.4 per nine). Michael made sense as a backend bullpen arm in an AL-only league due to his strikeouts and his potential to pick up vulture wins and saves. Over the first 15 games of 2017, he looked the part of an upside reliever (1.69 ERA and 21 Ks over 16 innings). From May 19th to July 31st, Feliz was a disaster (6.91 ERA, .303 BAA, and five HRs over 28.2 innings). He landed on the DL in August with a right shoulder injury that pretty much ended his year. His AFB (96.7) was the best of his career, but batter hit .299 against it with a huge slugging percentage (.504). Michael also throws an upside slider (.227 BAA). In the end, his K rate (13.1) was elite while still offering disaster with home runs (1.5 per nine). Michael has the two pitches needed to close, but he needs to locate his fastball better in and out of the strike zone. Ray Savage may be able to correct his shortfalls.

RP Kyle Crick
Crick struggled to throw strikes in his seven seasons in the minors (walk rate – 6.0), which led to him repeating AA in three different years. He has a career 3.37 ERA in the minors with 540 Ks in 478.2 innings, but Kyle had tough sledding at AA (4.19 ERA and 6.7 walks per nine). The move to the bullpen at AAA in 2017 seemed to unlock some of his command issues. Over 24 games, Crick has a 2.76 ERA and 39 Ks over 29.1 innings while having the lowest walk rate (4.0) of his career. With San Fran, he threw fewer strikes (4.7 walks per nine) leading to a fade in his K rate (7.8). Batters only hit .191 against him in the majors, so he is tough to hit when they have to swing. His AFB (95.9) gained life in the bullpen. Both his four-seam fastball (.188 BAA) and slider (.130 BAA) offer plus value. There's an upside arm here, but he's miles away in his command. Don't dismiss as better mechanics could lead to dramatic upside.
References
Baseball America Prospect Handbook. (n.d.).
Baseball-Reference. (n.d.). Retrieved from http://www.baseball-reference.com/
Brooksbaseball.net. (n.d.). Retrieved from http://www.brooksbaseball.net/
Fangraphs. (n.d.). Retrieved from http://www.fangraphs.com/
Roster Resource. (n.d.). Retrieved from http://www.rosterresource.com/mlb
Rotowire. (n.d.). Retrieved from http://www.rotowire.com/
RotoWorld. (n.d.). Retrieved from http://www.rotoworld.com/