The Brewers were a fun team to follow in 2017, but they still missed the playoffs for the sixth straight season.
They hit 224 home runs (7th) leading to 61 more runs scored than 2016 (671). The Brewers placed 9th in ERA (4.00) and bullpen ERA (3.83).
The 9th inning was much stronger with the emergence of Corey Knebel (1.78 ERA and 39 saves) as their closer.
The only losses in the offseason were 2B Neil Walker, RP Anthony Swarzak, and SP Matt Garza. The Brewers signed OF Lorenzo Cain and SP Jhoulys Chacin.
They grabbed a piece of the collapsing Miami franchise by acquiring OF Christian Yelich in a trade for OF Lewis Brinson, SS Isan Diaz, OF Monte Harrison, and P Jordan Yamamoto.
Milwaukee would love to add a front-end arm to help replace the loss of Jimmy Nelson who will miss the first couple of months of the season with a right shoulder injury that required surgery last September.
The starting rotation has plenty of downside heading into 2018 while the bullpen should be competitive in the 8th and 9th inning.
As of early February, the Brewers have one extra option to start in the outfield setting up a possible trade involving Domingo Santana for starting pitching help.
Milwaukee will score runs, but multiple players did overachieve in 2017 suggesting some regression in power. I don't see the Brewers having a winning season without adding two front-end arms to the starting rotation.
Starting Lineup

1. OF Christian Yelich
Last season Yelich had almost all of his at-bats hitting third in the batting order behind Giancarlo Stanton. Christian scored the most runs (100) of his career despite Stanton hitting only 12 HRs behind him in the batting order. Yelich had a career-high walk rate (11.5) with a slight improvement in his K rate (19.7). Most of his production came against RH pitching (.288 with 15 HRs, 63 RBI, and 14 SBs over 444 at-bats). Christian played his best ball in July and August (.303 with nine HRs, 33 RBI, and five SBs over 211 at-bats. His swing path still delivers too many groundballs (55.4 percent in 2017 and 59.1 in his career), but he did show growth in this area over the last two seasons. Yelich had fade in his HR/FB rate (15.3) after breaking out in this area in 2016 (23.6). His speed (16 SBs) had a rebound in 2017 while a change to Milwaukee should lead to more chance. In 2017, Miami attempted 121 stolen bases compared to 169 by the Brewers. Overall, his average hit rate (1.553) doesn't suggest a breakout in power without adding more loft to his swing. I expect a much better batting average based on him coming off a career low in his CTBA (.366). Nice .300 hitter with a 20/20 skill set and more upside in all areas. His value in runs and RBI will be determined by his slot in the batting order.

2. OF Lorenzo Cain
Cain picked up a cool $80 million in the offseason, which is a big deal considering how many players are still waiting to sign for the 2018 season. Lorenzo has a tweener skill set where no part of his game offers an impact edge. His AVH (1.469) remains weak, and it restricts his chance of breaking through with 20+ HRs. Over the last four years, his CTBA has been in a tight range (.362 to .391) while regressing in each season. With the Royals, he had short RBI chances in just about each season played. In 2017, Cain struggled with runners on base (12 percent RBI rate). His walk rate (8.4) beat the league average for the first time for a full season while posting his lowest K rate (15.5) of his career. After a slow start in April and May (.257 with two HRs, ten RBI, and 12 SBs), Lorenzo was a much better player over the last four months of the year (.320 with 67 runs, 13 HRs, 39 RBI, and 14 SBs over 397 at-bats). Just like ChristianYelich, Cain should be more active on the base paths in 2018. His HR/FB rate (9.4) remains short with a low volume of fly balls (32.9 in 2017 and 30.5 in his career). He's settled into being a 15/25 type player with a chance to offer an edge in runs and batting average. His RBI production will be dictated by his slot in the batting order. I expect him to hit first or second in the Brewers' starting lineup while Yelich could fall anywhere between leadoff and the third slot.

3. OF Ryan Braun
Braun played well in April (.287 with 17 runs, seven HRs, 18 RBI, and four SBs) before missing most of the next two months with a calf injury plus a forearm issue in early May. His game was only mediocre over his last 74 games of the season (.271 with 39 runs, ten HRs, 33 RBI, and eight SBs in 277 at-bats). His approach remained intact (K rate – 17.9 and walk rate – 8.9) while his average hit rate (1.814) came in at his highest level since 2012. Compared to 2016, Braun had a spike in his ground ball rate (49.2 – 42.9 in 2016 and 46.0 in his career) with a step back in his HR/FB rate (17.3 – 19.0 in his career). It's been five seasons since Ryan scored over 100 runs or driven 100 RBI. More of an 80/25/80/10 guy going forward, which is priced into his lower draft value. The Brewers' starting lineup does have more talent at the top of the lineup in 2018, so don't dismiss this veteran bat even with some injury risk.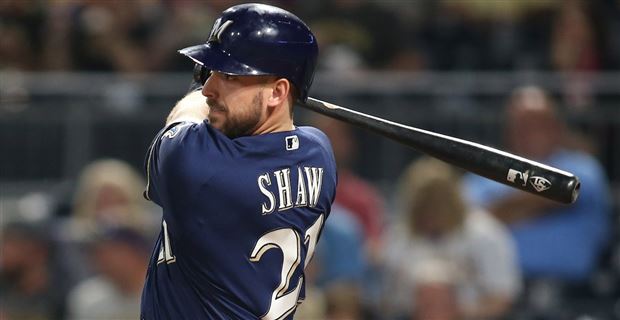 4. 3B Travis Shaw
When looking at 2017, Shaw finished a similar output as his 2015 success with the Red Sox projected over a full season of at-bats (74 runs, 31 HRs, 87 RBI). Travis added more speed (ten SBs) to his resume with growth in his K rate (22.8) and his walk rate (9.9). He had the highest average hit rate (1.878) of his career with a jump in his CTBA (.368). Shaw hit well enough against lefties (.250 with five HRs and 22 RBI over 140 at-bats) to keep him in the lineup every day. Just like 2016, his best run came over the first four months of the year (.294 with 60 runs, 24 HRs, and 74 RBI, and eight SBs in 357 at-bats). Travis hit .232 over his last 181 at-bats with seven HRs and 27 RBI. Shaw tends to have fly ball swing (42.7 in 2015 and 44.6 in 2016), which wasn't the case last year (37.6). His jump in power was due to a spike in his HR/FB rate (20.5) which almost doubled 2016 (10.3). At the very least, Travis raised his bar to where he can be considered a 25/90 type player as long as he keeps a favorable position in the batting order and hits vs. LH pitching. I expect a slightly negative batting average with complementary speed.

5. 1B Eric Thames
Thames smashed his way through the first five games of the season (.333 with 13 HRs and 25 RBI over 17 at-bats) setting the stage for what Fantasy owners believe would be an impact year. After a disaster 18 games (.135 with one HRs and three RBI over 52 at-bats) due to 20 strikeouts, Eric caught his second wind in power over the next month (nine HRs and 15 RBI) despite hitting .204 over 93 at-bats with 34 Ks. After the All-Star break, Thames worked his way into a platoon player (.246 with eight HRs and 20 RBI over 195 at-bats). He did a good job taking walks (13.6 percent) helping his run total (83) while posting a high K rate (29.6). Eric only hit .182 against lefties with six HRs and 11 RBI over 99 at-bats with plenty of Ks (41). He finished with high HR/FB rate (24.6) with an uppercut swing (41.3 percent fly ball rate). With the extra outfielder added to the roster, Ryan Braun is going to see time at first base. If Thames starts out slowly, Domingo Santana could push his way into more playing time. I only see about 400 at-bats with a chance at 20+ HRs. His batting average risk will be softened by more days off vs. LH pitching.

6. C Stephen Vogt
Vogt struggled over his 157 at-bats with the A's (.217 with four HRs and 20 RBI), which led to him being traded to the Brewers. After a spike in power (four HRs and nine RBI) over his first 28 at-bats with Milwaukee, Stephen landed on the DL with a left knee injury. Over the last six weeks of the year, he hit .255 with four HRs and 11 RBI over 94 at-bats while splitting time with Manny Pina. Both his K rate (18.5) and walk rate (6.9) came in below his career path. Vogt struggled to get at-bats vs. lefties (.200 with no HRs and two RBI over 30 at-bats). Low-grade C2 with a much shorter role going forward. With 400 at-bats, Stephen will offer digit power with 50+ RBI.

7. SS Orlando Arcia
Arcia was unable to hit in a favorable part of the batting order leading to short runs (56) and RBIs (53). His CTBA (.345) was much improved over 2016 (.286) with the Brewers. His K rate (18.3) showed growth while continuing to have a short walk rate (6.2). Orlando hit 14 of his 15 home runs off righties while offering upside in batting average (2.85). Arcia didn't have a breakout month all year while batting 8th in the lineup on most days. He had a career-high HR/FB rate (12.9) while still having a groundball swing (51.6 percent). Over five years in the minors, Arcia hit .282 with 30 HRs, 247 RBI, and 104 SBs over 2,074 at bats. Getting stronger while owning more speed on his minor league resume. His chance of moving up in the batting order was probably closed with Lorenzo Cain and Christian Yelich added to the roster. Next step: .280 with 65+ runs, 15+ HRs, 65+ RBI, and 20+ SBs.

8. 2B Jonathan Villar
Villar went From Fantasy gold in 2016 to a bad investment last season. He lost his approach at the plate leading to a spike in his K rate (30.3) and regression in his walk rate (6.9). Over his first 225 at-bats, Jonathan hit .213 with six HRs, 26 RBI, and 14 SBs. He landed on the DL for two weeks in mid-June with a back injury. Over the last three months of the year, Villar played his way into a bench role (.275 with three HRs, 12 RBI, and eight SBs in 167 at-bats. His bat lost value against lefties (.214 with two HRs and seven RBI over 117 at-bats). Jon finished with almost the same HR/FB rate (19.0 – 19.6 in 2016) while still hitting a high number of groundballs (57.4 percent). This season he'll be motivated to regain his starting job, but a leadoff opportunity doesn't look to be in the cards. His stolen base opportunity falls on his ability to reach first base. In 2016, Villar was first base 170 times between hits and walks. He ran about 36.5 percent of the time compared to 23.7 percent in 2017. Jonathan has an ADP of 197 in the early draft season in 2017 in 15-team leagues. If he gets his Ks under control, Villar should have a 15/35 floor with some batting average risk. Possible speed out if his spring reports are positive.

OF Domingo Santana
Santana continues to have a high K rate (29.3) while still offering a plus walk rate (12.0). His CTBA (.421) was impressive while falling in a range with the top power hitters in the game. After a slow start in batting average (.197) in April, Domingo played well over the next three months (.307 with 13 HRs, 45 RBI, and six SBs over 283 at-bats) with follow through in September (.301 with eight HRs, 19 RBI, and four SBs over 83 at-bats). His swing had almost the same value against RH (.276 with 24 HRs and 62 RBI over 392 at-bats) and LH (.286 with six HRs and 23 RBI over 133 at-bats). He posted one of the top HR/FB rates (30.9), but he did hit a low volume of fly balls (27.7 percent). Over eight seasons in the minors by age 23, Santana hit .282 with 110 HRs, 445 RBI, and 45 SBs in 2,595 at-bats. His K rate does invite playing time risk, but his ability to make hard contact will keep in the lineup on many nights. With fewer Ks and more loft in his swing, his game will reach another level. Fantasy owners continue to draft him inside the top 100 players despite playing time concern. Possible regression in 2018, but his game will continue to grow. Domingo now has a 30/10 floor with 500+ at-bats while offering batting average risk.
IF / OF Hernan Perez
Perez had a similar opportunity over the last two seasons while losing his value as a runner in 2017 (13 steals). Hernan lowered his K rate (17.3) with repeated failure in his walk rate (4.4). He played well against lefties (.316 with two HRs and 17 RBI over 114 at-bats). When getting starting at-bats in May and June, Perez hit .265 with seven HRs, 22 RBI, and six SBs over 196 at-bats. He had a slight uptick in his HR/FB rate (11.9) while hitting too many groundball (48.3 percent). Nice bench player if cover multiple in Milwaukee. Hernan has a 15/20 skill set if given a starting opportunity while still offering more underlying speed.
Bench Options
Manny Pina (C) – Pina held his own in his first regular experience in majors in 2017. He hit .279 with 45 runs, nine HRs, 43 RBI over 330 at-bats. His K rate (22.0) was above the league average with a short walk rate (5.6). Over 12 seasons in the minors, Manny hit .262 with 55 HRs, 362 RBI, and 11 SBs over 2,722 to at-bats. His slow path to the majors may lead to him being replaced as an option via free agency or the minors. For now, a split role with Stephen Vogt.
Eric Sogard (IF) – Sogard was able to steal at-bats away from Jonathan Villar in 2017 despite minimal power (three HRs) and speed (three SBs). He hit .273 with an elite walk rate (15.1). Eric was tough to strikeout (12.4 percent). Over seven years in the majors, Sogard hit .245 with 11 HRs, 123 RBI, and 32 SBs in 1,459 at-bats. Only a utility option in 2018.
Brett Phillips (OF) – Phillips made it to the majors for the first time in 2017. He hit .276 with four HRs, 12 RBI, and five SBs over 87 at-bats, but he did strikeout 34 times. Brett hit .283 over six seasons in the minors with 68 HRs, 310 RBI, and 73 SBs in 2,121 at-bats. His K rate (23.5) was high in the minors with strength in his walk rate (10.3). Road blocked for at-bats in the majors and most likely squeezed out of utility outfield role based the roster structure heading into spring training. 

Like and share our new Facebook page! Be sure to pay attention to our giveaways for your shot at some sweet prizes!
Pitching Staff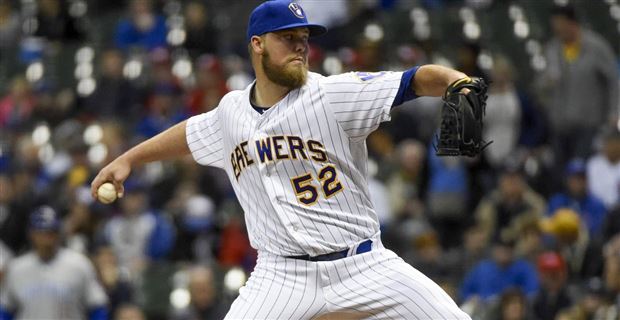 1. SP Jimmy Nelson
Nelson is a perfect example of what can happen if a pitcher with poor command starts to make a step forward in his walk rate. In 2016, Jimmy led the NL in walks (86) and hit batters (17) leading to a career-high walk rate (4.3) and a fading K rate (7.0). Last season he pitched ahead in the count creating a sharp improvement in his walk rate (2.5). The bonus to this growth was the best K rate (10.2) of his career at any season in the pros. Surprisingly, Nelson didn't make a huge step forward in his batting average against (.257 – .246 in 2015). His year started with two strong outings (two runs over 13 innings with 13 Ks). Three bad starts later (8.62 ERA and .373 BAA), Fantasy owners began launching him back into the free agent pool. Over his last 24 starts of the season, Jimmy only allowed over four runs in one game (August 11th – nine runs and 14 baserunners over 3.2 innings). He went 11-4 over this span with 176 Ks over 146.2 innings, which included 12 shutout innings with 18 Ks to close out the year. Unfortunately, Nelson saw his season end in mid-September with a right shoulder strain that required surgery. The early reports have him missing the first two months of the season. His AFB (94.6) was a career high by a minimal margin (94.5 in 2014). His best success came from his plus curveball (.190 BAA) and show me changeup (.188 BAA). Nelson had more value with his four-seam fastball (.247 BAA) than his sinker (.290 BAA). In 2016, he threw his slider (.137 BAA) as his best pitch. Buying pitchers coming off injury is never a smart move in Fantasy baseball nevermind a pitcher who has downside risk in his walk rate. I'll put him in the avoid column for now and see how his offseason develops. At best, a 4.00 ERA and a losing WHIP.

2. SP Chase Anderson
Heading into 2017, Anderson had a 24-24 career record with a 4.26 ERA, 1.345 WHIP, and 336 Ks over 418.2 innings. Over his first four starts, Chase went 2-0 with a 1.13 ERA and 22 Ks over 24 innings. He struggled over his next five games (7.30 ERA and .333 BAA) creating trust issues form Fantasy owners. His game reached another level over his next six contests (4-1 with a 1.33 ERA, .153 BAA, and 43 Ks over 40.2 innings). An oblique injury led to almost two months on the DL. When he returned, Anderson allowed three runs or fewer in all nine starts (6-2 with a 2.47 ERA and 48 Ks over 51 innings). He had success against both RH (.226 BAA) and LH (.212 BAA) batters while posting a career high in his K rate (8.5). His AFB (93.8) was a career-high followed by three plus pitches (curveball – .167 BAA, changeup – .168 BAA, and cutter – .218 BAA). The value of his changeup and curveball were supported by his previous resume. His minor league resume (3.45 ERA, 2.3 walks per nine, and 8.9 Ks per nine) gives him a chance at delivering another strong season. I'd set my bar more in the 3.50 ERA range while expecting a run at 175 Ks with a full season of starts. The key here is repeated velocity on his fastball.

3. SP Zach Davies
Davies finished 2017 with a 17-9 record and a playable ERA (3.90), but his skill set has plenty of cracks. His K rate (5.8) was dismal with fade in his K rate (2.6). Batters hit .275 against him with righties having the most success in average (.285) and LH batters in power (13 HRs over 358 at-bats). Zach was brutal at home (5.48 ERA) while somehow becoming special on the road (9-3 with a 2.50 ERA ). Over his first 19 starts, Davies went 11-4 with a 5.08 ERA, .291 BAA, and 16 HRs allowed over 102.2 innings. His arm was much more consistent over his last 14 starts (three runs or fewer in 12 games), which led to a 2.54 ERA over this period. His AFB (90.3) is below par, and his only pitch over value was his cutter (.232 BAA). In 2016, Zach showcased a better changeup (.214 BAA) and curveball (.188 BAA). Davies is a groundball pitcher (50.2 percent), but his HR/FB rate (12.0) does invite disaster risk. Over 67 starts in the majors, he has a 31-18 record with a 3.91 ERA. Zach has the stuff to get batters out, and you have to give him credit for his 2017 season when considering he didn't throw the ball well in many games. I expect a few more Ks and better command in 2018. Just a backend arm with a chance at double-digit wins and a league average ERA and WHIP.

4. SP Josh Hader
I liked how the Brewers handled Hader in 2017. He was a hot mess at AAA (5.37 ERA, 1.538 WHIP, and 14 HRs allowed over 52 innings) while pitching in a hitter-friendly Colorado Springs. Milwaukee called him up on June 10th to add a lefty arm to the bullpen. His failure at AAA in 2017 started with his huge walk rate (5.3). By pitching in relief, it allowed to the Brewers to stretch him out when he was throwing well and give him the quick hook when his pitches were off the mark. Batters only hit .156 against him in the majors with success vs. both righties (.165 BAA) and lefties (.140 BAA). Josh pitched well over his first 23 games (1.44 ERA) despite a huge walk rate (5.7). He started to reach a higher level in September when Hader issued only two walks over 16.1 innings with 27 Ks. Hader featured a plus fastball (94.8) with batters hitting only 1.69 against it. He threw his four-seamer 81.4 percent of the time. His slider (.056 BAA) and changeup (.214 BAA) were tough to hit. Over six seasons in the minors, Josh had a 3.26 ERA and 610 Ks over 541.1 innings. The Brewers haven't committed to him as a starter, but that could change with a good spring training. Nice arm, but there will be growing pains in the rotation due to his huge walk rate (4.0 in the minors and 4.2 in the majors). Risk/reward type swing, but I sense he needs another year of seasoning before making a full commitment to him on a Fantasy team. Don't overpay for his questionable role in 2018.

5. SP Jhoulys Chacin
A year in San Diego treated Chacin well. He signed a two-year $16 million contract in December with the Brewers. Looking back at 2017, it appeared Jhoulys tried to pitch more inside based on the spike in his hits batsmen (14 – league high). His ERA (3.89) was his lowest since 2013 (3.47) even with continued struggles with walks (3.6 per nine). He finished with a bump in his K rate (7.6) while being tougher to hit (.235 BAA). Chacin was very good against RH batters (.217 BAA) while posting a huge gap in his home/road splits (9-3 with a 1.79 ERA in San Diego and a 4-7 record on the road with a 6.53 ERA). After three disaster starts (23 runs and 28 baserunners over ten innings) in his first ten games, Jhoulys had a 3.12 ERA over his last 127 innings with 110 Ks. His AFB (92.1) was the best of his career. Batters struggled to hit his slider (.150 BAA) and low volume curveball (.111 BAA). Overall, Chacin has a poor skill set based on his high walk rate (3.6). His arm had more life in 2017, but a move to Milwaukee had to be a downgrade to his value. Only a late gamble with a short leash. His WHIP has more risk than his ERA.

6. SP Brent Suter
Suter did a nice job as a spot starter for the Brewers in 2017. Over 14 starts, he went 3-2 with a 3.45 ERA and 54 Ks over 70.1 innings. His first strike rate (67) is a huge plus. Even with nice stats in the majors, Brent did struggle with righties (.287 with seven HRs allowed over 237 at-bats). In his first five starts, Sutter had a 1.50 ERA and 25 Ks over 30 innings. He lost his way in August (13 runs and 24 baserunners over 14.1 innings) before landing on the DL for three weeks with a left shoulder injury. In a split role in September, Brent had a 2.42 ERA over 22.1 innings despite batters hitting .284 against him.  He throws one of the weakest fastballs (86.3) in the game with no clear pitch of value. Over six seasons in the minors, Suter had a 3.42 ERA and 478 Ks over 612.2 innings. A real soft tosser who still has the arm to get batters out. Tough to trust over a long season in the majors and he'll rarely pitch into the seventh inning. Start-to-start option which will be found on the waiver wire in most leagues.

7. SP Luis Oriz
Before 2017 in the minors, Ortiz went 11-10 with a 2.52 ERA with 143 Ks over 161 innings. His walk rate (2.1) offer upside with a steady K rate (8.0). He made 14 starts at AA in 2016 (3.29 ERA with 50 Ks over 63 innings), which should have pushed him to AAA last season. The Brewers decided that Luis needed to repeat AA leading to a step back in his progress (4-7 with a 4.01 ERA and 79 Ks over 94.1 innings). Ortiz missed some development time in 2017 due to a hamstring issue. His walk rate (3.5) was the worst of his career while still offering minimal upside in Ks (7.5). Luis throws a mid-90s fastball and slider with high upside. His changeup has a chance to offer an edge down the road. He tends to be a soft player while lacking motivation. Just an arm to follow this spring with Ortiz needing a step up in his game to reach the majors in 2018.

CL Corey Knebel
Knebel had a special 2017 season despite only throwing only 51.5 percent first-pitch strikes and walking 4.7 batters per nine. Over his first 19 games, Corey had a 1.00 ERA and 29 Ks over 18 innings setting him up to take over the closing role on May 14th. Over the last four and half months of the season, he converted 39 of 44 saves with a 2.02 ERA and 97 Ks over 58 innings. Batters only hit .180 against him with lefties being the easier outs (.156 BAA). Knebel did struggle in July (4.15 ERA) and in September (4.38 ERA with three HRs allowed over 12.1 innings). HIs AFB (97.8) was one of the best in the game. He threw his four-seamer 71.8 percent of the time with a high level of success (.189 BAA). Corey only threw one other pitch (curveball – .159 BAA). Over four seasons in the minors, Knebel had a 1.99 ERA and 146 Ks in 108.1 innings. Sure looks the part of an elite closer with more upside if/when he figures out how to throw more strikes. Buy the saves and Ks while hoping his strike-throwing improves. Sub 2.50 ERA with 100+ Ks and 40+ saves.

RP Jacob Barnes
Barnes was a frustrating player in the Brewers' bullpen in 2017. He had a huge step back in his walk rate (4.1), but he still had growth in his K rate (10.0). Maybe he felt pressure to blow away batters in a similar way as Corey Knebel. His season started off on a high note (12.1 shutout innings with only four hits allowed and 14 Ks). Jacob posted crooked numbers in four of his next seven games (13.50 ERA and .480 BAA). He rebounded for another nice 12 games stretch (one run over 12.2 innings with 13 Ks) before lighting up his stats again in his next five games (18.90 ERA over 3.1 innings). This dance between greatness and chump went on for his remaining 37 games of the season (3.76 ERA and 45 Ks over 38.1 innings). Over six seasons in the minors, Jacob had a 3.36 ERA and 386 Ks over 441.2 innings while splitting time between the starting rotation and the bullpen. His AFB (97.3) has closing upside while also offering a plus slider (.184 BAA). If you are looking for the closing insurance card in Milwaukee, don't overlook the upside of Barnes with a rebound in his command.

RP Jeremy Jeffress
Jeffress ended up being a disaster investment for the Rangers over the last two seasons. He went 2-2 with a 4.76 ERA and 36 Ks over 54 innings in Texas. His failure was due to lack of command (4.3 walks per nine) and a propensity to serve up home runs (1.3 per nine). In his career the Brewers, Jeremy went 13-3 with a 2.65 ERA, 157 Ks, and 27 saves over 176 innings. He pitched better for Milwaukee after a mid-season trade in 2017 (3.65 ERA) despite still walking 5.5 batters per nine. His AFB (95.0) was a career low and 2.4 mph below his 2014 season. Last season Jeffress only had one pitch of value (split-finger fastball – .213 BAA), and it was negated by his poor command. Not closer-worthy, but a clear head should lead to better outings in the 7th innings in 2018.
References
Baseball America Prospect Handbook. (n.d.).
Baseball-Reference. (n.d.). Retrieved from http://www.baseball-reference.com/
Brooksbaseball.net. (n.d.). Retrieved from http://www.brooksbaseball.net/
Fangraphs. (n.d.). Retrieved from http://www.fangraphs.com/
Roster Resource. (n.d.). Retrieved from http://www.rosterresource.com/mlb
Rotowire. (n.d.). Retrieved from http://www.rotowire.com/
RotoWorld. (n.d.). Retrieved from http://www.rotoworld.com/