Welcome to FullTime Fantasy! If you are new, we want to help our players understand our format.
We realize that many in the FullTime Community will want to jump right in, take on the best and give the World Championship leagues a shot. I encourage them to do so. That's what I and many of us did back in the early days. We knew we were good, and we wanted to put ourselves to the test. I encourage those who are confident in their fantasy acumen to check our our available openings in our various leagues HERE:
We also realize that others just want to have a fantasy team and have a little action on the line. Our forums serve as a great way to help you feel your way around the site and the player friendly software.
Let me first educate those who are new to The FFWC Format. Our championship format is a bit different than your traditional home league in four crucial areas. Here they are:
1. All our leagues are PPR, which stands for point per reception. That means, every time a player that you have in your starting lineup catches a pass, they earn a point. Whether that's a 5 yard slant or a 50 yard bomb, it's a point. Even those little dumpers that Danny Woodhead and Giovani Bernard catch will earn a point. The scoring for yards are still 1 point for every 10 yards and we use decimal scoring so 5 yards is worth .5 points. The net results of a 5 yard catch and run by Todd Gurley is now worth 1.5 fantasy points to your squad.  For anyone wanting to see what the rankings look like for Point per reception leagues, you can check out our fantasy preseason rankings. You'll notice Antonio Brown is close to David Johnson and Le'Veon Bell due to the format. Receivers and running backs who catch the ball are more valuable in this format, and make for a deeper talent pool to choose and draft from. No longer is getting the first pick such a big deal. Any pick you get you can win from because very talented receivers will be sitting throughout the back half of the first round.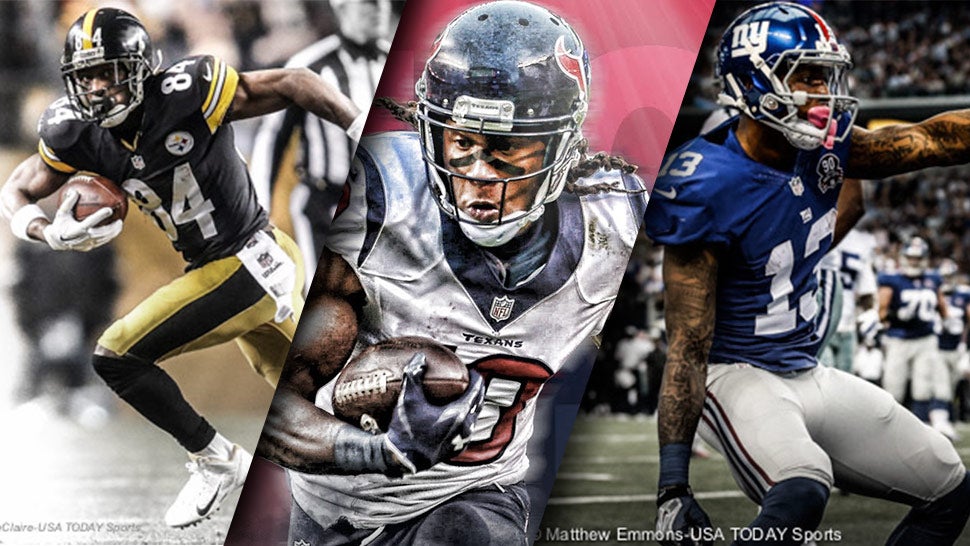 2. Roster Size: Our World Championship, Online Championship and Qualifier leagues draft 20 Rounds. You're drafting deep on draft day. Which handcuff running back will you choose? Which rookie might you want to take a shot on? Is there a deep sleeper at WR you've been hearing a lot about? Drafting 20 players makes the draft incredibly important and puts the focus squarely where it deserves to be, the draft. Fantasy football should mostly be about the draft. Tired of seeing the bad teams on draft day pick up a ton of talent on Week 2's waiver wire AFTER THE FACT? Anybody can do that. A 20-man roster solves that problem. You'll be the one laughing to the bank when they see your drafted studs rumbling on opening Sunday.
Please note:
$35 Starter "Full-Season" Leagues are only 18-man rosters / 18 round draft.
$35 Starter "Draft-Only" Leagues are 24-man rosters / 24 round draft. Your first taste of a draft-only league will have you reaching deep for additional players. These are leagues that require no in-season management so you need extra players on your team to cover the bye weeks and injuries.
$99 Draft-n-Go Leagues are 28-man rosters / 28 round draft. Diehards only please. Again, since there are no waiver moves, you need more positions to get through the bye weeks and injuries
3. An 11-man starting lineup. In the FFWC Format, you actually start 11 players each and every week. The format is the following:
1 Quarterback
2 Running Backs
3 Wide Receivers
1 Tight End
2 Flex players (Running backs, Wide Receivers or Tight Ends)
1 Place Kicker
1 Defense/Special Teams player
Most traditional leagues start only 9 or 10 players. We've even seen some leagues start only 8. Talk about loaded teams! Here at FullTime Fantasy and the World Championships, we start 11. Why? To separate the men from the boys. The players who draft the deepest squads will be rewarded. No longer will teams get a cheap win by just starting their studs. They're going to have to earn their win out on the field. This means that when you're drafting in a FFWC League, your first 9 players in the draft are going to likely be regular contributors on a weekly basis, and when bye weeks and injuries hit as they inevitably always do, you'll be digging deep into your roster to field your lineup.
Please note: All $35 Starter Leagues are only a 10-man starting lineup. (only 1 Flex)
4. Free Agent Acquisition Bidding – This isn't your home league where your buddy hears big news on a player and scoops them up off the waiver wire before you get home from work. The FFWC format employs something called FAAB. It stands for Free Agent Acquisition Bidding.
Each week you are given two opportunities to add players to your team (Wed night at 9pm and Friday night at 9pm). You are given $1,000 "BID BUCKS" (these are fake dollars) to last you the whole entire year. Run out, and you're done adding free agents, so spend it wisely. Weekly bids can range from $1 to $1,000. When some unknown RB breaks out after week one for 80 and 2 Touchdowns, you have to decide how much he's worth to your team and bid accordingly.
On Wednesday at 9pm EDT, "waivers run" and you will find out the results. If you didn't get the guys you wanted, you still have another chance on Friday night to get somebody to cover that bye week. We will release a few video tutorials this year that help explain this so you can master your weekly Blind Bidding opportunities.
Please note: 
All $35 Starter Leagues have 1 Blind Bidding session on Wednesday, then become First Come / First Served the rest of the week.
So, there you have it. That's a brief run-down to the major differences you need to prepare for before playing in a FFWC League. If you're ready, head on over to the Draft Lobby.