Minnesota Twins
Last Updated: March 19
The Twins improved by 26 games in 2017 leading to their first playoff appearance since 2010. The scored 93 more runs than 2016 (722) with similar results in runs allowed (101 fewer runs). Minnesota finished 9th in ERA (4.59) and 22nd in bullpen ERA (4.40).
Their offense returns with the same core of batters. The development of OF Byron Buxton, 3B Miguel Sano, and OF Max Kepler will determine the upside of their scoring ability.
Minnesota moved on from SP Bartolo Colon, SP Hector Santiago, SP Dillon Gee, and CL Glen Perkins. The Twins tried to revamp the backend of their bullpen by signing CL Fernando Rodney, RP Addison Reed, and RP Zack Duke. They would love to add a frontline starter before spring training. SP Michael Pineda signed a two-year deal, but he won't pitch in 2018 after having TJ surgery. 1B Logan Morrison was signed to upgrade the 1B/DH position.
Heading into February, the starting rotation only has two arms of value – Ervin Santana and Jose Berrios. The Twins added Jake Odorizzi via a trade, and they signed Lance Lynn in March.
For Minnesota to contend for another playoff berth, they need to add a couple of starters plus have their bullpen needs to show growth. A hot and cold offense will lead to many winning and losing streaks.

1. SS Jorge Polanco
Polanco entered 2017 with a boring skill set as far as upside in HRs and SBs, which was the case over the first half of year (.242 with three HRs, 26 RBI, and three SBs). His bat exploded over the last two months of the season (.316 with ten HRs, 42 RBI, and seven SBs over 206 at-bats) putting his profile at a higher level going forward. HIs K rate (14.3) is an area of strength with a bump in his walk rate (7.5). His batting average underachieved due to a low CTBA (.305). His minor league resume points to correction in this area. Jorge also added more length to his hits (AVH – 1.600). Polanco has a fly ball swing (42.8 percent in 2017) while his HR/FB rate (7.4) remains in a weak area. Over seven seasons in the minors, Polanco hit .286 with 34 HRs, 293 RBI, and 60 SBs in 2,272 at-bats. With growth to his minor league walk rate (9.5), Jorge could very well hit leadoff in 2018 pushing Brian Dozier into a more run-producing area. Next step: .280 with 80+ runs, 15+ HRs, 70 RBI, and 20+ SBs. His plus RBI rate (17) may keep him in the middle of the batting order. Sneaky piece to the puzzle.

2. 1B Joe Mauer
It's too bad Joe can't find the power stroke he showcased in 2009 (28 HRs over 523 at-bats). His AVH (1.369) remains in an extremely weak area, but his RBI rate (19) matched some of the best run producers in the game. Joe had his highest CTBA (.362) since 2013 (.404). Mauer continues to take plenty of walks (11.1 percent) with a rebound in his K rate (13.9). On the year, he didn't have a home run vs. left-handed pitching despite hitting .308. His swing had similar value against righties (.304 with seven HRs and 52 RBI over 395 at-bats). Over the last 47 games of the season, Joe hit .374 with two HRs and 29 RBI over 182 at bats. Mauer continues to be a ground ball hitter (51.5 percent) while losing almost half of his HR/FB rate (6.7). 2018 is a contract year for Mauer, and we know what happened that last time he was about to be a free agent (.365 with 28 HRs and 96 RBI over 523 at-bats). Tough investment based on his negative stats in four categories even with elite talent. Worth a dance in the reserve round in deep leagues.

3. 2B Brian Dozier
Dozier has been a beast in back-to-back season. He scored over 100 runs in four straight seasons helped by his 127 HRs over this period. Brian had almost identical RBI chances in 2016 (59/391) and 2017 (59/390) with continued success in his AVH (1.838). Dozier had his second-highest walk rate (11.1) while repeating his K rate (20.0). He dominated lefties (.331 with 11 HRs and 23 RBI over 145 at-bats) with some weakness in his batting average (.252) against RH pitching. Over his last 212 at-bats, Brian hit .321 with 17 HRs, 41 RBI, and six SBs. In 2016, he played well over the second half of the season (.271 with 29 HRs, 61 RBI, and 12 SBs over 339 at-bats). His drop in power came from a slide in his fly ball rate (42.6) – 47.7 in 2016) and a drip in his HR/FB rate (16.8 – 18.4 in 2016). The Twins lineup is improving, and Brian will be a big part of their success in 2018. His career path points to repeated power with his runs and RBI dictated by his slot in the batting order. With a slight bump in his CTBA and fewer strikeouts, Dozier could hit for a lot higher batting average. Let's shot for .290 with 100+ runs, 35+ HRs, 100+ RBi, and 15+ SBs.

4. 3B Miguel Sano
Sano continues to have a massive average hit rate (1.920) giving him 40+ HR power when he's able to play a full season. When he makes contact, Miguel hit .446 helping his floor in batting average even with a massive K rate (35.8). His approach at the plate was almost identical to 2016 (11.2 percent walk rate). From late April to mid-June, he hit .327 with 12 HRs and 34 RBI over 150 at bats. His power (ten HRs and 25 RBI over 165 at-bats) played well over a seven-week stretch starting in late June, but his batting average (.261) started to fade. A shin injury led to him missing most of the remaining season. Sano had surgery in mid-May to repair the issue. Miguel hit for a higher average against lefties (.297 with seven HRs and 19 RBI over 101 at-bats). His HR/FB rate (27.5) ranks with the best in the game with a fly ball swing path on his resume. He has a domestic dispute hanging over his head from a couple of seasons ago, which may lead to a suspension. Major league-leading power with plenty of batting average risk until he gets his strikeout rate under control. With 550 at-bats, 90+ runs, 45+ HRs, and 100+ RBI with a sub .250 batting average.
5. OF Logan Morrison
After failing to live up to expectations for multiple years in the majors, Morrison had a huge spike in home runs (38). He set career highs in both his average hit rate (2.095) and his contact batting average (.347). His push for power led to a rise in his K rate (24.8 – 19.1 in his career) while also taking a career high in walks (13.5 percent). Most of his HRs came against RH pitching (.251 with 32 HRs and 69 RBI over 383 at-bats). The Bucs did give him 129 at-bats vs. lefties (.233 with six HRs and 16 RBI). In his career, Logan is almost the same hitter against righties (.245) and lefties (.244). Before the All-Star break, Morrison hit .258 with 24 HRs and 57 RBI over 291 at-bats before the league seemed to catch up with him (.231 with 14 HRs and 28 RBI over 221 at-bats). He set a career high in his HR/FB rate (22.5) while adding more loft to his swing (46.2 percent fly ball rate – 37.5 in his career). With the Twins, he'll be in the lineup every day against RH pitching. If Miguel Sano ended up getting suspended, Logan would be rewarded with more at-bats with Eduardo Escobar earning time at third base. Tough buy after a career year, but Morrison did have talent when he came into the league. I'd lower the bar to 25 HRs with 500 at-bats if he repeats his swing path.
6. OF Eddie Rosario
When looking at Rosario's 2015 season, a Fantasy owner has the info to see a nice bump in power. He finished with a 1.719 AVH, which was beaten by his value in 2017 (1.752). His CTBA (.360) has been in a tight area over the last three seasons in the majors. Eddie had a career-best K rate (18.0) and walk rate (5.9). His season started with quiet at-bats over his first 41 games (.248 with three HRs, 11 RBI, and one SBs over 137 at-bats). Over the last 3+ months of the season, Rosario offered impact playing time (.304 with 65 runs, 24 HRs, 67 RBI, and eight SBs in 405 at-bats. Eddie hit 25 of his 27 home runs against RH pitching while holding his own against lefties (.279 with two HRs and 15 RBI over 172 at-bats). HIs HR/FB rate (16.4) was a career high. His minor league resume (.294 with 67 HRs, 310 RBI, and 75 SBs over 1,972 at-bats) doesn't support his surge in power, but it does point to more speed. I expect regression in 2018. Possible .280 with 75/20/75/15 skill set would be a fair judgment. Rosario may lose playing time against LH pitching with similar results in production.
7. OF Max Kepler
Kepler fell short of being a league average player in 2017. His runs (69) and RBI (69) had growth with almost repeated value in HRs (19) and SBs (6). His AVH (1.750) was strong for the second straight year in the majors, and it points to 25+ HRs. His batting average regressed due to a low CTBA (.312) and minimal improvement in his approach at the plate. Max finished with a league average K rate (20.1) and walk rate (8.3). His bat was worthless against LH pitching (.152 with two HRs and 12 RBI over 125 at bat), which lead to a platoon role if it doesn't improve. Kepler's best month of production came in August (seven HRs and 21 RBI), but he only hit .213. Over the last four months of the season, he hit under .220 in three months. His line drive rate (16.9) has been short in the majors, which is part of the reason for his short batting average. In 2015 in the minors, Max hit .318 vs. lefties in 88 at-bats with a home run, and ten RBI. Kepler has a nice swing with a developing power swing. I expect him to hit for a much higher average with 25/15 type skill set. Max has enough talent to hit in the top two spots in the Twins' batting order.
8. C Jason Castro
Castro fell short of being a viable option as C2 in deep leagues. He did improve on his K rate (26.5) while continuing to take a high volume of walks (11.1). Jason had a slow start to the year over his first 97 at bats (.196 with three HRs and 11 RBI). He hit .309 over his next 55 at-bats with three HRs and 15 RBI to correct some of his early season losses. Castro didn't hit a home run over his next 25 games (.171 with six RBI). Even with short production (four HRs and 19 RBI) over his last 128 at-bats, Jason did hit for a higher average (.289). He hit better against lefties (.263 with three HRs and 17 RBI over 95 at-bats). His decline in power was due to a declining FB rate (33.5) and fade in his HR/FB rate (12.0). Castro has a strong enough AVH (1.605) to hit more than 15 HRs if given 450 at-bats. Any uptick in batting average will come from fewer Ks or a surge in his CTBA (.347) with the latter seeming unlikely. Not a bad gamble as a $1 catcher in deep mixed auction leagues.
9. OF Byron Buxton
The Buxton skill set still has some cracks in his approach (29.4 percent K rate), but his star looks ready to shine brightly. His bat was a disaster over his first 78 games (.195 with four HRs, 14 RBI, and 14 SBs over 236 at-bats). Over this span, Byron struck out 82 times in 263 plate appearances (31.1 percent). On July 4th, his swing started to come into form. He had ten hits over his next 21 at-bats with a home run, two RBI, and two SBs, but a groin injury pushed him on the DL for 17 days. In August, Buxton hit .324 with 22 runs, eight HRs, 22 RBI, and eight SBs to help Fantasy teams make a jump in the standings. His K rate dropped to 23.3 percent for the month while only taking five walks. Byron regressed in September (.270 with 17 runs, three HRs, 13 RBI, and five SBs over 100 at-bats). He had a 32.1 percent K rate over the last four weeks of the year. Buxton had the most success against lefties (.282 with four HRs and 13 RBI over 131 at-bats). He had a more balanced swing path in 2017 with a slight bump in his HR/FB rate (14.2). In his minor league career, Byron did a much better job controlling the strike zone (K rate – 21.1 and walk rate – 10.4). With an ADP of about 50 in the early draft season, Buxton does have risk due to his high volume of Ks. His AVH (1.632) is strong enough to deliver 20+ HRs, and his speed points to 50 SBs upside if given the full green light (29-for-30 in steals in 2017). Worth his price point as long as you can cover his batting average risk. If he gets to the top of the batting order, Byron should score over 120 runs in 550 at-bats. His aggressive style in the field does invite injuries. Difference maker skill set.
1B Kennys Vargas
Vargas would be a productive bat if he had over 550 at-bats in the majors. His K rate (29.2) tend to limit his playing time while having just below a league average walk rate (7.6). Kennys struggled against lefties (.185 with one HR and five RBI over 65 at-bats) in 2017 suggesting that Vargas will be a platoon player against RB pitching (.278 with ten HRs and 36 RBI over 176 at-bats). Last season he didn't have one month with over 75 plate appearances. His best production came in May (four HRs and 18 RBI over 73 at-bats). Over three seasons at AAA, Kennys hit .248 with 30 HRs and 108 RBI over 630 at bats. In 2017 in the majors, his swing path delivered a high groundball rate (48.5) and a career low FB rate (32.1). His HR/FB rate (20.8) remains in an area to deliver 30+ HRs with 500+ at-bats with more upside with more fly balls hit. Tough player to own as his playing time tends to be sporadic.
Update: The addition of Logan Morrison will force Vargas back to AAA unless the Twins can make a trade.
3B Eduardo Escobar
Injuries and a hot bat created the best opportunity for playing time for Escobar in 2017. He set a career high in at-bats (457), runs (62), HRs (21), and RBI (73). His AVH (1.767) and CTBA (.323) fell in a close range with 2015 (1.701 and .331) suggesting his surge in power wasn't a fluke. He did turn more double into home runs in 2017. HIs K rate (19.6) has been in a tight range over the last three season with a flat walk rate (6.6). Eduardo hit almost half of his HRs in September (.263 over 114 at-bats with nine HRs and 25 RBI). His next best month came in June (.354 with four HRs and ten RBI over 82 at-bats). His jump in HRs was due to change in swing path (45.3 percent fly ball rate – 38.2 percent in his career) and a career-high HR/FB rate (12.8). Nice utility bat who may get more playing time at third base if Minnesota decides to shift Miguel Sano to DH on more days in an attempt to keep him healthy. I can't bet on follow through as his playing time could drop quickly with another bat added to the roster. For now, a very good utility options for the Twins with streaky power.  A .260 hitter with 15 HRs and 60 RBI in 400+ at-bats.
Update: Escobar will get squeezed for playing time with Logan Morrison added to the roster. After playing well in 2017, Eduardo was hoping to parlay his success into a better opportunity. He's now expected to be the top utility player in Minnesota.
Bench Options
Mitch Garver (C) – Garver should be the front-runner to win the backup catching job in Minnesota. He struggled over 46 at-bats in the majors (.196 with no HRs and three RBI) in 2017). Mitch played well in 2017 at AAA (.291 with 17 HRs and 45 RBI over 320 at-bats) while showcasing a high walk rate (13.4). Over five seasons in the minors, Garver hit .271 with 51 HRs, 286 RBI, and 15 SBs over 1,819 at bats. His K rate (17.5) is above the league average with strength in his walk rate (11.7). Interesting C2 option in AL-only leagues with enough upside to push for the starting catching job in the majors with a hot start to the year. The Twins did give him at-bats at 1B and OF last season.
Ehire Adrianza (IF) – Adrianza was signed over the winter to be the utility infielder for the Twins. Over five seasons in the majors as a bench player, Ehire hit .236 with five HRs, 50 RBI, and 12 SBs over 453 at bats. His walk rate (7.5) in his career is just below league average (8.3) with an above average K rate (16.4). His best asset in the minors was speed (115 SBs over 2,799 at-bats).
Robbie Grossman (OF) – Robbie regressed in his batting average (.246) in 2017, but he did show growth in his approach at the plate. Both his K rate (17.3) and walk rate (14.7) were career bests, which is strong enough to hit at the top of the Twins lineup with a rebound in batting average. Grossman was a slightly better hitter against righties (.250 with eight HRs and 36 RBI over 260 at-bats) with just about empty production against LH pitching (.238 with a home run and nine RBI over 122 at-bats). He is a career .251 hitter in the majors with 31 HRs, 145 RBI, and 20 SBs over 1,380 at bats. Potential platoon option while stealing some playing time at DH. Improving player and his minor league resume offered more stolen bases (131 in 2,815 at-bats).
Zack Granite (OF) – Zack will compete for a backup outfield job in 2018. Over five seasons in the minors, he hit .290 with ten HRs, 139 RBI, and 120 SBs over 1,612 at bats. His best season came at AA in 2016 (.295 with four HRs, 52 RBI, and 56 SBs over 526 at-bats). Last season Granite had little value in the majors (.237 with a home run, 13 RBI, and two SBs in 93 at-bats). His walk rate (8.5) projects to be about league average with a low K rate (10.2). His best opportunity for playing time will come if Byron Buxton had an injury.
Pitching Staff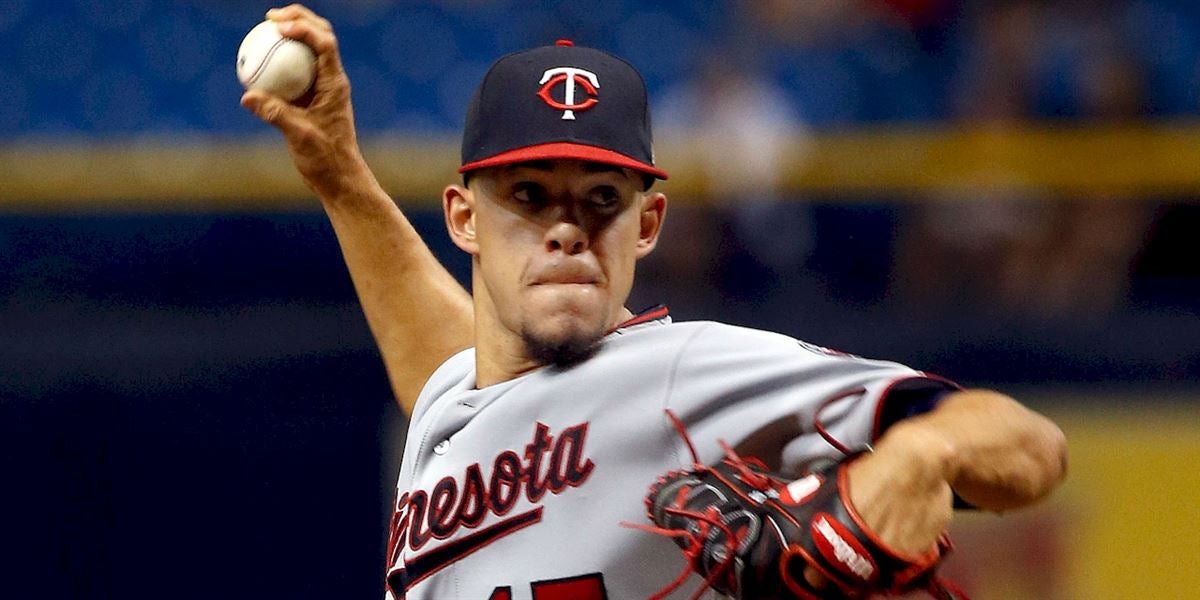 1. SP Jose Berrios
A poor 2016 in the majors (8.02 ERA) led to Berrios starting the year at AAA. He dominated over six starts (3-0 with a 1.13 ERA with 39 Ks over 39.2 innings) leading to a mid-May call-up. His arm looked electric over his first two starts in the majors (one run and four hits over 15.1 innings with 15 Ks). Jose went 7-1 over first eight starts with a 2.67 ERA and 53 Ks over 54 innings. The league seemed to catch up with him over his next nine starts (6.20 ERA and .302 BAA) leaving Fantasy owners with doubts of his upside down the stretch. Berrios dug in to drive the bus home with a 3.09 ERA and 51 Ks over his last 46.2 innings. Jose was at his best against righties (.222 with six HRs over 302 at-bats). He issued 34 of his 48 walks to LH batters with short results (.260 BAA). HIs AFB (94.0) was tough to hit (four-seamer – .245 BAA and sinker – .247 BAA). His best pitch was his curveball (.231 BAA) while his changeup still has some risk (.273 BAA). Berrios finished with a good K rate (8.6) with more upside when his K rate (3.0) moves toward his minor league resume (2.5). With 204 innings pitched last year, Berrios looks poised for further upside. He has a 49-25 over six seasons in the minors with a 2.77 ERA and 628 Ks over 591.2 innings. On the path to 15+ wins with a sub 3.00 ERA and 225+ Ks.

2. SP Ervin Santana
Santana had his best season of his career in 2017 in ERA (3.28). Over his last two years with the Twins, Ervin went 23-19 with a 3.32 ERA and 316 Ks over 392.2 innings. His walk rate (2.6) was above his career average (2.8) in back-to-back seasons with a slight dropoff in his K rate (7.1). Santana did struggle with home runs (1.3 per nine). Over his first six starts, he went 5-0 with a 0.66 ERA and 33 Ks over 41 innings. Ervin had a battle between stud and disaster over his next 11 starts (two complete-game shutouts, and no runs over 13 innings in two other starts plus 34 runs and 60 baserunners over 31.1 innings. Santana did allow over four runs over his last 17 starts leading to a 3.51 ERA and 81 Ks over 100 innings. His stuff had value against both RH (.234 BAA) and LH (.215 BAA) batters. His AFB (93.4) has been in a tight area over the last nine seasons. Ervin continues to have an elite slider (.154 BAA) and success with his four-seam fastball (.246 BAA). He allowed 19 of his 35 HRs off his four-seamer. Both his sinker (.333 BAA) and changeup (.280 BAA) were below league average pitches. Veteran arm whose pitched his best ball over the last five seasons (3.52 ERA and 1.207 WHIP). Last season Fantasy owners still didn't trust him on draft day. I have a feeling Santana has a regression in 2018 with an ERA closer to 4.00.
Update: Santana will miss three to six starts in April due to an injury to his middle finger on his pitching hand that required surgery.
3. SP Lance Lynn
After missing all of the 2016 season with TJ surgery, Lynn made 33 starts again last year. His first pitch strike rate (54.6) remained in a weak area while allowing too many home runs (1.3 per nine) and walking a career-high 3.8 batters per nine. Despite all of this negative data, Lance was toughest to hit of his career (.223). His failure in command came against lefties (53 of his 78 walks over 326 at-bats) with a shorter strikeout percentage (15.1 – 24.2 vs. RH batters). Lynn pitched well over first 13 starts (2.69 ERA) before blowing up in back-to-back games (14 runs, 20 baserunners, and six HRs over 10.1 innings). He rebounded with an even better 14-game stretch (2.05 ERA), but a poor three starts in September (14 runs and 223 baserunners over 9.2 innings) gave away some of his second-half gains. His AFB (92.7) was a career low while trending downward over the last four seasons. Lance relies on his two fastballs (four-seam – .203 and sinker – .257) over 80 percent of the time. Both his cutter (.146 BAA) and show me curveball (.200 BAA) were tough to hit last year. Lynn has a nice arm, and he will keep the Twins in many games. His high volume of innings concerns me after pitching no innings in 2016. His resume does support his success, but Lance needs to do a better job vs. LH batters. I expect double-digit wins with a sub 3.75 ERA and 175+ Ks. Lynn will be a drag in WHIP if he doesn't correct his command issues.
4. SP Jake Odorizzi
Odorizzi had a tough time in 2017. He allowed a massive number of home runs (30 over 143.1 innings) with a huge step back in his first strike rate (53.8). Jake battled a hamstring, a back issue, a foot injury, and a knee issue at different times of the year. His season started with a 3.14 ERA over his first 48.2 innings with 41 Ks. Odorizzi lost his way over seven starts in June and early August (6.69 ERA, 1.657 WHIP, and 11 HRs over 35 innings). Over the second half of the year with a two-week DL stint, Jake had success in his ERA (3.47) and his WHIP (1.140) while still struggling with home runs (10) over 59.2 innings. His stuff had strength against righties (.228) and lefties (.210) while allowing 19 of his 30 HRs to RH batters. Jake has a step back in his AFB (91.9). Each one of his secondary pitches had winning value (slider – .094 BAA, curveball – .125, cutter – .156, and split-finger – .236). Overall, his stuff had more value across the board in 2017, but he did make too many mistakes in the strike zone while continuing to be a fly ball pitcher (47.3 percent –  45.0 percent in his career). On the cusp of being an impactful arm. He just needs to throw more strikes (3.8 walk rate). I'll stand by my 2016 prediction: possible sub 3.00 ERA with 200+ Ks with over 200 innings pitched while understanding a rising HR/9 rate and walk rate is a bad combo. The trade to the Twins will get him away from some power hitting teams in the AL East while being replaced by rebuilding teams in the AL Central.
5. SP Kyle Gibson
Gibson repeated his failure in ERA (5.07) with almost no gain in WHIP (1.532). He did set a career high in his K rate (6.9) while still walking too many batters (3.4 per nine). Kyle serves up plenty of home runs (1.4 per nine) to add to his already poor stat line. Gibson had failure against both RH (.282 BAA) and LH (.301 BAA) batters. Over his first 17 starts, he had a 6.29 ERA and .314 BAA). Kyle found his way late in July leading to three runs allowed or fewer in 11 of his last 12 starts. Over this span, he went 7-2 with a 3.57 ERA and 64 Ks over 70.2 innings. His walk rate (2.3) and K rate (8.1) gained value over the last two months of the season. Gibson missed a couple of weeks in August after a trip back to AAA (2.08 ERA over 17.1 innings with 23 Ks). His AFB (92.6) had more life than 2016 (91.8). His best two pitches were his slider (.236 BAA) and curveball (.246 BAA). Over the last two months of the year, his slider (.143 BAA) made a step forward, and his sinker (.267 BAA) gained value. Gibson is a former first-round draft pick, but he's extremely tough to trust. His success late in 2017 gives him a chance, but I would drive him carefully in 2018.
SP Stephen Gonsalves
Gonsalves has been impressive over his five seasons in the minors. He went 41-17 with a 2.39 ERA and 514 Ks over 478.1 innings. Over two seasons at AA, Stephen has a 16-4 record with a 2.51 ERA with 185 Ks over 161.2 innings. Batters only have 347 hits in his last 478.1 innings pitched. His fastball sits in the low 90s while featuring a solid curveball and a developing split-finger fastball. The only missing link is his command (3.3 walks per nine). Last year he struggled in his five games at AAA (5.56 ERA and 1.544 WHIP). Gonsalves missed the first seven weeks of 2017 with a left shoulder injury. Stephen should start the year at AAA with a quick move to the majors. An excellent chance at 20+ starts with Minnesota with a sub 3.50 ERA and productive Ks. His spring progress will be important to his 2018 draft value.
SP Adalberto Mejia
Over seven seasons in the minors, Mejia has a 44-30 record with a 3.27 ERA and 509 Ks over 594.1 innings. He had a winning walk rate (2.1) and low-level K rate (7.7). Adalberto allowed two runs or fewer in 12 of his 21 starts in the majors in 2017, but multiple games ended before the fifth inning. His best run came over eight starts midsummer leading to a 2.68 ERA and 32 Ks over 43.2 innings. Mejia struggled with walks in the majors (4.0 per nine). Both RH (.283 BAA) and LH (.275 BAA) batters hit him well. His AFB (92.8) is approaching the league average. His lack of success in Minnesota started with the command of his fastball (four-seam – .313 BAA and sinker – .315 BAA). Both his slider (.233 BAA) and changeup (.250 BAA) will offer upside with more experience. Viable backend arm in deep leagues. With better command, his ERA has a chance to break 3.75 in 2018 with short strikeouts due to his lack of length in most starts.
SP Aaron Slegers
Slegers has a soft tosser skill set based on his low K rate (6.7). His fastball sits in the low 90s with plus command (2.0 walks per nine). Over five seasons in the minors, Aaron went 43-29 with a 3.50 ERA and 447 Ks over 601 innings. He turned in almost a full year at AAA (15-4 with a 3.40 ERA and 119 Ks over 148.1 innings), but batters hit .266 against him. His pitch to contact style didn't work well over his first four games in the majors (3.5 walk rate, 5.3 K rate, and 1.8 HR/9 rate). A control pitcher who will try to be a serviceable inning eater early in his career. He features a changeup/slider arsenal behind his two fastballs. Only a short-term flier due to his disaster downside.
SP Fernando Romero
Romero missed the 2015 season with TJ surgery. Over the last two years, he went 20-12 with a 2.84 ERA and 210 Ks over 215.1 innings. His walk rate (2.7) was a step back at AA in 2017 (3.2). Last season Fernando went 11-9 at AA with a 3.53 ERA and 120 Ks over 125 innings. His next step will be AAA with the majors not that far away. Romero has a mid-90s fastball with explosive value plus a swing and miss slider. He's working on developing a changeup that will be the key to him being a high-level starter in the majors. His game could come quickly, so he should be a must follow this spring especially with the Twins having some questions at the backend of their starting rotation.

CL Fernando Rodney
Rodney finished with a poor ERA (4.23) while converting 39 of his 45 saves. His season started off with a terrible April (15 runs and 23 baserunners allowed over ten innings), but he was able to earn six saves in eight chances. This start put him in chase mode for the rest of the year. Over his next 20 games, Fernando gave up only one run and two hits over 19.1 innings with 21 Ks. Two bad games at the start of July (five runs and nine baserunners in one inning) pushed him back a couple of notches. Rodney pitched well over his last 28 games (2.52 ERA and 31 Ks over 25 innings) while converting 18 of 19 saves. He pitched well against righties (.165 BAA) with success vs. LH batters (.233). His AFB (95.5) was a step below in 2016 (96.1). Three of his pitches were tough to hit (changeup – .163 BAA, sinker – .236 BAA, and four-seam – .208 BAA). Over the last three season, Fernando has a 4.12 ERA and 1.336 WHIP. He appears to have more downside than upside at age 41, but his arm can still get batters out. A veteran closer who tends to have poor command leading to disaster outings. Backend closer if you're one-stop shopping for saves, but I would add insurance.
RP Addison Reed
Reed pitched well over 48 games for the Mets leading to a 2.57 ERA and 48 Ks over 49 innings. He converted 19 of his 21 saves chances while featuring an elite walk rate (1.1). When Addison struggled, it was due to HRs allowed (1.3 per nine). After the trade to Boston, his game took a step backward.  Reed lost his command (3.0 walks per nine) with more disaster in home runs (five HRs over 27 innings). He had almost equal success against righties (.222) and lefties (.233). His AFB (92.3) was a career low, but batters only hit .218 against his four-seam fastball. His slider (.253 BAA) wasn't as sharp as 2016 (1.85 BAA). With 125 major league saves and an edge in command, Addison will be ready to snatch up the closing role if Fernando Rodney turns in too many disaster games.

RP Trevor Hildenberger
Hildenberger finally made to the majors after posting elite stats in the minors. Over four seasons, he had a 1.57 ERA, 200 Ks, and 52 SVs over 171.2 innings. Trevor walked only 1.4 batters per nine innings in the minors with strength in his K rate (10.5). His command translated well to the majors (1.3 walks per nine) with only a slight step back in Ks (9.4 per nine). Over his first 32.1 innings with the Twins, Hildenberger had a 2.51 ERA, and batters only hit .237 against him. He tripped up over the second half of September (six runs and ten baserunners over 6.2 innings). His AFB (91.4) is below the league average. Batters struggled vs. his four-seam fastball (.105 BAA) and changeup (.175 BAA), but he had risk with his sinker (.328 BAA). Dark horse to close if Minnesota had a couple of injuries in their bullpen. His lack of a big fastball has been the reason for his slow path to the majors.
American League Central
Looking for DFS advice? FullTime DFS.com is LIVE and absolutely DOMINATING week in and week out! Check out the best of the best content from real cash winners! Not all experts are created equal… Join Now!