Detroit Tigers
The fun ride of the Tigers is over. They moved two of their better players (Justin Verlander and J.D. Martinez) last summer leading to a 64-98 record and a 13-40 record to end 2017. Detroit moved Ian Kinsler in December for a pair of minor league players. Their next step is losing the high contact of the fading Miguel Cabrera while developing the young talent base of their franchise.
Detroit allowed 173 more runs than 2016 (721) after having the worst ERA (5.36) in the American League. Also, the Tigers had the worst bullpen in baseball (17-28 with a 5.63 ERA). Batters hit .283 vs. Detroit's relievers.
Offensively, they finished 23rd home runs (187) in majors while scoring 15 fewer runs than last season (750).
The only player lost in the offseason was P Anibal Sanchez. The Tigers signed Leonys Martin to compete for a starting job in the outfield. Detroit added Mike Fiers for depth in the starting rotation. The Tigers took a flier on a pair of backup catchers (Derek Norris and Brayan Pena) who will compete for a bench role this spring.
In 2018, Detroit looks to have a date with last place in the AL Central. Their pitching staff has risk in just about every area. Offensively, the Tigers have three viable options in the middle of the lineup – Miguel Cabrera, Victor Martinez, and Nicholas Castellanos. The rest of the starting upgrades are well below the league average with minimal help at the high levels of the minors.
Starting Lineup

1. OF Leonys Martin
Seattle gave Martin only 56 at-bats in April to prove his worth. He hit .111 with no HR, no RBI, and four SBs, which led to a long trip to AAA. In the minors, Leonys delivered the type of bat Fantasy owners hoped for in the majors. He hit .306 with 11 HRs, 39 RBI, and 25 SBs over 360 at bats. His K rate (24.2) showed risk at AAA, which was a step below his career number in the majors (22.2). Martin continues to have a low walk rate (5.7 at AAA and 6.4 in his major league career). Last year in the minors and majors, Martin had growth in his average hit (1.609 and 1.636), which points to more strength in home runs going forward. HIs swing path tends to be ground ball favoring (45.5 percent in the minors in 2017 and 48.5 in his major league career) leading to a short fly ball rate (31.6 percent in his major league career). With Detroit being in transition in a couple of spots in their starting lineup, Leonys should be the best option on the team to hit first or second in the batting order. His batting average won't be in an impactful area, but a run at 30+ SBs with 15+ HRs is well within reach with 500+ at bat. Player to follow this spring as his price point will be favorable this draft season.

2. 3B Jeimer Candelario
Over seven seasons in the minors, Candelario doesn't have a great resume. He hit .270 over 2,846 at bats with 71 HRs, 432 RBI, and eight SBs. His walk rate (10.6) is an area of strength with an above the league average K rate (17.3). His bat did show growth over two seasons at AAA (.292 with 24 HRs and 125 RBI over 671 at-bats) plus he handled, himself well over 38 games in the majors last season (.330 with 13 HRs and 16 RBI over 127 at-bats). Jeimer is contact type hitter with limited upside in power at this point in his career. The battle for him will be trading power for batting average as he tries to become more of a pull hitter. His glove isn't an area of strength, and his lack of speed won't play well in the outfield. Tough call in 2018. His bat should work in this lineup, but the Tigers need to find him a place in the field. Candelario takes enough walks to hit ahead Miquel Cabrera as long as Detroit wants to play station-to-station in baseball. He has the makings of a neutral hitter with a 15/75 skill set. Be careful not to overprice based on his short-term sample size in the majors. His swing path and approach at the plate will continue to improve with more playing time in the majors.

3. 1B Miguel Cabrera
2017 was a disaster season for Cabrera. He looked like a shell of himself with fade in every part of his skill set. His RBI (14) was the lowest of his career and well below his career average (10.9 percent). He had his worst approach of his career (20.8 percent K rate and 10.2 percent walk rate). Both numbers were below his career path (17.1 and 11.2). Miquel had a sharp decline in his CTBA (.326 – .387 or higher over the previous five seasons) plus a double hitter's AVH (1.598). In his defense, he did play through a back issue (herniated disks) plus Cabrera spent some time early in the year on the DL with a groin injury. His best month of the year came in June (.281 with five HRs and 16 RBI over 96 at-bats). In every other month, his lack of success had a weak second baseman's feel. Cabrera did hit well vs. lefties (.326 with three HRs and 16 RBI over 95 at-bats). HIs swing path led to a career-high line drive rate (27.3) and fewer fly balls (32.9 percent). When looking at his last four seasons, his HR/FB rate has been below his career average (18.8) in three times (2014 – 14.0, 2015 – 15.8, and 2017 – 13.4). The offseason reports on Miquel have been quiet. I'd like to have an update on his back before buying him at a discount in 2018. Cabrera needs 364 hits to reach 3,000, 38 HRs to reach 500, and 387 RBI to reach 3,000. He's a Hall of Fame player. His ability to hit for a high average (.317 in his career) would still make him an attractive option for me as the 10th to the 12th first baseman off the board. I expect a rebound while setting his floor at .300 with 25 HRs and 90 RBI.

4. 3B Nick Castellanos
Nick was the Scout.com breakout hitter in 2017. He delivered career highs in just about every category, but his regression in CTBA (.354 – .390 in 2017) led to a slight step back in batting average. His average hit (1.802) was a career best while being an area where 30+ HRs should be expected going forward. Nick had growth as an RBI producer (18 percent) even with less than impactful RBI chances (388). Castellanos lowered his K rate (21.4) to a point where it's close to the league average (20.3). Nick had a slight drop in his walk rate (6.2). HIs best success came against lefties (.292 with 11 HRs and 28 RBI over 137 at-bats). After a quiet first two months of the year (.209 with four HRs and 25 RB over 201 at-bats), Castellanos hit .303 with 22 HRs and 76 RBI over his last 413 at-bats. His swing tends to deliver a high volume of line drives (25.2 percent in his career) with an improving HR/FB rate (14.3). An interesting player in 2018, his minor league resume says ".300 hitter" while his overall package set a floor 25/90 type skill set. His spike in power will come with more loft on his swing leading to more fly balls and a higher HR/FB rate. The Tigers lineup isn't great behind him, so his runs won't be much higher than league average.

5. DH Victor Martinez
Martinez had a reasonable start to 2017 after his first 137 at bats (.270 with three HRs and 23 RBI). Just when his power (six HRs over 81 at-bats) was starting to come around, Victor landed on the DL for ten days in June with a heart issue. The same problem ended up ending his season in late August. From late June through August 26th, he had many empty nights (.247 with five HRs and 18 RBI over 174 at-bats). HIs K rate (14.5) and walk rate (8.3) were almost identical to 2017 (14.8 and 8.2). Martinez made weaker contact (CTBA – .304) with less length on his hits (AVH – 1.460). He hit .255 against both RB and LH pitching. Some of his decline in power was due to fewer fly balls (34.2 percent – 39.3 in 2017) plus regression in his HR/FB rate (8.8 – 10.7 in his career). The Tigers reported in December that Martinez no longer had an issue with his irregular heartbeat. A veteran player who has a recent trend of being better in even years. At age 39, his best days look to be fading. With only a DH qualification, his draft value will be low, and I would set his bar at .280 with mid-teens HRs and about 75 RBI.

6. C James McCann
McCann showed power (five HRs) over his first 55 at-bats in April, but he only hit .164. He continued to split at-bats in May (.245 over 53 at-bats with two and six RBI) due to a surging K rate (34.5). A left-hand issue cost him a couple of months in late May and early June. The Tigers gave him about two games per week over the next six weeks (.271 with two HRs and ten RBI over 70 at-bats). Over the last two months of the year with close to starting at-bats (174), James hit .276 with four HRs and 22 RBI). He finished with an improved K rate (22.8 – 29.2 in 2016) and a short walk rate (6.7). McCann is a better player against lefties (.298 with seven HRs and 13 RBI over 104 at-bats). Last season he had fewer fly balls (34.2 percent – 40.2), but his HR/FB rate (14.3) improved for the second straight season. This season he should have the most at-bats of his career with a slight negative in batting average with close to a 15/60 skill set. James will be a C2 in deep leagues.

7. OF Mikie Mahtook
After spending three seasons at AAA (.277 with 17 HRs, 120 RBI, and 33 SBs over 1,088 at-bats), Mahtook finally worked himself into at-bats in the majors. Over the last four months of the season, Mikie hit .294 with ten HRs, 30 RBI, and 20 SBs over 289 at bats. HIs K rate (20.8) was about league average while almost matching his minor league resume (20.9). He needs to take a few more walks (6.2 percent in the majors and 7.4 in the minors) to land a higher spot in the batting order. With Detroit, Mahtook had his highest HR/FB rate (13.3) of his career. This season he'll compete for a starting job in the majors. His career path and lack of playing time in the big leagues at 28 makes him only a backend flier. Mikie may be a sneaky 15/20 player if he's able to get regular at-bats with the Tigers. His opportunity will fall on Detroit's ability to sign a free agent outfielder.

8. 2B Dixon Machado
Dixon doesn't have the skill set to lock down a major league starting job in the infielder at this point of his career. He still needs to add strength to add more length to his hits plus his CTBA tends to fall in a low area. Over eight seasons in the minors, Machado hit .246 with 20 HRs, 253 RBI, and 131 SBs over 2,902 at bats. His game did show some improvement at AAA over the last two seasons (.264 with eight HRs, 96 RBI, and 32 SBs over 1,001 at bats). He will take some walks (9.4 percent) with a low K rate (13.7). As utility player for Detroit in 2017, Dixon hit .259 with a HR, 11 RBI, and one SBs over 166 at bats. His approach did lose some value in strikeouts (17.7 percent) and walks (5.5 percent). Machado is a groundball type hitter (55.2 in his career) with minuscule HR/FB rate (2.1). One category type player (stolen bases) with more risk than reward if given an opportunity to start.

9. SS Jose Iglesias
After showing a spark in batting average (.300) in 2015 with the Tigers, the light hitting Iglesias has been a waiver wire option in most Fantasy leagues in the season-long market. He hit .255 in back-to-back seasons while failing to break .300 in his contact batting average. Even with a short home run total (6), Jose keeps adding more length to his hits (AVH – 1.449). Last year his K rate (13.3) was again better than the league average (20.3), but it was below his high bar that he set in 2015 (9.7) and 2016 (9.8). Over his first 123 at-bats last year, Iglesias hit .195 with one HR, nine RBI, and three SBs. His swing did gain some momentum over the next 13 weeks (.292 with three HRs, 30 RBI, and three SBs over 216 at-bats) while looking rather boring again over his last 124 at bats (.250 with two HRs, 15 RBI, and one SB). He continues to be a ground ball hitter (50.4 percent – 53.5 in his career) with a short fly ball rate (26.4). His HR/FB rate (5.7) was a career high. This season I could see a rebound in his batting average with a chance to be a 10/10 player. At best, Jose is a short-term injury cover in deep leagues.

3B Dawell Lugo
After being a light hitting power hitter with low speed over his first four seasons in the minors, Lugo was a much better hitter over the last two seasons highlighted by his success at AA (.284 with 17 HRs, 85 RBI, and four SBs over 689 at-bats). He's a career .276 hitter in the minors with 47 HRs, 291 RBI, and 21 SBs over 2,372 at bats with no experience at AAA. His K rate (14.0) is in an area of strength with a short walk rate (4.0). This season he'll start at AAA with a chance to get some at-bats in the majors in 2018, which will have to come at second base if he wants to play every day. Deep flier with a chance at 20+ HRs and strength in his batting average as he develops.

OF Christin Stewart
Stewart had almost identical seasons over the last two years in the minors. In 2016, he hit .255 with 30 HRs and 87 RBI follow up by a .256/28/86 season. His K rate (24.1) invites risk while showing middle of the batting order approach (12.0 walk rate). The Tigers selected Christin in the first round in the 2015 MLB June Amateur Draft. Over two and half seasons in the minors, he hit .262 with 68 HRs, 217 RBI, and 11 SBs in 1,184 at-bats. Stewart should start the year at AAA with a chance to make the majors in 2018 due to the questionable options in the outfield in Detroit. His defense will limit him to left field. A great power hitter with some batting average risk early in his career.

Like and share our new Facebook page! Be sure to pay attention to our giveaways for your shot at some sweet prizes!
Bench Options
John Hicks (C) – Hicks gave Detroit nice at-bats off the bench in 2017 (.266 over 173 at-bats with six HR and 22 RBI), but he did strikeout at a high rate (26.8). Over seven seasons in the minors, John hit .283 with 49 HRs, 298 RBI, and 62 SBs in 2,060 at-bats. He'll compete for the backup catching job in 2018.
Derek Norris (C) – Norris hit his way out of the majors over the last two seasons (.190 with 23 HRs, 66 RBI, and ten SBs over 594 at-bats). This year Norris will try to reinvent his career while trying to unseat John Hicks as the backup catcher in Detriot. Derek has power and speed with a high K rate (24.7).
Kody Eaves (2B) – Kody showed growth at AA in 2017 (.272 with 13 HRs, 41 RBI, and seven SBs in 306 at-bats). He tends to have a high K rate (23.1) with improvement in 2017 (21.9). Over six seasons in the minors, Eaves hit .257 with 48 HRs, 252 RBI, and 87 SBs over 2,321 at bats. Nice balanced skill set with batting average risk. Kody will start 2018 at AAA.
JaCoby Jones (OF) – Jones had a tough time making contact in the majors last year. He struck out 65 times in 154 at-bats (42.2 percent) leading to poor results (.170 over 141 at-bats with three HRs, 13 RBI, and six SBs). Over five seasons in the minors, JaCoby hit .264 with 56 HRs, 247 RBI, and 70 SBs in 1,751 at-bats. He has a 20/80/20 skill set with more growth needed in his K rate (27.2 in the minors). Enough talent to make a nice step forward. Jacoby will compete for the 4th outfield job in 2018 while possibly adding Fantasy value as a short-term injury cover.
Victor Reyes (OF) – Victor Reyes hit .298 in 2,059 at-bats in the minors with 12 HRs, 256 RBI, and 80 SBs. His approach at the plate (K rate – 15.1 and walk rate – 6.7) isn't high enough at this point in his career to offset his low output in power and limited upside in speed. Victor is a Rule 5 player, so the Tigers will try to carry him all year on their major league roster.
Pitching Staff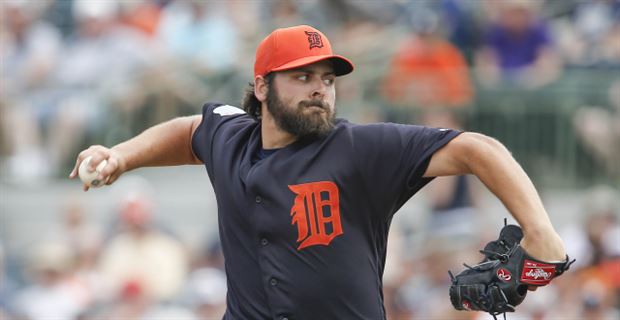 1. SP Michael Fulmer
Fulmer threw the ball well over his first ten starts (5-3 with a 2.65 ERA and 54 Ks over 68 innings), but his arm started to lose momentum in June and July (4.48 ERA and 46 Ks over 72.1 innings) before landing on the DL in early August with an elbow issue. After missing two weeks, Michael struggled over his last four starts of the season (5.18 ERA and 14 Ks over 24.1 innings). The Tigers shut him down in September leading to surgery to fix an issue with his ulnar nerve in his right elbow. Typically, transposition surgery requires a window of three to six month to recover. Fulmer finished 2017 with a poor K rate (5.1) and a rising HR/9 rate (1.3) over his last ten starts, which just showed the decline in his stuff. On the year, batters hit .243 against him with lefties having the most success (.264 BAA). His average fastball came in at 96.0, which was in line with his rookie season (95.8). Batters struggled to hit is four-seam fastball (.232 BAA), changeup (.232 BAA), and slider (.227 BAA). Both his secondary pitches had more value in 2016 (slider – .197 BAA) and changeup – 1.67 BAA). I like the upside of Michael's arm when healthy. He has three pitches that are tough to hit with a very low walk rate (2.2). The Tigers won't be a great team in 2017, and their bullpen is well below the league average. Wins will be tough to come by while Fulmer may be left in a few games too long. I hate buying pitchers coming off injuries, but his combination of upside and draft value may be tough to pass up. Excellent chance of a sub 3.50 ERA with a push to 170 Ks with 200 innings pitched. If he has any setback, I will put Michael on my avoid list.

2. SP Jordan Zimmerman
After two seasons, the Tigers wish they never invested in Zimmermann. Over seven years with the Nationals, Jordan went 70-50 with a 3.32 ERA and 903 Ks in 1,094 innings compared to two disaster years in Detroit (17-20 with a 5.60 ERA and 169 Ks in 265.1 innings). Over 29 starts in 2017, he allowed four runs or more in 15 contests. Zimmermann lost his K ability (5.7 Ks per nine in the AL) with three straight years of fade in walk rate (1.3, 1.7, 2.2, and 2.5). Both RH (.304 with 14 HRs over 322 at bats) and LH (.322 with 15 HRs over 329 at-bats) batter had success against Jordan. His AFB (92.7) was slightly above 2016 (92.6), but below his best years with the Nationals (94.6). Last year his only pitch of value was his slider (.227 BAA) with batters crushing every other pitch (four-seam fastball – .342 BAA, sinker – .375 BAA, changeup (.373 BAA, and curveball – .372 BAA). Over the last two seasons, Zimmermann battled a neck issue that hasn't been corrected with surgery. Certainly, the talent to rebound with more life and velocity on his pitches, but he's undraftable headed into the 2018 season. The Tigers would love to unload his contract ($74 million) with the first sign of a spark in his arm.

3. SP Daniel Norris
After battling a dead arm late in April training, Norris wondered his way through his first 13 starts of the year (4.42 ERA and 69 Ks over 71.1 innings). Batters hit .292 against him over this stretch with risk in his walk rate (3.9). Daniel landed on the DL for a couple of months with a groin injury after three disaster starts (15 runs and 28 baserunners over 13.2 innings). Over his last five appearances of the year, Norris had a 4.32 ERA with seven Ks over 16.2 innings. He struggled with both righties (.297 BAA) and lefties (.287 BAA). Daniel had a weaker walk rate (3.9 – 3.4 in his career) after making some progress in this area in the majors in 2016 (2.9). His K rate (7.6) regressed as well. HIs AFB (93.6) still grades as an asset in velocity, but batters drilled his four-seamer (.338 BAA and .571 SLG) and his slider (.291 BAA). Both his changeup (.180 BAA) and his curveball (.147 BAA) graded as plus pitches. Norris doesn't have a great minor league resume (25-34 with a 4.41 ERA and 493 Ks over 448.2 innings), but he did flash high upside in 2014 (12-2 with a 2.53 ERA and 163 Ks over 124.2 innings). Possible growth if/when he starts to throw more strikes. At best, around a 4.00 ERA with a run at 150+ Ks.

4. SP Mike Fiers
Adding Fiers to the Tigers' starting rotation, it like adding gas to a fire. He's coming off his worst year in the majors (5.22) with two straight seasons of fade and a huge HR/9 rate (1.9). His K rate (8.6) fell in line with his career resume (8.5), but Mike lost his command (3.6 walks per nine innings – 2.9 in his career). Even with lots of crooked numbers on his 2017 resume, he did pitch at a high level over ten starts mid-season (6-2 with a 2.36 ERA, .195 BAA, and 69 Ks over 61 innings). Over his first nine games of the year, Fiers allowed 16 HRs over 46.2 innings leading to failure in his ERA (5.21) despite allowing over four runs in just one of those games. His game had much more diaster downside over his last eight starts (five games with six runs or more allowed). Over his final nine games, Fiers had a 9.29 ERA, .333 BAA, and ten HRs allowed over 41.2 innings. Mike allowed 17 HRs to righties and 15 HRs to lefties with no real success vs. either side of the plate (RH – .275 BAA and LH – .256 BAA). HIs AFB (90.3) is below the league average. Fiers had the least amount of success with his cutter (.367 BAA) and slider (.333  BAA) while his curveball (.211 BAA) and changeup (.244 BAA) had plenty of value to get hitters out. His direction suggests an underlying arm issue. Only a start-to-start investment if he's showing better command at the start of the season.

5. SP Matt Boyd
Boyd hasn't been unimpressive over his three seasons in the majors (13-22 with a 5.47 ERA and 235 Ks over 289.2 innings). In 2016, Matt did flash upside over ten outings in July and August (5-0 with a 2.55 ERA and 46 Ks over 49.1 innings). Last year he held his own over his first eight starts (3.89 ERA), but a bad four games (10.13 ERA with only eight Ks over 16 innings) led to a trip back to AAA. In the minors, Matt dominated again (2.82 ERA with 53 Ks over 51 innings). After the All-Star break over 15 games, Boyd remains a negative drain on the pitching stats for Fantasy owners (4.97 ERA and 73 Ks over 79.2 innings). His AFB (92.8) improved for the second straight season. Matt only had one pitch of value in 2017 (curveball – .219) while his changeup (.222 BAA) and slider (.204 BAA) flashed in 2016. Boyd has a winning minor league resume (2.49 ERA with 388 Ks over 387 innings). Thre's more here than meets the eye at the major league level, but Boyd can't have success without throwing more strikes and minimizing the damage in HRs (1.6 per nine innings in his major league career). I don't like the direction of the Tigers, so it would be tough to place a high bet on Matt figuring it out in 2018. Worth a flier for sure in deep leagues as long as a Fantasy owner has a short leash. His career path gives him a chance at a 3.50 ERA with 150 Ks down the road.

6. SP Tyler Alexander
Alexander struggled to get batters out at AA in 2017 (5.07 ERA with 120 Ks over 138.1 innings) after flashing upside over his first year and a half in the minors (2.13 ERA with 138 Ks over 173.1 innings.) Tyler continues to have plus command (1.4 walk rate) with some growth in Ks (7.6 per nine) last year. Alexander has a low 90s fastball with some work to do with his secondary pitches. This season he may start the year at AA then a quick trip to AAA. His command will get him to Detroit, but major league batters will hit his fringy stuff early in his career with a potential home run problem. I expect him to be a better pitcher for the Tigers in 2018.

7. SP Beau Burrows
The Tigers selected Burrows in the 1st round of the 2015 MLB June Amateur Draft. Over three seasons in the minors, Beau has a 17-11 record with 237 Ks over 260 innings. His stuff did lose value over 15 starts at AA in 2017 (4.72 ERA) after dominating at High A (1.23 ERA and 62 Ks over 58.2 innings). His fastball is expected to be in the mid-90s as he develops with a chance to offer a curveball and a changeup with major league value. Burrows has been working on a slider as well. Sure bet to repeat AA with a very good chance of pitching in the majors this year. Growing pains should be expected while having a high enough ceiling to offer short-term value in the majors if called up.

CL Shane Greene
After struggling over his first three seasons in the majors (14-16 record with a 5.50 ERA and 19 Ks over 222.2 innings), Shane had his best season in relief in 2017 (2.66 ERA with 73 Ks over 67.2 innings). Over the last two months as the closer, he had a 2.49 ERA, 23 Ks, and nine saves over 21.2 innings. Even with growth as a pitcher, his high walk rate (4.5) does invite disaster downside in the 9th inning. Surprisingly, Greene had a lower walk rate (3.2) as a starter than a reliever (3.9). His stuff played well vs. both righties (.185 BAA) and lefties (.236 BAA). His AFB (96.1) was career best. Batters struggled to hit his slider (.067 BAA). Tough to believe in Greene as a closer long term due to his inability to throw strikes. Placeholder only until a better option emerges.

RP Joe Jimenez
Over five seasons in the minors, Jimenez went 15-7 with a 1.56 ERA, 241 Ks, and 56 saves over 167.1 innings. He's had success at AAA (1.77 ERA and 52 Ks over 40 innings), but Joe struggled to get major league batters out in 2017 (12.32 ERA and 17 Ks over 19 innings). In May, he had an issue with his back in the minors leading to a trip to the DL. His AFB (95.6) offers an edge. Jimenez offers a slider with strikeout ability while working on a changeup (.214 BAA) that had some success in the majors. Joe had a low walk rate (2.8) in the minors and an explosive K rate (13.0). Future closer and the best bet to emerge in the 9th inning in 2018.

RP Zac Reininger
Over five seasons in the minors, Reininger has a 9-10 record with a 2.49 ERA and 180 Ks over 184.2 innings. Last season he pitched well at three levels (2.54 ERA and 60 Ks over 63.2 innings) leading to call up to the majors. Just like almost every other pitching option in the bullpen for the Tigers in 2017, Zac had no answer for major league batters (7.45 ERA with three HRs allowed over 9.2 innings). His AFB (95.1) came in above the league average while also featuring a curveball and a slider. Over his first two years in the minors, Zac picked up 21 saves with a 2.04 ERA and 90 Ks over 83.2 innings. Possible setup man in 2018 with upside once he gains more experience and adds more bulk.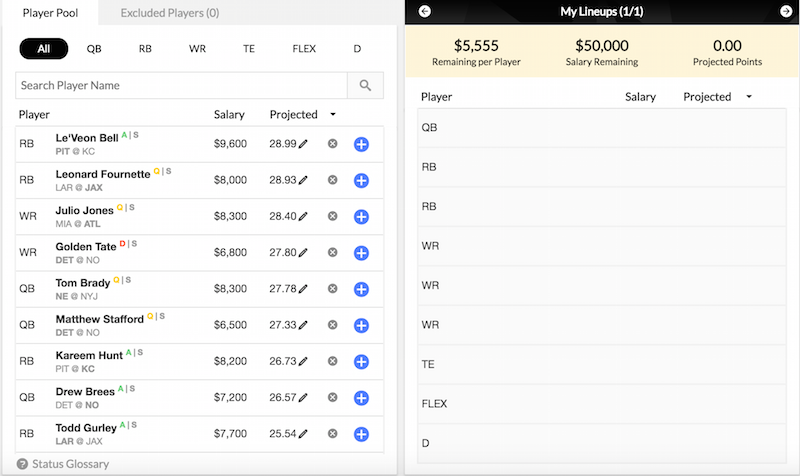 Join FullTime DFS.com and receive DFS content from our team of experts: Steve Renner, Fuego Steve, Jaguar Lou, Nate Weitzer, Shawn Childs, Dr. Roto & Adam Ronis… If you choose an optimizer plan, we have optimizers for every major sport based on our Rainman Data Analytics (RDA) that work for DraftKings, FanDuel and Yahoo. All of this is yours via a FullTime Fantasy subscription. What are you waiting for? The best deals in the industry are waiting for you at FullTime DFS!