Chicago White Sox
The rebuilding mode by the White Sox led to their worst season (67-95) since 2013 (63-99). Chicago hasn't made the playoffs in their last nine seasons.
They allowed 105 more runs thanks to the 13th ranked pitching staff (4.78 ERA) in the American League. Their bullpen finished 18th in ERA (4.28). The starting rotation is in transition with questionable talent in the bullpen.
The White Sox hit 186 HRs (25th on the majors) while scoring 20 more runs than 2016 (786). The only two players lost to free agency (C Geovany Soto and SP Mike Pelfrey). Welington Castillo was added to start at a catcher. The bullpen added three arms (Joakim Soria, Luis Avilan, and Thyago Vieira via trades. Soria is expected to take over in the 9th.
The key to this team's improvement will come from the development of 2B Yoan Moncada and their young arms in the starting rotation.
2018 will be another losing season with flashes of greatness from their young stars.
Starting Lineup

1. 3B Yolmer Sanchez
Sanchez pushed his way to AAA by age 20, but he struggled to make an impact at that level over five seasons (.272 with 17 HRs, 132 RBI, and 47 SBs over 1,274 at-bats). The White Sox gave him a chance in the majors over the last four years (.242 with 21 HRs, 116 RBI, and 11 SBs over 1,127 at-bats). HIs bat started to show growth with Chicago in 2017 (.267 over 484 at-bats with 12 HRs, 59 RBI, and eight SBs). HIs K rate (20.8) and walk rate (6.6) are below the league average for this type of skill set. Yolmer played well in May (.316 with a HR, 11 RBI, and three SBs over 95 at-bats) with further growth over the last two months of the season (.275 with seven HRs, 33 RBI, and four SBs over 193 at-bats). His swing path is improving (44.5 percent ground ball rate – 47.0 percent in his career). Sanchez added more length to his hits over the last two years (1.719 and 1.550) in the majors with strength in his RBI rate (17 and 16). Over eight years in the minors, he hit .284 with 20 HRs, 238 RBI, and 89 SBs over 2,226 at-bats. There's upside here, but Yolmer needs to improve his approach at the plate while adding more power and speed. His best value will come as a middle infielder in deep Fantasy leagues. Next step: .280 with 70+ runs, 15+ HRs, 70 RBI, and a chance at 15 SBs.

2. SS Tim Anderson
Anderson didn't hit the ball as hard in 2017 (CTBA – .335), but he did show growth in power (17) even with only a slight tick up in his average hit (1.563). His K rate (26.7) remained a liability even with a slight improvement over 2016 (27.2). His minor league resume in this area (22.6 percent K rate) was closer to the league average (20.3). Tim continues to get himself out with a poor walk rate (2.2). He hit well vs. lefties (.321 with four HRs and 19 RBI over 159 at-bats) while offering weakness against RH pitching (.234 with 13 HRs and 37 RBI over 428 at-bats). His bat came up empty in April (.204 with two HRs and six RBI over 93 at-bats), in June (.213 with a HR and nine RBI over 94 at-bats), and in July (.198 with two HRs and five RBI over 81 at-bats). His swing started to come around over the last two months of the year (.293 with eight HRs and 27 RBI over 225 at-bats). Anderson has a ground ball swing (52.7), but his FB rate (28.0) is trending up along with his HR/FB rate (14.4). His batting average should rebound in 2018 thanks to his ability to hit for a high average when he makes contact. His speed set a high ceiling in 2015 (49 SBs over 513 at-bats). I don't like his approach, but his talent should prevail with more experience. Possible .280 with a run at a 20/30 season in the near future.

3. 2B Yoan Moncada
Moncada has plenty of talent, but he strikes out too much (28.3 K rate at AAA in 2017 and 32.0 percent in the majors last year). He did take plenty of walks with Chicago (12.6 percent) with similar success in the minors (13.4). Over his 1,020 at-bats in the minors, Yoan hit .285 with 35 HRs, 136 RBI, and 111 SBs. He struggled over his first 38 at-bats with the White Sox (.105 with one HR, six RBI, and 16 Ks) before making steady progress in August (.238 over 63 at-bats with two HRs, five RBI, and 28 Ks) and September (.276 with five HRs and 11 RBI over 98 at-bats). Moncada had a tough time against both righties (.235 BAA) and lefties (.224 BAA). Yoan has explosive upside in both power and speed with a full season of at-bats in the majors. There is no doubt he is going to struggle to make contact early in his career, but he can still have success with a K rate in the 26.0 range. This is a similar number with some of the top young talents in the game. With better pitch recognition, his light bulb will flash brightly. Buy the power/speed skill set (20/40) while knowing his batting average still has a chance to surprise with a plus CTBA or a low K rate. Don't overpay, but bet on the come if the rest of the league delivers him at a discount.

4. 1B Jose Abreu
Abreu continues to be an elite run producer in his four seasons in the majors. He has over 100 RBI in four straight years despite below par RBI chances (363, 381, 459, and 379) for a cleanup hitter in three of his four seasons. 2017 was the best year of his career while setting career highs in runs (95), hits (189), double (43), and triples (6). HIs AVH (1.815) rebounded from his fade in 2016 (1.595) while his CTBA (.376) remained in a tight range over the last three years. Jose had a career low walk rate (5.2) while lowering his K rate (17.6) for the third straight year. His bat had plus value against lefties (.356 with ten HRs and 28 RBI over 149 at-bats) with a steady swing vs. RH pitching (.288 with 23 HRs and 74 RBI over 472 at-bats). Abreu hit .290 over every month after April with his best success coming in August and September (.322 with 14 HRs and 34 RBI). His fly ball rate (36.4) was a career high with improvement in each year in the league. Jose has strength in his HR/FB rate (17.9) while remaining below his best two seasons in 2014 (26.9) and 2015 (19.7). I wish he played in a better lineup to help his RBI chances and run scored. Pretty much a .300 hitter with an 80/30/100 skill set.

5. OF Avisail Garcia
Garcia had some progress in his swing path and a career high in runs (75), HRs (18), and RBI (80). His walk rate (52.2) remains in a weak area leading to a low fly ball rate (27.5). Avisail has a respectable HR/FB rate (16.1). He played well over the first three months (.318 with 40 runs, 11 HRs, and 51 RBI) pointing to an impactful season. Garcia landed on the DL in July with a right thumb injury while also battling a wrist issue in August. This led to a poor July and empty August (.336 with two HRs and 11 RBI over 150 at-bats). Avisail regained his power in September (.355 with five HRs and 18 RBI). Despite hitting only two HRs over 132 at-bats against lefties, he did hit well against them (.424 with 20 RBI). Garcia held his own vs. RH pitching (.298 with 16 HRs and 60 RBI). He had a career-best K rate (19.8) while his walk rate (5.9) was about the same as his career path (6.1). Avisail looks close to figuring it out. He needs to hit more fly balls at the expense of his groundball rate. On a path for a .290 season with 25+ HRs and a career high in RBI.

6. C Welington Castillo
Over the first 17 games of his 2017 season, Castillo hit .314 with a HR and six RBI. He then missed the first two weeks of May with a neck/shoulder injury. Welington played at a high level over the next two weeks (.320 with three HRs and 11 RBI over 50 at-bats) before missing another ten days with a groin issue. After starting 14 times in the next 15 games (.204 with four HRs and eight RBI), Castillo settled into a three to four day a week catcher (.292 with six HRs and 15 RBI over 106 at-bats). His season ended a .258 batting average with six HRs and 13 RBI while striking out 22 times in 66 at-bats. HIs K rate (26.6) almost matched 2016 (26.5) with some fade in his walk rate (6.0). Welington had a career-high CTBA (.393) with a rebound in his AVH (1.740). Castillo was at his best vs. lefties (.344 with six HR and 18 RBI over 93 at-bats). His HR/FB rate (22.5) was a career high. Evolving power bat who has never had over 420 at-bats in any season in the majors. I expect regression in his CTBA pointing to a sub .250 batting average with 20+ HRs and 60+ RBI with a career-high in at-bats.

7. DH Matt Davidson
In 2011 at High A, Davidson appeared to be on his path to be a nice majors league bat. He hit .277 over 535 at-bats with 20 HRs and 106 RBI. After moving to AAA in 2013, his game became stagnate. Matt spent five seasons at AAA (.232 with 70 HRs and 249 RBI over 1,736 at-bats). His upside was deterred by his high K rate (29.3) while offering strength in his walk rate (9.6). He finally had his chance in the majors in 2017. Davidson showed power (26 HRs over 414 at-bats), but he had a poor approach at the plate (K rate – 37.3 and walk rate – 4.3). Matt hit only .209 against righties with 21 HRs and 53 RBI over 302 at-bats. Over the first three months of the season, he hit .250 with 17 HRs and 38 RBI while striking out 96 times in 220 at-bats. His swing regressed with each month going forward (July – .210 with five HRs and 13 RBI, August – .190 with a HR and four RBI, and September – .163 with three HRs and 13 RBI. Davidson has a fly ball swing path (46.5 percent in 2017) with a strength in his HR/FB rate (22.0). Low average power bat who need a better approach to keep a job in the majors for the whole season. The lack of elite options at the higher levels of the minors should create another window for Matt to prove his worth. Bench flier with 30 HR upside with a full season of at-bats while offering plenty of batting average and job loss risk.

8. OF Nicky Delmonico
Over six seasons in the minors, Delmonico hit .257 with 61 HRs, 248 RBI, and 26 SBs over 1,800 at-bats. Nicky started to make some improvement at AAA in 2016 and 2017 (.255 with 19 HRs, 75 RBI, and six SBs over 638 at-bats) leading to a call-up to the majors. Over the month of August with the White Sox, he hit .307 with six HRs and 12 RBI over 75 at-bats while taking more walks (15) than strikeouts (14). A left shoulder injury led to a couple of weeks on the DL. Over the last 21 games of the season in the majors, his bat lost value (.212 with three HRs and 11 RBI over 66 at-bats). HIs K rate (18.7) was above the league average while taking a high volume of walks (13.9 percent). Both of these numbers were higher than his minor league resume (7.8 percent walk rate and 20.6 percent K rate). Not a sexy prospect, but there are some signs of short-term value in the majors at the very least. Only a flier while his approach may lead to a middle of the order opportunity on this roster.

9. OF Charlie Tilson
An ankle injury cost Tilson the whole 2017 season. Over five seasons in the minors, Tilson hit .293 with 19 HRs, 154 RBI, and 89 SBs in 1,836 at-bats. His walk rate (7.0) was just below league average with a low K rate (14.6). Even with 89 steals on his minor league resume, Charlie isn't a great base stealer (76.1 percent). The White Sox acquired him in a trade with Cardinals in the summer of 2016 for RP Zach Duke. After one game in the majors in 2016 (1-for-2), Tilson went down with a torn left hamstring. He has weak arm and his overall skill set is below a starting center fielder in the majors. Judy-type batter with the ability to steal 30+ bags. He'll compete for the starting center field job in Chicago in 2018.
OF Willy Garcia
Over eight seasons in the minors, Garcia hit .259 with 84 HRs, 387 RBI, and 56 SBs over 2,753 at-bats. Earlier in his career, Willy looked to have a 20+ HR skill set with double-digit speed. He struggled at AAA (.251 with 21 HRs, 101 RBI, and seven SBs over 850 at-bats) over three seasons. His walk rate (5.9) is short with a high K rate (26.6). In the majors over 105 at-bats in 2017, his K rate came in at 26.1 with a higher walk rate (9.2). A low-value prospect who will compete for a bench role this spring. Young enough to improve with a 20 HR swing with enough at-bats. His batting average will have risk early in his career in the majors.
Bench Options
Kevan Smith (C) – Kevan hit .283 over 276 at-bats in the majors in 2017 with four HRs and 30 RBI. He had a low K rate (15.7) while barely taking any walks (nine). Over seven seasons in the minors, Smith hit .285 with 56 HRs and 329 RBI in 1,953 at-bats. At age 29, a backup role in the majors would be a good situation for Kevan.
Casey Gillaspie (1B) –  Gillaspie could be an option at DH in the majors in 2018. Over four seasons in the minors, Casey hit .255 with 57 HRs, 216 RBI, and 12 SBs in 1,474 at-bats. Casey will take plenty of walks (12.0) with a respectable K rate (19.7). Gillaspie isn't quite ready for the majors, but he should get a call-up at some point in 2018 with 637 at-bats already at AAA (.246 with 22 HRs and 85 RBI).
Tyler Saladino (IF) – Tyler didn't play well in 2017 (.178 with no HRs, ten RBI, and five SBs over 253 at-bats) after showing potential upside with Chicago in 2016 (.82 with eight HRs, 38 RBI, and 11 SBs over 298 at-bats). He's a career .231 hitter in the majors with 12 HRs, 68 RBI, and 24 SBs over 787 at-bats. Top bench option for the White Sox in the infield in 2018.
Jose Rondon (SS) – Rondon hit .290 over seven seasons in the minors with 19 HRs, 261 RBI, and 76 SBs in 2,204 at-bats. Jose only has 165 at-bats at AAA (.291 with two HRs, 23 RBI, and one SB) putting him a half season at least away from the majors. Possible competition for Saladino as a utility infielder.
Leury Garcia (OF) – Leury had his best opportunity of his career in the majors in 2017. He hit .270 over 300 at-bats with nine HRs, 33 RBI, and eight SBs before suffering a thumb injury. Over nine years in the minors, Garcia hit .273 with 24 HRs, 216 RBI, and 206 SBs in 2,496 at-bats. Possible 15/30 skill set with a full season of at-bats.
Daniel Palka (OF) – Daniel is a career .269 hitter in the minors with 106 HRs, 354 RBI, and 47 SBs in 2,071 at-bats. Between 2015 and 2016, he hit 63 combined HRs with 180 RBI and 33 SBs over 1,014 at-bats. Palka has a high K rate (26.5) with an above average walk rate (9.9). Getting close to a chance in the majors (.258 over 535 at-bats at AAA with 24 HRs and 67 RBI). Dark horse for a DH opportunity with the White Sox in 2018.
Pitching Staff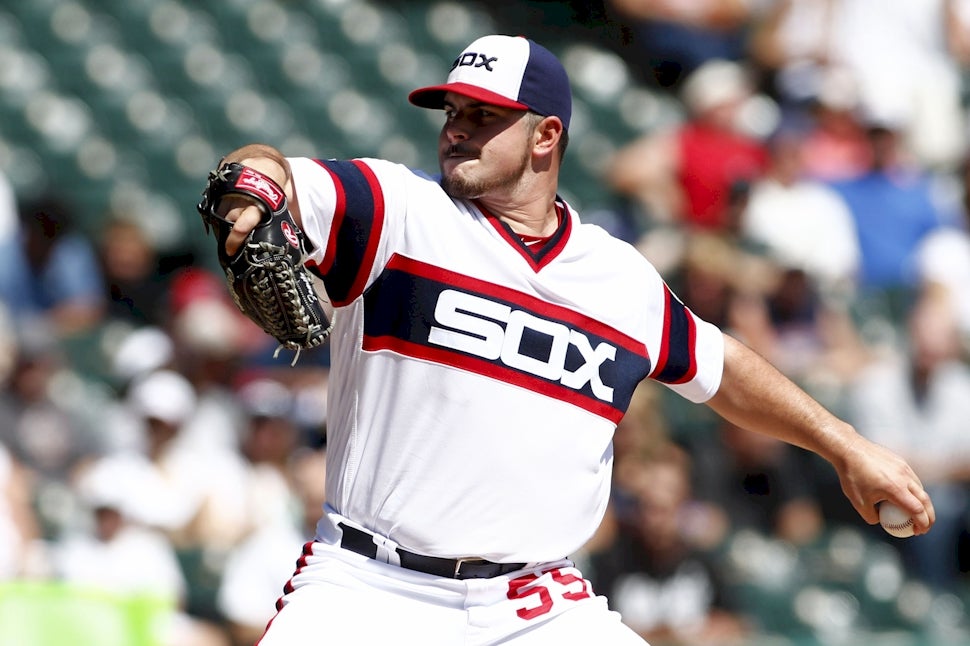 1. SP Lucas Giolito
After a less than impressive season at AAA (6-10 with a 4.48 ERA and 134 Ks over 128.2 innings), Giolito turned into a beast in his seven starts in the majors. He allowed two runs or fewer in six games leading to a 2.38 ERA and 0.949 WHIP. Even with his success, he had a short K rate (6.8) with the White Sox plus some troubles with home runs (eight over 45.1 innings). His AFB (92.8) was below his previous stint in the majors (94.3 in 2016). Batters struggled to hit his four-seam fastball (.218 BAA) with success as well with his changeup (.167 BAA) and his slider (.095 BAA). He did struggle a bit with his curveball (.333 BAA). Over six years in the minors, Giolito went 31-25 with a 3.18 ERA and 531 Ks over 497.2 innings. His walk rate (3.3) had more risk at the higher levels of the minors (AA – 3.9 and AAA – 3.7) while offering an elite K rate (9.6). Last year at AAA, he did start to put it together over three starts in August (2-0 with a 1.53 ERA and 20 Ks over 17.2 innings). Live young arm, but his command is going to invite risk over a full season in the majors. I'm not buying his late-season success based on his expected draft value. This season Lucas will bounce between greatness and disaster with his final ERA floating around 3.75 with WHIP risk and a chance at 150+ Ks.

2. SP James Shields
James wasn't as bad in 2017 as 2016, but he still posted crooked numbers across the board. His K rate (7.9) fell in line with his career average (7.8), but he still couldn't throw strikes (4.1 walk rate). When Shields was at his best, his walk rate was below 2.5. The loss of control in the strike zone led to more regression in his HR/9 rate (2.1). He did have success getting RH batters out (.228 BAA). James teases Fantasy owners by pitching well in April over his first three starts (three runs allowed over 16.2 innings with 16 Ks). A right shoulder injury led two months on the DL and failure over his next eight starts (8.10 ERA, .318 BAA, 12 HRs, and 1.875 WHIP). He allowed three runs or fewer in eight of his last ten starts (4.33 ERA and .229 BAA), but home runs (12) remained a problem as did his high walk rate (3.4). His season ended with tendinitis in his knees requiring platelet-rich plasma injections. HIs AFB (90.6) was a career low. He lost the feel for his changeup (.268 BAA with a .607 SLG) leading to a drop-in usage rate (11.0 – 24.7 in his career). James threw his cutter more (.290 BAA) while his curveball (.186 BAA) could still get batters out if he were ahead in the count. Fading arm with a career 3.97 ERA in the majors. Without a correction in some underlying injury, a Fantasy owner doesn't have a reason to throw him a life raft in the 2018 draft season. Pretty much a start-to-start waiver wire option with disaster lying everywhere his fading skill set.

3. SP Carlos Rodon
A late spring training left biceps issue led to Rodon becoming undraftable in the season-long games. He missed almost the first three months of the season. When he returned on June 28th, Carlos battled bouts of wildness (4.0 walk rate) and whiplash (12 HRs – 1.6 per nine innings). His season ended in early September with a left shoulder injury that required surgery for a bursitis issue. His timetable to return to health could be as long as eight months meaning a couple of missed months in 2018. The best outlook would have him back on the mound in early April. His AFB (93.7) was shorter than his previous success (94.1) with a decline in each month on the mound (June – 94.6, July – 93.6, August – 93.5, and September – 93.0). Batters struggled to hit his four-seam fastball (.208 BAA) and slider – (.197 BAA) while failing with his sinker (.333 BAA) and changeup – .321 BAA). Rodon has upside in his K rate (9.9 – 9.2 in his career) while needing to throw more strikes (4.0 walk rate). Nice arm, but a Fantasy owner needs more info on his outlook to return to action before investing. Winning in Fantasy baseball is hard enough with healthy pitchers, so I would put him in the avoid column unless his price falls in the free category. Live arm when healthy, but he can't be a difference maker without throwing more strikes.

4. SP Reynaldo Lopez
Lopez threw the ball well over his first nine starts at AAA (2.94 ERA over 49 innings with 50 Ks) highlighted by five strong starts (five runs over 28.2 innings with 27 Ks). A couple of bad starts (14 runs and 19 baserunners over seven innings) pushed his ERA back to 4.48 in late June. He allowed two runs or fewer in his next seven starts leading to a call-up to the majors. Lopez threw the ball well in his 2017 major league debut (two runs over six innings with six Ks) before a disaster outing (six runs and nine baserunners over 4.1 innings). A back issue shut him down for two weeks. Over six starts in September with Chicago, he had a 4.10 ERA with only 18 Ks over 37.1 innings. HIs AFB (94.7) was below 2016 (96.7). Batters hit .235 vs. his changeup and .240 against his curveball. Over six seasons in the minors, Reynaldo went 25-26 with a 3.34 ERA and 434 Ks over 428.2 innings. His walk rate (3.0) still needs some work while offering upside in Ks. Enough talent to make a step forward in the majors, but he still has some disaster risk due to his command in HRs allowed.

5. SP Carson Fulmer
Fulmer was also selected in the 15th round of the 2012 MLB Amateur Draft, but he decided to go to Vanderbilt. Over three years in college, Carson went 24-3 with a 1.99 ERA and 313 Ks in 271 innings with his first two years spent between the bullpen and starting rotation. In 2015, Fulmer blossomed in his 19 starts (14-2 with 1.83 ERA and 167 Ks in 127.1 innings). His walk rate (3.5) in college showed risk. The White Sox selected him 8th overall in the 2015 MLB June Amateur Draft. They gave him some token innings in the summer of 2015 (1.96 ERA with 26 Ks in 23 innings), which led to similar concerns with his walk rate (3.5). Carson struggled in his second season in the minors (4.63 ERA with 104 Ks in 103 innings) due to a poor walk rate (4.9) with his failure coming at AA (5.3) plus more regression at AAA in 2017 (7-9 with a 5.79 ERA and 96 Ks over 126 innings). His K rate (6.9) was extremely at AAA while being too easy to hit (.286 BAA) with a poor HR/9 rate (1.3). Surprisingly, Carson still receiving an opportunity to pitch in the majors. Other than a disaster outing in late August (six runs and seven baserunners over 1.1 innings), Fulmer looked major league worthy over his six games with the White Sox in September (3-0 with a 1.64 ERA, and .158 BAA, and 19 Ks over 22 innings). His AFB (93.6) is above the league average while having success with his secondary pitches in the majors (cutter – .105 BAA, curveball – .111 BAA, and changeup – .200 BAA). In the majors, he still walked too many batters (5.0 per nine) with a short K rate (7.3). There is talent here, but I see more downside until he throws more strikes. Tough buy in 2018 while his game needs more seasoning at AAA.

6. SP Michael Kopech
Over 3+ seasons in the minors, Kopech has a 2.74 ERA with 344 Ks in 269.1 innings. His walk rate (4.5) is well below being major leady ready with strength in his K rate (11.5). Last year Michael was dominating at AA (2.87 ERA with 155 Ks over 119.1 innings), but he still walked 4.5 batters per nine. The White Sox gave him three starts at AAA (3.00 ERA with 17 Ks over 15 innings). His fastball can reach triple digits while his curveball still needs better command and his changeup is a work in progress. Nice arm with high upside, he does have some character issues with plenty of fine-tuning needed for his mechanics. He'll start the year at AAA with a call-up to the majors being just around the corner. With 134.1 innings under his belt, Kopech should be ready for 170+ inning in 2018.

7. SP Alec Hansen
Over two seasons in the minors, Hansen went 13-9 with a 2.39 ERA and 272 Ks over 196 innings. His K rate (12.5) is electric with some work needed in his walk rate (3.3). Last year Alec pushed his way to AA where his game wasn't ready to make an impact (4.35 ERA with 17 Ks over 10.1 innings). It was a short sample size. His college resume (8-12 with a 4.53 ERA and 185 Ks over 145 innings) wasn't impressive due to health and command issues. HIs fastball can reach the upper 90s with a plus slider and edge curveball. In addition, Hansen throws a changeup with upside. The key here is better command. This year he'll start the year at AA while being on the fast track to the majors. Too early to roster, but a Fantasy owner needs to follow his spring progress closely to determine if he'll be relevant Fantasy option.

CL Joakim Soria
Soria hasn't been closer-worthy over the last two seasons. His K rate (10.3) did have a rebound last year while his walk rate (3.2) remains below his career average (2.7). Joakim looked great over his first 22 games (1.59 ERA with 28 Ks over 22.2 innings), but back-to-back bad outings (six runs and eight baserunners over one inning) led to a poor ten game stretch (11.05 ERA and .361 BAA). Over his last 20 innings, Soria has a 4.50 ERA with 16 Ks. He pitched well vs. righties (.205 with no HRs allowed over 117 at-bats), but his lack of success against LH batters (.269) may hurt his long-term value as a closer. His AFB (93.3) was a career high while throwing his changeup (.229 BAA) and his slider (.100 BBA) well. Joakim is becoming more of a ground ball pitcher (54.8 percent) leading to a career low in his fly ball rate (23.2). Last season he only allowed one HR over 56 innings. With 204 saves on his resume, Soria should be the first choice for the White Sox for saves in 2018. If he can shave off a walk per nine innings, Joakim would be almost the same pitcher that saved 115 games for the Royals from 2008 to 2010. Possible cheap saves option.

RP Nate Jones
Nate missed most of the 2014 season due to TJ surgery leading to short innings in 2015 as well. His arm was back in top form in 2016 when he set a career low in his ERA (2.29). He finished with an elite walk rate (1.9) with a solid edge in his K rate (10.2). Jones had a big fastball (97.4), which was a step back from his best season in 2013 (98.3). Batters struggled to hit his plus slider (.094 BAA). Nate had strength against both RH (.184) and LH (.200) batters. His only bad month came in May (7.27 ERA and 1.731 WHIP). He finished the year with an electric September (no runs, one walk, and 12 Ks in 9.1 innings). Last season Jones suffered an elbow injury in early May after pitching only 11.2 innings. In July, Nate had surgery to fix an issue with a nerve in his right elbow. A viable option for saves based on his 2016 success, but a Fantasy owner needs a spring update on his progress before playing a high-value draft pick.

RP Juan Minaya
Over nine seasons in the minors, Minaya had a 4.53 ERA with 475 Ks and 12 SVs over 528 innings. His game improved at the higher levels of the minors after being switched to being a full-time reliever. At AAA over three seasons, Juan had a 2.77 ERA with 73 Ks over 81.1 innings. His walk rate (3.3) was below par in the bullpen in the minors with a serviceable K rate (8.1). The lack of options to close in the majors led to Minaya earning the 9th inning role over the last six weeks of the season. Over 16 games with nine saves, Juan has 4.30 ERA with 13 Ks over 14.2 innings. On the year, his ERA (4.53) and his WHIP (1.328)  has too much risk to close while struggling to get ahead in the count (55.1 percent first-pitch strike rate). His AFB (94.7) was tough to hit (.210 BBA), but his secondary stuff (slider – .273 BAA and curveball – .281 BAA) lacked value. No chance of closing in 2018 with Joakim Soria added and Nate Jones expected to return to health.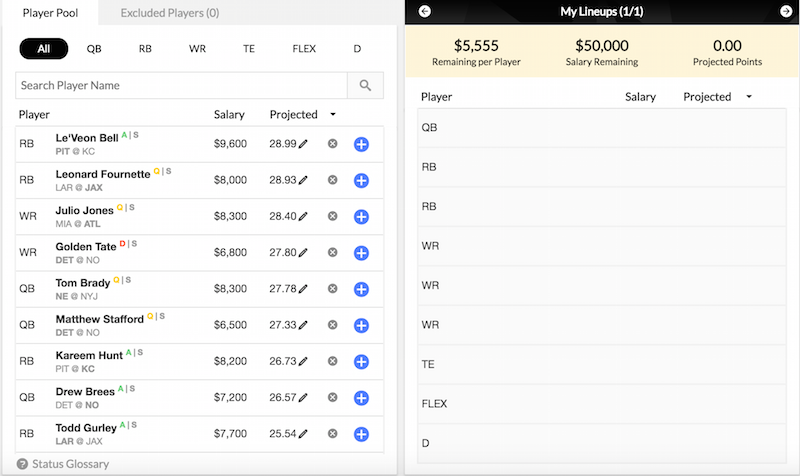 Join FullTime DFS.com and receive DFS content from our team of experts: Steve Renner, Fuego Steve, Jaguar Lou, Nate Weitzer, Shawn Childs, Dr. Roto & Adam Ronis… If you choose an optimizer plan, we have optimizers for every major sport based on our Rainman Data Analytics (RDA) that work for DraftKings, FanDuel and Yahoo. All of this is yours via a FullTime Fantasy subscription. What are you waiting for? The best deals in the industry are waiting for you at FullTime DFS!