Join FullTime Fantasy Sports for top advice in the industry from check-cashing, proven winners!
Atlanta Braves
After winning 94 and 96 games in 2012 and 2013, the Braves have been in rebuilding mode over the last four seasons. They've had short wins in each of the previous three years (67, 68, and 72).
Their offense improved dramatically since 2015 (573 runs). Atlanta scored 83 more runs than 2016 (649), which was 76 more runs than 2015 (573). There was a power shortage in Georgia (165 HRs – 28th in the majors).
For the Braves to become competitive again in their division, they need to build the foundation of their starting rotation while also developing a lockdown closer. They ranked 24th in baseball in ERA (4.72) while allowing 821 runs. In their last playoff season, Atlanta only allowed 548 runs. The Braves have regressed in runs allowed in each of their previous four seasons. They had the 26th ranked bullpen ERA (4.58) as well.
The only players lost to free agency were SP R.A. Dickey and RP Jason Motte. The Braves traded OF Matt Kemp back to the Dodgers for 1B Adrian Gonzalez, SP Scott Kazmir, SP Brandon McCarthy, and IF Charlie Culberson. They released Gonzalez as he was just part of a salary dump by LA. Minor league Preston Tucker was acquired for minimal compensation after the Astros released Tucker in December.
Overall, the starting rotation is loaded with question marks with just as much risk as upside. Their bullpen will battle walks to survive the late innings while being a work in progress in 2018.
Atlanta has one foundation bat in 1B Freddie Freeman. Their upside in the offense will hinge on the development of 2B Ozzie Albies, SS Dansby Swanson, and OF Ronald Acuna.
Not quite ready to be a threat in the NL East until a couple of arms step forward and pitch like aces. Even with a losing season expected, their core of young batters will make this season exciting to watch.
Starting Lineup


1. OF Ender Inciarte
Inciarte led the National League in at-bats (662) leading to his best season of his career. He set career highs in runs (93), hits (201), HRs (11), RBI (57), and SBs (22). His K rate (13.1) is very low, but it was the highest of his career. Ender doesn't take a ton of walks (6.8 percent) for a player batting at the top of the lineup. His batting average has been an asset over the last three seasons in the majors, and his CTBA (.354) did have growth. Inciarte continues to have a Judy-like average hit rate (1.348) where double-digit home runs don't look repeatable. His swing path improved slightly for the second straight season, which led to a drop in his ground ball rate (47.0) and a rise in his FB rate (29.1). HIs HR/FB rate (6.8) remains in a weak area. Ender played well against both righties (.307 with nine HRs and 43 RBI over 511 at-bats) and lefties (.291 BAA). His push in batting average came from late April through the end of mid-September (.323 with 78 runs, seven HRs, 48 RBI, and 19 SBs over 529 at-bats). His minor league resume (161 SBs over 2,293 at-bats) points to more upside in speed, but his success rate (75.6 in the minors and 72.9 in the majors) doesn't give him the green light enough on the base paths. More of a middle infielders skill set while coming off a career year. His runs can't reach a higher level without better play behind him in the starting lineup or growth in walks. Possible .290 with seven HRs, 55 RBI, and 25 SBs. His price point will be too high for me in 2018 with him not having a separator skill set. Ok as a fifth outfielder, but his 2017 stats will price him as OF3 in deep leagues.

2. 2B Ozzie Albies
Over 628 at-bats between AAA and the majors, Albies hit .285 with 101 runs, 15 HRs, 69 RBI, and 30 SBs. His stats add up to a very good second base option in the Fantasy market if he builds on his success going forward. At AAA in 2017, Ozzie lost some of his approach (K rate – 20.0 and walk rate – 6.3) than he showed earlier in his career in the minors (K rate – 13.5 and walk rate – 9.0). With the Braves, his approach moved closer to his early minor league resume (K rate – 14.8 and walk rate – 8.6). I view this a sign of growth and one that should help him early in his career. In the majors, Albies had the highest average hit rate (1.597) of his career at any level with a slight step back in his CTBA (.343) while being very good with runners on base (17 percent walk rate). His bat had the most value against lefties (.327 with two HRs and eight RBI over 52 at-bats). His swing path in the majors was balanced (19/41/39) after being a high ground ball hitter before 2017. Ozzie didn't have a high HR/FB rate at AAA (7.6) or the majors (8.2). In a way, he has poor man's Mookie Betts feel based on his size (5'9" and 160 Lbs.), aggressive swing, and approach at the plate. For now, I like his upside more in speed than power and a Fantasy owner can get mislead by his 15 HRs last season. I'd draft him with the idea of a .280+ batting average with 90+ runs, 10+ HRs, 65+ RBI, and 35+ SBs. Ozzie has talent, and his power will improve with bulk added to his frame.

3. OF Ronald Acuna
Acuna will be the sexy rookie drafted in 2018. I've seen him get selected inside of the first ten rounds of 15 team drafts in the high stake's market in January. His fast rise came from his breakout season over three levels of the minors in 2017 (.325 with 21 HRs, 82 RBI, and 44 SBs over 557 at-bats). His walk rate (7.0) wasn't as strong as 2015 and 2016 (11.3) over his limited at-bats (416) with a slight drop off in his K rate (23.5 – 17.1 over 2015 and 2016). HIs CTBA (.438) was explosive in 2017 while holding value with at each level in the minors last year (High A – .440, AA – .436, and AAA – .439). With success over 221 at-bats at AAA (.344 with 38 runs, nine HRs, 33 RBI, and 11 SBs), Ronald is expected to start this season in the majors. He doesn't have a great success rate (70.5) stealing bases even with plus speed, so his high stolen base total (44) in 2017 may translate as high in his first year in the majors. Acuna has the makings of a .300 hitter with an early 15/30 skill set. The key to his counting stats will be his ability to handle a premium slot in the batting order. Intrigued for sure, but I need to find a balance between proven players and his expected 2018 results.

4. 1B Freddie Freeman
After a great start to the 2017 season (.341 with 35 runs, 14 HRs, 25 RBI, and four SBs over 135 at-bats), Freeman landed on the DL for 6+ weeks with broken left wrist after being hit by a pitch. His swing lost value in July (.278 with five HRs and 15 RBI over 90 at-bats) after returning to the starting lineup. Freddie hit .302 over his last 212 at-bats with nine HRs, 31 RBI, and three SBs. HIs average hit rate (1.911) was a career-best pushing him to a range where 40+ HRs is becoming a possible outcome. HIs CTBA (.391) faded from his career high level (.426) in 2016, but he did have the lowest K rate (18.5) of his career. HIs walk rate (12.7) is a huge plus. Freeman played the best against righties (.318 with 20 HRs and 51 RBI over 314 at-bats) while doing a nice job vs. LH pitching (.278 with eight HRs and 20 RBI over 126 at-bats). I'd like to see a better RBI rate (16), which will come with better faster players hitting in front of him in the starting lineup. HIs fly ball rate (40.6) was a career high in the majors while matching his highest total in HR/FB rate (19). Freddie continues to improve, but the talent around him isn't at the level as far as development. I expect a .300+ batting average with 90+ runs, 35+ HRs, and 90+ RBI while not being dead in the water in speed. If Ronald Acuna and Ozzie Albies make a splash in 2018, Freeman with reach even higher limits.

5. OF Nick Markakis
If Markakis can play six more seasons, he'll need to average 158 hits per year to reach 3,000 hits. Over the last five seasons, Nick averaged 171 hits per year. It would be a tall task, but one that has a chance to come true. Even if he finished with that milestone, Markakis wouldn't belong in the Hall of Fame. He had 15 HRs or fewer in eight straight seasons with no value in steals over his last six years (six combined SBs). His average hit rate (1.399) has a leadoff hitter smell while doing a surprisingly nice job in his RBI rate (17 and 18) over the last two seasons. His walk rate (10.2) remains strong, but his K rate (16.4) was a career-high with five straight seasons of regression. Nick isn't great against lefties (.265 BAA) or righties (.278 BAA) with no split during the season to draw attention to his name. He'll be a free agent in 2019, so his JUICES could be flowing to get another contract. His ground ball rate (48.6) has been high in two of the last three seasons (52.3 in 2015). A neutral player in runs, BA, and RBI while crushing a Fantasy team in HRs and SBs. Only a bench player to cover injuries in deep leagues while keeping an open eye if his power suddenly has an agent orange smell.

6. SS Dansby Swanson
Swanson ended up being a bad selection in the 2017 draft season. He has a short AVH (1.398) and a weak CTBA (.307) leading to failure in batting average (.232) and HRs (6). Dansby did take walks (10.7), which will help him work his way to a better slot in the batting order. His K rate (21.8) was below his minor league resume (17.4). Swanson only has about a season's worth of play in the minors (.274 with 92 runs, 11 HRs, 71 RBI, and 14 SBs over 532 at-bats). Other than a mini-run in May (.306 with two HRs and 15 RBI over 98 at-bats), Dansby was worthless over the first four months of the year (.213 with 36 runs, six HRs, 35 RBI, and two SBs over 324 at-bats) leading to a brief trip back to AAA. His swing looked better over a 26-game stretch (.365 with no HRs and ten RBI over 85 at-bats) after being called back up to the majors, but Swanson lacked follow through over the last three weeks of the season (.183 with no HRs and six RBI over 71 at-bats). 2017 was a lost season for Dansby, but it should help his development. He's a former first overall pick in 2015 with a high pedigree. His game should come quickly over the next two seasons where a Fantasy owner may see a 20/20 season soon. The Braves lineup will fluctuate a lot in 2018 giving a player with a hot bat a chance to hit in a premium part of the batting order. I'd say buy low with the idea of neutral five category season (.270 with 70 runs, 15 HRs, 70 RBI, and 15 SBs) being a satisfying outcome.

7. C Tyler Flowers
Looking back, Flowers wasn't a bad second catcher in deep leagues. His season could have been better if his catching mate Kurt Suzuki didn't have a career year in power (19) highlighted by hot July (.356 with eight HRs and 14 RBI over 45 at-bats). Suzuki's success led to more competition for at-bats over the last two months of the season. Tyler played well over the first three months of the season (.326 with six HRs and 26 RBI over 175 at-bats). On the year, he showed growth in his K rate (22.2 – 30.5 in his career) while posting a league average walk rate (8.4). Flowers was the same batter against righties (.280 BAA) and lefties (.283 BAA), but he hit 11 of his 12 HRs off RH pitching. His HR/FB rate (15.2) came in at his career average (14.9) while hitting fewer fly balls (33.3 percent). Tough to believe on a positive batting average again, but he did have growth at the plate in 2017. Only a sub .250 hitter with double-digit power and no clear path to have over 350 at-bats.

8. 3B Rio Ruiz
The third base job in Atlanta looks wide open in 2018 with the future option (Austin Riley) being about a year away. Over six seasons in the minors, Ruiz hit .262 with 55 HRs, 322 RBI, and 22 SBs over 2.340 at-bats). He tends to take a high volume of walks (11.7) with a league average K rate (19.9). His average hit rate in 2017 showed growth at AAA (1.802) and the majors (1.586). His bat came up empty on most nights in the majors last year (.193 with 22 runs, four HRs, and 19 RBI over 150 at-bats) with only a slight fade in his K rate (23.7). Rio had value in his short at-bats (12) against lefties (.417 with two HRs and five RBI) with no answer to RH pitching .174 with two HRs and 14 RBI over 137 at-bats. Low upside player with a decent approach at the plate. At best, a .250 hitter with a 15/60 skill set out of the gate if he earns 450+ at-bats. His swing delivers too many ground balls (56.3 percent in 2017 in the majors) for a player his size (6'1" and 230 Lbs.).

3B Austin Riley
Over three seasons in the minors, Riley hit .278 with 52 HRs, 194 RBI, and seven SBs in 1,196 at-bats. Last year he spent about 40 percent of his season at AA (.315 with eight HRs and 27 RBI over 178 at-bats). His walk rate (8.0) is about league average with some risk in his K rate (25.1). This season he should get a chance to start at AAA putting him on the fast track to the majors. Player to follow while still needing to fine tune his swing and approach to handle major league pitching.

C Kurt Suzuki
Suzuki played well enough in 2017 to be considered a C2 in deep leagues this season. Kurt had his highest average hit rate (1.897) in his career by a wide margin while also delivering a bump in his CBTA (.329). He became a much better hitter vs. lefties (.345 with seven HRs and ten RBI over 58 at-bats) while doing a nice job against RH pitching (.266 with 12 HRs and 40 RBI). After a quiet start to the year over the first three months (.230 with four HRs and 19 RBI over 113 at-bats), Suzuki played the best ball of his career over his last 163 at-bats (.319 with 15 HRs and 31 RBI). His swing produced the high number of fly balls (46.6) of his career while tripling his career HR/FB rate (17.1 – 5.6). Short term flier as C2 if he's hitting HRs and getting enough playing time. His career resume says it isn't repeatable.

Like and share our new Facebook page! Be sure to pay attention to our giveaways for your shot at some sweet prizes!
Bench Options
Johan Camargo (IF) – Johan doesn't have a great minor league resume (.279 with 12 HRs, 181 RBI, and 22 SBs over 1,874 at-bats) yet he was able to get a half season of at-bats in the majors (.299 with four HRs and 27 RBI over 241 at-bats). His K rate (19.9) was about league average with a short walk rate (4.7). This season he'll compete for at-bats at third base while his resume has more of a utility infielder feel.
Charlie Culberson (IF) – Charlie struggled with injuries over the last few of seasons leading to minimal chances in the majors (.231 with six HRs, 45 RBI, and eight SBs over 411 at-bats). Over his six seasons at AAA, Culberson hit .271 with 35 HRs, 196 RBI, and 40 SBs in 1,549 at-bats. A possible 15/15 skill set gives him an outside chance at starting at third at least to start the year.
Preston Tucker (OF) – Preston should be the favorite to win the fourth outfield job in Atlanta. He flashed in 2015 with Houston (.243 with 13 HRs and 33 RBI over 300 at-bats), but he's had minimal chances in the majors over the last two seasons. Over four years at AAA, Tucker hit .274 with 50 HRs, 211 RBI, and six SBs in 1,105 at-bats. Sneaky bench option in NL only leagues.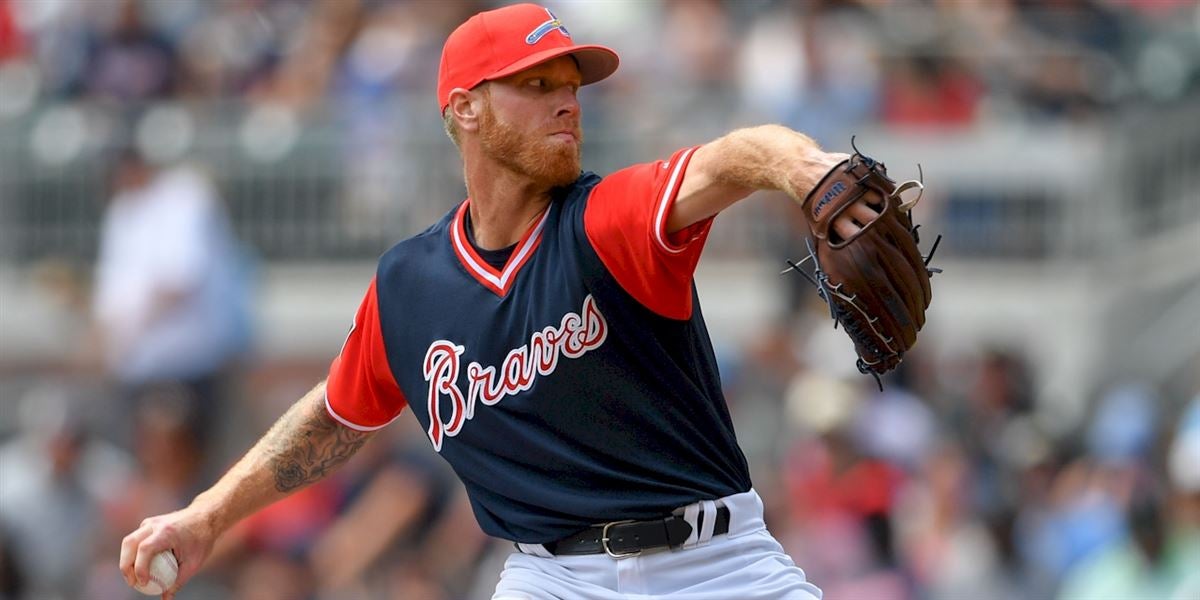 Pitching Staff

1. SP Julio Teheran
Julio was a head scratcher last year. He entered 2017 with a 3.39 ERA and 709 Ks over 821.1 innings in his career. Teheran finished with a huge HR/9 rate (1.5), a career-high walk rate (3.4), and fade in his K rate (7.2). His home/road splits had a wide variance (3-10 at home with a 5.86 ERA and 8-3 on the road with a 3.14 ERA). Atlanta played in a new ballpark last season, which ended up grading neutral in runs and 19th in home runs. Lefties only hit .241 against Julio, but he issued 57 of his 72 walks to them plus 17 HRs. HIs failure vs. RH batters (.276 BAA) came with plenty of lost balls (14 HRs in 341 at-bats) as well. Over his first eight starts, Teheran wasn't all that bad (4.08 ERA and 34 Ks over 46.1 innings), but he did issue 22 walks. He allowed 23 HRs in his next 97 innings leading to a 5.47 ERA and 1.402 WHIP. Julio was a viable Fantasy option over his last seven starts (2.80 ERA and 35 Ks over 45 innings). HIs AFB (92.0) was in line with 2016 but below his early years. Batters had a tough time with his four-seam fastball (.231 BAA) and slider (.232 BAA) while his changeup (.307 BAA), sinker (.294 BAA), and curveball (.275 BAA) lacked value. All of his secondary pitches offered an edge in 2016 (SL – .229, CH – .234, SL – .185, and CB – .226). His failure was mechanical, which wasn't helped by a poor mental approach when the chips were down. This season, his price point will be much lower, and most Fantasy owners will avoid his fading skill set. I'm buying at a discount as his career resume points to a nice rebound year. Sub 3.50 ERA with 175 Ks, but his wins will be dependent on the development of the Braves young batters.

2. SP Mike Foltynewicz
Foltynewicz lost his command (3.4 walks per nine) and his stuff lost life in the strike zone (.277 BAA) in 2017. Lefties hit .308 with 11 HRs over 295 at-bats with a much weaker BB:SO ratio (33:63). Mike allowed two runs or fewer in his first five starts, which led to a 2.81 ERA, .229 BAA, and 23 Ks in 25.2 innings. He allowed three runs or fewer in 11 of his next 15 games, but three disaster starts (20 runs and 32 baserunners over 11.1 innings) push his ERA to 4.13 over this span. His arm lost value over his last nine starts of the season (7.27 ERA and .307 BAA). Foltynewicz still has a plus fastball (95.8) even with less life than 2016 (96.4). His slider (.197 BAA) and curveball (.224 BAA) offered an edge while needing better location with his four-seam fastball (.271 BAA), sinker (.320 BAA), and changeup (.444 BAA). Mike has a career 4.87 ERA in the majors with better success at AAA (3.84 ERA). Tough foundation starter while having a talented arm and flashes of success within seasons. If his walk rate reaches 2.5, Mike will be positioned to have an ERA under 4.00 with growth in strikeouts. Keep an open mind here.

3. SP Sean Newcomb
Newcomb is an intriguing arm due to his plus fastball (95.3) and potential high K rate (10.6 per nine in his minor league career). Sean went 20-14 over four seasons in the minors with a 3.23 ERA and 412 Ks in 348.1 innings. His walk rate (4.8 in the minors) had plenty of risk at AAA (5.2) with just as much failure with the Braves (5.1). Sean didn't have an edge against either RH (.259 BAA) or LH (.261 BAA) batters while allowing nine of his ten HRs to righties over 274 at-bats. He issued 45 of his 57 walks to RH batters. Over his 19 starts in the majors, Newcomb allowed three runs or fewer in 15 starts with his best run coming in his last 12 games of the year (4.00 ERA with 73 Ks over 63 innings. His high pitch count doesn't allow him to pitch deep in games (only once in 2017 with Atlanta) hurting his chances to earn wins. Both his slider (.150 BAA) and curveball (.200 BAA) grade well while his changeup (.400 BAA) isn't where it needs to be. His command has a Randy Johnson/Andrew Miller feel early in his career. Future ace, but it will take him a couple of seasons to iron out his command. Sean should be tough to hit giving him a chance at a sub 3.75 ERA in 2018. Even with upside in Ks, his WHIP is going to a black hole to a Fantasy team for a couple of years.

4. SP Brandon McCarthy
Injuries continue to plague McCarthy. Over 12 years in the majors, Brandon has only pitched more than 140 innings twice in his career. He had TJ surgery in April of 2015. In his first nine games in 2016, he allowed three runs or fewer in starts leading to a 3.60 ERA and 44 Ks over 40 innings. A bad outing (six runs and six baserunners while failing to record an out) on his last appearance of the year pushed his ERA (4.95). Brandon battled a hip injury late in 2016 that forced him to miss some starts. He made the starting rotation out of spring training last year, which led to a 3.10 ERA over 29 innings with 25 Ks. A right shoulder injury led a couple of missed weeks in May. After a bad start on May 15th (six runs and nine baserunners over 5.2 innings), McCarthy had a 1.57 ERA and .186 BAA over six starts covering 34.1 innings. His stuff lost value over his next four games (7.64 ERA and .347 BAA), which came after a knee injury that led to a DL stint. He missed time twice during the year due to a blister issue on his pitching hand. HIs AFB (93.8) came in about league average. Hs best pitch of value was his curveball (.219 BAA) followed by his four-seam fastball (.191). Command pitcher (2.4 walks per nine) who tends to have a short K rate. Brandon will have value over short spurts if he stays healthy.

5. SP Luiz Gohara
The Mariners signed Gohara at age 16. He struggled through his first three seasons in the minors (3-17 with a 5.07 ERA and 147 Ks over 135 inning) due to being much younger than his competition and a high walk rate (4.9). Luiz lacked commitment to the game early in his career leading to him being overweight. In 2016, he worked hard to get back into game shape (7-2 with a 1.81 ERA and 81 Ks over 69.2 innings). His success led to him moving up through three levels in the minors and a trip to Atlanta last year. In his 26 starts at in the minors in 2017, Luiz went 7-4 with a 2.62 ERA and 147 Ks over 123.2 innings. His walk rate (3.0 and 3.2) has been better over the last two seasons. With Atlanta, Gohara showed flashes of being ready for a long career in the majors. After a rough major league debut (six runs and eight baserunners over four innings), he pitched two exciting games (one run over six innings with no walks and six Ks and one run over seven innings with nine Ks). HIs AFB (97.0) was elite while offering an electric slider (.125 BAA). Luiz needs to improve his changeup to become more consistent from start to start in the majors. I expect him to win a starting job with the Braves out of spring training with a chance to pitch 175 innings in 2018. Sub 3.50 ERA with 150+ and double digits wins.

SP Scott Kazmir
In 2016, after throwing six shutout innings with one hit, no walks, and five Ks in his first start of the season, Kazmir was drilled for 30 runs, 67 baserunners, and 12 HRs over his next 45.2 innings to push his ERA to 5.23. He pitched better over 12 starts (3.57 ERA with 69 Ks in 58 innings). He developed a neck issue in August leading to a down month (5.68 ERA) and a trip to the DL. Kazmir struggled with RH batters (.264 with 17 HRs over 383 at-bats). He had improvement in his K rate (8.8) while walking more batters (3.4 per nine). His AVB (92.0) was one mph lower than 2015 (93.0). Batters had a tough time with his changeup (.204 BAA), slider (.222 BAA), and sinker (.229 BAA) while drilling his four-seam fastball (.308 with eight HRs over 234 at-bats). A hip issue last March led to lost velocity (86.7) in spring training and a lost season. Scott only pitched 12 poor innings in the minors (4.50 ERA) last year. Enough talent to bounce back, but we need to see positive reports this spring before rostering him as a backend starter.

SP Lucas Sims
Lucas was once the Braves top pitching prospect after getting drafted in the first round in 2012. He flashed upside in 2013 at Single-A (12-4 with a 2.62 ERA and 134 Ks over 116.2 innings). Sims lost his way over the next three seasons (4.31 ERA) due to low K rate (6.1) in 2014 and lost command in 2015 (5.2 walks per nine) and 2016 (5.9). At AAA last year, Lucas worked his way to being a major league pitcher (7-4 with a 3.75 ERA and 132 Ks over 115.1 innings). His walk rate (2.8) was much better, but Sims did serve up 1.5 HRs per nine. In the majors, Lucas had a regression in his skill set had a step back in value (5.62 ERA, 1.4 HR/9, 3.6 walks/9, and 6.9 K/9). His AFB (91.5) is below the league average with his only pitch of value being his slider (.177 BAA). Not ready to make an impact in the majors without a step forward in his command.

CL Arodys Vizcaino
After pitching his way out of the 9th inning in 2016, Vizcaino was the best reliever in the Braves bullpen in 2017. He converted 14 of his 17 saves. Even with the inside track to the 9th in 2018, Arodys did have some cracks in his game last year. He allowed 1.1 HR per nine with risk in his walk rate (3.3). In his major league career, he's walked 4.3 batters per nine with strength in his K rate (10.2). His struggles with walks came against lefties (17 of 21 walks over 110 plate appearances). Vizcaino pitched well against both RH (.185 BAA) and LH (.217 BAA) batters. After a slow start in April (4.50 ERA) due to three HRs allowed over ten innings, Arodus looked closer-worthy over the next two months (0.79 ERA and 25 Ks over 22.2 innings). His game wasn't as good in the 9th over the last half of the season (4.01 ERA), but he did earn 13 saves in 15 chances. His AFB (98.3) matched his last three years, but batters hit .297 against it. His curveball is elite (.102 BAA). His job to lose and Vizcaino has the fastball/slider combination to keep the job all year if he's throwing strikes. Bet on his arm while keeping a close eye on his insurance at the first sign of trouble.

RP A.J. Minter
Minter pushed his way through four levels in the minors in two seasons to get a late inning job in the majors in 2017. With Atlanta, his arm offered elite command (two walks over 15 innings) with an explosive Ks (15.6). A.J. dominated lefties (.190 BAA) while pitching well against RH batters (.243 BAA). Minter has a closing fastball (96.4) while offering a plus slider (.200 BAA). Over two short years in the minors, he had a 2.14 ERA and 77 Ks over 59 innings. A.J. has some starting experience, but the Braves kept him in the bullpen after he had TJ surgery in 2015. Minter has a cutter of value, so he could be a dark horse to start down the road. Closer worthy if the door opens in the 9th.

RP Jose Ramirez
Ramirez worked as a starter over six seasons in the minors (3.53 ERA), but he had a high walk rate (3.4). His big fastball (97.6) gave him an opportunity in the Braves bullpen over the last two seasons. Batters struggled to hit his four-seam fastball (.221 BAA), changeup (.175 BAA), and slider (.167 BAA), which should add up to a closing role down the road. Unfortunately, Jose still battled his command in the majors (5.0 walks per nine in 2015 and 4.2 in 2016). Last year he had a 2.28 ERA after 58.1 innings, but he tripped up over his last five games (eight runs and 11 baserunners over 3.2 innings). Nice arm, but he can't close without throwing more strikes.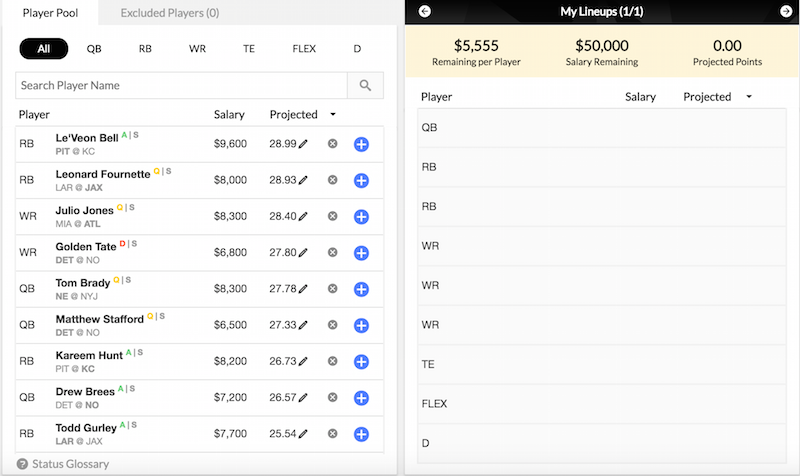 Join FullTime DFS.com and receive DFS content from our team of experts: Steve Renner, Fuego Steve, Jaguar Lou, Nate Weitzer, Shawn Childs, Dr. Roto & Adam Ronis… If you choose an optimizer plan, we have optimizers for every major sport based on our Rainman Data Analytics (RDA) that work for DraftKings, FanDuel and Yahoo. All of this is yours via a FullTime Fantasy subscription. What are you waiting for? The best deals in the industry are waiting for you at FullTime DFS!