Christian Yelich made it clear he wanted to be traded and the Marlins obliged on Thursday. Yelich watched the Marlins gut the team, trading Dee Gordon, Marcell Ozuna and Giancarlo Stanton and he wasn't happy.
Yelich was traded to the Brewers and the Marlins received outfielders Lewis Brinson and Monte Harrison, infielder Isan Diaz and pitcher Jordan Yamamoto. Not long after acquiring Yelich, the Brewers announced the signing of outfielder Lorenzo Cain to a five-year, $80 million contract.
The trade boosts Yelich's Fantasy value. Marlins Park was 25th in home run MLB Park Factors on ESPN, while Miller Park in Milwaukee was 12th and it's especially better for left-handers compared to Marlins Park. Miller Park was eighth in runs while Marlins Park was 28th.

Join FullTime Fantasy Sports for top advice in the industry from check-cashing, proven winners!
Yelich, 26, batted .282 with 100 runs, 18 home runs, 81 RBIs and 16 stolen bases last season. While moving to the Brewers helps Yelich, the counting stats might not increase too much. The Marlins had a good offense last season with Yelich surrounded by Gordon, Stanton, Ozuna, Justin Bour and J.T. Realmuto.
The move will help Yelich's power, but he still needs to hit the ball in the air more. While Yelich continues to loft the ball more each season, he had a career-high 25.2 percent fly ball rate last season and that's still low. He was at 15 percent in 2015 and 20 percent in 2016. Yelich hit a career-high 21 home runs two years ago and should be able to surpass that in 2018.
At home last season, Yelich batted .265 with seven home runs, 34 RBIs and a .743 OPS in 294 at-bats. On the road, he hit .299 with 11 home runs, 47 RBIs and an .869 OPS in 308 at-bats. For his career, he has 18 home runs and a .759 OPS in 1,187 at-bats at home and 41 home runs with an .830 OPS in 1,291 at-bats on the road.
Yelich is also very efficient on the base paths, stealing 72 bases in 90 attempts. The Brewers are an aggressive team under manager Craig Counsell, attempting the second most stolen bases in Major League Baseball last season. Yelich should have a floor of 20-20 with solid numbers across the board. He has an ADP of 63 on fantrax.com and that will rise in the coming weeks. Yelich is a good player to target, especially at his current ADP.

Like and share our new Facebook page! Be sure to pay attention to our giveaways for your shot at some sweet prizes!
Lorenzo Cain won't move up draft boards as much, although he gets an improvement in home ballparks as well coming over from Kansas City. Cain's biggest issue has been his ability to stay healthy. He has averaged 132 games played over the last three years. He has played 150 games only one tim, which was last season when he played in 155 games.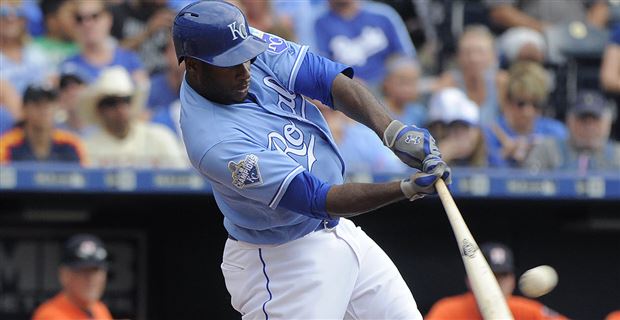 Cain has hit at least 15 home runs and stole at least 25 bases in two of the last three seasons and the one he didn't was due to missing almost 60 games. Cain should produce in the vicinity of  at least 15 home runs and 20 ateals again. He batted .300 with 86 runs, 15 home runs, 49 RBIs and 26 steals in 2017 with the Royals. Cain has an ADP of 101 on fantrax.com and that could move up a bit since some may have been reluctant to draft him since he was a free agent without a home.
The Brewers are crowded in the outfield now with Yelich, Cain, Ryan Braun, Domingo Santana, Keon Broxton and Brett Phillips. Another trade is likely coming as the Brewers look to upgrade their pitching.
The trade helps the value of Brinson. He was unlikely to play much in Milwaukee and he's likely to play every day with the rebuilding Marlins. Brinson turns 24 in May and struggled in his brief time at the majors last season, going 6-for-47 (.106) with 17 strikeouts and seven walks. At Triple-A, Brinson batted .331 with 13 home runs and 11 stolen bases and a .962 OPS in 299 at-bats.
Brinson played in Colorado Springs, which is very hitter-friendly. He won't hit for a high average, but he will hit for some power and steal bases, making him a late-round pick in mixed league drafts. He has an ADP of 321 on fantrax.com and that will rise after this trade.