Baltimore Orioles
Baltimore regressed on the pitching side of the game for the third straight season leading to a last-place finish in the AL East. The Orioles slid to 14th in the AL in ERA (4.97), which was 842 runs allowed compared to 715 runs in 2016, 693 runs in 2015, and 593 in 2014.
They were league average scoring runs (743) even with 232 home runs (5th – league high was 241). Their batters only walked 392 times (14th) while striking out 1,412 times (4th).
This off-season Baltimore already lost closer Zach Britton with a torn Achilles. The Orioles dumped SS J.J. Hardy and SP Wade Miley plus starting C Wellington Castillo signed with the White Sox.
The starting rotation is going to be in flux until they add a couple of more arms or they re-sign some of their failed talents from 2017 (Jeremy Hellickson, Ubaldo Jimenez, and Chris Tillman are all free agents).
Update: Baltimore signed P Andrew Cashner to a two-year contract to fill one of their starting rotation voids.
Update: Chris Tillman decided to pitch for the Orioles for one more year in mid-February.
In early January, the starting rotation only has two viable arms (Kevin Gausman and Dylan Bundy) while the bullpen has enough strength to cover the 7th, 8th, and 9th innings with Brad Brach and Mychal Givens leading the way.
The ownership of Baltimore can see the overall weakness of the major league roster pointing to them trading away Manny Machado to help rebuild the overall depth of the roster.
This team needs three major league ready starting pitchers, a lefty reliever, a starting catcher, and a possible upgrade in the outfield. Some of this can and will come through free agency.
Overall, the Orioles will hit some home runs in 2018, but their lack of starting pitching will push them to the backend of the AL East.
Starting Lineup

1. OF Adam Jones
Jones has 25 HRs or more in each of his last seven seasons, but he's only once broke the century mark in RBI (2013 – 108) when he had a career-high 453 RBI chances. Over the last two years, Adam struggled to find a middle of an order opportunity leading to him being misplaced as a leadoff or number two hitter many times. He tends to be a free swinger with a short walk rate (4.5) while doing a nice job keeping his strikeouts under controlled (17.2 percent K rate over the last three years). Jones was at his best against RB pitching (.293 with 21 HRs and 61 RBI over 451 at bats). He played well over the last three months of the season (.302 with 43 runs, 13 HRs, and 38 RBI) while leaving some stats on the table in September (.308 with no HR and five RBI on 78 at bats) due to a hand and a leg issue. Solid veteran hitter with a baseline of 25 HRs and 80 RBI plus a neutral batting average. Adam makes more sense as number five hitter, which will increase his RBI chances.

2. 3B Manny Machado
Machado has been extremely consistent in power over the last three seasons (35, 37, 33) while showing growth as a run producer (17, 16, and 17 percent RBI rate). He does a nice job controlling the strike zone as far as Ks (16.7 per K rate in his career), but his walk rate peaked in 2015 (9.8 percent – 7.3 in 2017). His average hit (length of combined hits) 1.822 was a career-high even with regression in his contact batting average (.317). It was nice to see some rebound in his stolen bases (9 – 20 in 2015). After struggling in batting average over the first three months of 2017 (.216 with 15 HRs and 38 RBI over 291 at bats), Manny started to round into form in July (.327 with three HRs and 15 RBI) while rewarding Fantasy owners in August (.341 with 12 HRs and 35 RBI over 126 at bats). In the heat of Fantasy championship in September, Machado lost his way (.211 with three HRs and seven RBI over 109 at bats). Over the last two seasons, Manny became more of a fly ball hitter (2016 – 42.7 percent and 2017 – 42.1 percent). His drop-in batting average last season looks to be tied to a decline in his line drive rate (15.8 – 18.5 percent in his career). This season he will fall into the second round or later in most drafts creating a value opportunity. His skill set points to a push in batting average while his runs and RBI are at the mercy of the players hitting before and after him in the starting lineup. His next step is a .300+ batting average with 90+ runs, 40+ HRs, 100+ RBI, and 10+ SBs with upside if traded to a team with more strength in their starting lineup plus he could end up being shortstop eligible.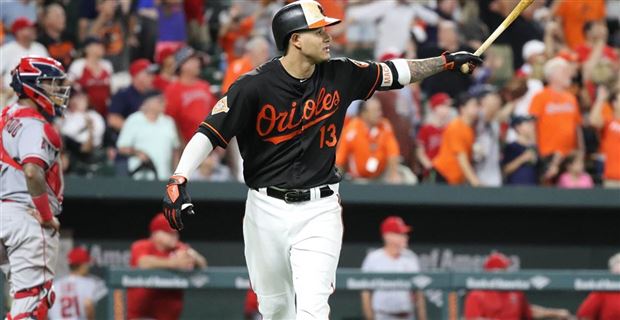 3. 1B Chris Davis
With home runs flying out of the park at a record rate in 2017 (6,105 HRs), Davis was left off the big swing ride. Over his first 179 at bats, Chris hit 11 HRs with only 21 RBI. He landed on the DL in the early part of June costing him a month of the season. When Davis returned to the starting lineup, his bat never got going (.205 with 12 HRs and 35 RBI over 239 at bats). His lack of contact (37.2 percent K rate) was a career high while continuing to take plenty of walks (11.6 percent). Chris struggled against both RH (.218 with 22 HRs and 46 RBI) and LH (.208 with four HRs and 15 RBI) pitching. Davis still has an elite HR/FB rate (24.8 – 24.0 in his career), but he did have regression in his FB rate (39.8). Massive power source with plenty of batting average risk unless he gets his K rate close to 30 percent. Even with a better contact batting average, Davis will still have questions with his RBI rate (13 and 12 percent over the last two seasons). This season he'll be drafted as a CO infielder in most drafts with a reasonable draft value. If you build your foundation of batters correctly (covering batting average), Davis is one of the better low average batting average hitters in the game. Possible rebound, but continued struggles could lead to a platoon role. Let's set his bar at .235 with 85+ runs, 35+ HRs, and 90+ RBI with 500+ at bats.

4. OF Mark Trumbo
Well, 2017 Fantasy owners got the 2015 version of Trumbo while playing a huge premium after his monster success in 2016 (.256 with 47 HRs and 108 RBI). His CTBA (.320) fell more in line with his career path from 2013 to 2015 (.333, .322, and .320) while showing a sharp decline in his average hit (1.695 – 2.083 in 2016). Both his walk rate (7.0) and K rate (24.7) fell in his career averages (24.9 and 6.8) and in a range of his breakout season in 2016 (25.5 and 7.7). His sharp decline in power was tied to regression in his HR/FB rate (13.8), which was well below his 2016 season (24.6). Mark lost his way against RH pitching (.221 with 15 HRs and 49 RBI over 412 at bats), that was an area of strength in 2016 (.284 with 37 HRs and 84 RBI over 457 at bats). His skill set is closer to 30/85 than 40/100 while playing in a hitter's park. Decent power hitting outfield with a slightly negative batting average. The surge in power in 2017 will lead to him falling into a favorable range in drafts.

5. 2B Jonathan Schoop
Other than RBI rate (19 percent in 2017), Schoop's success last year was almost duplication of his 2015 with twice as many at bats. His AVH (1.72) remains in an area where 30+ home runs should be expected annually going forward. His rebound in his CTBA (.379) was the reason for his growth in his batting average. Jon won't take a ton of walks (5.2 percent in 2017, which was a career high) while his K rate (21.0) improved for his third straight year. Last year Schoop hit his way up the batting order and he should be reward with a middle of an order opportunity in 2018. His minor league resume (.268 with 50 HRs and 256 RBI over 1,800 at bats) is well below his success over the last two years. Jonathan will be a much hotter commodity this season. His power is for real and his RBI chances should be a career high. Possible 100+ runs, 30+ HRs, and 100+ RBI with some regression in batting average.

6. 1B Trey Mancini
After seeing part time at bats in April (.216 with five HRs and 12 RBI), Mancini smashed his way to into the Orioles starting lineup with his success in May and June (.341 with 21 runs, nine HRs, and 31 RBI). His growth led to a starting job over the last three months of the season (.279 with 37 runs, 10 HRs, and 35 RBI over 319 at bats). Trey had identical success in batting average against righties (.293 with 19 HRs and 61 RBI over 386 at bats) and lefties (.293 with five HRs and 17 RBI over 157 at bats). His K rate (23.7) and walk rate (5.6) came in just below league average. Over four seasons in the minors, Trey hit .306 with 54 HRs, 275 RBI, and 12 SBs in 1878 at bats. His bat made a step forward in 2015 between High A and AA when Mancini hit .341 with 21 HRs, 89 RBI, and six SBs over 533 at bats. Baltimore gave him just about a full season at AAA in 2016 (.280 with 13 HRs and 54 RBI over 483 at bats). His career path points to repeated success in all areas with his batting average being a coin flip even with more upside in his approach at the plate in the minors.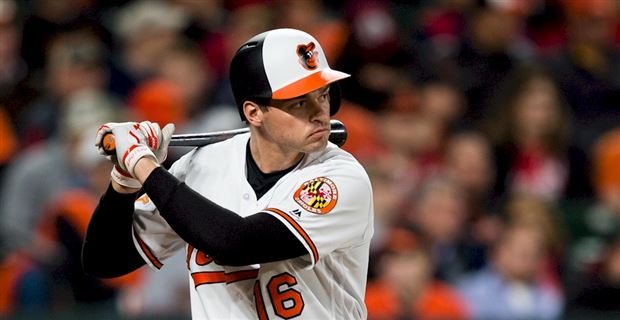 7. SS Tim Beckham
Over six years at AAA, this former first-round draft pick hit .266 with 15 HRs, 100 RBI, and 27 SBs in 971 at bats. Beckham flashed power over his first two seasons with Tampa (14 HRs over 401 at bats) after failing to be an asset in this area in the minors. Injuries led to him getting a bump in playing time in early 2017 (.277 with 28 runs, ten HRs, 31 RBI, five SBs over 267 at bats). Even with some growth, Tim did strikeout 91 times over the first three months of the season leading to a poor K rate (31.5). His bat lost value in July (.160 over 50 at bats with two HRs, five RBI, and 19 Ks) and a trade to the Orioles. With starting at bats in August, Beckham ended up being a great short-term filler (.394 over 127 at bats with 27 runs, six HRs, and 19 RBI). HIs inability to make contact did catch up to him again in September (.180 with over 89 at bats with four HRs, seven RBI, and 32 Ks). Tim was about the same hitter vs. righties (.285 with 16 HRs and 42 RBI over 397 at bats) and lefties (.257 with six HRs and 20 RBI over 136 at bats). Overall, he has plenty of batting average risk due to his poor approach at the plate (6.2 percent walk rate and 29.7 percent K rate). Based on the early structure of the Orioles, he projects at a bottom of the order hitter with improving power. His strikeout rate will invite job lose risk. Sub .250 with 15 HR, 50 RBI, and 5 SBs with 450 at bats.

8. C Chance Sisco
Sisco should be the favorite to win the starting catching job for the Orioles in 2018. Over five years in the minors, Chance hit .311 with 25 HRs, 206 RBI, and 14 SBs over 1635 at bats. His walk rate (10.4) is in a strong area with an above average strikeout rate (18.4). He won't offer an edge on the defensive side of the ball so a five day a week job in the majors may be asking too much in his rookie season. Line drive type hitter with minimal upside in power. Nice back end catcher in deep leagues with a chance at double-digit power. His batting average should be an asset with 50+ runs and 50+ RBI well within reach.

9. OF Austin Hays
Hays sure looks major league ready after blasting his way to majors in 2017 after dominating at High A (.328 with 16 HRs and 41 RBI over 262 at bats) and AA (.330 with 16 HRs and 54 RBI over 261 at bats). His K rate (15.1) in the minors was in a very good area while needing to add some more walks to his resume (4.4 percent walk rate). Over 60 at bats in the majors in September, Austin struggled to make contact (25.4 percent K rate) leading to a .217 batting average with a HR and eight RBI. Excellent upside gamble at the backend of the outfield pool. It's too bad Hays doesn't take more walks as the door is wide open at the top of the order in the Orioles' starting lineup. Player to follow in spring training as his bat could come quickly even with no career at bats at AAA. Future .300 hitter with upside in power and a chance at double-digit speed.

OF Joey Rickard
Over 518 at bats in two seasons in the majors, Rickard hit .255 with nine HRs, 38 RBI, and 12 SBs. He's a .280 in the minors over 1,294 at bats with 219 runs, 14 HRs, 153 RBI, and SBs. Last year Joey barely took any walks (3.3 percent) with a slide in his K rate (22.7). Line drive hitter with minimal upside in power while owning 30+ SBs. Backup outfield option with minimal chance of keeping a starting job long term.
Bench Options
Caleb Joseph (C) – Joseph has 28 HRs and 105 RBI over 952 at bats in the majors with some risk in batting average (.225). Last year Caleb had a regression in his approach at the plate (27.1 K rate and 3.8 walk rate) leading to a rising GB rate (46.2) and a fading GB rate (29.7 – career low). Joseph has double-digit power with enough significant league experience to be in the lineup three to four days a week if Chance Sisco isn't ready to seize the starting catching job.
Ryan Mountcastle (SS) – Mountcastle may not be the future shortstop for the Orioles, but he looks first in line for now unless Baltimore moves Manny Machado there and they decide to keep him. Over three years in the minors, Ryan hit .286 with 157 runs, 32 HRs, 132 RBI, and 23 SBs over 1164 at bats. His bat did make a step forward at High A (.314 with 15 HRs and 47 RBI over 360 at bats). Mountcastle only has 153 at bats at AA (.222 with three HRs and 15 RBI over 153 at bats) meaning he still needs more seasoning in the minors. Possible mid-season mover if the Orioles flip the switch to full rebuild mode. Excellent upside player in the majors shortly with a league average K rate (19.7).
Anthony Santander (1B/OF) – Santander has been on the slow path to the majors. Over six years in the minors, he's spent five of those years at A ball (.241 with 16 HRs and 83 RBI on 630 at bats) and High A (.291 with 20 HRs and 95 RBI over 505 at bats). Most of his at bats a High A came in 2016 (.290 with 20 HRs and 95 RBI). Last year Anthony missed most of the year with a right elbow injury. Showing growth, but he needs more at bats in the minors while needing to prove he can stay healthy.
Starting Pitching Staff

1. SP Kevin Gausman
Gausman continues to be an underachiever in the majors. He has a career 34-43 record with a 4.18 ERA and 593 Ks over 639.2 innings. After showcasing a low walk rate in 2015 (2.3) and 2016 (2.4), Kevin lost the strike zone in 2017 (3.4 walks per nine innings). This led to a spike in his batting average against (.283) and a huge step back in his ERA (4.68) and WHIP (1.495). Both RH (.288) and LH (.275) batters hit him well while issuing 41 of his 71 walks to lefties over 305 at bats. As bad as he was to start the year (4-7 with 6.07 ERA and 67 Ks over 86 innings), Gausman did pitch well over the last three months of the year (7-3 with 3.49 ERA and 112 Ks over 100.2 innings) with a rebound in his walk rate (2.7). His AFB (95.0) remains in an elite area while using a slider and split-finger fastball as his best two secondary pitches. In a way, it looked like Kevin was overthrowing his off-speed pitches. His disaster downside continues to be tied to his massive HR/9 rate (1.4), which was the same number in 2015 and 2016. Intriguing arm with the talent to make a huge step forward with a rebound in his command, but he still needs to figure out how to keep the ball in the ball park. Possible best season of his career with 15+ wins, 200+ Ks, and a sub 3.75 ERA.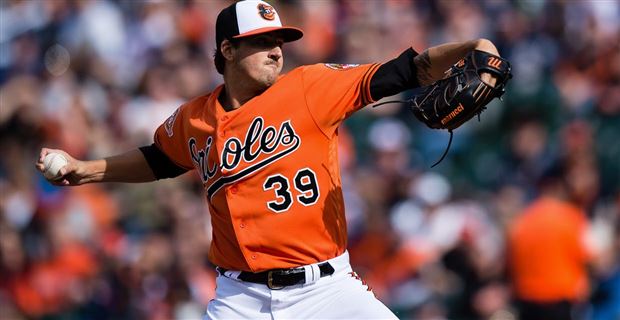 2. SP Dylan Bundy
Bundy threw the ball well in April (3-1 with a 1.65 ERA and 23 Ks over 32.2 innings), but he lost the strike zone in May and June (27 walks over 66.1 innings). Dylan allowed 19 HRs over an 86.2 innings over a three months stretch leading to a 5.61 ERA and 1.37 WHIP. Bundy regained his form in August (4-0 with a 2.00 ERA and 45 Ks over 36 innings), which was huge step forward in his skill set. Bundy struggled in two of his three starts in September (7.53 ERA and 1.605 WHIP), which led to him being shut down due to his innings count (169.2) and a hamstring issue. His arm has the most value against lefties (.222). The growth in his skill set was the addition of his slider. His AFB (92.2) was a tick below his value in the bullpen (93.8 in 2016) while also mixing in a changeup and curveball. Last year he pitched more up in the strike zone (47.2 percent fly ball rate). There's a lot to like here, but Dylan needs to prove he can handle a high volume of innings based on his injury past. With 200 innings pitched in 2018, Bundy has the good to post a sub 3.50 ERA with 200+ Ks with improvement in his HR/9 rate (1.4).
3. SP Andrew Cashner
Heading into 2017, Cashner had an 11-27 record, 4.72 ERA, and 277 Ks over 316.2 innings over his last 59 games in 2015 and 2016. Despite one of the worst K rates (4.6) in baseball and a high walk rate (3.9), Andrew posted a 3.40 ERA last year over 166.2 innings. Batters only .250 against him compared to .279 in 2015 and .301 in 2016. He had slightly better success in 2017 vs. LH batters (.243 BAA). Surprisingly, Cashner has an ERA under 3.00 in April (2.93), May (2.92), July (2.36), and August (2.76). His only failed month came in June (6.14 ERA). His AFB (94.2) was a career low and well below his peak 2012 season (98.9). Batters did have a tough time against his four-seamer (.209 BAA), changeup (.225 BAA), and cutter (.238 BAA). The move to the AL East will invite more disaster into his game. Without improvement in his command and a jump in his K rate, Cashner has road kill written all over him. Just an inning eater with a big enough fastball to surprise if 1+1=3.
4. SP Chris Tillman
The highlight of Tillman's 2017 season came over his first three starts in May (3.52 ERA and 12 Ks over 15.1 innings). The Orioles gave him 12 disgusting starts over the next two and half months (9.47 ERA, 2.201 WHIP, and .374 BAA). Chris walked 4.9 batters per nine with a weak K rate (6.1). Tillman started the year in the DL with bursitis in his right shoulder while also battling a shoulder issue in 2016. HIs AFB (91.2) was more than 1.5 mph lower than 2016 (92.9). His only pitch of value was his changeup (.222 BAA) while both of his fastball options led to disaster downside (four-seam – .316 BAA with seven HRs allowed over 117 at-bats and sinker – .408 with six HRs allowed over 76 at-bats). Before 2017, Chris had a 65-33 record with a 3.81 ERA and 655 Ks over 844.2 innings. When healthy. Tillman has the stuff to get major league batters out, and he will win games thanks to Baltimore's offense. I just can't trust him, but he will be free on draft day. Only a start-to-start play if he's showing more velocity in 2018.

5. SP Hunter Harvey
With the Orioles' starting rotation being full of disaster options headed into 2018 behind their top two options, Harvey could push his way quickly to the majors. His career has been full of injuries with the last coming in July of 2016 (TJ surgery). Hunter is a former first round draft pick with a plus fastball and upside curveball when healthy. Over 144.1 innings in four seasons in the minors, Harvey went 7-8 with a 2.56 ERA and 187 Ks. Last year he threw the ball well over 18.2 innings (0.96 ERA with 30 Ks). Real short resume, but his pedigree points to ace upside. His innings will be capped, so each inning pitched in the minors will limit his value in the minors. Player to follow with possible short-term value this year.

SP Miguel Castro
Castro pitched well in his minor league career (25-13 with a 3.21 ERA and 250 Ks over 249.1 innings) while splitting time between starting and pitching in relief. At the major league level, his walk rate (3.9) is a huge problem with a fading K rate (5.2 – 6.2 in his career). Homeruns have also been a weakness (1.4 per nine innings). His AFB (95.6) suggests more upside with better command. He throws a slider as his second-best pitch while needing his changeup to make a step forward to have any chance at starting long term. More of a reliever for now, but Castro has enough talent to surprise as backend starter if given the chance.

CL Brad Brach
Brach earned the bulk of the saves (15) for the Orioles over the first half of 2017, but his arm drifted between electric and disaster on too many days. Over his first ten games, Brad didn't allow a run with 13 Ks and four saves. He blew three of his next seven saves when Brach allowed nine runs and 16 baserunners over eight innings to put the 9th inning at risk. He regained his form over his next 13 games (12.1 shutout innings with four hits allowed and 13 Ks). Brad had a 2.63 ERA over 44.1 innings with 16 SVs and 48 Ks. He struggled to bring the bus home in August and September (4.18 ERA and 1.52 WHIP). His arm had value against both righties (.205) and lefties (.212) batters. Brach has a plus fastball (95.0) while relying on his edge changeup followed by a slider. With Zach Britton out at least half of the 2018 season, Brad will be first in line to close. His walk rate (3.4) does invite risk. I liked his direction in 2016 and he had enough success in the 9th inning last year to be a reasonable gamble for saves in 2018. I would make sure to add insurance just in case Mychal Givens out pitches him in March.

RP Mychal Givens
Givens started to find his way as a backend reliever in 2017. He dominated over the first four months of the year (1.89 ERA with 57 Ks over 52.1 innings) highlighted by an electric June and July (two runs over 25 innings with two walks and 31 Ks). Just when Mychal was close to the 9th inning and saves in August, he lost his command (eight walks over 14.2 innings) leading to a 5.52 ERA and four HRs over 14.2 innings. His stuff worked well against both RH (.208) and LH (.184). Givens relies on his elite fastball (95.6) while throwing fewer sliders and an improving changeup. Over three seasons in the minors, he had a 3.06 ERA with 170 Ks over 158.2 innings. Close to closer worthy, but he needs to prove him command will hold up with the game on the line. Excellent closer in waiting flier plus an insurance card for Brad Brach.

RP Zach Britton
Britton blew out his Achilles in December putting out of action for at least half of 2018. This came after battling a left forearm issue plus a late season knee issue. When on the mound last year, Zach still offered a high-volume ground ball inducing fastball with similar velocity (96.1). He barely threw a slider as his second pitch. Britton's forearm issue was big part in his decline in his walk rate (4.3) and K rate (7.0). HIs high success in saves (135 of 145) over the last four years will put him back in the mix in the 9th inning when he returns healthy. Nice path as a closer, but his elbow issue may flare up again with elbow surgery possibly being in the mix down the road. Tough carry due to the length of his injury.
References
Baseball America Prospect Handbook. (n.d.).
Baseball-Reference. (n.d.). Retrieved from http://www.baseball-reference.com/
Brooksbaseball.net. (n.d.). Retrieved from http://www.brooksbaseball.net/
Fangraphs. (n.d.). Retrieved from http://www.fangraphs.com/
Roster Resource. (n.d.). Retrieved from http://www.rosterresource.com/mlb
Rotowire. (n.d.). Retrieved from http://www.rotowire.com/
RotoWorld. (n.d.). Retrieved from http://www.rotoworld.com/