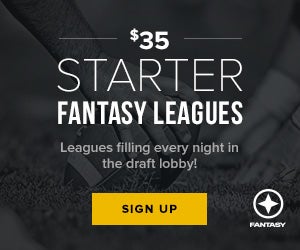 RB Ezekiel Elliott – The drama behind the Elliott six-game suspension was insane in 2017. The NFL proved their point by not caving on his suspension after it appeared that Elliott was going to be cleared. In the end, the former Ohio State running back finished with 1,252 combined yards with nine TDs and 26 catches. He saw a decline in his yards per carry (5.1 in 2016 and 4.1 in 2017) while losing his big-play ability (five runs over 20 yards compared to 14 in 2016). He averaged 125 yards and 26.8 touches per game. His path put him on pace for 2,000+ yards with double-digit TDs and close to 40 catches. In 2018, the Cowboys' offense will flow through Elliott while expecting more growth in the passing game. The strength in his offensive line gives him a chance to regain his value in yards per rush. Pencil him in for 2,000 yards with a run at 15+ TDs and 50+ catches. The lack of receiving options may keep some Fantasy owners away but Elliott will prove to be a rock-solid player from week-to-week.
WR Michael Thomas – Thomas had growth in his second year in the league (104/1245/5) even with Drew Brees attempting the fewest number of passes (536) in his career with the Saints. In 2016, New Orleans threw the ball 673 times with Michael catching 92 balls for 1,137 yards and nine TDs. In the end, Thomas saw growth in his target opportunity (149 chances – 27.8 percent of the total pass thrown by New Orleans) compared to 2016 (121 targets – 18.0 percent of 673 passes). The change in style by the Saints' offense due to a much-improved run game and better defense led to a shorter total in TDs (5). Thomas is a high-volume WR with a chance at double-digit TDs. The growth in scoring ability on the ground by the Saints' back does remove his upside in TDs. Buy the 100-catch season while expecting some return in TD production. If New Orleans regains some of their passing attempts, Thomas may push his catch total to 120 with 1,500+ yards and double-digit TDs.
RB Carlos Hyde – In 2017, Hyde had the best season of his career (1,288 combined yards with eight TDs and 59 catches) while setting a career high in touches (299). As great as may look, Carlos gained only 3.9 yards per rush and 5.9 yards per catch. His opportunity was almost by default. Last year Hyde only had one game with over 100 yards rushing (15/124) and two other strong games (94 combined yards with two TDs and three catches and 98 combined yards with two TDs and two catches). Last year the Browns' RBs had 296 carries for 1,224 yards and five TDs. His opportunity in the passing game is pretty much dead in the water with Duke Johnson owing the third down and passing opportunity. I'd also be concerned that incoming rookie Nick Chubb will steal his role at some point of the year. I only see 225 combined touches for 950 yards with about five TDs and 25 catches. Don't overpay for his 2017 stats.
---

Join FullTime Fantasy Sports for top advice in the industry from check-cashing, proven winners!
---
WR Curtis Samuel – Ohio State listed Samuel as a running back for his whole career. He had minimal touches in his freshman and sophomore years (899 combined yards with nine TDs and 33 catches). His game shined in all areas in 2016. He rushed the ball 97 times for 771 yards with eight rushing TDs while making a huge step forward as a receiver (74/865/7). Curtis runs with vision, but his ability to outrun defenders drive his success. He has more strength than meets the eye with an excellent gear to create separation on pass routes. Last year I had high hopes for Samuel that were short-lived after a season full of injuries. He finished 2017 with only 19 touches for 179 yards and four catches, which in a way show his explosive upside. In 2018, Curtis may work his way into more playing time in the backfield while possibly being a thorn in Christian McCaffrey's side. Samuel is an upside talent who will be a matchup problem for the defenses. I view him closer to being the handcuff to McCaffrey than being the top WR3 option on the roster. In this case, I wish he was listed as a RB in 2018. Keep an open mind especially if he's looking healthy in training camp. Fantasy teams can never have enough talent or playmakers.
WR Terrelle Pryor –  After a great season at age 27 with the Browns in 2016 (77/1007/4), Pryor was bust in Washington. He finished with only 20 catches for 240 yards and a TD on 37 targets over nine games. His season ended after Week 10 with an ankle injury. The Redskins gave him 11 targets in Week 1 leading to six catches for 66 yards. In his next eight games, Pryor produced three catches or fewer in all games while never receiving more than five targets in any game. A big receiver with a short resume at age 29. Possible value based on his 2016 success, but his route running was a reason for his failed stint in Washington. I'll set his bar at 60/900/5 while understanding the risk and reward on both sides of the equation.
---
Think you've got what it takes to win the Main Event? Claim your spot in the FFWC and take your shot at the $150K grand prize!