STACK OF THE DAY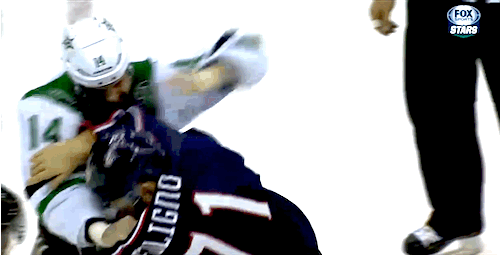 Dallas Stars PP1:   Seguin-Benn-Klingberg
Nobody will be on the Stars tonight and certainly not the power play unit going up against Columbus.  Despite Dallas being on a B2B on the road, I have a strong feeling that Seguin and Benn both have good games today and some of that fortune will come on the Dallas power play.  Columbus returns home after a west coast road trip and while Columbus isn't always in the penalty box, they're also not killing penalties extremely well.  The Seguin-Benn-Klingberg expensive stack is one that I will cross the streams with today as I think we get them < 5% owned and this game has plenty of offense in it tonight at sneaky upside.  But while everyone jumps on the Columbus train, I'll take the Stars side.
Extra Stacker:   Shore or Spezza to correlate with Seguin or Benn.  Spezza on top PP (better use on DK in util)
Goalie Correlation Confidence:    Low.  No.  Don't do that.
Mini Stack/Combo:  Benn & Klingberg
CHALK STACK
New Jersey Devils:  Hischier-Hall-Palmieri
Despite being on a B2B on the road the Devils are drawing the Ottawa "Hidden Camera on Cash Cab" Senators and all their drama and lack of quality talent.  The Devils top line should be in a great spot tonight to get back to their early season hot-streak but because of their price and being on a B2B I slightly downgrade them as being worth the hefty price tag that they're starting to carry.  None the less though, it's a great spot to dip into today.
Extra Stacker:   Will Butcher (PP)
Goalie Correlation Confidence:   High (Schneider)
Mini Stack/Combo:   Hischier & Palmieri
GAME STACK
Carolina Hurricanes vs St. Louis Blues
What's worse than Jake Allen in net?   How about Chad Johnson, who is drawing the start for the home Blues today against Carolina.  Carolina shoots over 40 times per game, so if you aren't using the Hurricanes tonight then you should better be on Chad Johnson.  Also, you should never be on Chad Johnson.  So this concludes all the analysis of why you want to be onto this game today and have a lineup with exposure from both sides.
Hurricanes:   Staal, Williams, Dougie Hamilton
Blues:  O'Reilly, Schwartz, Tarasenko
SNEAKY VALUE STACK OF THE DAY
Minnesota Wild:  Eriksson, Zucker, Niederreiter
Narrative here.  There's a super Deke and Minnesota is on the road.  Which means Nino "NEMO" Niederreiter scores a goal.  As a bonus, he gets to skate with Jason Zucker today and the value of Joel Eriksson makes this the 3 man value stack today.  It's a super deep (deek?) GPP type play, but one that has two guys who can put the puck in the net today at lower ownership.
LINE LOCK:    O'Reilly, Schwartz, Tarasenko (Blues)
ONE OFF STUD WINGERS:   Jamie Benn (Stars)
ONE OFF VALUE WINGER:   Nino Niederreiter (Wild)
TOP DEFENSEMAN:   Dougie Hamilton (Hurricanes)
FAVORITE GPP GOALIES:   Henrik Lundqvist (Rangers), Devan Dubnyk (Wild), Jimmy Howard (Red Wings)
NHL BETS:
Stars/Blue Jackets OVER 5.5
Canes/Blues OVER 6
NY Rangers -112
Oilers/Lightning UNDER 6