RB Tevin Coleman – Last year Coleman had a career-high 183 touches leading to 927 combined yards with eight TDs and 27 catches. His yards per catch (4.0) came in below his first two seasons (4.5 and 4.4) while showing continued explosiveness in the passing game (11.1 yards per catch – 13.6 in 2016). Over three games with starting carries, Tevin gained 243 combined yards with four TDs and two catches while averaging just over 20 touches per game. Over this span, Coleman gained only 3.8 yards per rush. Tevin struggled to make plays in the run game over his last four games of the regular season (34 rushes for 89 yards – 2.6 yards per carry). The Falcons tend to give him about 38 percent of the early down action while moving closer to Freeman in catches in 2017. His next step is 1,000 combined yards with eight to ten TDs with 35+ catches. I expect him to have 200+ touches in 2018 with a full season of games. He's one injury away from being an RB1.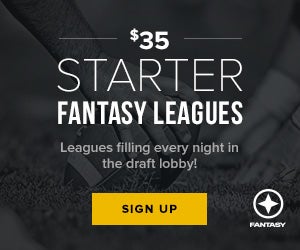 RB Jordan Howard – The addition of Tarik Cohen and a shoulder issue deemed Howard a failed Fantasy investment in 2017 as a second-round pick. He finished with 299 touches for 1,247 combined yards with nine TDs and 23 catches. Jordan flashed his explosiveness in four games (23/140/2, 36/167, 15/125/1, and 23/147/2) with two other games of value (121 combined yards with three catches on 26 touches and 44 yards and two TDs. Unfortunately, Howard had short production in seven games (9/7, 21/65, 15/54, 7/6, 13/38, 10/37, and 9/9). When on his game, Jordan has beast upside. He won't be a huge factor in the passing games, which forces Howard to earn his keep with TDs and rushing yards. Possible 1,500 combined yards with double-digit TDs and about 25 catches. Last season the Bears' RB rushed for 1,534 yards and 11 TDs on 377 rushes plus 97 catches for 718 yards and three TDs on 130 targets while having one of the worst offenses in the NFL. I expect him to be an excellent value on draft day as an RB2 while expecting many peaks and valleys over the last season.
---
CLICK HERE to check out our Fantasy Draft lobby! Compete in a FullTime Fantasy Sports contest, anywhere from our $35 Starter League to our $299 Online Championship, and of course in the Main Event! We are the home of the best players and payouts in the world!
---
TE Ian Thomas – In the fourth round, Carolina invested in TE Ian Thomas. He's going to a project based on his limited experience. Thomas needs to improve his route running while having the speed and quickness to create space on passing routes. His blocking skills look more advanced thanks to his strength.
WR Cody Latimer – Latimer's overall skill set probably looks better to the eye. He has possible upside, but he needs to improve his ability to run routes to create a larger window for success. Over his first four seasons in the NFL, he only had 35 catches for 445 yards and a 3 TDs. However, the move to the New York Giants where he will battle Roger Lewis for the No. 3 WR in the offense does open up a slight opportunity.
---

Join FullTime Fantasy Sports for top advice in the industry from check-cashing, proven winners!
---
2018 Fantasy Football: Positional Team Outlooks
Fantasy Football Rainman Shawn Childs, a six-figure high-stakes career earner and one of the most accurate rankers in the industry, previews the most relevant players at each skill position on all 32 NFL teams! Use these team previews to DOMINATE your competition as we approach the 2018 Fantasy Football season!