WEEK 12 INTRODUCTION
Welcome to Week 12 of the NFL DFS Ambush, where I will dive into the Main Slate NFL DFS plays that I am looking at using the most this week.
WHAT ARE THE AMBUSH PLAYS?   These are my favorite stand out plays of the week and the players that I am the highest on to pair with the MAIN plays.    In some cases, they're locks in cash, in some cases they're locks in my high dollar tournament plays of the week and in other cases they might be a stack play that is going in one of my top 3 lineups.
THE AMBUSH PICKS
Lets change it up a little bit on how I present the Ambush picks of the week this week by identifying them under specific type of plays, almost like awards of the week — kind of like the NFC Offensive Player of the week award a.k.a. The Drew Brees award every single week….  OK, had to get one Saints reference in on a week they arent on the slate.
CHALK MONSTER
MELVIN GORDON
update:  gordon is fading quickly as chalk with the injury status being so iffy.  The challenge is that he wants to play but the coaches are not certain   So this makes him more of a second lineup play for me over a lock button chalk main lineup guy.
Gordon is currently a game time decision this week against the Arizona Cardinals who come in ranked 29th and have to deal with a Chargers team that is coming off a bad loss last week to the Denver Broncos.  If Gordon is cleared to go then lock him in as the top RB on the slate for 100 yards and two tocuhdowns.  The great spot here though is even if he is out then that opens up an even BETTER spot with his backup Ekeler then becoming the must start play of the week.  The Chargers should shred the Cardinals this week and it's starting with their ground attack at home.

PIVOT OF THE WEEK
ANTONIO BROWN > ODELL BECKHAM JR
I know how bad Philly has been defensively against #1 WR and how much OBJ has torched them in the past, but I just cannot get around going back to the Giants passing game well this week and not as a chalk spot.  Not when I can get Antonio on fire Brown in a late hammer against the Broncos who I bet will have mailed it in after upsetting the Chargers last week.  We normally dont like Ben on the road but the Steelers offense is gonna go through Brown and Conner this week and this is a way to get off the OBJ chalk with someone of equal/better talent in a spot where I think the Steelers offense will be on the field a lot more than the Giants offense will be.
Look for Beckham to be more popular on FanDuel this week while Brown is the late afternoon hammer who carries the Steelers offense this week along with James Conner on the ground.
I am using this pivot on my main lineup this week.

LOW OWNED VALUE SMASHER
KENYAN DRAKE
Drake has a really low price this week making him an attractive play in one of the better games this week.  The Dolphins will get Ryan Tannehill back under center which helps balance the offense out and the way to attack the Colts is through the ground game.  The fear of a Frank Gore 1 yard rush TD in a revenge/vulture spot does give me fear, but with Drakes big play ability the price of 5500 is easily something we can DESTROY this week with just one score and 120 total yards on the day.

WEIRD STACK OF THE WEEK
COLTS – Andrew Luck, Marlon Mack, Eric Ebron and Jack Doyle
The Miami Dolphins are near the bottom of the league and trending in the wrong direction fast against the run, but on the other hand Andrew Luck is a floor machine lately with 3 TD in 7 straight games and Luck has been using his RB and TE a ton to keep the chains moving and inside the red zone.  With TY Hilton likely getting locked down by Xavien Howard the Colts offense will run through the RB and TE again this week.  But the weird part here is that I think Luck hits his value and also hits Mack and Ebron again for TD's while Doyle racks up the yardage as well.  It's a thin week with lots of studs not on the main slate so going 2 TE in the FLEX this week is actually a viable option and this is one team to consider it because Doyle is basically a #2 WR.
DONKEY CHALK FLOPS
GIANTS and 49ers
Neither of these teams are very good and while we always throw that out against the Bucs (49ers) and the Eagles D has been shredded lately, I just cannot stomach using these teams on the road.  Philly is going to SMASH the Giants this week in the mouth and the defense will have Eli packing his bags.  The 49ers are in a west to east 1pm start spot in Tampa Bay and now without Marquise Goodwin they should completely lay down against the Bucs and flop entirely.  I want no part of either of these teams.
MY POSITIONAL BREAKDOWN
QUARTERBACKS
What a week we have here as I got plenty of Quarterbacks that I like here and most of them I don't mind playing naked such as Cam, Lamar and Luck.
LAMAR JACKSON … The rushing upside and the spot against Oakland who is coming across country for a 1pm game makes Lamar Jackson the starting spot this week for a nice floor at Quarterback.   He got 16 points last week without a touchdown, if he scores 2 TD this week we can be looking at a 30-35 point game given how bad Oakland is.
ANDREW LUCK … I'm sold.  Luck is on fire and will lead the Colts to the playoffs this year.  The Colts offense has been thriving with two healthy TE and the running game helps balance things out.  Coming off a massive week to TY Hilton last week, we will see Luck spreading it around more this week which means we can play him naked in all formats as he has thrown 3 TD in seven straight games and this is a game that I think has more points in it than folks will initially expect.  Dont be afraid to play him with Mack or the TE
CAM NEWTON … One of the better games today should be Seattle vs Carolina and we've seen Cam come through in the big games this year in DFS.  This is a good spot for him to have a big game on the ground in addition to getting it to his passing targets and specifically CMC as well at home … I am looking for Cam to get 2-3 TD passing and 1-2 on the ground in a shootout.
JAMEIS WINSTON … Can we trust Winston?  Evans and Brate are two guys who stand out on paper this week but with the late news that Marquise Goodwin is out for San Francisco I think we have a game that could reach UNDER potential with San Francisco having to use the ground game more this week and slowing the tempo down.  Given that I have other QB I like a lot I can fade Winston but wanted to write him up as someone I think will have a decent day.
SNEAKY
CARSON WENTZ … The Eagles are going to bounce back and shred the Giants and Wentz will be much better this week.
FADES
Baker Mayfield … Chubb game
Nick Mullens … No
RUNNING BACKS

No Hunt, no Zeke, no Kamara, no Gurley …. No problem.  We still have a few studs at the top who should anchor our lineups and yes there are some value RB options this week, but I am still locking in two guys who I think have 100+ yard and 2 TD upside in home wins with Gordon and Mixon.  If Gordon is out then swap him for Ekeler who becomes a must start on both sites.
MELVIN GORDON … Best RB on the slate and matchup as well.  I'll take him over Barkley in a spot where Philly is gonna bounce back big time.  Gordon and the Chargers also need a bounce back at home against a bad Cardinals rushing defense.  Lock in Melvin Gordon for 2 scores this week with no Gurley, Hunt, Zeke or Kamara on the slate.   If he sits then Ekeler is a must start.
JOE MIXON … Love the Bengals here against a Browns team coming off a BYE.  The Bengals offense should run through Mixon with AJ Green either limited or OUT again and the Browns being a defense that funnels everything on the ground.  Some might point to Hue Jackson for the Bengals being in the building and wanting to shove it back on the Browns — but this is Hue folks — he isnt the reason I am going here.  It's Mixon.
JAMES CONNER … Conner or Brown…. You gotta get one of them in your lineup this week and I am in favor of going both but that would be more of a cash format where the upside I think becomes limited.  Conner has shown to be very good this season when the match-up favors the running game and so I think he hits that value mark this week.
MARLON MACK … I gotta make a stand on this Colts game which is a spot where I think the RB and TE do the damage.  Miami is horrific on the road and has been getting crushed in the ground game again lately.  Luck has been so efficient though that I think he could be the one who passes the ball here to even Mack for a TD, but either way Mack is going to score a touchdown this week.
Tier 2 … Second lineup type guys.
CHRISTIAN McCAFFREY … I think this game has points and CMC at home has been able to overcome any match-up this year as they run it a ton more when at home.  Both CMC and CAM will score on the ground this week.
LEONARD FOURNETTE … The matchup makes sense.  I dont know that we wanna trust Fournette in Buffalo though, seems like an injury waiting to happen.
NICK CHUBB … Bengals run defense is struggling.
JAMES WHITE
SNEAKY
Kenyan Drake … Run back the Colts stack with Drake, who appears good to go for the game.
Josh Adams
FADES
Saquon Barkley
Matt Breida
WIDE RECEIVERS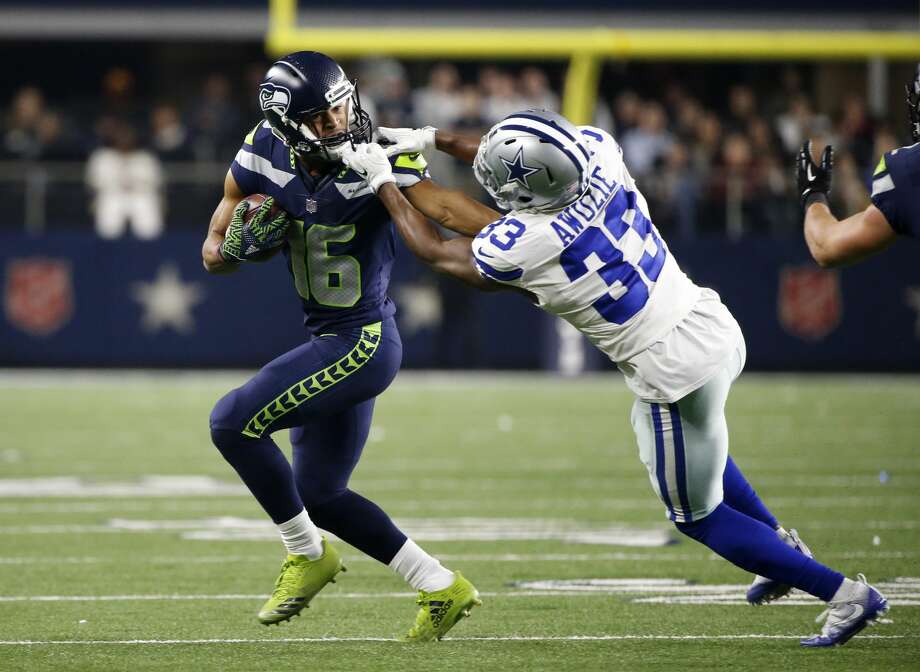 The chalk build this week will be to pay up at WR, but I really like doing it with only one of the studs and as I outlined above I think going Brown over OBJ is the tournament winning pivot for this week.  In the mid range there's a lot to like with Lockett (if Baldwin sits) being the must own play for me at WR this week.  Don't sleep on the Eagles WR either this week.
STUDS
ANTONIO BROWN … Wanna pay up at WR off OBJ?  Brown is the pivot this week or go with Ju-Ju Smith-Schuster, the Steelers usually are faded when they're on the road but I can't overlook how good of a spot this is for Brown and Ju-Ju and prefer Brown over Beckham.
MIKE EVANS … Winston is back and thus we can go back to Mike Evans safely.  Actually, we can never go back to Mike Evans safely, play with fear.
KEENAN ALLEN … If Gordon sits then Allen also gets a huge boost here along with Ekeler
JOSH GORDON … There has been no word on Brady this week and I wanted to really go back to the Patriots well as Brady has been in a massive (fantasy) slump lately and is due to break out in a huge way, but I'll get some exposure to that Patriots offense through Gordon or Edelman this week.  Gordon is the better play for TD upside.
MID RANGE
TYLER LOCKETT … This is a little based on Baldwin potentially being out this week, but we gotta get exposure on the Seattle WR this week, Wilson is going to get 2 TD and it's Baldwin and Lockett that will do the damage.
ALSHON JEFFERY .. Alshon roasted the Giants on TNF earlier this year and is one of the options from the Eagles to consider with Carson Wentz stack this week.  I like Agholor in a bounce back spot as well.
EMMANUAL SANDERS … Gimme some more revenge narratives here.  Correlation play with the Steelers offensive weapons.
SNEAKY
Michael Crabtree … Boom or bust but a little revenge narrative for a guy who loves some revenge narratives.  Lack of pass attempts will make him really risky this week but bold call he scores.
FADES
OBJ / Shephard
49ers Value WR
TY Hilton
TIGHT ENDS
CAMERON BRATE … Welcome to the chalk play of the century as OJ Howard is out and Jamies-TE-Winston returns to the helm for the Bucs against the 49ers.
ZACH ERTZ … Without the depth at RB for studs this week, one spot I like to pivot the $ over too is TE with Ertz who has carved up the Giants and should be Wentz's best friend this week to get the Eagles back on track.
GEORGE KITTLE … Kittle has the best overall price/matchup balance on the slate.  Good cash option, but I am fading the 49ers in tournament lineups this week.
JACK DOYLE / ERIC EBRON

DEFENSES
RAVENS D … It's Oakland in a 1pm EST start.  Next question.  They score.
PHILLY EAGLES … Eagles D in a smash spot this week to dominate at < 10% ownership.
CINCINNATI BENGALS … The Browns do too many dumb things to not consider a defense against them.
JACKSONVILLE … Lots will want to pick on the Bills this week with Jacksonville but dont think this is an automatic lock spot like in years past.  They'll get you a nice safe floor.