Fulltime Fantasy's Playoff Fantasy Football Contests
Play 1 or play all 3! YOU decide!
Beat Dr. Roto Playoff Challenge FREE
Playoff Maui Madness $25 or a 5 pack for $100
Playoff Draft World Championship $199

MAUI MADNESS
For just $25, you can win a trip for four to Hawaii in Fulltime Fantasy's Playoff Maui Madness! That's right, a week-long trip to Maui's 5-Star Kaanapali Alii Resort. This is a great opportunity and if you win, I don't think your spouse will be complaining about all that time you spend drafting anymore!
PLUS…You can get one entry to this contest for $25 or a FIVE-PACK of entries for just $100 (that's a $25 savings!)
PRIZES
Grand Prize: Trip for Four to Maui
Resort accommodations for 6 nights in Maui's 5-Star Kaanapali Alii Resort. (2BR-2BA)
Airfare for Four anywhere from continental US (up to $1,000 each person for roundtrip airfare). Certain date restrictions may apply. Prize package worth: $10,000 *estimated
2nd place: Online Championship Entry (valued $299 entry)
3rd place: Online Championship Entry (valued $299 entry)
4th place: Online Championship Entry (valued $299 entry)
5th – 10 place: $100 FullTime Fantasy Game credit
11th – 20th place: $50 FullTime Fantasy Game credit
21st- 50th place: $20 FullTime Fantasy Game credit
How to Play
It's a simple pick 'em contest where you select an 8-man lineup of players whose teams are alive in the NFL Playoffs.
A roster consists of: 1 QB, 1 RB, 1 WR, 1 TE, 2 FLEX (RB, WR or TE), 1 Kicker, 1 Defense/Special Teams.
No more than 3 skill position players from any one (1) NFL team. Skill position is defined as QB, RB, WR or TE.
Scoring rules can be found here but they're the same as all of our FFWC contests. PPR, 1 per 10 yards rushing/receiving, 1 per 20 yards passing. 6 per rushing/receiving TD, 4 per passing TD.
Your team stays the same for the entire NFL playoffs. There are no waivers and no roster moves.
There are FOUR weekly rounds of the NFL playoffs (1. Wildcard Round, 2. Divisional Round, 3. Conference Championship Round, 4. Super Bowl). Each week, your team accumulates points. Your team's two best scoring weeks are combined. The team with the highest two-week combined is the winner and goes to MAUI!
Since only your two best weeks count towards your final high score, this allows you to enter BRAND NEW teams up until the Conference Championship Round. (the Championship Round and Super Bowl would be your two qualifying weeks)
The deadline to submit new teams is the kickoff of the Conference Championship Round.
Once you've drafted your team, make sure to answer the tiebreaker trivia questions:
TIEBREAKER TRIVIA
1. Who will be the Super Bowl MVP? (if incorrect or two or more teams are both correct, the correct teams advance to question two)
2. How many FFWC Fantasy points will Tom Brady score in the entire 2019-2020 NFL playoffs? (closest to correct wins)
Example: 65.34
Please click here to enter and win!
Good luck and WIN MAUI!

Note: Sadly due to new regulation burdens in the industry, residents of AZ, DE, IA, IN, LA, MO, MS, MT, TN, VA, VT and WA are prohibited from play.
2016 Maui Madness Winner: Craig Bodenmiller and his wife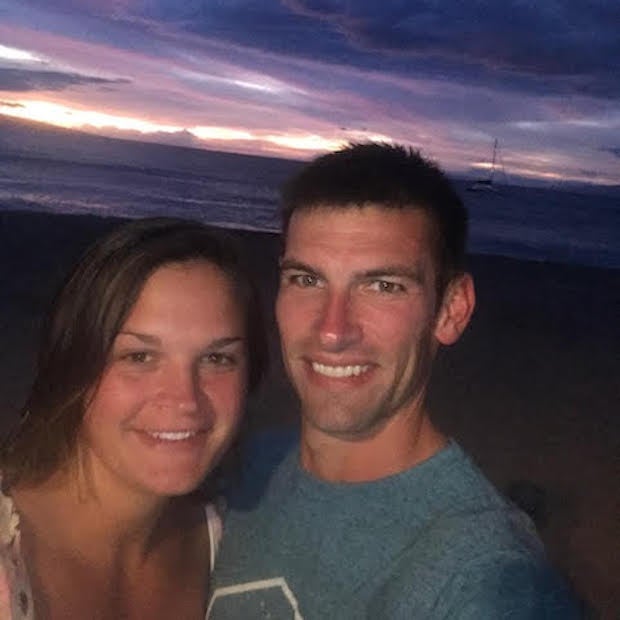 Enjoying the beach with some friends (Craig is in the middle)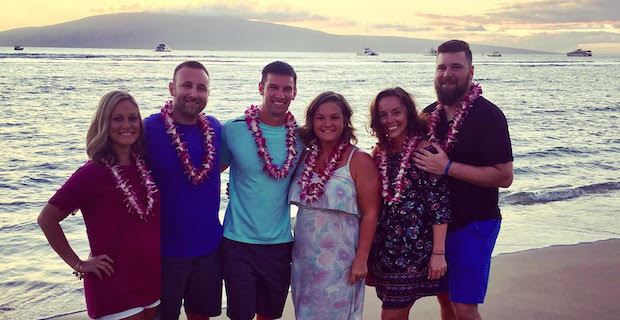 Gorgeous views!
Hit the golf course and enjoy some beautiful scenery!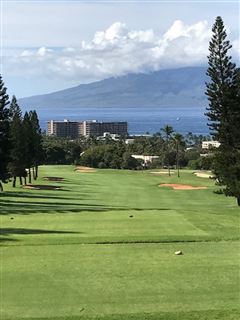 Go for a midnight swim at this beautiful 5-star resort!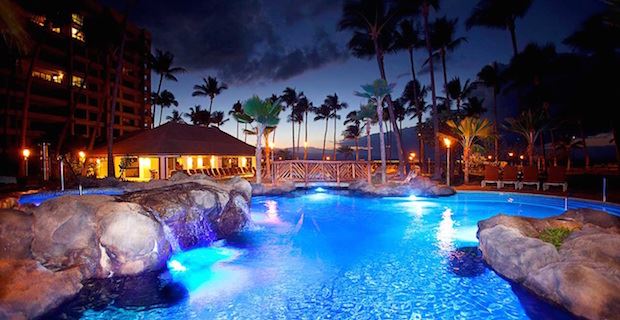 So, are you ready to become this year's Maui Madness winner?
Sign up today! One entry for $25 or a 5-pack for $100!