THE MONEY MAKERS
These aren't quite in the ELITE tier of stadiums, but what makes these great is that they can easily be as good on any given night and a lot of times will have lower Over/Unders which projects them to be fantastic second tier targets for DFS at lower ownership typically — and thus nice money makers.
10.  Minute Maid Park – Houston
2019 HR Ranking:  7th
You have obviously seen a lot of this stadium the last few years as the Astros have vaulted to one of the top teams over the past 5 seasons and with all of the sign stealing accusations everyone and their brother did analysis it seems on how much the Astros players benefited from playing at home with the trash cans banging.  In short, they no doubt got help in key situations but in the first three innings of a random game in May?  Not as much.  The Astros have long been a team that when they're playing on the road to me lock in that 9th inning AB advantage which good teams don't get at home and they're often going into other AL ballparks which are just BETTER.  Spots like Minnesota, Baltimore, New York, Seattle and formerly Texas always seemed like nice road Astros spots.
But it's not to say that I dont attack Minute Maid Park for offense and it obviously gets the elements benefits that a Texas stadium should in the summer.  However in 2020 we're likely going to see it with the roof closed more often than not in August so that gets minimized.  I could rank it as low as 15, but with the really short dimensions to left field it winds up playing to well over the long haul.  Yes, you gotta get some elevation to get it out, but when you look up statcast metrics on balls that wound up as HR which shouldn't have — you'll always find Minute Maid Park.
2020 Visiting Team to focus on:   Oakland Athletics
9.  Great American Ballpark – Cincinnati
2019 HR Ranking:  8th
Fantastic stadium if I do say so myself.  Why?  Well, for starters it's always one of those darling DFS spots so I feel like we are looking at this stadium quite often.  But this ballpark has long been a stadium of major extremes.  On one hand, we have it as a park where Homer Bailey threw a no hitter, Luis Castillo has racked up a ton of strikeouts and Jake Arrieta also threw a no hitter.  There's even been a few random lefties who have pulled rabbits out of their hats in this ballpark over the years as nice cheap bargain plays.  But make no mistake friends.  This is a hitters ballpark.  Why?  Look no further than the nickname which is Great American Smallpark.  Sitting outside of the Ohio River which runs along Cincinnati/Kentucky boarder and outside the right field wall this park has long been a hitters paradise.  The most HR hit here all time?  That would be Adam Dunn of course.  The best active hitter for this ballpark?  Ryan Braun, but more on him in a moment.
The grass in this stadium is almost always on point, the announcers are some of the best even with Marty Brennamen retiring from calling Reds games.  This stadium has been home to some fairly EPIC moments in random middle of the week Baseball.
#3 on the list and this one is a hell of a #3.  The Pirates and Reds, seemingly tired of both sucking all season long got into what some women would call "An Entanglement"
#2…..  Two Words….   Scooter Gennett
#1 on the list.  How about a Brawl before the game ever begins?
There is a random Twitter narrative about this stadium and it being a bombfest after a rain delay.  Given the river near by I can see that, but it's not my narrative so you won't hear me pushing it as such.  I'm also not going to debunk it because I can definitely see the merit.  But this stadium has a few random things that leap out to me which you should note
Ryan Braun
Eric Thames
Derek Dietrich
Bruce, Jay on a Thursday Day game
Cincinnati Chili Sucks
2020 Player/Teams to watch:   Bauer every time he pitches and gives up 3 HR and strikes out 20.
8.  Citizens Bank Park – Philadelphia
2019 HR Ranking:  7th
Alright, let me play a little trivia game here for you.
Of all current MLB Stadiums, only one player has in his career hit over .400 with a wOBA over .400, ISO over .200, with 10+ doubles, 10+ home runs in a visiting stadium.
The stadium?  Citizens Bank Park.
The player?  Ryan Braun
I have been screaming this ever since I started writing articles back in 2016.  If you aren't listening by now, then you hate free money when Braun visits Philly.  Unfortunately, COVID.  So we must wait another year if Braun returns to play in 2021 and here's to hoping that if he does he signs with an NL East team.
Philly, like many other mid-Atlantic and north ballparks gets a huge boost from not having to slug through April baseball when the weather is colder.  The batters eye here is good.  The park plays well for everyone (RH & LH) and the Phillies backend of their rotation could be their downfall if they don't stay healthy up front.  In many ways this stadium is like Miller Park in that it's right on that fringe of elite ballparks at times, plays well for all types of hitters and should be on our radar when we have a bad pitcher on the mound.
Like Zack Whee… oh wait.
2020 Visiting Team to Monitor:  Marlins … they get a huge boost when they come here in terms of park size.
7.  Nationals Park – Washington
2019 Park Factor HR Ranking:   2nd
No stadium has evolved more over the last five seasons than Nationals Park.  It has gone from a below average park to one of the most HR friendly stadiums in the league as it finished second in the league last year for park rating.  I know the Nationals bullpen is terrible but mind you they had a dominant starting rotation which did win the World Series and this stadium still came in #2 for homers, was well above average for runs, doubles and offense overall.   So why?  Does it jive?  Was it an abberation?  I have gone on this full rant for years about how you shouldn't blindly follow park factors from one season to the next and Nationals Park is a great reason why….   Take a look at the photo below, what do you see?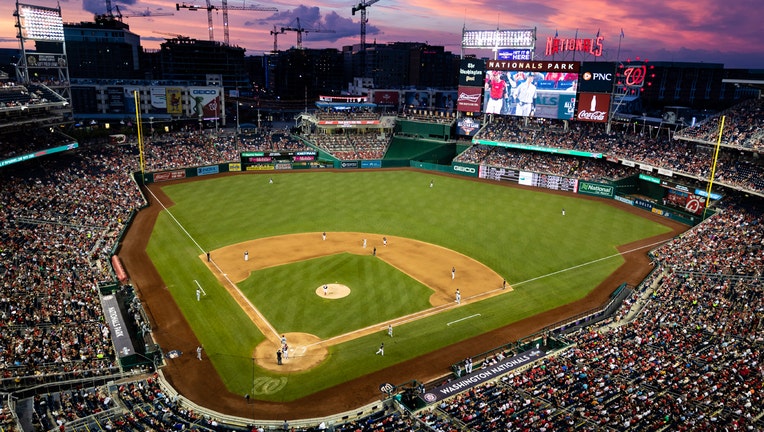 No silly, not the great purple sunset.  No, not the players on the field despite there being no rain in the stadium, cmon focus!
Yes.  Cranes!
You know what those cranes are doing?  In this photo they are there because they are building a bunch of buildings around Nats Park.  The city of DC has lots of short comings but one thing they have mastered is how to rebuild their city around stadiums.  In the late 90's the Washington Wizards/Capitals moved into downtown DC and revitalized a really down part of town around Chinatown.  It's a great area now and saw business and entertainment venue's boom since its inception.  The same has happened around Nationals Park as a once dead area where you just didn't see people going has now started to take off with trendy bars, food spots, condo's and businesses popping up all around the ballpark.
Let's go back to say 2013 and check out how Nationals Park was.  The team wasn't as good as it was last season but still good enough however the pitching wasn't as dominant.  So how did it rank?  It finished 27th in the league for HR.  And in 2014?  It finished 29th — behind Pittsburgh.  Then from 2015 through 2017 it ranked in the middle from 13th to 15th in the league before taking a leap into the elite tier in 2018 finishing 5th before 2nd in 2019.  This is a spot where the park factors obviously do not tell the whole story but they do tell us some story and you were behind the 8-ball if you don't translate why here.
It's the air.
DC is actually a VERY humid city.  It's just about up there with Atlanta in terms of summer humidity and there is ZERO air flow in Nationals Park now that those buildings have finished going up around the stadium, not to mention I have a little theory on construction and air density which I'm saving for the #1 stadium on this list.  Safe to say, the air around Nats Park is the best air boost in any stadium not named Coors Field or Chase Field when the roof is open.  This is a no doubt hitters park given that we have half the games in August.
6.  Miller Park – Milwaukee
2019 HR Ranking:  14th
So above I compared Philly to Milwaukee in terms of stadiums.  And honestly they are neck and neck.  While Philly has the Phinatic running around on the sidelines, the Brewers have whatever the hell their mascot is sliding down a giant slide whenever they hit home runs.  If that thing doesn't do that this year because of COVID then I will be very upset, because that along with Bob Eucker and the sausages running around are the obvious highlights on this stadium.
Now let me get a couple other facts out of the way here.
We love the stadium with the roof closed NOT juts because of the weather.  What do you think this is, SiriusXM radio free information?  no no no.  We love the roof closed because of the damn shadows.  Nobody every talks about it but what kind of sick fucker designed this stadium to have these kind of shadow/glares?
Mid afternoon day games — ESPECIALLY COME SEPTEMBER — are going to be MURDEROUS for hitters.  So throw those games out, but everything else about this stadium is near a wet dream for me.  The stadium often ranks as one of the best doubles stadiums in the league which is why someone like Paul Goldschmidt absolutely murders this stadium.  You know who else dominates here?  Kyle Schwarber on Sundays.  Lock it in.
2020 Visitors To Watch:   Kyle Schwarber, Paul Goldschmidt (duh), Hunter Dozier
THE ELITE
These are the top five stadiums that we should expect on a daily basis to be the first ones we have to consider — especially since the schedule is mostly August/September
5.  Coors Field – Colorado
2019 HR Ranking:  3rd
It's Coors Field.
The ball carries obviously
The evening sunsets are amazing
The Rockies Social Media team is on point.
Arenado 6 days a week and Story double dongs on Saturday's.
All Coors Field hot streaks end with a double dong.
Next.
4.  Rogers Center (Skydome) – Toronto
2019 HR Ranking:  1st
Another roof stadium where when it is closed we benefit somewhat.  The ballpark isn't that huge of a stadium and has a long history of being a pretty good hitters park.  Throw in a team that I have been extremely high on since late last fall because of the young core of Bo Bichette, Vlad Jr, Lourdes Gurriel and Cavan Biggio and I think this stadium plays up overall.  But hello, Tanner Roark and Hyun-Jin Ryu together in the same pitching staff?  OOOF.  This stadium has 6-5 all over it every single night and while that might leap out like a 10 run game it's going to be as steady as they come.
I personally didn't know that the SkyDome was right down the street from the Maple Leafs/Raptors new stadium and it creates a really good downtown area for Toronto fans to enjoy their sports.  Unfortunately, THEY CANT DO THAT RIGHT NOW and there is still a chance as of the time that I write this that the Jays will end up playing all their home games in Buffalo.  If they do, I'll hook you up.  Otherwise, lets plan on playing the Jays games a ton even if the hotel is closed down … Oh, the hotel?  Yes, about that hotel ….
Since it opened in 1989, there have been at least three incidents at the hotel where couples were having sex in plain view of tens of thousands of fans, as well as one incident when a man was thrown out of the hotel for masturbating at the window, believing it was one-way glass.

"We have a unique product here. Obviously, in hotel rooms around the world, who knows what happens. But here, it's kind of like a fishbowl," [Dan, director of operations for Renaissance] Woodburn said.

For stats nuts, the Blue Jays are 2-3 when hotel guests are caught getting naked or getting it on.
** Pictures Removed For the Kids **
3.  Target Field – Minnesota
2019 HR Ranking:  24th
Big, strong (fat), right handed hitters — especially those of Dominican or Central America or Latin or just non white folk decent.  You know, like Miguel Cabrera, Victor Martinez, Nelson Cruz, Salvador Perez, Josh Dona…. oh wait.  Yes, Josh Donaldson in Target Field is right there with Goldy in Miller Park and Braun in Philly.  He is now a member of the Twins for this short 60 game season so he gets 30 games to hopefully double his massive numbers as a visitor in this park.  Along with Cruz, who so far in Summer Camp has hit about 8 500 foot homers, should make for a dominating combination for the Twins deadly lineup.  But it's their pitching staff which will put this stadium where it should have landed last year.  They have a solid bullpen again on paper but I still love the idea of getting some of those NL Central power righties into this park — including Nick Castellanos at the end of September.
I was bullish on Minnesota last season and will double down this year despite the new shrubs in center field.  They didn't really seem to get any horrible reviews and who knows maybe they grew a little more to blend in with each other and we won't see some creepy mascot lurking behind them.  This is a very pretty stadium and a site that I hope to visit one day.  In a 30 statdium tour in one season, it would have to be one of the first ones visited in my mind.
Road righties is the name of the game.  The left field wall is not very tall — especially compared to the massive RF wall, which even Jim Thome wasn't too fond of despite him still going off here as well.  Slight lean to RH batters, love the Twins lineup, so it's a great stadium for August atleast.
2020 Visitor to keep an eye on:  Salvador Perez
2.  Oriole Park at Camden Yards
2019 HR Ranking:  4th
Ah yes, Coors East as we say.  Typically a dominant stadium in the afternoons in May/June and the evenings in August.  Well, son of a …. we're gonna get all those August humidity games in Camden Yards.  A tiny stadium with a tiny wall most of the way around even to RCF and one of the worst pitching staff's in all of Baseball.  You know exactly why Camden is here, and much like Coors Field I am not going to sell you on anything special about this stadium for DFS purposes, but I did I attend the first ever game at Camden Yards — so hey how about that.
Camden Yards was also host to the game between the White Sox and Orioles when they played a make up game with no fans following some Baltimore riots.  I once went to a game here that was a 12:30 mid week start against the Devil Rays and heckled Carl Crawford (friendly of course) in left field.  So the stadium has history with some empty seats but I will admit when it's packed it's an ELITE ballpark all around.
2020 Visitors to keep an eye on:  Love all the NL teams coming in here to boost their stats vs the Orioles, but Vlad & Bichette + Toronto are the MUST PLAY in Baltimore
1.  Truist Park – Atlanta
2019 HR Ranking:  15th
Target Field opened in 2010 and was DFL (Dead F Last) in HR boost with a horrific 0.641 rating.  In 2011 it jumped up to 20th place and in 2012 it moved up to 14th place with a positive ranking of 1.031.
Nationals Park has also adapted over the years into a now booming hitters park and in many ways is the better comp for Atlanta given weather impacts compared to Minnesota vs Atlanta (which isn't a comparison at all obviously).  Atlanta is HOT.  Duh.  It's HUMID.  Duh.  But why has SunTrust (now Truist) Park played so down the first two seasons?  In 2018 — the first year it came into the league when everyone was jumping up and down that this would be a lefties paradise (LOL) it finished 27th, but last year climbed up to 15th.  The history is there with other new stadiums and this one fits perfectly — especially with a pitching staff that is AT BEST middle of the road when you realize how many guys are prayers of continuing to develop into studs.  I'm not talking about Soroka and Fried, they are fine, it's the rest of the guys that should have the Braves terrified and us counting our cash when they are on the mound.
So why is the third year for stadiums a bigger deal than 3rd year Wide Receivers?
Wet Concrete.
Dongers Club Concrete Theory … Concrete cures over the first several years after it is poured; during this process excess moisture in the concrete evaporates (this is a fact). The theory is that all this moisture leaving the concrete makes the air heavier and the ball doesn't carry.
Ladies and gentlemen.  It's the end of July.  The Atlanta Braves were so desperate they signed Cole Hamels and Felix Hernandez this offseason — and neither is likely to be pitching now — so do the math and bet the overs in whatever the hell they're calling this stadium now.
P.S.  It's a Righties Park.
2020 Players to Target:   ALL… OF…. THEM