Daily Dr. Roto — June 18, 2018
Way Too Early First Round Mock
The Fantasy Football World Championship live drafts in Las Vegas are about a little less than three months away, so I thought it would be interesting to see what my first-round projects were as of today, and then compare it to what happens when all the high stakes drafters come together at the beautiful Palms Hotel and Casino in early September.
Pick 1.1 — Le'Veon Bell — Bell is most likely the first overall pick in Fantasy drafts this season unless his holdout continues deep into the pre-season (which might scare off people thinking he could be susceptible to an injury). Outside of that, he is a Fantasy beast and can easily lead a team to a Fantasy championship.
Pick 1.2 — Todd Gurley — While I wouldn't blame anyone for taking Zeke or DJ here, I think Gurley is the right selection. He showed last year what he could do with a solid OL, and Jared Goff will continue to take the next step in becoming a top tier QB.
Pick 1.3 — Ezekiel Elliott — We know that Dallas is going to hand the ball off to Zeke about 300 times, but now with Dez Bryant gone and Jason Witten retired, there's a good chance that Zeke might surpass his previous high of 32 receptions within the first ten weeks of the season.
Pick 1.4 — David Johnson — Last year's number #1 overall pick, Johnson crushed the hopes and dreams of his Fantasy owners after breaking his left wrist in Week 1. Johnson returns with a fire in his belly and another great chance to eclipse 2000 total yards from scrimmage so long as he stays healthy.
Pick 1.5 — Alvin Kamara — With Mark Ingram out for the first four weeks of the season, Kamara easily jumps right in at the fifth overall pick of the draft. As a rookie, Kamara was a PPR machine, collecting 81 receptions for 826 yards. Not only can he catch, but he is tough to bring down by the goal line as well, scoring eight rushing TDs. I think he can hit double-digit TDs for sure this season.
Pick 1.6 — Antonio Brown — It's possible that Chiefs RB Kareem Hunt goes here, but it's hard not to pick the man who is virtually unstoppable in PPR formats. Brown's only 29 years old, so he should have at least another 3-5 years at a 100+ reception level.
---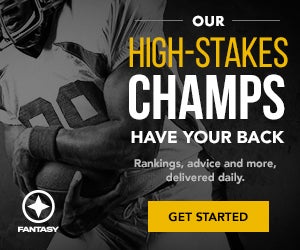 Join FullTime Fantasy for top advice in the industry from check-cashing, proven winners!
---
Pick 1.7 — Kareem Hunt — The first Thursday night game of last season opened our eyes to the talent that Hunt possesses. The biggest problem he had was that Andy Reid stopped giving him the football and there was a seven-game stretch where Hunt did not rush for more than 100 yards. Spencer Ware is expected back and might steal the occasional goal-line carry, but Hunt still needs to be considered right in the middle of the first round.
Pick 1.8 — Saquon Barkley — You read this right — I think Barkley is the 8th overall pick as of right now with the potential to go even higher by draft day. Barkley is a three-down back who can do it all and the Giants will use him liberally from the get-go. The only potential negative with Barkley might be if J-Stew steals goal-line touches from him. However, I think that Barkley will have a ton of long-distance TDs this season, so it shouldn't be too much of a problem.
Pick 1.9 — DeAndre Hopkins — This pick is predicated on the healthy return of DeShaun Watson as the Texans' QB. When Watson and Hopkins were together, there was no better tandem in the NFL. Look for Hopkins to once again dominate in 2018.
Pick 1.10 — Odell Beckham Jr — The first nine picks seem to be no-brainers to me, so the draft begins at 1.10. OBJ is hard to pass up here as no player can win you five matchups like Beckham can.
Pick 1.11 — Leonard Fournette — I am basing this pick on the fact that I think running backs are going to be incredibly popular picks once again in drafts. In only 13 games last season Fournette had over 1000 yards rushing and 300 yards receiving. It's entirely possible that he could get close to 2000 total yards from scrimmage if he can stay healthy for 16 games.
Pick 1.12 — Melvin Gordon — I think there will be some Fantasy owners who end up taking Julio Jones Roto, Mike Evans, or even Dalvin Cook here, but I think I would select Gordon. With Hunter Henry out for the year with a torn ACL, it makes sense that Gordon might be used even more as a receiver out of the backfield. Combine that with his 1000+ rushing yards and 8-10 rushing TDs, and you have a player who is consistent enough on a weekly basis to lead your team to a Fantasy championship.
---
CLICK HERE to check out our Fantasy Draft lobby! Compete in a FullTime Fantasy Sports contest, anywhere from our $35 Starter League to our $299 Online Championship, and of course in the Main Event! We are the home of the best players and payouts in the world!
---