PGA DFS has created a significant following over the past few years. Which is the best thing that could have happened to the sport, next to Tiger making his all world comeback of course. This overflow of PGA DFS players has snowballed in the right direction, creating a wide variety of contests on our go to DFS sites (DraftKings, FanDuel, Yahoo, and even DRAFT). The players that have put in the work are sharper than ever. The content is vast and can be somewhat overwhelming. If you have ever asked yourself who do I trust? Who am I going to believe in enough to put my hard-earned money on the line for? Raise your hand. My hand is up. Now put your hand down and listen. Here at FullTime Fantasy Sports we want to take the guess work out of it for you. DFS is a sport in and of itself and if we aren't willing to put in the research, it will hinder our long-term ROI. Majority of DFS players got into this because they love sports, some got into DFS to make money, and others got into this to TAKE money. That is where we come in at FullTime Fantasy Sports, we want to TAKE what we deserve because we don't cut corners, we don't glance over articles, we don't throw in uneducated lineups.  We are WINNERS. Now let's go WIN. 
FanDuel scoring layout is drastically different than DraftKings so make sure you check the rules before playing in any paid for contest. Fanduel pricing algorithm is also quite different than DraftKings so the sites have quite a few price discrepancies worth taking advantage of.
Your FanDuel lineup is made up of 6 golfers you choose within a $60,000 salary cap. Quick tip: you can create an edge by simply not using all $60,000 of your salary cap. 
Throughout this article, I will be giving you my Top-Notch options, Salary Savers, Tourney Treasures, and one Sneaky Suspicion. I will also provide a FADE of the week to help you create an edge against all competition. Let's dive in!

COURSE OVERVIEW

 
Welcome to lovely La Quinta, CA where not one, not two, but three courses are on the docket for this week's tournament. The event's pro-am format will utilize TPC Stadium Course at PGA West (7,113/72),
PGA West's Nicklaus Tournament course (7,159/72) and La Quinta CC (7,060/72) in the first three rounds. All three courses will be played by each golfer and cut day will be on Saturday instead of your normal Friday cut line. Giving golfers a guaranteed 54-hole week, an edge needs to be created by golfers that can score in bunches. The remaining golfers after the 54-hole cut will play the Stadium course for their final round. I'll note the Stadium Course is a Pete Dye design. His signature courses are littered with deep bunkers, water lined fairways, and raised greens.
Fun Fact– Last year only two golfers in the top 20 started their tournaments at the Stadium Course. Scoring average round 1 at Stadium course was -1.1 compared to -3.5 at La Quinta and -3.3 at Nicklaus course.
Tournament History
Past Champions and Runners up
2018- Jon Rahm 1st -Andrew Landry 2nd
2017- Hudson Swafford 1st – Adam Hadwin 2nd
2016- Jason Dufner 1st – 2nd not in field- Phil Mickelson 3rd
2015- Bill Haas 1st – Brendan Steele & Charley Hoffman tied for 2nd
Bill Haas, Adam Hadwin, Ryan Palmer, Brendan Steele, Hudson Swafford, and Charles Howell have gained the most strokes the past five years during this tournament. Other notable golfers who have gained strokes total in this field include Lucas Glover, Bud Cauley, Phil Mickelson, Zach Johnson, Chez Reavie, and of course Jon Rahm.
Fun Fact– Adam Hadwin has never shot over par in 16 rounds at this event. Super Impressive!
Statistical Breakdown
Every Tournament is a little bit different when it comes to statistical breakdowns. I will give my favorite stats that I believe correlate the best to fit our tournament course for that given week. This week is tough, we are not dealing with our normal single course tournament. Remember we are pulling from three different courses this week. The key stats I am narrowing my focus on are as follows:
Strokes Gained Tee to Green (SG:T2G)
Top 5– in order over past 36 rounds
Kevin Streelman
Jon Rahm
Si Woo Kim
Roberto Castro
Zach Johnson
Strokes Gained Approach (SG:APP)
Top 5– in order over past 36 rounds
Kevin Streelman
Bronson Burgoon
Chez Reavie
Pat Perez
Brandon Harkins
Strokes Gained Around the Green (SG:ARG)
Top 5– in order over past 36 rounds
Bud Cauley
Brian Gay
Si Woo Kim
Chad Collins- not playing
DA Points- not playing
Birdie or Better % (BoB%)
Top 5– in order over past 36 rounds
Phil Mickelson
Ryan Palmer
Jon Rahm
Bronson Burgoon
Kevin Streelman
DraftKings Pts
Top 5– in order over past 36 rounds
Phil Mickelson
Martin Piller
Bronson Burgoon
Kevin Streelman
Jon Rahm
Fun Fact– 8 of the 9 winners of the Desert Classic played in at least 1 of the 2 Hawaii events in the year they won. Additionally, each of the past 6 winners played in the event at least once prior.
These rankings are based on a mixed model created on Fantasynational.com using my personal rankings and other various factors that best fit these three courses specifically.
Top Notch Options
My top ranked golfers in the field based on my rankings in order of pricing.
Justin Rose ($12,100) OGWR 1st– When we think about consistency we don't think about the sport of golf. Golf is the most volatile sport known to man. When we think of Justin Rose we think of consistency. This is rare, it's like finding your golf ball after you just put it in the middle of the water hazard off the tee. Point being- play Justin Rose in Cash and don't overthink it.
Jon Rahm ($11,900) OGWR 7th– Jon Rahm is deserving of the highest price tag on DK this week. He is an exceptional scorer, with very little weakness in his game he could be one of the few who repeat this season. Not to mention he is top 5 in three of the five stat categories I have listed above. If he gets going early and often, he will be at the top of the leaderboards once again come Sunday.
Patrick Cantlay ($11,300) OGWR 19th– A pretty steep price to pay for a golfer who hasn't played competitively since November. Don't let this price scare you away. There are very few golfers who can adapt to any course and its conditions. This young stud has proven he can compete with best on any given weekend. He has no course history which will scare some away but where others hesitate, we take advantage. Be a wolf, not a sheep. Play Cantlay with confidence.
Adam Hadwin ($10,700) OGWR 70th– He will be heavily touted this week, as he should be. If any golfers deserve the title Course Horse for this tournament it is undoubtedly Adam Hadwin. 2018-tied for 3rd, 2017- solo 2nd, 2016- tied for 6th, 2015- tied for 48th. These are pretty astounding numbers year over year. I do want to mention, I will have less ownership on Hadwin compared to the top 3 listed above.
Chez Reavie ($9,800) OGWR 54th– Chez is the player that your ride when he is hot. Last year I vividly remember him going for back to back 2nd place finishes. He is no slouch when it comes to this track either, having gained over 17 strokes total on the field in this event. I want to hop on Chez before he becomes too chalky. This price might scare some folks away so getting him at a lower ownership is always a bonus!
Salary Savers– My value plays, rankings in order of pricing.
Bronson Burgoon ($8,900) OGWR 104th– This play is purely driven by course history and course fit. Since we have three rounds of guaranteed golf it makes it easier to take golfers that you would normally cringe when placing in your lineups. Bronson is excellent at approach and if he decides to putt well just 2 of the 4 days he will reach value with upside.
Kevin Streelman ($8,500) OGWR 194th– If you read my Statistical Breakdown you would have seen his name in every single category except SG: ARG. He fits very well in my model and at his price I believe he is a steal this week. I truly think he finishes top 20 this week even though his current form would tell you otherwise. Mark my words if he plays even remotely well here you will see his name once again in next week's article.
Sungjae Im ($8,800) OGWR 92nd– This kid is crazy good Tee to Green, one tournament he will put it all together and I don't want to be kicking myself for not pulling the trigger. I will be heavily invested this week. Fire the young gun up! His value is even more noticeable on FanDuel, that is why he falls into Salary Saver category in this article.
Hudson Swafford ($8,200) OGWR 214th– Great price, great form, great course fit. He makes sense this week. I like him more on FanDuel than I do on DraftKings.
Harris English ($7,500) OGWR 308th– The price is great on Harris this week and he made 3 eagles and 14 birdies last week, so he is not afraid to score. If he can avoid the big numbers, he will be an excellent value this week on FanDuel.
Tourney Treasures
Options that will go overlooked but are worth a shot in a GPP.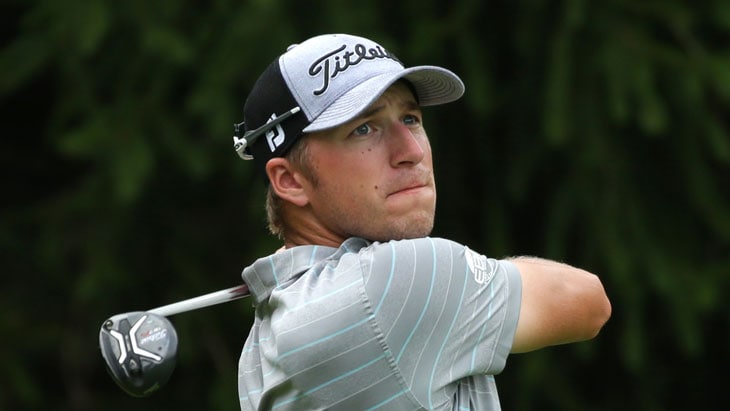 Richy Werenski ($9,600) OGWR 164th– this is where pricing helps us from site to site. Ownership will be half on FanDuel compared to DraftKings because his price is almost 2k more on FanDuel. This is a good tactic to help you create an edge in GPP's. Richy Werenski is a really good young golfer who has hit value in his last 4/5 tournaments, making the cut in all 5.
Si Woo Kim ($9,200) OGWR 64th– Don't ever sleep on Si Woo. He can get going on any given track, in any given tournament. However, Si Woo is backed by decent course history (tied for 9th in 2016) and a good price count me in! He is popping on multiple stat categories as well. He is truly a treasure this week.
Sneaky Suspicion
Gut play of the week.
Beau Hossler ($10,500) OGWR 91st– He can pop any given week. He doesn't pop on my stat model and he even putts much better on Bent grass so proceed with caution, but I will use him in a few GPP lineups this week. When you have a feeling sometimes you have to ride that wave!
Fade
A golfer that is higher owned and doesn't deserve a spot on our rosters.
Scott Piercy ($9,500) OWGR 133rd– I will never pay $9,100 for Scott Piercy. This guy is my kryptonite every time I buy in, he disappoints. He can strike the ball with the best of them but for him to pay off his price he has to putt very well. I will not bank on that happening this week. He has decent course history, but I advise going elsewhere at this price tag.
FanDuel Cash lineup example:
Patrick Cantlay- $11,300
Charles Howell III- $11,000
Chez Reavie- $9,800
Lucas Glover- $9,800
Si Woo Kim- $8,200
Sungjae Im- $8,800
$60,000 total
FanDuel GPP lineup example:
Justin Rose- $12,100
Jon Rahm- $11,900
Phil Mickelson $10,600
Bronson Burgoon- $8,900
Sungjae Im- $8,800
Harris English- $7,500
$59,800 total