We have two MNF games left and I'll go out on a limb and say that tonight's Saints-Panthers game draws more viewership than the upcoming Broncos-Raiders game next week.  The Saints come into tonight with a chance to lock up the #1 seed in the NFC with a win this week and a win next Sunday at home which would allow them to rest everyone in Week 17 (TEDDY GAME!) and that is definitely strong incentive for New Orleans.  For the Panthers they still have very slim playoff hopes and also come off losing all three games to the Saints last year including the Wild-Card playoff game in New Orleans.  Expect a battle on both sides and close game tonight.
On the injury front, New Orleans is without starting LT, Terron Armstead once again today but otherwise is healthy.  For Carolina, Cam Newton will play despite having a banged up shoulder in recent weeks (maybe all season if we go back to his off-season surgery) and kicker Graham Gano is OUT tonight, with Chandler Catanzaro being signed to take his place.
Pricing below is the players DK Showdown FLEX price.  Captain prices are obviously higher.
NEW ORLEANS SAINTS
QB:  Drew Brees (10,800)
RB:  Alvin Kamara (9,400), Mark Ingram (7,200)
WR:  Michael Thomas (11,000), Tre'Quan Smith (5,400), Keith Kirkwood (3,000), Austin Carr (1,000), Tommy Lee Lewis (300)
TE:  Ben Watson (3,800), Dan Arnold (600), Josh Hill (400)
FOOTBALL PLAYER:  Taysom Hill (1,400)
CAROLINA PANTHERS
QB:  Cam Newton (10,000)
RB:  Christian McCaffrey (11,600), Cameron Artis-Payne (200), Kenjon Barner (200)
WR:  DJ Moore (8,000), Curtis Samuel (6,400), Devin Funchess (5,800), Jarius Wright (2,400)
TE:  Ian Thomas (4,800), Chris Manhertz (200)
Three Key Players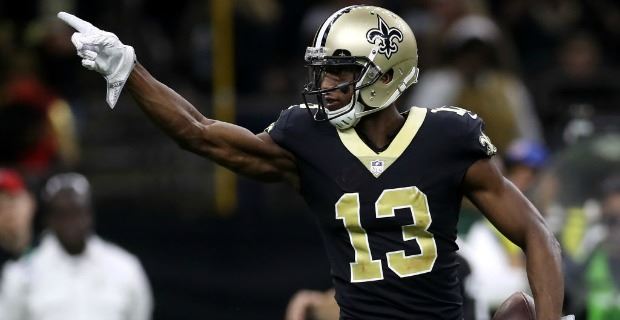 Michael Thomas
Thomas has carved up the Panthers in his short time in the NFL.  In five games over his first two seasons, Thomas has hauled in a minimum of 5 catches in each contest, averaged over 85 yards and has three touchdowns.  Thomas is the best player in this game for my money as Carolina gives up 270 yards per game through the air at home and their heavy zone usage will mean a ton of pitch and catch opportunities for Thomas tonight.  He should eat in the red zone as well as he normally does and he is my favorite play tonight to score two touchdowns and go over 100 yards receiving.  Monster game for Thomas who is a must start and my favorite play for the captain role.
Drew Brees
Because we are leaning on Thomas tonight we should be smart and take Brees here, who has three straight games of really sub-par passing yard totals with 171, 127 and 201 yard totals and interceptions in each of his last three games.  A lot of this can be attributed to not having Terron Armstead at LT, who will once again be out of the lineup but this is also the weakest pass rush the Saints have seen in a while which will give Brees chances to take shots down field.  Brees bounces back tonight and throws for 3 TD.
Devin Funchess
Whenever Carolina plays the Saints and Funchess is healthy he gets a ton of targets and is a good bet to score a touchdown for Carolina.  I don't anticipate the Saints having issues with the speed guys for Carolina at WR tonight and I think the Saints D will get to Cam Newton as they usually do, but the extra emphasis on stopping CMC is going to leave Funchess in 1:1 coverage and while Lattimore is one of the better CB and physical guys in the game, he can be beat at times and Funchess seems to be a forgotten man in this Carolina offense.  He scores tonight.
Value / Longshot Targets
Ben Watson / Saints TE:  All three Saints TE should see the field tonight.  Ben Watson is the most reliable of the three against a Carolina defense that has been really bad against TE this year.  Watson is the most 'traditional' TE the Saints have.  Dan Arnold is much more of a WR option given where he lines up and the routes he tends to run and Josh Hill is a run block first TE who is used more in screens and PA spots near the goal line.  I would use Hill as a value play mostly with touchdown upside and Watson as the main TE target for receptions.
Tommy Lee Lewis … The return/special teams specialist saw action in the Saints Thanksgiving night win over the Falcons and is good for about one deep shot a game.  Tre'Quan Smith has really struggled the last two weeks and thus I think we see Lewis get a look on a deep shot pass attempt sometime in the second quarter with the score 13-6 or something like that.  It will be a 45 yard bomb attempt by Brees as the Saints look to integrate in one of their 'shot' plays.  Tre'Quan is a fade for me this week as he will need this game to get his confidence back up for a huge game next week.  Tommy Lee is your sleeper Saint WR to catch a touchdown assuming he is active.
Taysom Hill … If I could find a first TD prop  bet on Taysom Hill I would play it.  Sadly, I cant.  Who wants to offer me odds?   Brees TD pass to Taysom Hill.   Lock it up.
Defenses & Kickers
Both Kickers are good plays today, but I would lean on the Saints defense which has been VERY good over the last 4-5 weeks and is getting a ton of QB pressure.  Cam can always take unnecessary sacks due to his ability to keep plays alive, but the Saints getting 3 sacks tonight is the lock of the night for me.
BETS & PROPS
Touchdown Props

Mike Thomas -140 … The odds on this aren't an ideal bet to make, but it's without a doubt my top one.
Devin Funchess +320

Player to score first 

Mike Thomas +600
Cam Rushing TD +1500
Devin Funchess +2500
Ben Watson +2500
Taysom Hill +Infinity

Player to score two TD props
Player Props

Ben Watson OVER 15.5 Recv Yards
Drew Brees OVER 1.5 Touchdown Passes
Mark Ingram OVER 11.5 Recv Yards … He gets this on the first drive of the game
Mike Thomas OVER 6.5 Receptions
CMC Over 5.5 Pass Receptions
Devin Funchess OVER 30.5 Recv Yards

Other Game Props

Saints score last
Shortest TD UNDER 1.5 Yards
Total Sacks OVER 4.5
Saints Total Sacks OVER 2.5