Daily Dr. Roto — June 14, 2018
Fantasy Football Draft Kit: Deep Sleepers – Jets RB Isaiah Crowell
It was just a year ago that I touted Browns RB Isaiah Crowell as a Top 10 Fantasy running back. Well, I couldn't have been more off with my prediction as Hue Jackson's Browns couldn't seem to get the ball to Crowell. In 2017, he had fewer rushing yards and receiving yards than in 2016.
This offseason, the New York Jets went out and signed Crowell to a three-year, $12 million deal to be their lead running back with Matt Forte off to retirement. I love this move by the Jets and think that Crowell will be a deep sleeper in this years' draft.
---
---
In a recent Online Championship draft, Jets RB Bilal Powell went at 7.3 (pick 75 overall) while Crowell went at 9.3 (pick 99 overall). I think people might be forgetting how underwhelming Powell was for the Jets last season. Outside of a terrific Week 4 against the Jaguars and Week 16 against the Chargers, Powell never ran for more than 80 yards in any game. Additionally, for such a good receiver out of the backfield, Powell only had three games where he had four or more receptions. It seems clear to me that the Jets want to use Powell as a 12 to 16 touch RB.
The Jets used third string RB Elijah McGuire last season, mainly because they did not want to overwork Powell and because Matt Forte was on his way out. I see a huge reduction for McGuire this season, as Crowell is only 25 years old and still has not had his breakout season.
---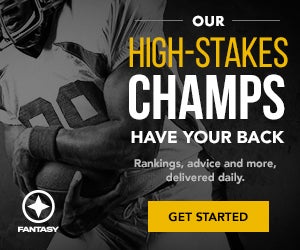 Join FullTime Fantasy for top advice in the industry from check-cashing, proven winners!
---
Game flow is critical in Fantasy Football. Crowell lost tons of opportunities in previous seasons with the Browns because the game flow was so bad that they could not run the football late in games. When a team is down by twenty in the third quarter teams are forced to pass way more than run. The Jets want to win games with a good defense, a controlled passing attack, and running the football. If that holds true, then Crowell should easily see more touches this season with the Jets than he did with the Browns last season.
I don't think that Fantasy Football World Championships will be won or lost with Isaiah Crowell. What I do think he that he would be an ideal RB3 or RB4 for most Fantasy teams because he should not only produce those numbers, but he has an outside chance to be a RB2 if the Jets have a strong offensive season.
Projections for Isaiah Crowell: 210 rushes for 990 yards and seven TDs & 31 receptions for 280 yards and two TDs
---
CLICK HERE to check out our Fantasy Draft lobby! Compete in a FullTime Fantasy Sports contest, anywhere from our $35 Starter League to our $299 Online Championship, and of course in the Main Event! We are the home of the best players and payouts in the world!
---