There are four games on the early slates Wednesday afternoon starting at 2PM EST with two central division games between the Reds/Brewers and Twins/White Sox.   All games should play without any rain issues across the board on the early slate which is a nice relief.
— Be sure to check lineups when they are posted and you can use our Lineup Page to verify who is IN and OUT —
Four game slate strategy …
We have options on this slate on pitching as it's not one of those spots where you have a stud arm vs a shitty team and should take it and move on.  On FanDuel I think it's clear to use one of the top two arms (I ranked them) and move on, but on DK I do not hate the idea of a mini leverage combo (2 guys+) against one of the other arms today.  I'll detail those mini combo's below.
PITCHING
I took some heat yesterday (mostly from myself) for just listing the pitchers without ranking them.  That was bad and not something I typically do, but it showed a lack of clarity around pitching selections on the slate and it was ultimately a dagger for anyone rostering Dylan Bundy.  The hope was to show that there was some volatility on the slate yesterday and to mix and match, but back to doing the rankings as I prefer them….
Kyle Gibson … Late breaking news on Tuesday is that Jose Abreu is OUT for two weeks.  That's a huge loss for an average offense and Gibson immediately vaults to the top of the list
Carlos Rodon … I've liked attacking the Twins w/ lefty pitchers over the last few weeks and Rodon is as good as they come in terms of lefties that are facing them these days.  Rodon is on a roll right now and has a slight bump when Kevan Smith is catching him like other White Sox pitchers these days.  Check Smith in the lineup as he likely gets a day game off but if he is then lock in on Rodon over Gibson
Charlie Morton … The pause with C-Mort is always his pitch count and really the lack there of.  He's not gone over 100 pitches in his last four starts and even though he can still roll 6 innings without 100 pitches because of his efficiency, it's not ideal to pay top $ for someone who wont throw 100 pitches.  It's also going to be warm in Seattle today and we could see the ball flying out so there's logic to fading him and loading up on some Seattle bats.
SP2 Options — I would not force Rodon and Morton together unless a TON of value opens up.
Freddy Peralta … I think folks might be shy about using Peralta because the Reds are hitting fairly well right now, but they're still a below AVG offense and Peralta's K% on this slate is one to be desired overall despite showing some signs of slowing down in the second half of the season with a K% dropping from over 30% down to 20% but that's mostly just regression back to the norm.  Peralta's pitched better in the comforts of home.
CORE STACKS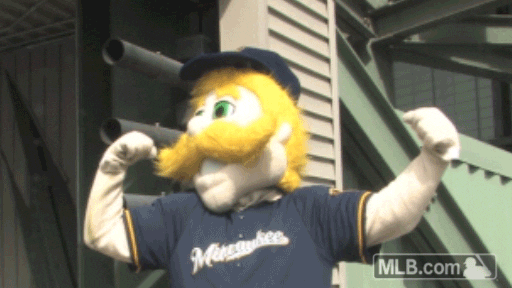 Milwaukee … Yelich, Cain, Shaw, Schoop
When Roberts Stephenson struggles he struggles by walking the entire stadium.  So if going to the Brewers we want 1-2 and 5-6 in tournaments.  Why?  Well, if he's gonna struggle with walks is likely that it comes to Yelich-Cain and then finds a way to get into the zone and get ahead of the 3-4 hitters who are being patient in theory.  That sets up the 5-6 hole guys to get up with men on base and in a tournament on a short slate I wanna be slightly different from the 1-2-3-4 stackers and no better team to take a shot in the mid of the order than the Brewers.
OAKtown … Davis, Chapman, Semien
What is not to continue to like about Oakland who is even hitting well at home these days.  They draw Mike Minor, arguably the worst SP going on the slate and in a day game at home we love to use Khris Davis and the other power bats for Oakland.
TOP HITTERS
C:  Mike Zunino (Too Cheap for his power), Evan Gattis, Jonathan Lucroy, Martin Maldanado
1B:  Eric Thames, Jesus Aguilar, Tyler Austin/Miguel Sano
2B:  Jonathan Schoop, Travis Shaw, Jed Lowrie, Rougned Odor
3B:  Matt Chapman, Mike Moustakas, Alex Bregman
SS:   Marcus Semien, Jorge Polanco
OF:  Christian Yelich, Lorenzo Cain, Mitch Haniger, Josh Reddick
MINI LEVERAGE COMBO'S FROM EACH TEAM
Cincy … Gennett and Suarez and paired in a lineup fading Peralta chalk which means you would pivot to Edwin Jackson as SP2.
Twins … Polanco and Austin/Sano.  1st base is weak so if fading Rodon and wanna attack him then use a 1B from the Twins today
Rangers … Odor and Mazara.  Paired with Peralta
Astros … Bregman and Correa
Mariners … Haniger and Cano