Welcome to arguably the best weekend in sports.  The NFL Divisional round weekend.  Why is it the best weekend?  Well, you always have the best teams in the NFL playing this weekend and four high intensity games across two days.  It beats out next weekends Conference Championship games because we have 4 vs 2 games and add in all the other sports going on and cold weather outside and this is just a perfect weekend to be at home while it snows outside watching sports.
I, however, will be skipping on the sitting on my couch and watching sports all weekend part and heading down to New Orleans to watch the Eagles-Saints game on Sunday.  I mention that only because you won't see any updates from me on Saturday or Sunday, so once this is locked in, it's locked in.
Once again, FanDuel has made the two game slates their "MAIN" slates as they really dont grasp the pulse of what the users want here.  That means smaller prize pools for the 4-game slate and they will likely fill up sooner.
Note:  Since I am doing the write-up a day earlier this week, I am listing the "Popular Plays" instead of "Likely Chalk".  These are also taking into account the 2 game slates only and mostly focus on the studs.  I'll get into the value/sneaky plays in the positional breakdown at the bottom.
INDIANAPOLIS COLTS at KANSAS CITY CHIEFS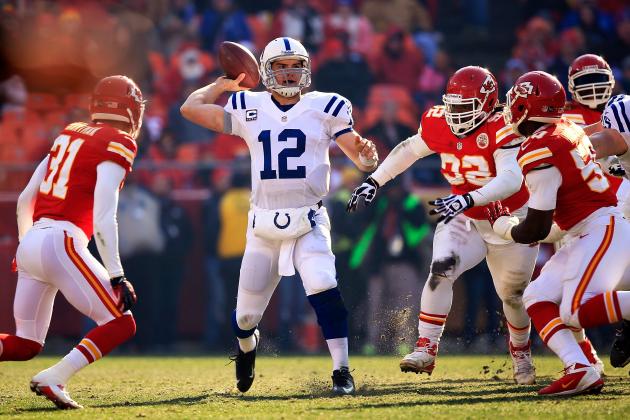 Saturday, 4:35 PM EST. 
Chiefs favored by 5, over/under is 57
Weather is cold, 34 and overcast
TV:  NBC (Gamblin Al Michaels, Quarter-Zip Sliding in Chris Collinsworth and Michele Tafoya)
Capt. Andrew Luck and the Colts are the AFC darling team right now and one that I was on a few weeks ago as a team that would go in and win their first two playoff games — which meant an upset of the Kansas City Chiefs.  So I will stick by that prediction here again and feel that the Colts can match-up well against K.C.
The difference in the Colts and the reason they win?  Their offensive line.  Not so much the pass protection but look how dominating they are right now on the ground.  I have faith in Frank Reich to stay with the ground game this week and the Colts have put up 178 on the Cowboys, 158 on the Titans and 200 on the Texans in three of their last four games.  They are DOMINATING on the ground right now.  This means Marlon Mack should be worth every ounce of his ownership this week and he's really underpriced on one of the sites.  Mack and the ground game is key to everything in this game and that sets up for a nice DFS strategy in my mind.  If you think KC stops Mack then this is going to be an 80 point shootout.  I don't think it will be.
Prediction:  Colts 30, Chiefs 23.
Popular Plays:  Luck, Mahomes, Mack, D.Williams, Hill, Kelce, Ebron
DALLAS COWBOYS at L.A. RAMS
Saturday, 8:15 PM EST. 
Rams favored by 7.5, over/under is 49
Weather is 65 and clear. 
TV:  Fox (Joe Buck, Troy Aikman and the lovely Erin Andrews).
Welcome to the enigma game of the week.  It's not that these teams are very difficult to understand.  Dallas will want to run the ball a ton with Zeke and has one main WR threat with a blossoming second red zone guy in Michael Gallup.
The Rams use the same guys over and over and we know Goff is much better at home.  But what is the enigma part is that the Rams are either gonna blow out the Cowboys or lose in my mind.  If the Rams offense gets going, it's over and it will be one dimensional through the air or through the ground.  If you feel the Rams are going to win in your mind/heart/stomach/big left toe, then I would advise to do a lineup that has Goff-Woods-Cooks as a core stack, because I think this could get out of hand and a Cowboys defense that has not traveled as well as they have played at home could sell out entirely on Gurley and dare Goff to beat them.  The logical play here is Todd Gurley, who is going to be healthy and fresh and is the usual red zone target for the Rams.
But there's a gotcha with Gurley, and I'll break that down below.
Prediction:  Rams 27, Cowboys 3
Popular Plays:  Gurley, Cooper, Reynolds, Rams D
LA CHARGERS at NEW ENGLAND PATRIOTS

Sunday, 1:05 PM EST
Patriots favored by 4, over/under is 45.5 (dropped from 47.5 initial line)
Weather is 25 and mostly cloudy.
TV:  CBS (Hello Friends, Jim Nantz, Tony Romo and the underrated Tracy Wolfson)
Welcome to the game of the weekend folks.  Chargers vs Patriots.  The biggest note in this game to me is that the Chargers are flying across the country for the second week in a row and overall their third straight road game.  I think that is a factor, but the Chargers have also been a great road team this year and to me they are the most complete team in the NFL and the better team in this match-up.  But this is New England — at home — in the playoffs.  You know there will be some level of drama here.
On paper this screams a Melvin Gordon game, even with his knee banged up he gutted it out last week against the Ravens and he should be the focal point of the Chargers attack this weekend but I like L.A. to be able to air it out when they need a score and thus Mike Williams is at the focal point of guys I want to take a shot on this week.  For the Pats, we know that James White often times is the guy they use in the playoffs but I feel they're gonna have to keep the Chargers off the field and the short passing game to Julian Edelman and James White with Cordarrelle Patterson being a sneaky longshot option as well.
Prediction:  I picked Chargers to win the AFC at the start of the season by beating Baltimore in the first round on the road and then winning in New England to win the AFC title.  I have hesitation that they'll be able to pull it off this weekend, but I'm sticking with it.  Chargers 23, Patriots 20, OT.
Popular Plays:  White, Allen, Edelman
PHILADELPHIA EAGLES at NEW ORLEANS SAINTS
Sunday, 4:40 PM EST
Saints favored by 8, over/under of 50.  Both the line and total have dropped since Monday. 
No Rain in New Orleans the day of the game…..  Yes, it's a dome, but that's an important factor.
TV:  FOX (Kevin Burkhardt, Charles Davis and Pam Oliver)
This is not an easy game to separate a good DFS play from a good play in the actual game itself.  Specifically the three players I am referring too are Drew Brees, Alvin Kamara and Michael Thomas.  All three are good regular plays this weekend.  Brees with extended time off in his career has always played well, plus he has always played well at home and if last year was any indication his regular season drop in usage was merely a way of saving him to deliver in the playoffs like an elite ACE Starting Pitcher.  Brees will get his, but he's probably not the best value on a huge slate — however this is a small slate, so he's probably one of your chalk QB's.  Alvin Kamara and Michael Thomas figure to play a key role for the Saints this weekend and both should have great games through the air — making them high PPR upside plays this weekend.
So what winds up  happening is, folks will figure … okay, I gotta get Thomas, so I'll go Brees and why not go Kamara as well.  Which then leads us to the search for secondary value plays like Tedd Ginn (too cheap on FD) and Tre'Quan Smith (had a career day of 10 catches, 157 yards and a TD vs Eagles on Nov 18th).  I wouldn't be shocked to see folks using four Saints this week because of how the matchups and pricing aligns and while I don't think that will kill you, I don't know that it's the GPP winning approach.
The Eagles offense isn't as drastically different as people want to make it out to be with Nick Foles under center.  But this is where they lost the game in the first meeting between the two teams.  The Eagles had one drive that was effective that whole game.  You don't get blown out in the NFL simply by having a bad defense (trust me, Im a Saints fan, I have a PhD in that from 2014-2016).  You get blown out when you cannot move the ball effectively and that's what happened with Philly in the last meeting when they had less than 200 total yards of offense.  Show me how many times a team has given up 40+ points and only yielded < 200 yards of offense themselves and I'll show you a bunch of 40 point blowouts.  You have to score to beat the Saints.  The Cowboys win over New Orleans was NOT the recipe for beating this New Orleans team.  The Bucs in week one was the recipe and nobody has effectively been able to replicate it.  Philly wins if they're able to force the Saints to kick field goals and they try to air it out deep.  If Philly comes in and tries to play ball control, keep away from the Saints, they die.
So the $1,000,000 question is, do I think Philly can do that and if so how?  Yes, they can.  Jason Kelce only played 6 snaps in the first meeting and he is one big difference on the Eagles offensive line from then to now.  I don't think Golden Tate is fully healthy but if the Eagles are going to score points it will be Tate and Agholor who do the bulk of the damage with one huge wild card factor………….. Old man Darren Sproles.  If Philly uses Sproles as a WR, they'll have success, if they don't….
Prediction:   I will be drunk.
Popular Plays:    Brees, Foles (Sunday Only), Thomas, Kamara, Ginn (FanDuel), Tate
THE AMBUSH PICKS
CHALK MONSTER –
MICHAEL THOMAS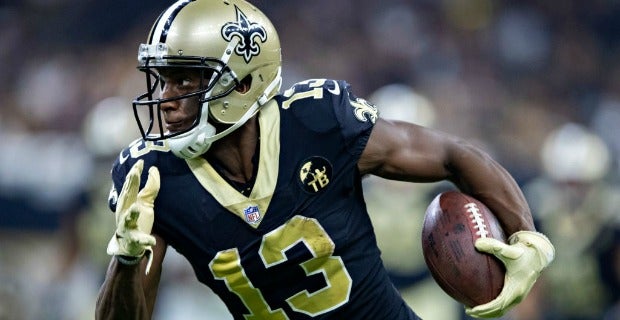 The winning lineup for six figures this weekend will have either Michael Thomas or the Saints Defense in it.  I bet you won't find anyone with that correlation anywhere else will you?
The Saints have had 6 "close" games this season.  Excluding the TNF loss at Dallas and the MNF win at Carolina, Michael Thomas' stat lines in close games are as follows
16 rec, 180 yards, 1 TD, loss vs Tampa (home)
12 rec, 89 yds, 2 TD, win vs Cleveland (home) 
10 rec, 129 yards, 0 TD, win vs Atlanta (road, dome)
7 rec, 69 yards, 1 TD, win vs Baltimore (windy game on the road)
12 rec, 211 yards, 1 TD, win vs Rams (home)
11 rec, 98 yards, 0 TD, win vs Tampa (road)
11 rec, 109 yards, 1 TD, win vs Steelers (home)
Some will argue that the first three came without Mark Ingram and sure, that factors in somewhat, but the point is that when the Saints get into a game that remains close or within reasonable striking distance in the second half they lean on Thomas to get the job done.  He earned his spot as a first team All-Pro WR when it mattered most this season and was a clutch performer in last years playoff divisional round game against the Vikings as well.  Given the favorable match-up against the Eagles CB this week Thomas should be in position to have another dominant game.
The reverse-correlation with the Saints Defense is that in the games when it isn't close and Thomas doesn't get the second half domination, we see the Saints Defense excel with point totals of 8, 15, 9, 13, 15, 15, 12 when Thomas does not have a good game.  Those may not stick out as amazing performances, but I would more than be happy with a 15 from my defense this weekend with projected shootouts everywhere, wouldn't you?  You're playing Thomas or Saints D.
VALUE SMASHERS – MARLON MACK and NYHEIM HINES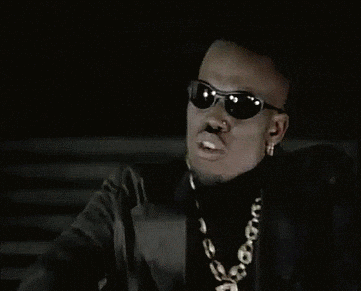 There's gonna be a lot of folks this week that have a hard time rolling out Hines after he was a complete no show in usage by the Colts last week but that wasn't really a Hines type game.  Hines has been the guy to use in pass catching situations and against the Chiefs this week we have a funnel situation where the Chiefs are giving up the most receptions to running backs on the season and it was trending up as the year went on.  Hines should definitely figure to be involved more in a pace up game this week and between the 20's he will kill value on DraftKings due to the reception upside.
But in the red zone, where the Chiefs defense really struggles, it's the return of the Mack.  Marlon Mack is the red zone RB for the Chiefs who I think is going to score twice this week and thus smash his value on DraftKings along with a good rushing yardage game.  Expect the Colts to lean on their RB's this week to get the job done and Mack and Hines are the main Colts players I want this week instead of Andrew Luck, TY Hilton and Eric Ebron.  The next question you are gonna ask is can I play them together and my take is YES.  I view Hines as a $3300 Wide Receiver to use in the FLEX spot who is going to catch 5 passes this week while Mack scores twice and rushes for 100+ yards.
CONTRARIAN HOOK-UPS –
JARED GOFF and ROBERT WOODS ….. PHIL RIVERS and MIKE WILLIAMS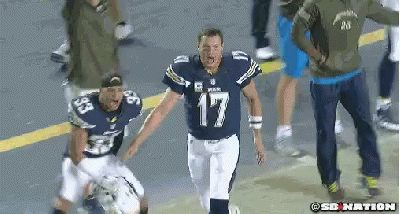 Josh Reynolds, blah blah blah, Josh Reynolds, blah blah blah.  I'm not chasing that and neither should you.  It will be the general narrative this week to say that Reynolds as the slot option replacing Cooper Kupp has finally become the new favorite target of Jared Goff.  STOP.  No.  It's wrong.  Much like the Saints and using Thomas when they need a critical conversion the man in the Rams offense that Goff will lean on passing is still Robert Woods who was excellent and as reliable as they come down the stretch.  It's hard to say anything bad about Gurley again this week but if the Cowboys have any hope they'll need to find a way to stop Gurley and force Goff to beat them which I think opens up a contrarian spot for Goff to throw 3 TD this week with 2 of them going to Woods.  Goff and Dak should be the lowest owned Quarterbacks this week because the pace in this game doesn't match the others with Dallas likely running the ball a ton and certainly we can make a case for Mahomes, Luck and Brees to all throw a ton of yards this week but we need TD's and this is a contrarian pivot off Gurley to get them.
The other and preferred option if you are doing one lineup for me this week is Phil Rivers and Mike Williams, but I have a feeling the Chargers are going to shoot themselves in the foot with a couple of turnovers so I am tempted to use the Pats D this week.  That said, Mike Williams is a star in the making and to me he is the red zone threat to carve up the Patriots this week and we know Rivers is a man on a mission right now.
POSITIONAL RANKINGS
QB Rankings
Unlike last week I don't think we will see most of the QB's end in the same tier where everyone ended up in the same boat.  Luck figures to be the highest owned given his level of play and the pace up matchup vs the Chiefs defense.  Luck, Brees and Mahomes should be the top three in ownership and popularity — but I don't ever sweat ownership on Quarterbacks.
Which makes Philip Rivers and Jared Goff a couple of interesting contrarian plays.  Rivers is the one who likely is trailing more and thus has a little bit better upside.
Tom Brady has a difficult matchup against the Chargers and one where I cannot see him amassing 300+ yards and 3-4 touchdowns unless it's dump off to Edelman/White and watch them run all game.  I do think the Pats will come out and try some no huddle but that's mostly a drive here or there.  Foles may appear tempting for value, but I would caution you to build that lineup and then see how easy it is to get up to Luck or Brees without changing much of the core.  Foles is probably a popular Sunday only play due to his price.
Lets see here, who am I forgetting?  Oh.  Right.  Patrick Mahomes.   Seriously.  You want me to write up Mahomes?   Not happening.  His matchup isn't great, but he's proven he will still get fantasy points every week.  The Mahomes skip is due to his price and the fact that there's plenty of alternatives.
Andrew Luck
Philip Rivers
Jared Goff
Drew Brees … Not a bad week to take a late week hammer with Brees to Thomas if you like points in that game and are fading the Chiefs/Colts.
Nick Foles … Could throw it 50 times this week if he is accurate.
RB Rankings
Last week felt like a good spot to only roll out 2 RB and use a TE or WR in the FLEX spot.  Not this week.  Not with some of the value pass catching running backs that are available for consideration this week and with all the BYE teams in the mix we have the deepest position at RB this week by a mile.
Gurley or Kamara are your high priced guys that likely you need but I could see fading both for other options on their teams.  Mack is someone who I broke down as being a core play this week and someone I feel has to be leaned on.  I like the idea of Mel Gordon for the Chargers to establish and control the game on the ground but Ekeler should be considered as a good flex play alternative to Hines.
CORE PLAY
Marlon Mack … The Colts RB are going to shine.
STUDS
Alvin Kamara
James White … Completely going under-looked this week because everyone is afraid about the Chargers rush defense and who the Patriots will use out of the backfield, but don't sleep on him.
Todd Gurley … I am worried his knee won't be right until he gets a scope in the off-season (or he maybe already had it done and we just dont know)
Melvin Gordon
VALUE / FLEX RB OPTIONS
Nyhiem Hines
Austin Ekeler
WR Rankings
WR is not as deep this week but we have to like the reception volume for some guys this week.  QB's will be throwing more this weekend and there's no bad weather in the three outdoor games either to hurt the deep passes either.  But Thomas, Woods, Allen, Edelman are all great full point PPR targets that I would not build a lineup without one and preferably two this week.  Mike Williams, Inman, Tate, Ginn are your value guys to score TD's.
Mike Thomas
Robert Woods … I think he is very low owned and scores 2 TD.  He is a Gurley pivot.
Mike Williams
Tyreek Hill … He has a rough matchup but will find ways to get involved even as a runner or quick screens.
Tier 2 / Mid Range Plays
Keenan Allen … He and Edelman should be great full point PPR plays this week.
Julian Edelman
Golden Tate … He would figure to have a huge game if the Eagles can win.
Dontrelle Inman
Amari Cooper
Value WR
Tedd Ginn Jr (4500 on FD is a MISTAKE)
Nelson Agholor
Chester Rodgers
Tight End
Tight End is NOT good this week and the only guy I am paying up for is Kelce who eats at home all the time and should be able to still do good against a Colts D that is strong in the middle of the field.  I dont love Ertz' upside against the Saints, I dont trust Gronk and I'll be fading Ebron who yes has been a TD machine but shouldnt get the yardage that Kelce gets IMO this week.
After Travis there are basically punt plays IMO which allow you to spend up at WR.  For those playing cash or one lineup this week though I would lean Kelce.
Travis Kelce … Kelce is the only high priced TE I am leaning on this week. 
Hunter Henry … Worth a gamble given his price
Josh Hill … This is more of a Josh Hill game than a Ben Watson game due to the Saints likely running the ball often to setup the pass which leads to Hill involved in play action spots near the goal line.
Dallas Goedert … Has really impressed and I don't think the Saints have an answer for him AND Ertz and will opt to take away Ertz instead.  I totally see Dallas catching a 5 yard TD on a mis-direction play to open up the game.
DEFENSES
If a defense scores a TD they win the slate.  Good luck on that variance as all 8 quarterbacks in the divisional round are pretty good this year.  There is no easy target but Dak likely will take the most sacks of the bunch.
L.A. Rams … Facing the weakest offense and have the best upside for sacks and limiting points.
L.A. Chargers … Pound for pound the best defense on the slate.
New England … I think the Pats D is the sneaky play for a couple turnovers and some random special teams score
New Orleans … Saints D should find a way to get to Foles enough to get 3 sacks, but they're gonna have to generate some turnovers to really smash value.
How to decide your CORE this week in my mind …
Q1:  Do you think the Chiefs will find a way to lock down Marlon Mack and the Colts running game?
YES:  Lock in LUCK and EBRON and move to Q3
NO:   Lock in MACK and KELCE and move to Q2
Q2:  Do you prefer a CHALK QB/WR combination or a contrarian QB/WR combination
CHALK:   Lock in Brees and M.Thomas
CONTRARIAN:    Lock in either Rivers/M.Williams or Goff/R.Woods
Q3:  Which of the 2 projected lower scoring games do you want to completely fade?
Cowboys vs Rams:

Lock in Rams D, Edelman and Mike Williams if you used Mack or Rams D, James White and Melvin Gordon if you picked Luck/Ebron

Chargers vs Cowboys:

Lock in Gurley, Gallup and either Chargers or Pats Defenses
BETS / Predictions
Went 3-2 last week with the bad Cowboys beat on the -2.5.  Also hedged my Bears bet on Sunday once I changed my tune on that game and the Eagles covering for sure, but not a bad first week of the playoffs for bets…
Colts ML
Colts / Chiefs UNDER 57
Cowboys / Rams UNDER 49
Rams -7.5
Chargers +4 (I would tease this with the OVER in the Saints/Eagles game….  Get Chargers +10 and Saints/Eagles OVER 44)